10 Best Feed Reader and News Aggregation Mobile Apps
Tired of just relying on Facebook, Twitter, or Reddit to find out what's currently happening around the world? Instead of relying on visiting your favorite blogs one by one, you might need a feed reader to curate your own list of news sources (or even blogs, magazines, channels) and place them all in one app.
In this list, I prepared 10 news readers that will help you stay up to date with the things that matter to you, customized by you, delivered to you as it happens, when it happens. Let's take a look.
1. Inoreader
Inoreader is an app used by technology enthusiasts and professionals alike and is specially designed for reading news. It has a beautiful, easy-to-use design; you can view your content without distractions with just a pinch of the screen.
With one tap, you can add subscriptions on topics like tech reviews, digital marketing tips and more to your news feed so you never miss out on anything. Plus, when all those new releases come flooding into our social feeds every day – don't be overwhelmed! Installing Inoreader means you'll get control over what matters most to you!
2. Reeder 5
Reeder 5 is a streamlined RSS feed reader and read it later app. With shiny new features for uncomplicated reading, do you really need anything else? As an added bonus, Reeder 5 comes with powerful iCloud support which will keep your feeds in sync among all devices automatically.
With Reeder 5, you can keep control of your daily news. It's ideal for power users who want to aggregate all of their RSS feeds into one place. It also features support for third-party services like Feedbin, Feedly, Feed Wrangler, etc.
3. Flym News Reader
Keeping up-to-date has never been easier. Flym News Reader is a simple, modern, totally free (no ads) and open source project which delivers your favorite news sites and blogs in an easy-to-use interface that makes reading online feel like you're reading offline content on paper.
Browse your feed list of RSS or Atom feeds with ease, save articles for later viewing using the star system, search articles by title or keyword.
It's a straightforward application for people who just want to read the news, but it does not support synchronization with other readers.
4. Palabre
Palabre is the perfect news reader for people with limited time on their hands. With Palabre, you will spend less time searching and more time reading content. Just set up your various RSS feeds and dive right in!
It's probably the best news reader app for people who are addicted to the daily dose of news. It combines the favorite features from Feedly Reader, RSS feeds, Inoreader, The Old Reader and Twitter into one smart interface.
What's so special about it? A user experience centered around content only that stands out with its magazine style layout — currently available in light or dark theme.
Palabre is a unique alternative to social networks. It eliminates all the distractions and focuses only on what matters: you curated feed of relevant information.
5. Flipboard
Use Flipboard to stop wasting time sifting through poorly organized content. The updates come in the form of a constantly updated news feed tailored to your likes and interests.
It is designed to make it easier than ever before to find the articles, photos, videos and topics that interest you. It's central for everything you're passionate about: explore on both mobile devices and on desktop from thousands of sources including top publishers like GQ Magazine, Oprah Winfrey Network (OWN), Business Insider, and Women's Health – as well as hundreds of user-generated magazines covering everything from movie reviews to DIY projects or gardening tips.
Discover the latest news, customize how your feed looks like, get a daily digest of the things that matter to you, and create your own magazine that will feed you exactly what you need daily.
6. SmartNews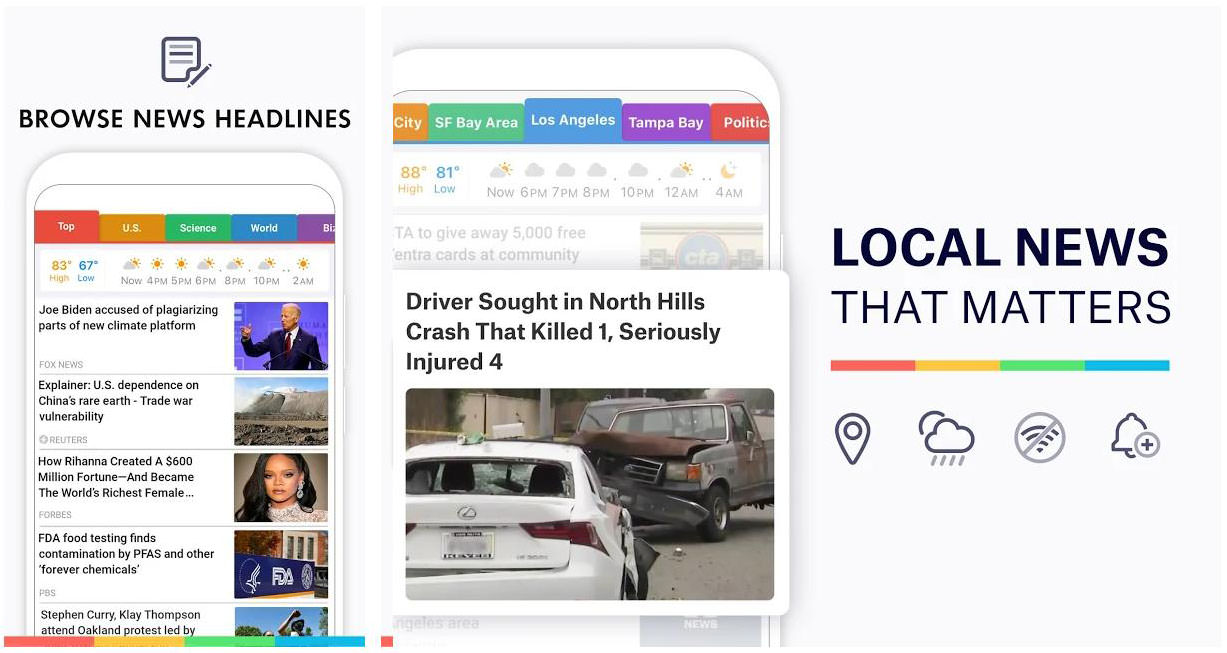 SmartNews is the ultimate news app for those interested in current events. Not only that it delivers high-quality headlines and breaking news from top publishers, but it also analyzes millions of articles every day to deliver the trending stories that are influencing our world today.
It is a sleek alternative to popular apps like Facebook or Twitter, as well as international outlets like The New York Times or BBC News. SmartNews has something for everyone from the casual reader to those who care deeply about what's happening around them.
Try this award-winning news application used by 40+ million readers in 100+ countries now and see the difference with other apps!
7. NewsBlur
Want the latest headlines instantly? NewsBlur lets you read all of your news subscriptions (RSS feeds) and share the things that resonate with you. Share stories, read your feed subscriptions, and talk to like-minded people with this free app.
It covers everything from current events down to your custom preference of entertainment or news. With NewsBlur, you can follow other users, share the same interest with them, share news to your friends, comment on news, read offline and resync when you're online, and the like.
One thing I like about it is you can train your feed – by hiding and highlighting items in your feed, you will either see more or less of the same topic. Smart, huh?
8. Feedly
Feedly is your one-stop shop for all your news and information needs. Be the first to know everything with Feedly's aggregated content from the best sources in one place. With Feedly, you'll always be up-to-date.
Feedly works like this: you can curate a list of publications, blogs, YouTube channels etc. You can also add search terms or hashtags to find specific things on social media. You can organize these items so that they show only the most recent, just the "best" ones, and such.
9. FocusReader
FocusReader is a news reader that supports multiple accounts like Feedly, Inoreader, Local RSS, The Old Reader, and the lot. It also has a really sleek user experience, which helps readers focus on their reading.
It also provides a wide range of customization features, like changing the font size, style, and alignment, switching between light and dark themes. It also has one of the best controls a news reader app can have – smart simple gestures to mark articles as read, starring articles, a single tap to enter full screen or readability mode, and the like.
10. RSS Savvy
RSS Savvy is the easiest way to follow anything that matters to you in just a few seconds. Automatic updates means things you care about will come straight to your attention when they're published or mentioned. It doesn't matter if it's your favorite sports team, or even your hometown.
RSS Savvy can notify you immediately of what was posted any time anywhere. All for free with unlimited feeds and no ads – stay connected and in the know without hassle.
Feeds are automatically drawn from websites which align with your personal interests: so creating your own feed requires nothing more than defining a topic and clicking "Follow" or by adding your own custom feeds.
Summary
What makes a good news aggregation app is not just the features it has, but also how you customize it to your liking. If you're heavily into a specific interest or news, having multiple sources instead of just one will give you a more in-depth understanding of the updates or news. It's always important to check multiple news sources!