Free PDF Apps For Smartphones & Tablets – Best Of
PDF is an easily accessible file and one of the most common forms of documentation. You can read anything from text-heavy manuals to documents with bulky images through PDF. And to use PDF files on the go through your smartphone or tablet, all you need is a good PDF app.
So for today's post, I bring to you the best free PDF apps for mobile devices. These PDF apps do more than just open files, and provide a variety of navigation, annotation, and cloud storage functions with a full spectrum of document features.
Librera is a full-fledged e-book reader that supports numerous digital book formats along with password-protected ones. Some of the supported files are EPUB, DjVu, RTF, HTML, and XPS. What fascinated me is its integrated voice reading capability, which can read aloud stories for you like bedtime stories.
Moreover, its features like automated scrolling and day and night modes make the reading a breeze on mobile devices. Like other apps, you can also manage bookmarks and annotations to make notes and create favorites for easy book keeping.
Google Play Books is the Google's version of Amazon Kindle – a service for subscribing to and reading books. It lets you read and access your PDF and EPUB files. You can also change the font, personalize the display, and enable night-reading mode to experience a remarkable reading time on mobile.
Though its PDF features are limited unlike some other apps on this list yet it is a great app for reading books online as well as viewing PDFs stored on your device. Along with its superb features, it also supports VoiceOver feature in its iOS app.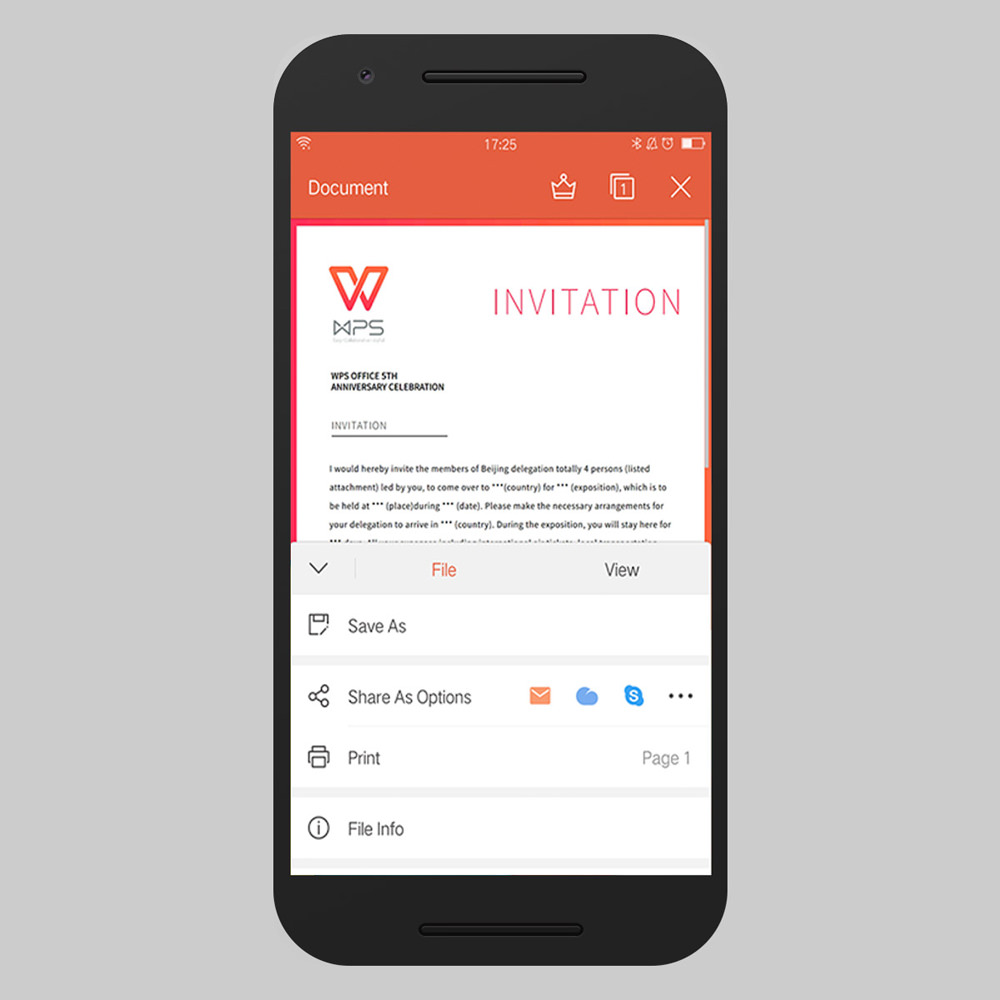 WPS Office is an all-in-one office app suite including a PDF Reader, Editor, and Converter. Just like Adobe Acrobat Reader, you can take pictures from your mobile camera and save them to a PDF. Moreover, this app also allows creating PDFs using Word, Excel, PowerPoint, and text files, add bookmarks, and view annotations.
You can also add electronic signatures as well as merge, split, or extract PDFs. Its also allows you to sync your files using Dropbox, Evernote, Google Drive, OneDrive, and Box, allowing you to view them on any device.
4. OfficeSuite
Office Suite is an office pack like WPS that includes a PDF reader as well. Its reader lets you view PDFs and convert them to Word, Excel, or ePub files. It can scan physical documents and save scanned photos to PDFs. However, it avails many more features in its pro version, such as advanced security options, data sync across multiple devices, etc.
You can share the files through cloud services like Dropbox, Google Drive, OneDrive, Amazon Cloud Drive, and SugarSync. Moreover, it comes with more features like annotation viewer, permission management, and sharing using Bluetooth and more.
PDF Viewer lets you read and manage PDF files. You can quickly search for your files, edit them, and access them right from this app. It also allows you to add bookmarks to the PDF files as well as rotate, split, or resize pages.
Along with its easy-to-use interface, it brings straightforward features for using PDFs. Its multi-window support and mobile optimizations provide superior experience on mobiles and tablets. In its iOS app, you can also work with and sync iCloud documents.
Polaris Office lets you work with multiple document types like WPS and Office Suite. Its PDF reader has features like adding annotations to files and converting files to PDFs. Also, it features a robust search option for finding PDFs using filename or some content within the files.
You can sync your files using supported cloud services including Dropbox, Google Drive, etc. Its office plans include a whole spectrum of features and bring support for Polaris Drive – its cloud solution for hosting and sharing files.
7. PDF Slicer
This is an app to easily split, merge, duplicate, delete and create PDF files/pages on your iOS device. Access a PDF file from storage app like Dropbox or from Mail and open it with this app. The file will be stored on the main page of the app.
You can select pages from a PDF and tap the Copy button then the Insert button to create a new PDF or merge an existing, separate PDF. The insert button also works when you Copy images on your iDevice's photo gallery.
To open your newly merged PDF, tap on All then the Export button. You can also attach it to an email.
However, there's a slight drawback to this app. Because it's free, it will insert an advert on the first page when you export the PDF file. If the advert does not bother you, it's not a big deal as it does not remove or restrict the amount of pages.
Foxit MobilePDF boasts of ConnectedPDF – a cloud technology for PDFs. Thanks to it, this app features brilliant collaboration features like you can share files among colleagues, do connected reviews, get notifications for document updates, track document activity, etc. Moreover, it offers bookmark and search options for a better experience.
Interestingly, it allows integration with Dropbox, Box, Google Drive, and OneDrive. You can also share files via Bluetooth, Evernote, etc. Furthermore, you can interconvert PDFs with Microsoft Office files, text as well as image files — right on your mobile.
9. PDF Utility and PDF tools
This Free PDF tool found only on Android has a bunch of functions found in the two previously mentioned apps. The Lite version of PDF Utility allows you to split, merge, duplicate, delete and create PDF files/pages with password protection.
However, this app does not have the functionality of a reader, like annotation or searching through text. Still, its tools are very useful for someone who needs to work with multiple PDF files.
10. Adobe Acrobat Reader
Adobe Acrobat Reader is a multi-functional app, with which you can view, annotate, and print PDFs. This mobile app allows you take pictures through the camera on your phone and save them directly to a PDF.
What I liked more is, it can connect to Dropbox and Adobe Document Cloud, letting you access your documents wherever you go.
Moreover, you can view encrypted and password-protected PDF files as well. Some of its additional features include editing, signing, and converting PDFs to Word, Excel, PowerPoint, or RTF files. However, conversion feature is available for paid subscribers only.
Xodo comprises of a PDF reader as well as a PDF editor optimised to work on mobiles, letting you read, share, and annotate in real-time as well as fill forms and sign documents. Thanks to its annotation features, it allows you to jot down points, underline, and highlight text on PDFs. It can also open password-encrypted PDFs.
What I found interesting is its 'Xodo Connect' feature, which allows you and your teammates to annotate a copy of a document in real-time without requiring sign-ups — using just their email addresses. Also, like other apps above, Xodo supports auto-syncing with cloud apps like DropBox, Google Drive, OneDrive, and more.
12. Documents: Files, PDF, Browser
This PDF reader by Readdle Inc. offers viewing, editing, and managing PDF files right through your smartphone. You can import and download PDF files from your computer or the web, annotate through different editing options, manage files and create folders, and even share the files with anyone (with an option to password protect files).
One of the most interesting features that the tool has to offer is that it supports all cloud services so you can work on any document in the cloud without downloading it first. Another cool aspect is that you can listen to any music and even watch movies using this PDF reader.
13. PDFelement
An easy-to-use PDF reader, PDF element is a feature-rich app for smartphone or tablets with an intuitive interface. Some of its key features include PDF file viewing, font recognition, smart annotation options, creating and converting PDF documents, inserting signatures, printing and emailing edited files, converting a photo into PDF, and many others.
14. PDF Pro 4
A clean, simple, and free PDF reader for smartphones, PDF Pro allows you to read, mark up, and share PDF files easily. You can highlight text in your documents, manage your files, and search your entire PDF library within seconds.
There are different features in the app that you can look forward to. These include fast viewing any PDF document, different reading modes, share password-protected files, searching a single word or the whole outline of the document, as well as opening PDF documents from a variety of sources along with many other features.
Gaaiho PDF reader comes with a beautiful flat UI design with different display modes to choose from. It gives a high-quality PDF reading experience on your mobile device with some interesting mark up and annotation features as well. It cam quickly open PDF file from any source, organize your files better, and gives you easy-on-eyes reading modes. Furthermore, you can share the PDF document online, create password-protected files, and print your files directly through the app.
PDF Viewer & Book Reader helps you download, manage, and read PDF and eBook files on your mobile device. There's an in-app file browser to browse and access the documents. Also, you can edit files and add bookmarks to continue from where you left off. You can also search for files through this small app.
Its day and night reading modes and page view options help you read comfortably any time. Furthermore, you can access as well as sync documents through cloud services like DropBox, Amazon Drive, and Google Drive, and share the files through apps like Skype and Slack.
PDF Reader helps you to open and manage PDF files on your mobile phone. Its features include adding and exporting bookmarks, and creating PDFs using images, etc. There is also a built-in file search option to get files per your query.
As with above apps, PDF Reader features annotation tools as well including highlighting, note-taking, and writing tools. Interestingly, you can manage and sign documents using this app and open compressed archives to read the archived PDFs.
PDF Reader & PDF Viewer e-book is a PDF reader with an easy-to-use interface. It works fast and smooth while opening PDFs and supports many more e-book formats including XPS, DjVu, and Comic books. Moreover, like other PDF apps, you can create bookmarks, add highlights, and search for files using this simple app.
Scanbot is a document scanning app which also functions well as a PDF app. Its primary function is to scan documents and help you crop, straighten, or apply filters to perfect the scans and later save them as a PDF document.
Some of its other features include a viewer and an editor that lets you view PDFs, highlight text, add notes to PDF files, and apply digital signature as well. You can also save your documents directly as images. Last but not the least, it also allows you to upload and share documents through cloud services and apps like DropBox, Slack, etc.
Just as the name says, PDF Expert app is designed for providing you all the basic and advanced features that a PDF reader can have. It is fast, user-friendly, and powerful enough to let you read or work on any PDF document on the fly.
With PDF Expert you can read PDF from any app with different reading modes, mark up or edit the documents, add comments through sticky notes or the drawing tool, use the Text to Speech feature, fill up forms, create bookmarks and a lot more.