Pixelstick Pushes Boundaries In Light Painting
This article was first published on: Nov 20, 2013.
If you enjoy making light art, you've probably used glow sticks or LED flashlights. These are great for basic, single-color designs. But if you're looking to do more with light art, check out Pixelstick.
Pixelstick lets you add more colors and take your light art to the next level. Let's explore what this device is all about.
What Is Pixelstick?
Pixelstick consists of 198 colorful LEDs attached to a metal rod. It has a handle that lets it spin, and it's easy to carry because you can break it down into two pieces. It runs on 8 AA batteries.
It works by shining a single line of light to create detailed light art. You'll need to use a camera with a long exposure setting. The height of your art is limited to 198 pixels, but it can be as wide as you want.
Pixelstick lets you create large, detailed light art against any background. It's very precise, even allowing for sharp corners within a 198-pixel height.
To start, just load 198-pixel high .bmp images onto an SD card and insert it into the device. Then pick the image you want to 'draw'.
Here are some examples of the colorful light art you can make.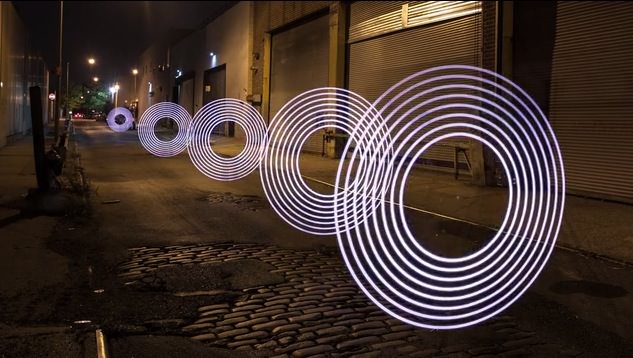 You can buy Pixelstick on Kickstarter for $300, which includes shipping in the US. For international buyers, add an extra $60 for shipping.