Pixelstick Pushes Boundaries In Light Painting
In creating beautiful light painting masterpieces, the light source that people would normally use are glow sticks, LED flashlights, and even sparklers. This setup is enough to make simple shots or drawings in just one color, but if you want more out of light painting, you should get Pixelstick.
With Pixelstick, you can introduce more colors and push the boundaries of light painting to new territories. But first, let's take a look at the device.
Recommended Reading: Showcase Of Dazzling Light Painting Artworks
What Is Pixelstick?
Pixelstick is made up of 198 full RGB LEDs fastened on an aluminum stick. A handle is attached perpendicularly to the stick, allowing it to spin freely. The stick can be split in half for easy transport. Pixelstick is powered by 8 AA batteries, and your imagination.
It works by shining 1 line of light (1 pixel) at a time to create a large-scale and accurate light painting. The color coordinated effect will show up as a light painting when shot under long exposure with your camera. You are limited to creating 198-pixel high images but there is no limit as to how wide your painting can be.
Pixelstick allows artists to go beyond the limits of traditional light painting and create giant LED creations on lovely terrestrial backgrounds. It recreates images very accurately, even allowing for sharp corners to show all within a height of 198 pixels.
All you have to do is prepare 24-bit uncompressed .bmps that are 198 pixels high into an SD card and slot it into the controller. From there you can choose the image you want to produce and begin 'drawing'.
Here are just some other light paintings you can produce with a multi-colored stick.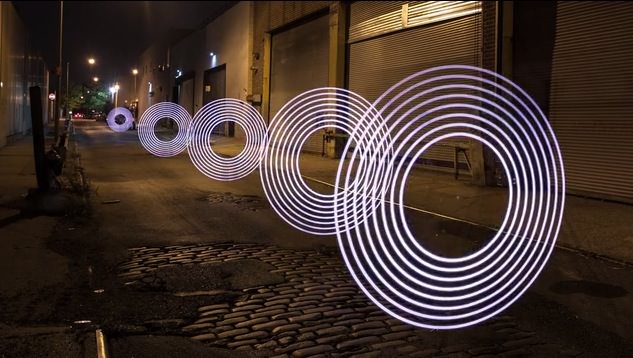 Pixelstick is available on Kickstarter and you can get it for $300 inclusive of shipping fees inside the US; international buyers would have to add another $60 to get it shipped.