15 Design Tools & Resources to Try
As a web designer or design agency, you've learned to keep a close watch on design trends. They come and go as well as changes in digital design technology and how they affect your profession.
It isn't always easy to keep up with the technology or with the trends. Or, for that matter, with the tools and resources you'll need to keep up with.
It isn't that the tools and resources aren't there. It's more like there's an overabundance of them, making it difficult to take a deep dive to find what you want.
We've pulled together a nice little selection of the best sites, apps, tools, and resources. They will help streamline your work and show your skills. Check it out and let us know what you like and what else you'd like to see.
Placing Elementor at the top of our list wasn't a hard decision to make. It's by most accounts the world's leading page and website builder. Part of the reason is Elementor's quick and powerful drag and drop feature combined with a host of widgets, templates, and other design aids.
Another reason for Elementor's rise to the top is its ability to integrate with any theme and any plugin to give you unlimited design flexibility. You can design whatever comes to mind without those troublesome limitations or constraints that are common to so many themes. You can create your landing pages and websites without coding as well.
The Elementor UI is easy to work with, and important factor whenever production time is a potential issue. You can choose from the library of more than 100 templates or start from scratch and work from Elementor's impressive selection of widgets as you build your site.
Elementor has recently added a Pop Up builder, an Advanced Forms feature, and hover and scroll animation capabilities to its toolkit.
If you're still managing your invoices manually, you're spending a lot of time you could otherwise devote to more pressing business issues.
AND CO doesn't simply take some of the load off your shoulders; it practically does your invoicing for you. Integrating seamlessly with its project management and time tracking features, AND CO automatically creates invoices when a project has been completed or a milestone has been reached.
You'll be notified when it's time to invoice again, when an invoice has been viewed by your client, and when payment has been made, so you can stay on top of your cash flow.
You can also use AND CO to create recurring invoices and have them automatically sent to clients or customers who you're working with on a subscription basis.
Plus, AND CO's payments feature allows you to setup your own PayMe page and have clients pay you online via their preferred payment method.
Houzez is a long-time favorite of many realtors and agencies; the reason being that this specialty application has every function and feature a real estate agent typically needs, whether in the office or out showing properties.
Just when it looked as if nothing more needed to be added, the Houzez team came up with a host of new features; making what has been an outstanding realtor's tool even more outstanding.
The favorites, advanced search, multiple listings formats, and a property management system are still there. What has been added are several new property page features including the Custom Fields Builder, multi-currency features, and a useful selection of featured listings options including scheduling showings for luxury homes.
Featured listings can be shown at the top, or you can arrange listings in any order you want to when you will be showing a number of properties to a client.
Uncode has all the functionality and flexibility you need to build a breathtaking portfolio website in a few short hours. You can select one of Uncode's templates and run with it or create a template of your own.
Visit their website and view the showcase of user-inspired websites. You'll understand why this powerful, user-friendly theme is one of ThemeForest's all-time top sellers with more than 50,000 sales.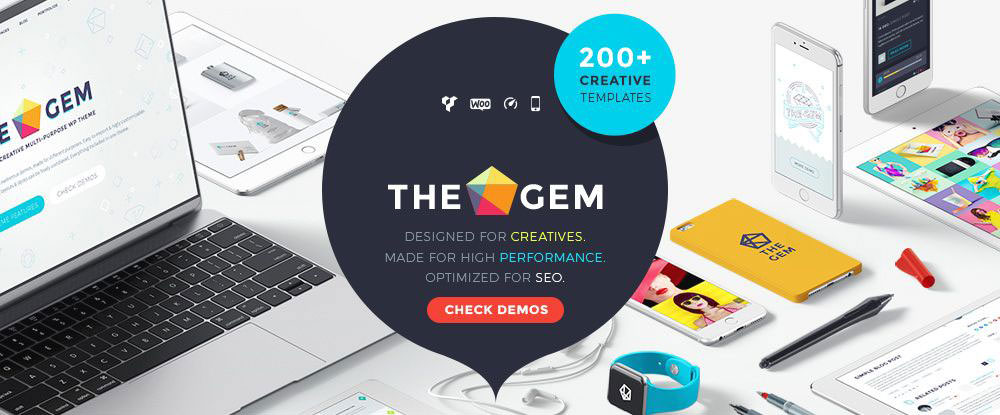 TheGem was designed for those who are fully capable of creating the most modern and beautiful designs of all, i.e., creatives. Well-publicized on ThemeForest, TheGem gives it users very fast loading times, top performance and 100% flexibility (you can create any layout you can think of), and it's super-intuitive to work with.
TheGem also scores 100% when it comes to customer satisfaction, thanks in part to its excellent customer support. It has in fact the highest 5-star rating of all the premium themes.
You can hire several people to manage your customer appointments, including at least one who won't mind working the graveyard shift. Or, you can simply go with Amelia. Amelia completely automates your appointment and booking system.
This software solution works around the clock, pairs appointments with employee availability, manages changes and cancellations, sends out reminders, and collects payments. Aside from occasionally clicking on a button to check status, you don't have to do much of anything.
wpDataTables is the best all-in-one plugin on the market for working with large amounts of complex data and presenting website users with colorful, informative, and responsive interactive tables and charts. It supports MySQL, PostgreSQL, MS SQL databases, and is the only software solution of its type to fully do so.
Key columns, rows, or cells can be highlighted or color-coded (conditional formatting). Tables and charts can be front-end edited for easy maintainability. wpDataTables currently boasts of 21,000+ happy users.
Roundicons.com offers the world's largest bundle of icons and illustrations. The bundle currently contains more than 38,000 premium, royalty-free icons and illustrations ready for downloading. More are added every month, and everything is yours for a one-time fee (use coupon code "GETBIG" to receive a 20% discount).
The bundle comes with a commercial use license.
Logic Hop automatically collects data on the fly based on your display ads, pay-per-click activity, and user actions on your website. It then uses this information to assist you in personalizing your website to match the interests of potential leads and visitors.
Personalized websites generally perform much better, and if a 200% boost in conversions or sales sounds good to you, you should give Logic Hop a try. Logic Hop is easy to use and makes website personalization easy.
Mobirise is free, its offline, drag and drop only, and your websites or apps will be 100% mobile friendly and feature crazy-fast performance. That's not a bad deal for something that's not going to put a dent in your finances. Mobirise is free for commercial uses as well
A large selection of templates, themes, & website blocks comes with the package along with a huge library of icons, fonts, and images.
You've come across a super-cool font you simply have to have, but you don't know its name or where you can access it. AI to the rescue! WhatFontIs features an automated AI system that scans a 550,000-font database and comes up with your answer in a matter of seconds.
In the unlikely chance WhatFontIs can't find precisely the font you're looking for, you'll be provided with several nearly-identical fonts to select from. Nearly identical is most often more than good enough.
There are prototyping tools that are very good, and there's Savah App which is as good as it gets. Savah will transform your designs into attractive, realistic prototypes suitable for feedback, rapid prototyping, user testing, and design approval and buy off.
It's a powerful collaboration tool as well and its built-in design workflow and approval system will save you tons of time. Savah can be integrated with Sketch App and auto-synced with Dropbox.
HelpJet enables you to automate customer support, or if you prefer, keep your support staff to a minimum size since many customers like to talk to real people. For commonly-asked questions, you'll enjoy having the HelpJet knowledge base available to give instant answers to customer questions 24/7.
Your staff won't have to be answering the same questions ad nauseum, and your customers won't have to wait to have those same questions answered. Money saved and happier customers!
Goodie joins web designers and end users directly with a web developer. You receive a price estimation and you can skip all the hassle and get a website featuring squeaky-clean code and have it done quickly.
The only thing required of you is to provide Goodie with a design. Let them take care of the rest.
8b is fresh, fun, and futuristic. This brand new website builder with its cool UI allows you to create your websites on any device, whether at home, work, or on the go. Its 250+ website sections and 16 started templates will get projects off to a fast start, and thanks to the latest Google AMP, your sites will be super-fast and 100% mobile friendly.
You can link to your own domain or use 8b.io with unlimited pages and bandwidth. No paid plans yet; 8b is free.
Conclusion
If you're trying to keep up with digital design technology, and the latest digital trends, this collection of 15 tools, themes, and resources should be a godsend. You only need one or two to boost your creations to a new level.
As an absolute minimum you should give the free ones a try. You've nothing to lose, and we're betting that if you try them, you'll keep and use them.