30 Home Office Designs That Truly Inspire
For people who work from home, the home office is an area that must be detached from the rest of the home. It is a place where productivity and creative ideas must be allowed to roam freely, where work can be done without distraction or interruption.
Therefore it is no wonder that many will put effort into turning that corner of the home into a home office that is conducive for work, rest and pondering.
In this collection, I have amassed 30 beautiful home office setups. Some of them are created to be close to nature; others are minimalistic. While some get to play with big wide spaces, there are some that make do with whatever small area they can play around with, and they do it cleverly. There is something for everyone here.
#1 – An Invigorating Home Office Setting
This home office gives out a simplistic design with the fresh color of yellow giving out a bright and sunny hue. Also the excellent cable management makes it look clean and organized.
Source: Andrew Breja
#2 – "The Brain" – A Private Office
Simply known as "The Brain", this private office was made for a filmmaker to inspire "ideas". It looks like a place where masterpieces come to be materialized.
Source: Olson Kundig
#3 – Motorcycle Shop Turned Office
Owned by none other than David Karp, founder and CEO of blogging platform Tumblr, this house offers little to no distractions – not what you'd expect from someone who's tech-savvy. And check out that beautiful Honda in the room.
Source: NYTimes
#4 – Once Factory, Now Office
Bet you won't believe me if I tell you that this is an office located right in the center of an abandoned textile factory — a contrast to the cluttered conditions in a factory environment.
Source: HomeDSGN
#5 – Hall Residence
How stunning is this vintage office? From the beautiful golden wallpaper to the wooden furniture and chandelier, it really sets the tone for a lovely and refreshing atmosphere.
Source: Impressive Interior Design
#6 – Renovated Farmhouse Office
This house in Northern Italy combines a minimalist yet modern design while preserving the feel of a farmhouse. One is sure to feel right at home no matter what.
Source: Dwell.com
#7 – Sunny Side Office
A comfortable home office design with beautifully made custom furniture made from recycled building materials with large window panes.
Source: Jeremy Levine
#8 – Persian and Asian Inspired Office
Inspired by Persian and Asian prints, this home office was built with a family setting in mind. The long banquette on the wall and beautiful wooden furniture gives a soothing feeling to the atmosphere.
Source: Aspire Metro
#9 – Open Air Home Office
Why settle with a view of a tree when you can have a tree grow ino your office? This design is guaranteed to make every environmentalist happy.
Source: Soopakorn Srisakul
#10 – Loft 24/7
Another nature-friendly office in a stunning setting: a beautiful book case, wooden panel walls and floor, surrounded by greenery. It is the loft of many dreams.
Source: Fernanda Marques Arquitetos Associados
#11 – Big Open Spaces
At first glance, one might mistake this as a very sophisticated-looking office but it is actually a home! With its spacious walkways and bright atmosphere, it is the perfect place to think and be productive.
Source: Starrett-Lehig
#12 – A Bachelor's Home Office
This home office for famous internet celebrity Julian Smith screams as the "Perfect Bachelor Pad". This place is guaranteed to make you rock whatever beats you listen to with its hanging subwoofers and speakers!
Source: Julian Smith
#13 – Mazzali Living and Office Area
This Mazzali living and office area in Italy complements its white background and ceiling with brightly colored bookshelves and furniture.
Source: Mazzali
#14 – Urban Cabin "Treehouse" Office
This home office can easily be mistaken as a comfy "treehouse". With a very spacious terrace that is surrounded by trees, this setting makes it hard to work because it's so perfect to relax in!
Source: Jeremy Levine
#15 – The Office of Floating Shelves
The office of floating shelves maximizes this otherwise small room by having its shelves held afloat with hanging rods. It's simple yet elegant and very practical.
Source: Jeremy Levine
#16 – Table By The Stairs
If you're looking for a picture that describes "minimalist" then look no further than Per Vestman's home office. With nothing more than his computer, a white desk and a painting and bike by his side, this is definitely a "less is more" theme.
Source: Jeremy Levine
#17 – Converted 1940's Office Building
This office building was once converted into a condo then back to an Oofice again. This office aims to preserve the look of the 40's with its simple yet minimalistic furniture. wall design and light fixtures.
Source: Shyama Golden
#18 – Flexible Space with Recycled Wood Flooring
With the amount of space in this room, it can be transform to anything from an art studio, office space to a family room to sit and relax in. The flooring is also eye-catching.
Source: Jeremy Levine
#19 – Montmarte Flat Office
Another simple yet comfortable setup, the MontMarte flat is an overall white office with a striking red chair to give an eye-pleasing contrast.
Source: Nicolas Millet
#20 – Office with A Retractable Glass Roof
Love the night sky? Unwind from the stress of the office with this retractable glass roof design.
Source: Carter Jonas
#21 – Distraction-Free Home Office
Here's another room that sets a perfect example of being "less yet more"; keep the distractions at bay and you might be able to find new ideas pouring in.
Source: seeasea
#22 – Cozy Interior
A home office that is obviously designed by and for an interior designer. This room has everything interior designer's needs as well as a beautiful fireplace for more coziness.
Source: Alex Campbell Photography
#23 – Hackney Shed
You have all your basic essentials for work, a library, a comptuer, power outlets that work, right in the middle of nature. This is more than a shed, this is a home for ideas.
Source: Office Sian Architecture
#24 – Postmodern Toronto House
At first this could be mistaken for a library, but this two-storey Toronto home is the perfect spot for either study or work while being surrounded with books. Truly a book lover's dream office home.
Source: Architectural Digest
#25 – Office Nook
Another comfortable "sanctuary", this room keeps it light with its descending shelves, wall color and table and chair setting. Check out the beautiful flooring and the curtains as a "barrier" between office and home regions.
Source: imgur
#26 – The Den
Having a foosball table in your office might be distracting, but not for someone who works in a creative field. Wooden tables and white walls with good natural lighting will definitely make anyone more focused in their work!
Source: Callum Chapman
#27 – A Balanced Home Office
One side is for work, the otherside leisure – basically what a productive office should look like.
Source: Kyle Anthony Miller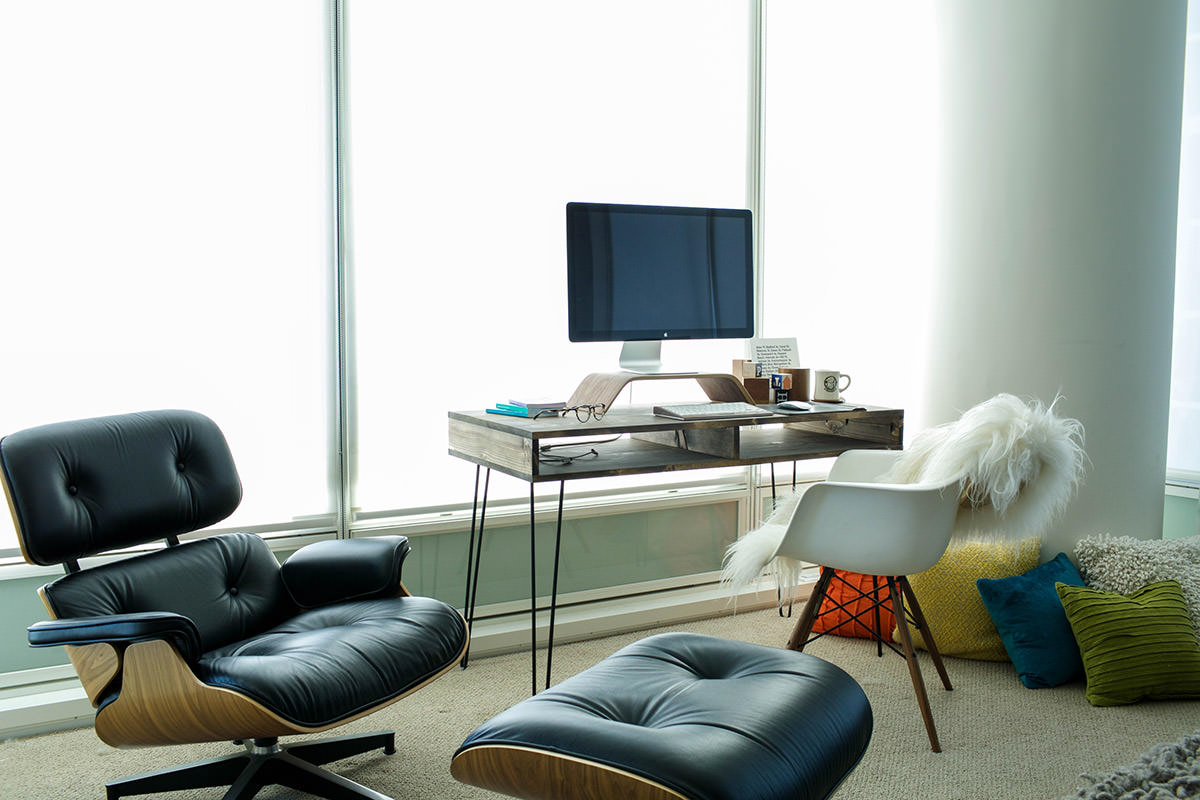 #28 – Ultra Minimalist Office
This setup has nothing but two workstations. May work for this graphic designer, may not work for others but to each its own, right?
Source: Marian Kadlec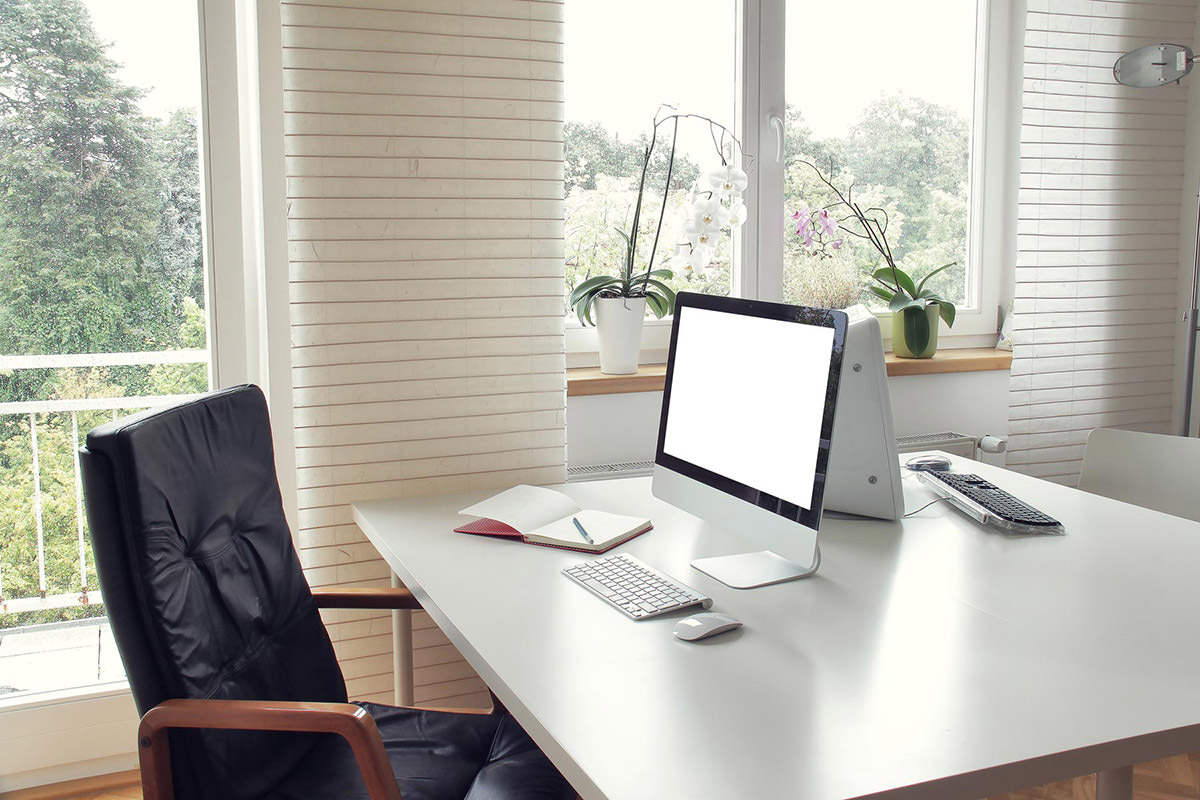 #29 – A Designer's Personal Space
The home of Vadim Sherbakov, art director and designer is bursting with creativity while avoiding a too jumbled state. With neatly aligned workstations atop a wooden table, and a wooden shelf filled with personal favorites.
Source: Vadim Sherbakov
#30 – The Attic Office Of A Photographer
Simple and clean, this home office has a mix of vintage and modern design. The skylight lets in natural light which may be helpful for the photographer's work.
Source: Iigia Ribeiro
Did we miss your favorite home office setup? Please tell us in the comments, we'd love to have a look!