Grab one of these exciting Black Friday deals
What are the needs of the modern web designers and developers? We tried to represent them in this outstanding selection of Black Friday specials. It's not only about realizing some substantial discounts either.
In the web design and development world, there are some opportunities that can't be missed. They can have a positive impact on your productivity, as well as on the quality of your deliverables.
Please don't make the mistake of setting this selection off to the side. You might want to look at it at it more closely later. Yet, Black Friday can come and go before you know it, and you'll find some genuine bargains here.
That said, what are you waiting for?
Web designers and developers don't choose WordPress as their CMS platform based on what a single plugin can do. It's usually the other way around. wpDataTables is a different story. This chart and table building WordPress plugin is so popular, that some web designers have switched over to WordPress, just so they can use it. In fact, wpDataTables has over 13.000 paying users, with an average customer rating of 4.6.
The reasons for doing so are clear. wpDataTables does not require coding. It can easily manage massive amounts of complex data, and do so quickly. And, it creates responsive, interactive, and easily editable tables and charts.
If building a table or constructing a chart sometimes takes you hours, if not days, be prepared to be pleasantly surprised. When you talk about wpDataTables' performance, you're talking minutes! wpDataTables performs a variety of calculations, including but not limited to sums and averages. You can also use its conditional formatting feature to highlight data in color.
Whether you're a WordPress user, or about to become one, wpDataTables is yours at a 50% discount only from Tuesday, 21st till Wednesday, 29th November 2017 (2pm AEDT).
This special Black Friday offer on any Webflow Template is a great opportunity to find out more about Webflow. There are over 100 templates to choose from, and you can rest assured that whichever one you pick will get your website project off to a quick start.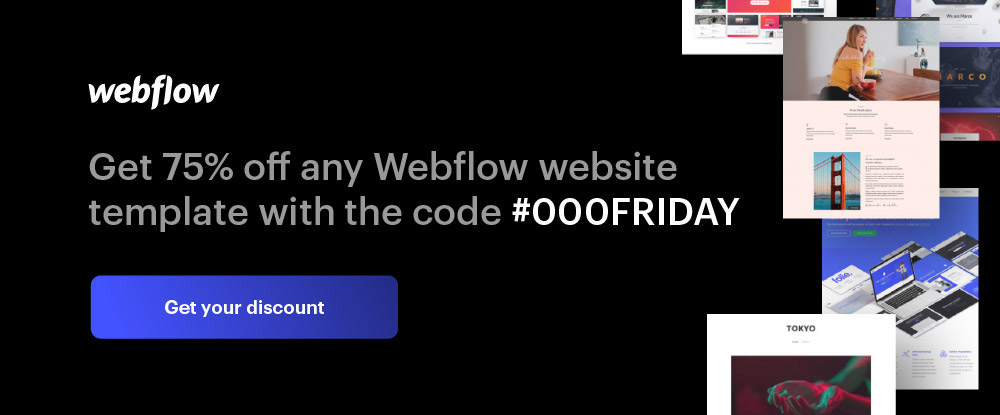 This selection of HTML5/CSS3 responsive templates includes templates for blogs and portfolios as well as for websites and apps, so you should have no problem finding one you can put to immediate use. These templates have proven to be so popular, that some non-WordPress users switched over to WordPress to better take advantage of all that Webflow has to offer.
Coding is not required when using Webflow, and the 100+ templates provide plenty of design options, although you can always start from a blank canvas should you so choose.
For Black Friday: Select a template at a 75% discount.
Some project management applications don't do all that much to help you work smarter, nor do they necessarily save you as much time managing a multitude of tasks as you would like. Nutcache is a web application that will help you manage your projects throughout their life cycle, from the time you're beginning to determine a project's cost estimates, until you're ready to submit the final billing.
Nutcache offers something else you'll like. Its features include a set of financial tools seldom found in project management applications. Agile methodologies are also supported, making this app an ideal choice for project teams that follow Agile/Scrum principles and processes.
Another feature users like, is the ability of Nutcache to easily adjust to a project team's unique workflow.
For Black Friday, the Nutcache team is offering a 40% discount for the new customers on a yearly subscription to their Enterprise Edition.
With its multiplicity of flexible page layouts, multi-purpose design concepts from the star designers from Behance community, demo pages, navigation settings, and more, TheGem – Creative Multi-Purpose High-Performance WordPress Theme has deservedly been referred to as the Swiss Army Knife of WordPress themes.
TheGem is a top selling theme on Themeforest and a bestselling creative WordPress theme. In addition, this great theme is fully compatible with WooCommerce, offering tons of its own features, and making it perfectly suitable for any web project.
If you're looking for a tool that will enable you to build websites with a flair, add TheGem to your Black Friday shopping list, and take advantage of the 50% discount for the whole package of layouts, concepts, and premium plugins.
If you're looking for a great Black Friday special on themes, plugins, or addons, you need look no further than Themify. To celebrate this special holiday shopping day, Themify is offering these products plus Club memberships, at a 50% discount. Just use promo code BLACK FRIDAY. Use promocode BFLIFE150 to sign up for a Lifetime membership for just $199; a savings of $150. Both offers are good through Cyber Monday, plus you'll be eligible to win a Master Club membership and an Amazon $150 gift card.
The ListingPro Directory WordPress theme is unique. It's the only end-to-end, and all-in-one theme of its kind you'll find in today's marketplace. It also happens to be ThemeForest's #1 top-selling Directory and Listing category product. ListingPro does not require any additional plugins to give you the results you need, since it all comes with the package. Celebrate Black Friday with a purchase of ListingPro at a 50% discount.
Anytime you can find a multi-purpose WordPress theme offered at a significant discount, it's worth giving it a good, close look; especially if you're looking for a website-building tool that has more to offer than the one you're presently using.
Built around a Bootstrap framework, the Kallyas WordPress Theme is a hip and high-performing theme, backed up by a top-notch support team. Kallyas can be yours, this Black Friday only, at a 50% discount.
This website, application, and database building tool enables you to manage your business in one place, instead of having to switch back and forth from one platform to another. With Simbla, you can edit all the facets and attributes of the user interface to create your own database-driven apps. Simbla can be yours at 50% off the regular price, when you take advantage of this Black Friday special.
Have you heard of Stockfresh yet? Stockfresh is an awesome collection of high-quality stock graphics for professional web designers and developers. If you are looking for the perfect picture for your ongoing project – you will surely find it here on Stockfresh, amongst millions of other images.
In addition to great customer service and the experience of a user-friendly website, Stockfresh offers you an amazing 20% Black Friday discount on all plans. To get it, type the code BLKFRD17 at checkout.
Summing It All Up
There's obviously much to like among this selection of Black Friday specials. Each of these products enjoys a large and enthusiastic following.
You not only get value for your money but given these generous discounts, you can get up to double the value. You don't have to stand in line waiting for the doors to open either. All you need to do is visit a website or two!