Top Designer Google+ Communities You Should Follow
Update: Google+ has been shutted down on 2 April 2019.
If you are active on Google+ there are a lot of communities for web designers or UI designers to join. Google+ Communities are like online groups or forums where people can come together to talk about a common hobby, interest or career (such as Design). Only members of a given community can see your posts in their stream. As a designer, this is great because you can share your work and get feedback from thousands of other designers, for free.
In the design communities below, you'll find lots of great information, freebies, tips and tricks, and personal design work from members. Plus, you can ask for help or offer help to others. Let's find the perfect Google+ design community for you. (Note: Number of members listed for each community is accurate as of time of writing.)
Web Developer, Web Design, Web Coding
Whether you're a Web designer or developer, you'll love this community. It's the perfect place for discussions, question and answers, brainstorming and anything else related to Web design and development. There's even a category for job postings, so if you're looking for work be sure to check it out. You could find a side project to work on, or even a full-time job. There's plenty of information for beginners and even for seasoned designers and developers.
Categories in the community: HTML5 / CSS, Graphic Design / UI, Ajax / Javascript, PHP, ASP / .NET, Python / Django, Ruby / Rails, Perl, DBMS, Java / C / C++
Members: 88,000+
Android App Design
This community is the place for Android app designers. There's a special category just for beginners, which is great for those just starting out. If you're looking to improve the design of your app(s), you can request feedback and suggestions from over 70k members. Of course, you can also share design tips and tricks, screenshots from your favorite apps, design mockups and more.
Categories in the community: Design Feedback Requests, Documentation and Resources, Design Tools, Design Tips and Tricks, General Discussion
Members: 86,000+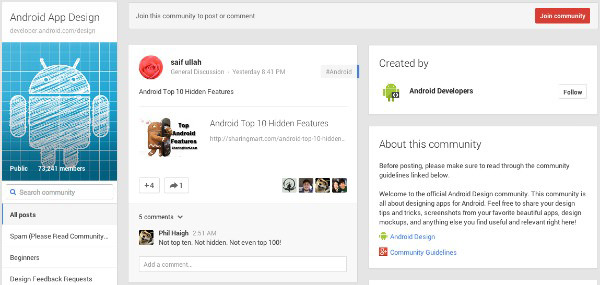 Web Development
Although this community is called "Web Development," the description states that it's a community for Coders, Web designers, clients and anyone who loves Web development. Despite its focus on development, you'll find a lot of information, tips and tricks regarding Web design as well. It's also great for designers who may be looking to get into development and want to start learning the ropes. You'll find that most design related topics are in the general "Discussion" category.
Categories in this community: PHP, Joomla, WordPress, Adobe Flash, HTML5 / CSS, Drupal, MySQL, Perl, Python, Ajax, Tutorials, Tips, Projects
Members: 41,000+
SEO+ – Search Engine Optimization / Website Design
This is an SEO community that also focuses on Web design, among other topics. If you want to learn about SEO and how it's affected by web design, this is a great place. You can also learn about designing landing pages for SEO, designing viral content, responsive Web design, WordPress design and more. If you manage your own website or blog and want to learn how SEO and Web design work together to help boost your rankings, this is a great community to join.
Categories in this community: Search Engine Optimization, Search Engine Marketing, Mobile SEO, Google Webmaster Tools, Google+ Tips, Blogging for SEO, Web Design, Responsive Web Design and, SEO / Tech Humor
Members: 31,000+
Graphic Design
The graphic design community focuses on all things creative such as: typography, logo design, print design, illustration, infographics, branding, motion graphics and Web design. You can share your design work and get feedback, discover great tips and tricks, find design freebies to download (UI kits, backgrounds, vectors, icons, etc) and more. This community is slightly more strict. There's quite a few rules to follow (mostly don'ts), so be sure to read through them before posting.
Categories in this community: Adobe Suite, Advice, Inspiration, Professional, Package Design
Members: 14,000+
Web Design
This community is all about Web design. From tips and tricks to freebies to actual design work from members, you'll find it all here. Be warned that you must post in the correct category, or your post may disappear completely (get deleted) from the community. As with any community, you're expected to not just post, but also contribute and interact with other members and posts. Although "all topics are covered," there aren't very many categories to choose from.
Categories in this community: Ask Someone, Inspiration, Trends, UX, UI, Ask for Feedback, Self Promotion (which should be done tastefully and in moderation)
Members: 10,000+
UI Design
This is simply a community for sharing thoughts and ideas on UI design. If web, desktop or mobile UI (user interface) is your thing, this is community is for you. You'll get to see a lot of UI design work from other members and can provide feedback. Freebies are also posted like templates, UI kits, mobile GUIs among others. You'll also come across occasional job listings, questions and of course, tips and tricks.
Categories in this community: Intro, General Discussion, iOS, Android, Windows Phone, Web, UI Patterns/Framework.
Members: 5, 900+
Final Thoughts
Thanks to these top Google+ communities for designers, you really have some great sources for things like tips and tricks to freebies that you can download. Plus, you can connect, find and even colloborate with other designers.
I encourage you to read the Community Policy/Guidelines for each community (most have them). You'll usually find a link in the description box ("About this community"), so that you can understand the do's and don'ts for that specific community. You don't want your posts or yourself removed from a community for not following the rules.
Are you a member of any of these communities? If so, which one is your favorite?