20 Creative & Brilliant Gifts for Foodies in Your Life
Holidays are such a wonderful time when all we think of is food and recipes. Whether you're a food-lover or an aspiring home cook, there's a food-inspired gift out there that has been perfectly tailored to your unique taste.
We've already published some cool gift ideas for paperphiles, frequent flyers, coffee lovers and even the geeks around you. This rounded up is for the foodie in your life, and includes so many interesting gift ideas that they'll make you hungry. Just scroll down, enjoy the list and.. Bon Appétit!
Read Also: Gift Exchange Ideas: 25 (More) Gifts You Can Get Under $10
Collect your coins in this cute scented macaron purse and you money would never smell sweeter. It's available in different colors, and can be used for keys and other small accessories. [£8.99]
This amazing watermelon candle looks like an actual watermelon! It lasts for about 16 hours and can be a perfect gift for a foodie. [$7]
It's an inspiring combination of Japanese food culture and cozy knitted socks. It contain 7 delicious designs such as Salmon, Shrimp, Tuna, Egg, Octopus, Red Caviar and Masuzushi. The socks looks like a real sushi set when are rolled up. [£8.99]
Now you can note your thought in a notebooks that look like popular snacks. The design is created after a cheddar cheese cracker and a cream sandwich cookie. [$12.50]
This pencil bag look like a real fresh fish. Though some may find it disgusting, however, it's a perfect way to play a prank on your friends at school or office. [$7.19]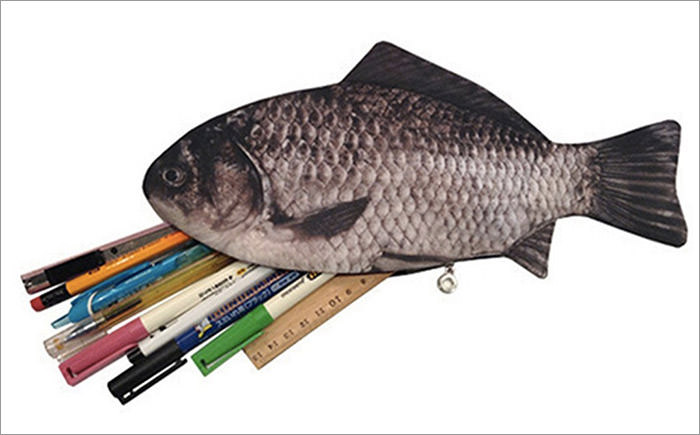 With these funny molds you can make an ice cream of other frozen treats in a form of monsters. These would be an ideal gifts for kids, because making ice cream is such fun! [$16.92]
An absolutely useful tool for cutting and then picking watermelon slices. You can easily cut nice smooth slices and lift them with the same cutter. [$19.95]
These socks looks like an actual pepperoni! Designs are knitted, not printed, so they will last much longer. The socks are put together in a nice box in a form of pizza slice. [£8.99]
You can not only eat pizza, wear pizza, but sleep on pizza too! These bed linen looks like a huge pepperoni pizza, and you will be dreaming about pizza all night long. [$66]
These awesome gloves are 4 times more resistant than leather and will keep your fingers safe while cutting. You can cut vegetables, slice them or do other food preparation work without fear of cutting your skin.n [$11.99]
This is not a usual cooking board – it allows you to collect food in separate containers and even hold iPad or cookbook while you're preparing a meal. [$129]
Beer Bites Snack Bowl is a perfect accessory for a beer party with friends. It looks like a bottle half. The bowl can be used for snacks. [$12.99]
Cutting pizza could be so much fun with this amazing cutter in a form of a bike. It can be a nice accessory for a wonderful evening with friends. [$23]
Eggsplode egg cup could be a funny addition to your breakfast table for kids. It's made in a form of a tank with a helmet for a boiled egg. [$22.90]
Here is a beach blanket which looks like a huge tasty donut! Just but a coffee and you're all set. It's 5 feet across. [$35]
Cupmen is one more hilarious yet useful product which is a able to determinate a cooking status of your noodles. It changes color when the temperature of your noodles inside rises. [$53]
Here is a cool gadget for Star Wars fans out there. This awesome toaster actually looks like Vader's helmet, and makes toasts with Star Wars title on the side. [$54.9]
Here are funny-looking sandwich (or cookies) cutters shaped as animals. Give your boring sandwich a fantastic makeover with these funny cutters. [$8]
Here is a fantastic donut float which comes with chocolate frosting and sprinkles. Turn your ordinary beach day into a holiday with this float. It will be a perfect accessory for pool parties too. [$15]
Here's one more egg cup to provide a warrior spirit to your breakfast table. Inspired by the famous King Arthur, the cup looks like a soldier with a lance (which is a spoon). [$12]