6 Tips to Getting More Design Projects
Graphic and web designers were among the most hit with the receding economy. With clients opting to outsource their graphic design works to freelance marketplaces, where desperate workers from all over the world bid pennies for projects, how do you ensure you survive in this tough economic situation?
Even with your exemplary design skills, getting income online through freelancing is still a great challenge. However, we jump into this industry because we have faith and passion for our skills and products. Don't let these challenges bring you down, read on to find out useful tips that will get clients to sign up and work with you regularly!
How to Become A High-Demand Designer
How to Become A High-Demand Designer
Discover the high demand for designers in today's job market. Learn which skills are most sought after and... Read more
1. Get Steady Work
Clients are willing to pay top dollar for brilliant graphic design works. While learning graphic design can be a walk in the park, thanks to the many tutorials and easy to use software, this is just the easy part. Now, you have to get noticed in order to get paid. This is the hard part.
Getting steady work takes time and hard work. To begin, join a variety of sites, such as Sitepoint Forum to get your name out. You might be tempted to join freelance marketplace sites like fiverr.com, Guru.com or Upwork.com but this might not be a smart move.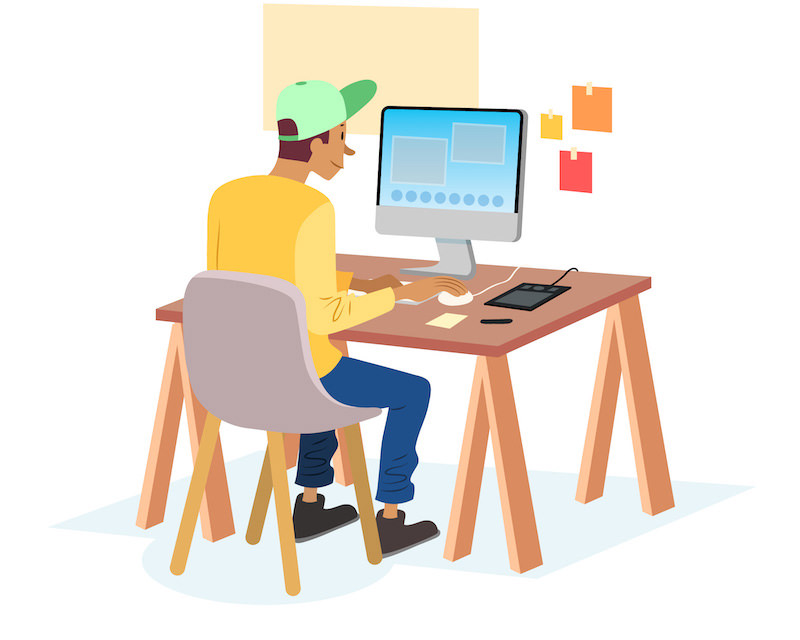 The sites usually charge a commission for projects won and you will realize the prices quoted by other freelancers bidding for a project undermine your skills. You do not want to do a logo for $2, would you?
Well, if you are really desperate for work, the freelance marketplaces can be a good place to begin. But why get paid $2 for a logo when you can get $250?
2. Network, network and network!
The easiest way to get started with networking is to get in touch with people you already know or other graphic designers. There is no need for the typical white party networking event. You can also simply create a blog and start contributing helpful articles.
Managing a blog is simple and with time, you will establish a name for yourself and will get a sizeable number of followers, most of whom can be your future clients. You can use free blog platforms like WordPress, Blogger and TypePad to get started. Spruce up your blog with a custom theme, like custom Blogger template to stand out from the crowd. Learn to market your blog.
Graphic design is all about visual. Your audience has to see your past works. Thus, having a portfolio at your blog or website is a must. Alternatively, get links on works that you have worked on before. Your portfolio should consist of your finest works, with a short blurb explaining the job. However, the selling pitch should not appear. Let the works speak for themselves.
Keep updating your blog with the projects you have worked on and also write articles on graphic design tips for businesses. Talk about how businesses can use graphic design to go to the next level. Your audience will love you when you give such useful information.
3. The Power Of Social Media Marketing
While you can showcase your portfolio on your blog, that is not enough. With the web trends constantly changing, use the social media wisely to attract client.
You can create a Facebook Fan page for your services and post new works on the page. If you have followers on Twitter, let them know of the latest project that you have just finished. In conclusion, learn to benefit from social media.
Your clients can also help you gain publicity if they are impressed with your work. Ask them if they can mention you on their newsletter, social media sites or other avenues through which they interact with their customer.
Social media is a great way of getting your name out and letting everyone know what you do. Having an online presence is crucial to generating new works, signing up new clients and retaining the existing ones.
4. Get organized – your reputation is at stake!
As you become known and orders start streaming in, you will be on your way to getting a stable income. However, you have to get organized and deliver your orders on time.
Do not be in a rush to accept more orders when your hands are already full. With your outstanding portfolio, good clients are likely to understand that you will be tackling their projects later on rather than immediately.
Failing to deliver your orders on time can give you a bad reputation and dismantle your efforts of getting a steady online income from your freelance graphic design business. Reputation is the foundation to generating new job leads and keeping a steady stream of orders lined up in your email. Apart from having a great portfolio, client's work must be delivered on schedule.
Eventually, you will be at some point which you have to turn down work either because you have too much to do or the client has expectations or deadlines that you cannot beat.
Thus, you should know your schedule well, the kind of projects you are working on, their expected submission dates and an overview of the skills that will be required. You can use free online project management tools to streamline your records.
Reputation is the keyword here. And in the words of Benjamin Franklin, "It takes many good deeds to build a good reputation, and only one bad one to lose it".
5. Dedication, something to live by
Be dedicate to your projects. When you accept a project from a client, you should deliver. In fact, over deliver to give them more than they expected!
Freelancing can be challenging since you are your own boss. There are lots of distractions that can make you fail to meet your set deadlines. To counter this, treat your freelancing business as an employer business.
Dedicate a set number of hours every day to the projects at hand. Also, you can read on our article to help you get focused on work. Then, be productive.
Remember to always keep in touch with the clients. Use a professional email solution to regularly update them on the progress of their projects. If you are just getting started, Gmail will do just fine.
6. What's next after getting clients?
Introduce new graphic design services to your regular clients. If company X usually comes to you when they need fliers designed, chances are they could be customers for your business cards design service. Ask them.
All in all, never lose sight of one thing: Quality. It takes a lot of effort, tact, perseverance and some luck to bag good regular clients. All these efforts can be reduced to oblivion when you do a shoddy job in a rush to meet deadlines. Do not compromise on quality. It is your image and clients will judge you by what you give them.
Bonus: Stay ahead of your competition
Product differentiation applies as much in graphic design as it does in the manufacturing industry. Get that spark that will set your business apart from your competition.
This can be giving out what other can't give. Perhaps it is your timely delivery, outstanding work or ability to come up with unique creative designs.
Whatever it is, let your prospects know about it. Clients will buy from a place where they are likely to get something extra. Find the "extra" for your business.