How to Find Wi-Fi Passwords in Android & iOS
WiFi is indispensable for a smartphone owner as almost every app needs internet to run. Probably that's why people have such funny WiFi router names to protect it from being misused. However, there are times when you need to connect a new device to your WiFi network but forget the password, or want to share a WiFi password but don't know how to access it in your smartphone.
Well, to deal with all those troubling situations, I have composed this post for finding WiFi passwords in smartphones. Either it's your Android device or an iOS phone, you'll find useful solutions for accessing saved passwords. Let's take a look.
Android
On an Adroid smartphone, it is really difficult to find WiFi passwords as the folder is saved in the root directory and the OS doesn't give access to it. You need to have elevated administrator privileges to be able to access that folder and see the password.
Therefore, if you want to see saved WiFi passwords, you'll have to root your Android device.
On a rooted Android phone, you can either use a file manager such as Solid Explorer to manually search for the passwords, or use a dedicated app to automatically extract all the passwords. I recommend using a third-party app as it is more intuitive and will make it easy to manage and share the passwords if need be.
For this purpose, Wifi Password Show is a great app that is free and easy to use. Just install the app on your rooted phone and it will list all of your saved WiFi passwords along with their SSID. You can then copy all the data, or even share with anyone via text message or email.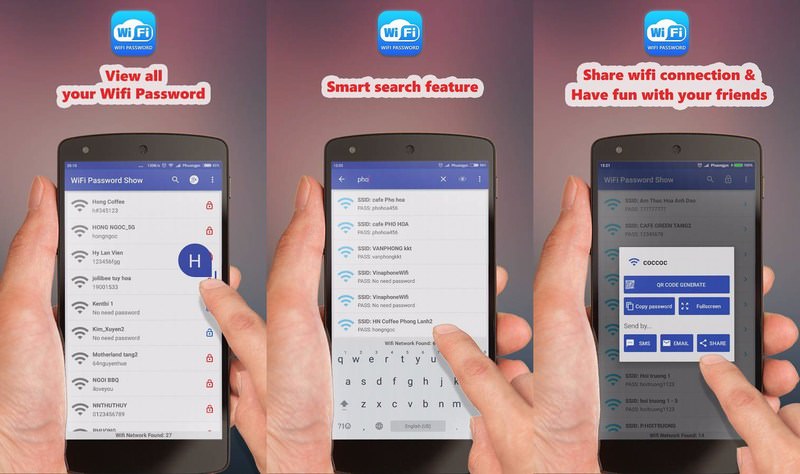 Alternatively, if you just want to move your stored WiFi password from one device to another then you don't need to root your device. Google automatically backs up all your saved WiFi passwords in its servers along with other important data.
So, most probably your passwords will be backed up in your Google account as well. Just log into your Google account through another Android phone and all your WiFi networks information will be automatically synced.
iOS
Similar to Android, iOS also doesn't allow you to see WiFi passwords without jailbreaking your device. If you have a jailbroken iOS device, then you can simply search for "see WiFi passwords" on Cydia and you will find multiple apps to reveal WiFi passwords.
There is also an alternative solution for non-jailbroken iOS users as well, however, you will need to have a device running MacOS to be able to use this trick. iCloud Keychain is a handy syncing feature to sync all your passwords on your Apple devices, including the WiFi passwords.
You just need to enable iCloud Keychain and the passwords in your iOS device will be automatically synced with your Mac.
Once all the passwords have been synced to your Mac, you can use the instructions provided in my post about finding passwords on Mac to reveal your iOS passwords there. Similarly, if you need to move your WiFi networks to another iOS device, then iCloud Keychain will help you there as well.
Finding saved WiFi passwords can be tricky on both Adroid and iOS smartphones, however the solutions mentioned above are quick and simple and would most definitely help even the most novice of the smartphone users.