20 Gadgets to Help You Fight Stress
Modern living can be busy, demanding and always switched on. While we are not able to control the external stress-inducing factors from our surroundings, we can better manage how we react to them.
Sometimes it is as simple as clearing your head and taking full, slow breaths while collecting yourself. Other times, you need to detach yourself from the issue by doing something easy, low-maintenance and repetitive like doodling or coloring. Then, there are stress relief gadgets like the 20 collected here.
Read more: 10 websites you can visit to help you stay calm
Bucky cubes consists many cubes which are super strong and can attract objects that are bigger many time in size. Bucky cubes are perfect building blocks that allow you to create amazing patterns and relieve stress along the go. [$24.99]
Keeping fish in nice aquariums have been known for their ability to calm and relieve stress. What we don't like is having to clean the tank once in a while. Well, this is a self-cleaning fish tank that also grows organic food. See the plant keeps the tank clean, and gets its nutrients from the fish waste. Perfect for work or home. Plants and fish not included. [$59.99]
If too many things are bogging you down, you are going to implode from the stress. Relaxing doesn't help remove all that backlog, but organizing yourself might. Here is a magnetic weekly planner that you can mount to a wall, allowing you to literally take a step back and look at your work. Stick important notes or write on it with chalk. [$24]
Do you remember those puny stress balls we can hold in one hand? This stretchy and squishy stress ball trumps that with its XXL size. It is filled with thousands of small gel balls that squish and dart around when squeezed. It's a super tool to relief super-sized stress. Available in blue and pink. [€17]
Mentally tired? Take a load off your brain with this hynocube. Made up of 64 RGB LEDs which can bedazzle with with more than 4000 color combinations, this hynocube also has transition effects that give you unique and stunning displays. [$100]
Life is full of people you don't like. If you can't beat them and don't want to join them, then this stress ball is pretty much the thing that can keep you out of trouble. Take out your anger on these colorful balloon stress balls with "nice" wordings like "Shut up", "Nobody cares", "Die already" and "I hate you". Maybe we should feel sorry for the people who designed this. [$10]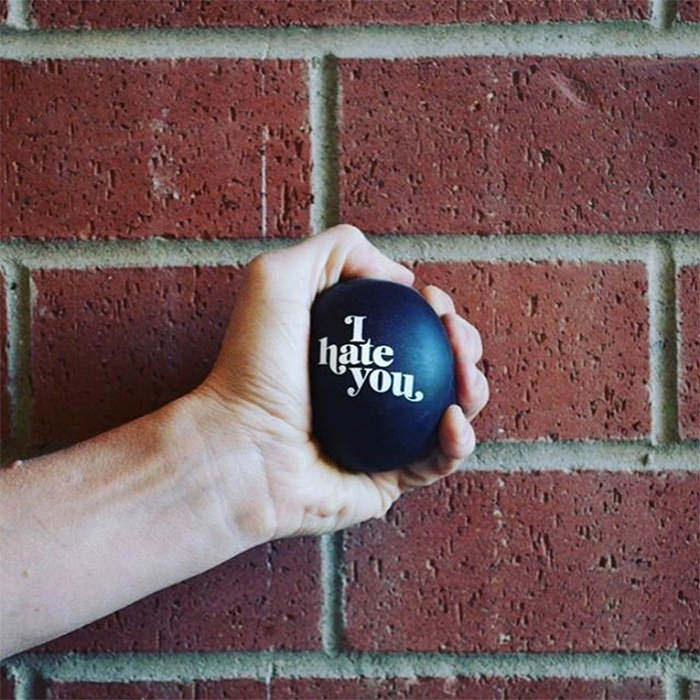 A stress toy that looks like a wad of $100 bills? What's not to love? The product description 'advises' you to give this stress toy a go right before you ask your boss for a raise or right before you go seal a big business deal. A must have for high-performance jobs that need you to keep a check on your stress levels at all times. [$3.09]
This is your personal piece of a beach on your desktop. The executive sandbox is perfect to stash sand and bring it to you to your place of work, to remind you of why you are doing all this – to get some time at the beach. The beautiful box is made with solid walnut and with a polished finish. [$30]
Sometimes Science can be of help to reduce stress, something like this. In this beautiful paperweight is a small scale version of our solar system. It gives you a reminder that sometimes what you think is a big problem, isn't actually that big. And that there is more out there than what happens at your desk or in your office. [$38]
In some cases, your stress might be caused by high exposure to artificial lighting. This may vary from one individual to another but if you think this is a cause to your stress build-up, check out Svet, a high-end technology light bulb which mimics natural light. It can finetune your current surroundings to keep you energized or relaxed, and it's safe for your eyes.
Stress can also come from being in an unfamiliar surrounding, or a noisy one, especially when you cannot grab enough sleep. Drown out the environment noise with these awesome earbuds. They feature sophisticated technology to silence disruptive noise. You can even wear it while sleeping. [from $160 on Indiegogo]
Fancy a game off foosball, inside the office? Get a colleague to play and release stress together. This miniature foosball table measures 1.25" x 4" x 8" and is also available in a green-field design. [$55]
Tired of being the punching bag in the office? Transfer some of that frustration to an actual punching ball like this stress buster. Put it on your desk and let the heavy spring bring the ball back after every punch, ready for more. A pump is included to keep the thing balanced. [~$16]
Play rugby at your desk. The set comes with a rugby ball, the kicking tee and the poles you see in the shot below. This probably works only for rugby or football fans. Don't stress out, play ball! [$7]
Using this foot massager you'll be able to stimulate reflexology zones of the soles of your feet and get an excellent massage. It also has a heat feature to make your feet even more relaxed and receptive to massages Ideal for those who have to stand on their feet all day long. [$250]
All that stress can cause stiffness in certain parts of your body, particularly the neck and shoulders. This massage mat can hep with that, as well as with the physical stress from sitting in front of the computer for long periods of time. Say bye bye to the pain. [$129.95]
Have a headache or tired eyes but can't find the time to catch a quick nap? Slip into a brief reprieve with this eye massager. It is held in place with a strap. There are three massaging modes and a built-in music player. Great for those who do not rest enough or get migraines caused by stress. [$119.99]
What sets Sona Smart bracelet apart from the smart bracelet crowd is its high-end heartrate monitoring technology. The bracelet app guides you through meditation exercises meant to even out your breathing, which ideally strengthen your body's automatic response to stress, and gives you personalized advice about your habits. Available in Rose Gold, Gold and Gunmetal. [$149]
The pip is an innovative gadget which helps you see your stress levels. It helps you realize when you have reached critical levels of stress and thus will be more readily receptive of the idea of slowing down or taking a break. The Pip is portable and you can take it with you wherever you go. It works with an app. [€179]
Heard of Death Note? No, this is doesn't work like that magic book. But you get to write down the names of people who deserve to be in a book that is titled accurately. Just don't leave it lying around where those jerks work. [$15]
Let us know of your favorite stress-busting gadgets, methods and techniques in the comments below.