Freshen Up Your iPhone Icons With CocoPPa
This article was first published on: Apr 25, 2013.
If you are an iPhone user, you are probably used to restrictions on how you can customize which app goes onto your home screen. Unlike the flexibility afforded by Android phones when it comes to customizing homescreens, with the iPhone, you can't change the user interface without jailbreaking your device; or can you?
With CocoPPa you can actually change the look of your iPhone icons for free and without jailbreaking your phone. It basically works by linking a new icon to each app, giving you the freedom to freshen up your iPhone homescreen for a change. Here's how to work the app.
Assigning New Icons
To start, download and install CocoPPa into your iPhone. You will see a range of icons to choose from in the 'New Icons' and 'Popular Icons' sections.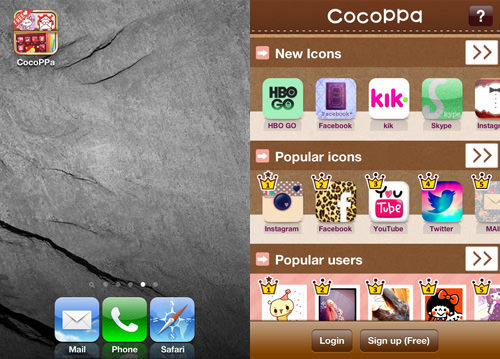 Pick an icon you want to use. For our example, we are replacing the old Instagram icon.
Picking the icon will bring you to a new page where you can setup the icon onto your home screen. Tap on 'Set up link'.
After that choose 'App Search', and link it to your Instagram app.
Confirm the linking and you can even rename the app if you want. When you're done, tap on 'OK' and it will open in Safari. On Safari, press the 'Option' icon.
Then, choose 'Add to Home Screen'. Exit Safari and you will find your new Instagram icon on your home screen.
Launch the app as normal by tapping on it from your home screen. Note that there might be a delay of around 1 to 2 seconds before the app loads.
Assigning Icons As Shortcuts
With CocoPPa, you can also add icons as shortcuts to call, email a contact, send a message or as a URL shortcut.
To do so, choose the icon you want to assign to the task. Then, on the linking page, under 'Link types' choose either Phone Call, E-mail, Message or URL.
1. If you set the icon to 'Phone Call', it will call a pre-assigned number, it will automatically call the person when you press the icon.
2. And if you set the icon to'E-mail', it will take you to the compose e-mail page with the sender's info filled in.
3. You also can set the icon as a shortcut to 'Message'. When you launch it, it will open at the "New Message" page with the receiver's info entered.
4. Lastly, you can also assigned the new icon to open a 'URL', or a page that you have pre-assigned it to.
Additional Info
Note that deleting the original app icon may cause the CocoPPa icon to not function. This is because the new icon would not be able to find the original app icon and run the program. If the original icons are taking space in your home screen, you can store them in a folder.
You can choose to sign up for a CocoPPa account to get unlimited icons added to your homescreen. If you choose to not have an account, you can only play with 2 to 3 icons.