Dashboard Design: 50+ Brilliant Examples and Resources
We live in the world of big data and most people need to make sense of these numbers as a part of their workflow routine. Managing data is a challenging task and here is where the dashboard comes into play.
The Dashboard is an interface between a website and the administrator which helps to control a site, service or tool to track data. A well-designed smart dashboard can save a lot of time and help quickly identify information that matters in order to make proper reports. Dashboard designs must think of avoiding clutter, highlighting important info and prioritizing metrics.
In this post you will find many brilliant dashboard designs that will inspire you on your own design. If you aren't into designing, then check out the second part of this post to get dashboard resources out there that can be downloaded for free.
Dashboard UI for Your Inspiration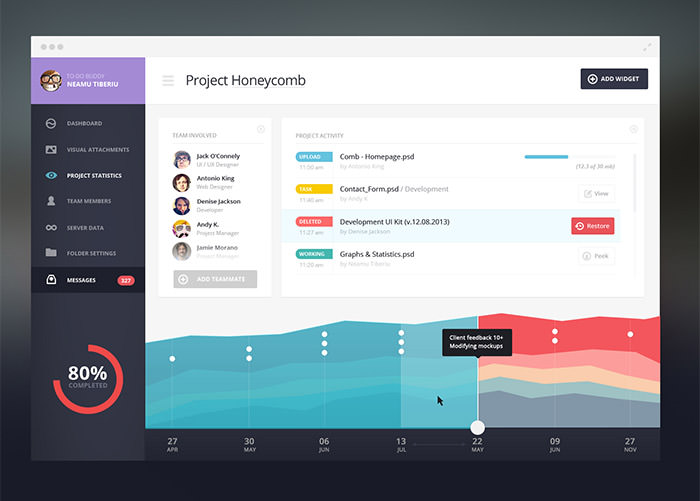 25 Dashboards UI to Download
Here are some of the dashboards that are available for download. Click the dashboard images to download the PSD.
Format: PSD [Download]
Format: PSD [Download]
Format: PSD [Download]
Format: PSD [Download]
Format: PSD [Download]
Format: PSD [Download]
Format: PSD [Download]
Format: PSD [Download]
Format: PSD [Download]
Format: PSD [Download]
Format: PSD [Download]
Format: PSD [Download]
Format: PSD [Download]
Format: PSD [Download]
Format: PSD [Download]
Format: PSD [Download]
Format: PSD [Download]
Format: PSD [Download]
Format: PSD [Download]
Format: PSD [Download]
Format: PSD [Download]
Format: PSD [Download]
Format: PSD [Download]
Format: PSD [Download]
Format: Sketch [Download]