Are There Cryptocurrencies Backed by Gold?
Many assets back cryptocurrencies. This diversity is part of what makes them so attractive. However, there's been a recent surge in cryptocurrencies backed by gold, such as GoldCoin.
In this post, we're going to break down assets backed by precious yellow metal.
Top 10 Cryptocurrencies You Should Know
Top 10 Cryptocurrencies You Should Know
Cryptocurrency, or digital currency, is an invention of the Internet. Basically, someone out there thought, "hey, what if... Read more
Gold-backed cryptocurrencies in general
Before getting into it, note that gold-backed cryptocurrencies are not the end-all-be-all for stablecoins – crypto assets tied to the value of a physical commodity. For one, these projects don't have as much liquidity as traditional gold markets. This is due to them being more niche than the traditional market.
That, and these groups need to prove their holdings. This is generally done via third-party audits, which is who you'll have to rely on. While there haven't been any big stories of scams in the gold-backed crypto space yet, there have been many in the overall crypto space.
Now, similar to traditional gold, you wouldn't be investing in gold-backed cryptos to make a short-term profit. Instead, the idea is to hedge the economy, like one would with physical gold. These assets are not volatile, considering they tie to the price of physical gold.
This makes gold-backed cryptos a fantastic investment for those who don't like risk. Those looking for short-term profit, however, should stay away.
Website: https://goldcoin.com
GoldCoin is considered a stablecoin. Every GoldCoin is equal to 1/1000th of an ounce of gold. This means you can invest in fractional amounts of gold rather than whole ounces. Aside from increasing the accessibility of gold investments, these assets are entirely secure thanks to the Ethereum blockchain they're based on.
That technology also ensures you can store your assets without issue. All of your GoldCoin is stored in an Ethereum-based cryptocurrency wallet of your choosing. There's no paying for a vault to store them in, nor a third party to watch over your assets.
Essentially, you're sidestepping all of the painful steps required to invest in gold traditionally. With GoldCoin, you can invest without thinking much about it. These factors also apply to other gold-backed cryptocurrencies, which you can convert to as you'd like. You can convert GoldCoin to any other cryptocurrency as you see fit.
More Gold-backed stablecoin:
Pax Gold (PAXG)
Website: https://www.paxos.com/paxgold/
Pax Gold is a gold-backed cryptocurrency with each asset tied to one fine troy ounce of gold. The project has been launched by the Paxos blockchain network, which incorporates all sorts of projects under its umbrella.
PAXG is an Ethereum-based stablecoin. The project has been regulated by the New York State Department of Financial Services. To further earn your trust, they also bring in a "nationally ranking auditor" every single month to prove the amount of gold held.
You can convert PAXG to different cryptocurrencies as you'd like or even redeem your assets for physical bullion if you have enough.
Meld Gold
Website: https://meld.gold/
Meld Gold is a project that has partnered with the Algorand blockchain network. They operate to make gold investment more accessible than other types.
Allowing investors to put money in instantaneously, Meld Gold ensures anyone can get involved. Otherwise, the project aims to work with local gold companies worldwide, making it easier for locals to invest digitally.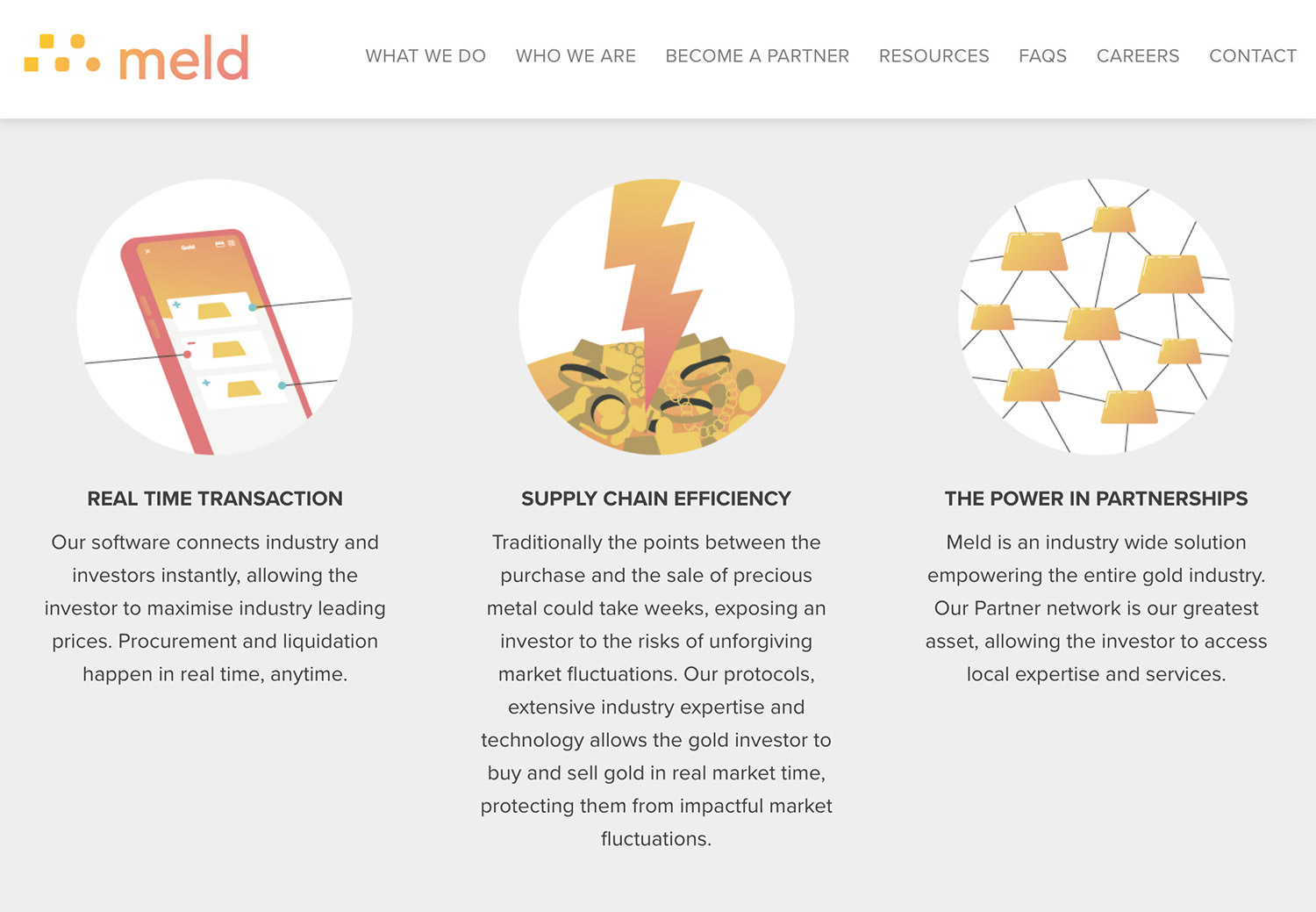 Like other gold-backed stablecoins, each Meld Gold token represents one gram of gold bullion. On top of this, the company operates out of Australia, where investors can redeem their Meld for physical bars.
Of course, the project is audited monthly by a third party, and so are any partners that work with Meld.
DigixGlobal
Website: https://digix.global/
DGX is a gold-backed stablecoin based in Singapore. Every token represents 1 gram of physical gold, held in both Singapore and Canada. Interestingly, the group reveals who audits them monthly – The Bullion Association, which claims the holdings are accurate.
Unlike other projects, DigixGlobal allows anyone to look up their bars of gold on the project's website. That way, they can physically examine their investment from the internet. That, and anyone can invest in fractional amounts of the token if their budget allows it.