20 Coolest Fidget Spinners to Buy (2022)
Do you find yourself playing with paper clips or clicking pens far too often? Well, there is no harm that as our everyday life brings a lot of stress, and people try to find different ways to concentrate, relax or distract themselves. However, you don't need to use your poor pen for that purpose as the world now has a thing called Fidgets.
Fidgets are toy-like gadgets that help in stress relief and aid concentration. They also work for people with restless hands in providing relaxation in times of anxiety. In this post I've compiled 20 of the most interesting fidgets made out of variety materials including metal, rubber and plastic. So, scroll down to find the one that fits you the best.
Read Also:  These 10 Websites Will Help You De-Stress And Stay Calm
Tri-bar fidget spinner is one of the most popular fidgets on the web. It's stylish lightweight design allows you to carry it anywhere and use it any time you like. You can hold this spinner in one hand and use the other hand to spin it.
Price: $27.00
This fidget is an actual pen, but it provides endless variations of fidgeting to keep your hand busy. It has 7 features, 5 ways to play with it which are: a clickable top, a spinning disc, a flip clip, a clicking switch, and a rolling ball, and 2 features to use it as a smooth pen with textured grip.
Price: $24.00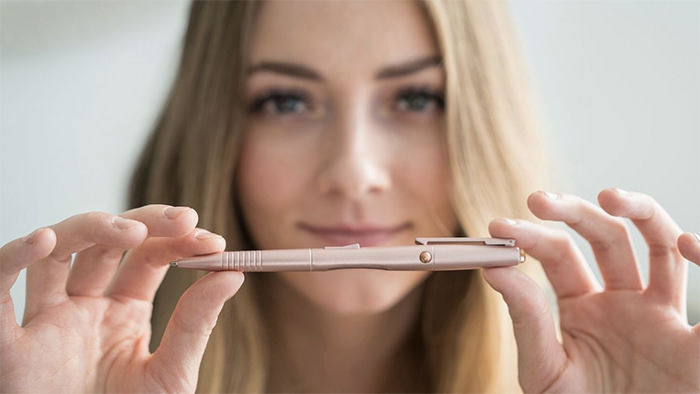 This fidget would keep your hands busy alongwith reducing anxiety and stress. Made with an aerodynamic design, it can spin for over seven minutes. Just place the spinner between your fingers and propel it in a spinning motion to get it started. Fidget Spinner Stress Reducer is sold in a pack of two.
This amazing multi-fidgeting device will help you keep your mind on track. It's made in a shape of a cube with each side offering a different activity to keep your hands occupied. It includes buttons for clicking, a dial for spinning, a joystick for gliding, a switch for flipping, a worry-stone inspired crevice, and gears for rolling.
This awesome metal spinning toy with iridescent colorful finish can be a perfect gift idea for a student or a professional. It looks beautiful and fancy. The spinning motion lasts up to 5 minutes, but the more you spin the toy the more it lasts.
Price: $40.00
Here is one more version of fidget cube with different buttons, dials, switchers, and a space-inspired design. The cube is made as a stress relief desk toy to help you focus.
Price: $4.08
Here is a cool fidget spinner with LED lights. The LEDs light up when you spin the toy which makes it look just amazing in the dark. You can spin the fidget with one hand or with both hands. It provides up to 20 hours of continuously lighting.
This spinner is a little but pricey as it's made out of Titanium Alloy. It can spin around 2 minutes, and is colored with pink and green gradient with a star. When you spin it the colors mix together giving a beautiful look to it.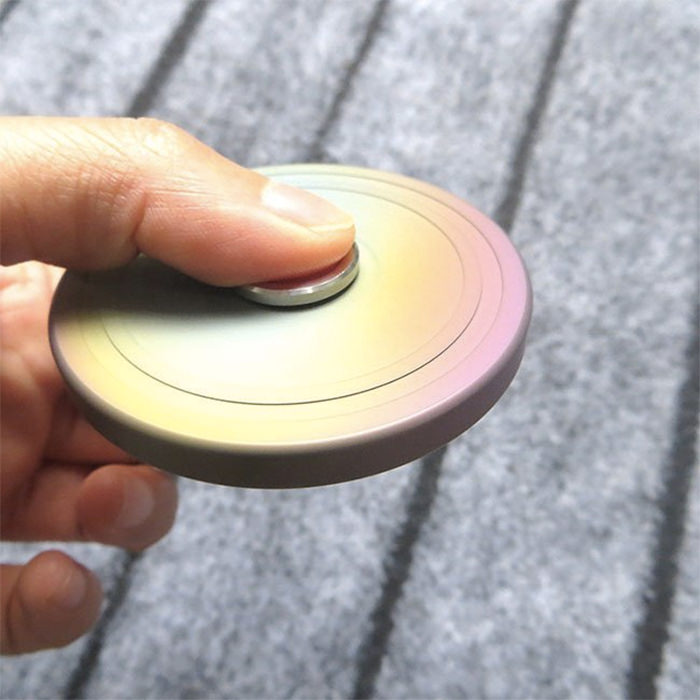 This amazing fidget has 12 sides with numerous ways to fidget around, such as gears, buttons, joystick, switch, soothes, and stress ball. It's a pocket-size fidget which could be an ideal gift for kids and adults alike who like to have something to play with in their hands all the time.
Talking about superhero-inspired gadgets, this spinner features Batman wings. It can be a pocket or a desk toy that makes it equally suitable for students and office-goers alike. You can spin it to stimulate deep thoughts or get rid of anxiety.
Price: $17.00
This fidget looks like a ball with nylon mesh around it, but when you squeeze it, bubbles come up through mesh holes. It's fun to squeeze and makes funny sounds when you do. You can squeeze it as many times as you want, because the ball is filled with gel.
Orbiter is a unique fidget as it provides hours of perpetual motion. It has a trackball, a hand spinner, and a spinning top, which means there are endless ways to fidget around with it.
Price: $65.00
This fidget is more like a therapy device with an ergonomic approach for stress relief and hand therapy. The twistable rubberized and tangle can be a great calming gadget in anxious momoents.
With its simple movements and colorful bands, this rings keychain fidget is a perfect thing to keep your hands busy and relieve stress. You can roll it or twist it, and due to its small size you can take it anywhere. It goes in black, blue, green, and yellow colors.
Price: $7.35
Based on Steven Connor's research (author of A Philosophy of Fidgets) these steel (or brass) balls are perfect device for fidgeting. You can roll them in hands or shake them to relax. They have a perfect size-to-weight ratio and each pair comes with an elegant bag.
Price: $10.00
The Magic hand spinner is a two-way fidget spinner made out of fine metal. It provides smooth high-speed spinning up to 5 minutes. You can either spin the gadget from the centre or roll each wheel separately.
Price: $99.00
This interesting fidget is made with six chain wheels and a silicon band, which makes it perfect for hours of silent fidgeting. If you suffer from anxiety or lack of concentration, this fidget will help you to relax and focus.
Price: $11.03
This cool fidget is a rubber tube in vivid colors which can be used to focus or to get rid of stress. You can squeeze it, slide the toy back and forth, or squeeze the sleeves together to roll the toy around.
As the name says, Infinity Cube is a fidget you can play with forever. Due to its elegant look it can be a perfect office accessory. It's a useful tool to train your imagination and focus on work. You can fold it over and over again with one hand or with both.
Price: pre-order
This pocket-size bright spinner is an ideal thing to avoid stress and anxiety. It has stainless steel central bearing that ensure continuous spinning for a long time. The mian body is colored in copper while circles on the sides are colored in blue, pink, and yellow.
Price: $48.00
Read Also:  Gadgets to Help You Fight Stress