How to Convert Any Photos into WhatsApp Stickers
WhatsApp recently introduced the feature to share stickers with your friends and family members. Although the popular messaging app owned by the social giant is late to the party yet it is exciting news for us. Is it not?
What makes stickers more interesting is, unlike emojis, you can create stickers out of photos, selfies, and sketches. That means you can create stickers from your childhood memories, hand-drawings, and other photographs. But how one can create sticker packs?
Well, there are two ways — the first one is official but hard, thanks to WhatsApp; and the other one is easy, thanks to a few third-party apps for Android. As with my other tutorials, I am going to share the easy method in this tutorial. After we are done, you will have created your stickers.
Alright, let us get started with this tutorial. It is short and easy, and you can easily complete the below steps in some minutes. Let us begin now.
20 WhatsApp Tips & Tricks
20 WhatsApp Tips & Tricks
WhatsApp has been getting new awesome features to make messaging a breeze for users. While its use is... Read more
Download Sticker Studio
Sticker Studio is the marvelous app we are going to use to create the stickers. Once you have created them using the Sticker Studio, you can directly see them inside WhatsApp and share them with others; and your recipients will get them without any efforts — just like any other sticker inside WhatsApp.
That said, you must have the Sticker Studio to be successful at following this guide. If you are viewing this post in your android device, open the Play Store and search for "Sticker Studio", and download the app shown below.
If you do not search in the Google Play Store or you are using a desktop or laptop, you can simply copy and paste the URL "stickerstud.io" in a web browser (like Google Chrome or Mozilla Firefox). If on mobile, you will see the Play Store opened in front of you, just click the INSTALL button to get the app.
If you are on a computer, please click the Install button on the page. You will be asked to log in to your account and then select one of the devices on which you wish to install the app. Your phone will install it for you.
Create the sticker packs
Once you have installed the app, just open it to start creating your custom stickers for WhatsApp. When you open the app for the first time, you will see a blank screen with a pink floating button at the bottom-right corner.
You must click the floating button and choose one of the two options — "Capture photo" and "Select photo" — to get started. The former allows you to snap a photo using the camera and convert it into a sticker. The latter lets you select photos from the device's storage and convert them to stickers.
When you have snapped or selected a photo per your preference, you will see the picture in its editor (a minimalistic editor, unfortunately). Here, you need to cut the chosen image by moving your fingers around the part you wish to cut and convert into a sticker. You will find it easier with a little practice.
In the editor, you can also rotate the picture by using the rotate button in the top bar. Finally, when you are done cutting the image, you will see the preview of the sticker. Tap Save if it is good enough or the other button to retry. Then it will ask for a name for the sticker pack. Enter a name and tap SAVE.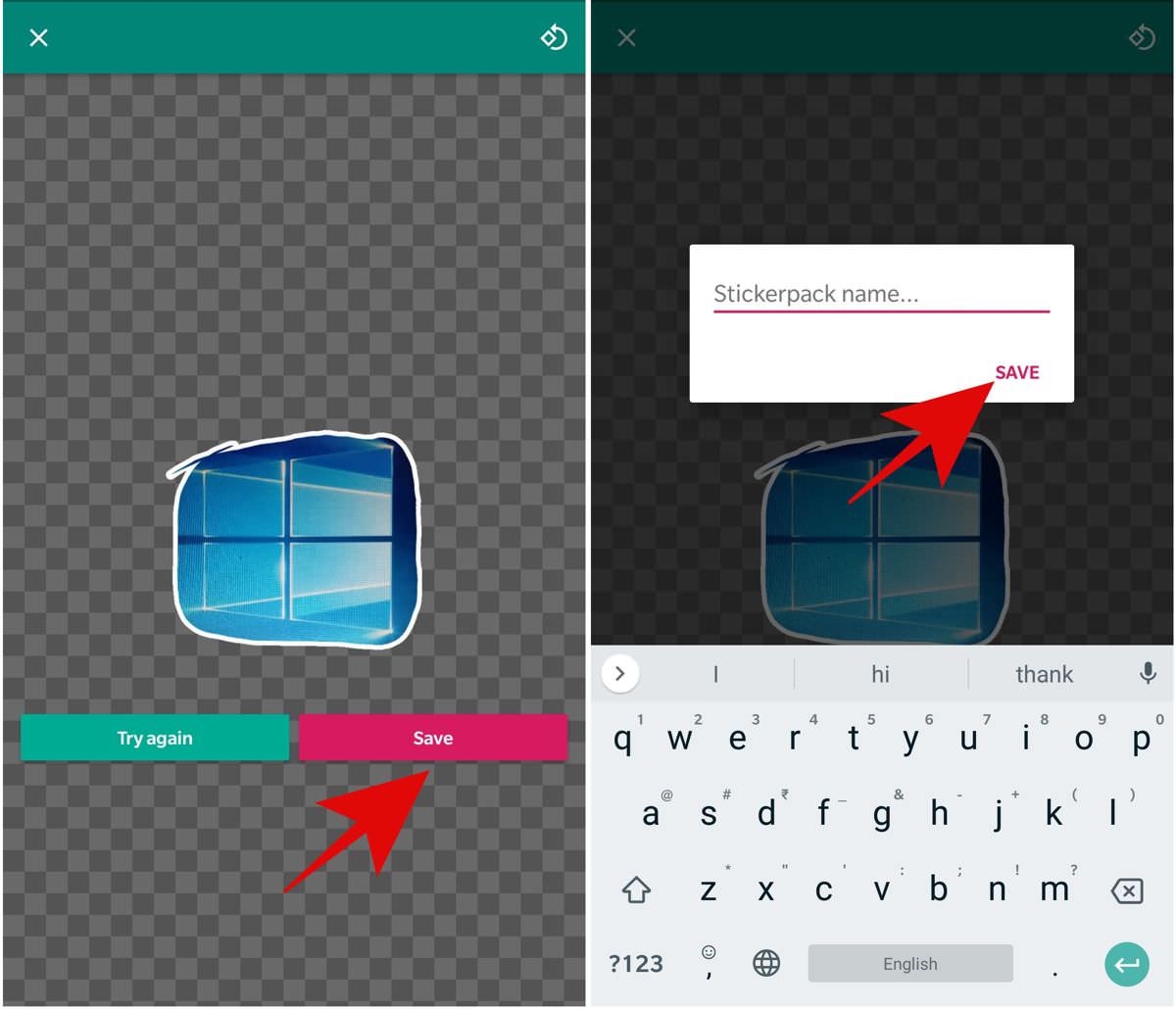 Then, you will see your sticker pack on its screen. Click on it and repeat the above process for a minimum of two images. It is required since a sticker pack must have at least three stickers before it can be added to WhatsApp. When you are done, click the WhatsApp button at button and tap ADD.
Sticker Studio will add your brand new sticker pack to WhatsApp. To use the freshly made sticker, open any conversation, click the emoji icon then click the sticker icon and select your new sticker pack. Now click on one of its stickers to send it. Your recipient will see the sticker in the conversation since WhatsApp handles it.
That is all about creating stickers using photos for WhatsApp on Android. It is an easy and quick process for you to create stickers. I hope you liked it.