10 iOS & Android Apps to Create Cinemagraph
Cinemagraphs create GIF animations with small elements that move while the rest of the picture stays static. Being neither a static picture nor a proper animated GIF, a cinemagraph mesmerizes its viewer in mysterious ways.
Although you can manually create cinemagraphs, but it would require much practice and expertise if you are using a regular photo editor. However, I know some handy smartphone apps that can help you create amazing cinemagraphs without much effort. Even a novice can download them and start creating cool cinemagraphs.
Let's check out the following collection of 8 of the best cinemagraphs apps for Android and iOS.
1. Draw Motion with Stabilization
Draw Motion is an interesting app that enables you to create a cinemagraph using a video or a Live Photo. All you have to do is to draw on your photo to mask the moving and still areas and you'll have a creative cinemagraph ready.
One of the best features of the app is the video stabilizer. You can use this feature to create stable and smooth cinemagraphs by clicking "Stabilize" when making the video. You can also share your cinemagraphs on social media to flaunt your creative skills.
Price: Free (With In-app Purchases)
2. Zoetropic
Zeotropic allows you to create lovely cinemagraphs using a single photo. It's quite easy to use, just pic the motion points on your photo, mask the areas that you want to keep still, and add audio or overlays to make it dynamic and you'll have a creative cinemagraph.
You'll love the audio feature of the app that allows you to add any music or audio using the Audio Library. Also, the variety of overlays and 3D effects turn your cinemagraphs into little masterpieces.
Price: Free (With In-app Purchases)
3. Lumyer
Lumyer brings your memorable photos to life as wonderful cinemagraphs with a few taps. It offers a simple animation tool that helps you create simple and creative animations.
You can add moving elements to your photos by applying one of the three animated effects to your selected photos. There are also many overlays that you can use on your cinemagraphs as well as elements like clouds, hair, waves, animals, and lights, etc.
Price: Free (With In-app Purchases)
4. Loopsie
It may not be the most customizable cinemagraph creating app, but Loopsie definitely supports some of the most powerful features. It creates full HD cinemagraphs, and its built-in stabilizer automatically stabilizes your shaky videos.
I also liked that Loopsie lets you create cinemagraphs in both repeat and bounce manners. Therefore, you can either make the video repeat from start after finishing or play it backward instead. In the free version, Loopsie's watermark will be added to all of your cinemagraphs, but you can remove it with a $1.99 in-app purchase.
Price: Free (In-app purchase worth $1.99)
5. Cinemagraph Pro
Cinemagraph Pro by Flixel is the go-to app for many professional photographers thanks to its amazing customization options and easy to use interface. You can create cinemagraphs out of both still images and videos, and it also has support for repeat and bounce style with adjustable speed.
The only problem with Cinemagraph Pro is its $200/ year price tag. Though it can be used for free if you don't mind the watermark and lower video quality, but for professional use, you'll have to buy the full package worth $200 annually. The package contains fully featured Cinemagraph Pro app and Flixel cloud service.
Price: Free (Yearly subscription of $200)
6. Motion Stills
Created by Google, Motion Stills lets you create both cinemagraphs and time-lapse videos. However, it's very basic and there are hardly any additional editing tools. Nevertheless, it's video stabilizing feature is definitely worth trying.
The app will let you create a looping 3-second video using its amazing stabilizer to ensure it looks like a still image. You won't find any editing features, but you can still join clips to create a movie.
Price: Free
7. PICOO Camera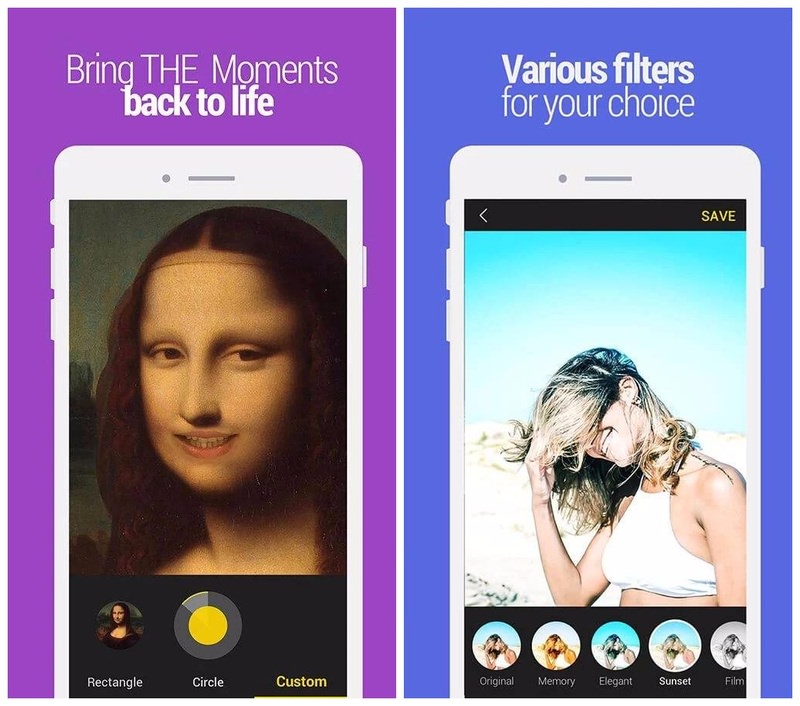 With PICOO Camera, you just select an area on the screen that you want to animate and then shoot the video for an amazing cinemagraph. You can either use square or circle pattern to select the area or draw a custom area with your finger.
Agreed, that the result may not be perfect in some situations, but PICOO Camera does a fine job in most cases. On top of that, it also comes with filters to further beautify your cinemagraphs.
Price: Free
8. fotodanz
Although fotodanz developers stopped managing it some time ago, but just a few months back they've started working on it and its again ready for show time. It follows a similar approach to MaskArt, you'll just need to shoot a video (from fotodanz app) and highlight the area you want to animate.
Unfortunately, you can only shoot videos up to 5 seconds, but for cinemagraphs it's more than enough. It also gives you control of loop styles, adjust length and speed, rotate image, and add filters. Creating cinemagraphs is free, but you'll have to make an in-app purchase to access the advanced filters.
Price: Free (In-app purchases worth $0.99 – $1.60)
9. Cinemagraph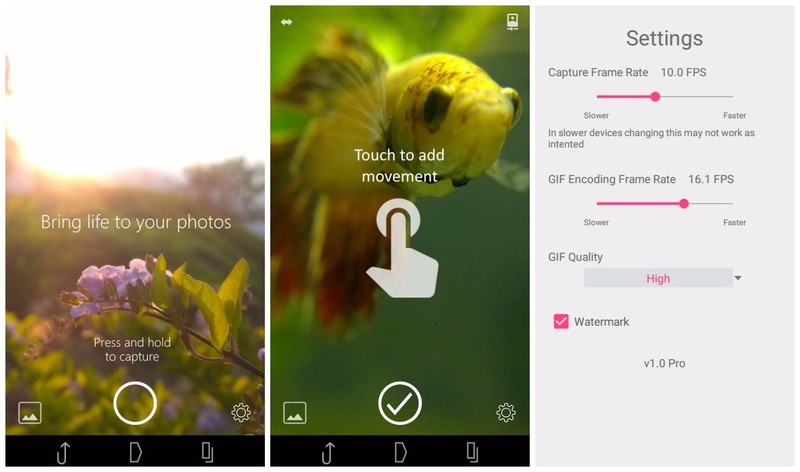 It's a reliable app for creating cinemagraphs, but doesn't come with a stabilizer. Therefore, you'll have to either use a smartphone Tripod or make sure you have some kind of support so you won't make a shaky video. Similar to other apps in this list, you'll have to draw an area that you want to animate and then shoot the video.
Interestingly, Cinemagraph app lets you edit your cinemagraph frame-by-frame. You can add multiple types of filters and customize animation in every frame. You can also tap on the focus object to quickly create a cinemagraph out of a focused item.
Price: Free (In-app purchase worth $1.49)
10. Looper Video Photo Animator
For a rather long and complicated name, this is actually a very easy to use app. You just have to upload your video and draw the frame that you want to animate. Afterward, apply some filters if you like and save the cinemagraph to your phone or directly share it.
The app does add its watermark on all of the cinemagraphs created, but you can remove it with a $1.99 in-app purchase.
Price: Free (In-app purchase worth $4.99)
Ready to create some cinemagraphs?
All of these apps let you create cinemagraphs for free. However, some of them either add a watermark or offer lower quality video in free versions.
In my views, Cinemagraph Pro is definitely the most powerful app in this list, but only professional photographers should go for it's expensive paid version. For regular users, PICOO Camera and MaskArt are great options.
Retired Apps
Here are some of the apps we've previously featured before, but has –unfortunately– since, retired.
Cinemagr.am
To create cinemagraphs with this free app, start by recording a video with your iPhone. Hold your iPhone steady to get a better end result. It does not matter how long the video is, you just need a small portion of the recording. The small segment you extract from your recording will be used as the static element of the cinemagraph.
To create the animation, highlight the area which you want to animate. Next, change the speed of your cinemagraph and choose to play it forward, in reverse or in a forward-and-reverse loop.
You can then preview your cinemagraph and add filters. Once that's done, you can post it on the app itself, or on your favorite social networking site (Twitter, Facebook, Tumblr). The app also supports hashtags and geotags.
Using Cinemagr.am is very much like Instagram; you have your own profile where friends can follow your uploads and like or comment on it – even the navigational buttons have similar functions. You also can 'repost' what other users have uploaded. [Free]
Echograph
There are three steps to creating a cinemagraph with Echograph. The first is to trim the duration of the video; it allows your clip to be 5 seconds or less. You do this by adjusting the front and back sliders of the playback bar. In this step, you can also reverse or add a pause to the end of your clip to compliment the effect you're trying to achieve.
Secondly, choose your still frame (the static backdrop) of your cinemagraph. You can choose this still frame from any point of your original video by using the slider on the playback bar. Lastly, highlight the areas that you want to animate. As you can imagine, the combination of the still frame in step two and animated area of step three will give you a cinemagraph.
Then you can save it as a low- or high-definition cinemagraph and share it on Facebook, Twitter, Tumblr or by email
Kinotopic
Creating cinemagraphs or 'Kinos' is quite simple. You start out by recording a 3 second long video or trim a video from your camera library. Then, add filters and highlight the area you want to animate – so far it's a typical cinemagraph app.
What's unique about this app is that under 'Settings', you can stabilize your clip. This feature is similar to what is found in the Windows program Cliplets. If you have a slightly shaky clip, you can use this to better enhance the effect of your cinemagraph. Once you've completed creating your cinemagraph, you can share it on Facebook, Twitter or Tumblr.
There are two versions of the app: the paid version allows you to save high-quality cinemagraphs and allows you to use it without registering through email or your Facebook account. Another unique feature is that Kinotopic will set you up with your own profile page which can be accessed at kinotopic.com/username. [Free]
MaskArt
It's basically a cinemagraphs converter app that turns your existing videos into mysterious cinemagraphs. You just have to highlight all the areas you want to animate and the rest will become a still image, creating a perfect cinemagraph.
This type of approach is actually better than directly shooting cinemagraph videos as you have more control over what to animate and won't have to worry about changes in the scene. To top it off, MaskArt also lets you add a custom photo right on the cinemagraph, giving you more customization options.
Pictoreo
Pictoreo requires a registered profile before you can start using the app. You're only allowed 3.5 seconds of recording time and you highlight what you want to animate. You'll then get a instant preview of what the cinemagraph would look like and you can refine it with the eraser.
Name your cinemagraph and share it on Facebook, Twitter or the Pictoreo network. Note that the final outcome is not a GIF format but an MP4 video file that gives the same format. There is also the option to geotag your cinemagraphs. [Free]