40 Stunning Illustrated Websites for Inspiration
Illustrations add character and liveliness to your site. Colors, caricatures and creativity translated into bold illustrations can change a user's impression of your website and of course impact your visitors in multiple ways. Illustrations can also turn your website into something truly unique, and let you use it as a platform to launch your personal branding.
In this list, we're going to share with you 40 boldly illustrated creative websites featuring detailed cartoons, wonderfully drawn characters, and interesting flat elements. Some of the designs shown here trigger animations and other effects upon the scrolling event. So do try to visit these sites to get the full experience.
neotokio!
Neotokio! is an Italian design agency focusing on interactive design and communication. This website is a 'summer edition' showcasing creative scrolling combined with boldly changing ice cream illustrations. Scroll down to see what I mean.
Books@Work provides literature seminars at the workplace. I like moving illustrations triggered by mouseovers that you can find on their website. Books may be static, but this site design isn't.
Denise Chandler
This is the website of freelance designer Denise. I love the octopus limbs that appear on the home page, which show a distinct combination of photography and illustration. Truly design skills that stand out from the crowd.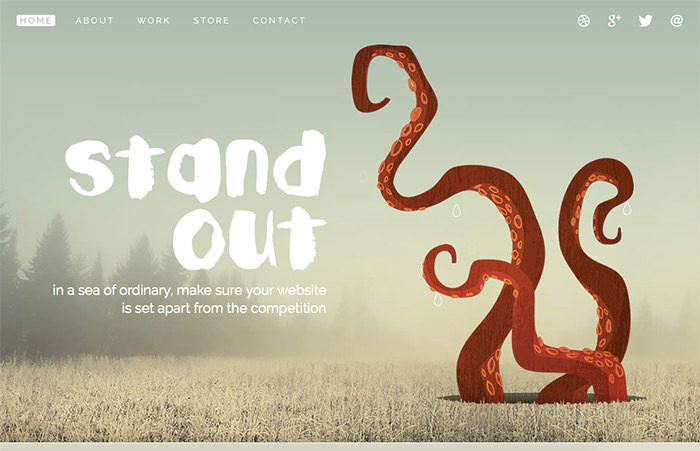 Major Savage
This is a portfolio for freelance UI / UX designer and illustrator Major Savage. Each part of this website is full of creative interactive illustrations.
This is a website of Stuff & Nonsense, one of the best-known web design studios in the UK. The home page features their favorite advertising illustration, DDB's chimpanzee campaign for PG Tips tea.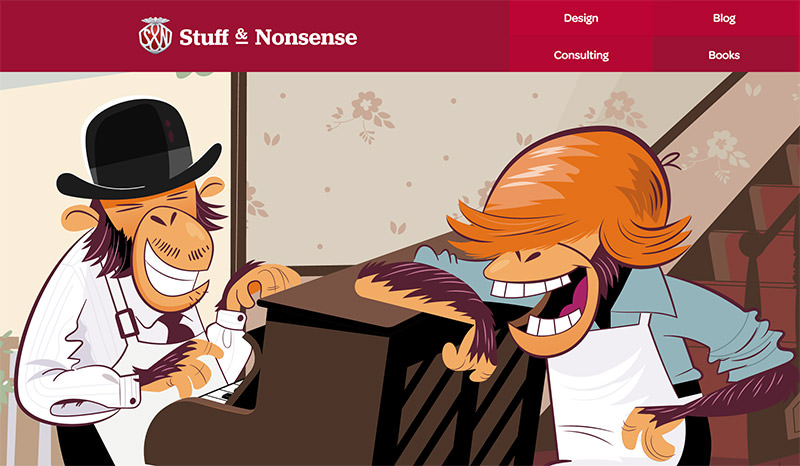 Wrist
A bi-weekly illustrative website by Matt Johnston where new and old watches come to life. All the watches here display your local time (in real-time too).
CARAMEL BUDGIE
It's a clean, responsive, flat single-page portfolio for Antonia (Ani) Powers aka Caramel Budgie. The homepage even looks great enough to turn into a desktop wallpaper.
A design and development studio based in Seattle, Pixel Lab's website features a "Us at Work" illustration void of color on a blue background. Funny how something without color can still grab your attention.
Yep!
A colorful site design by a Ukrainian company, Yep! plays around with colors and simple illustrations to show you how their instant meetings app work.
Make Your Money Matter
The website highlights the positive social impact that credit unions make. An interactive website experience that showcases the journey of a typical deposit through big banks vs. credit unions. Start scrolling to see the action happen.
A survey designed to raise awareness about slavery in the supply chain of many products. The site lets you to track how many slaves work for you based on your lifestyle.
Nerisson by Jimmy Raheriarisoa is a french art director specializing in design and illustration.
Reverend Danger
This is the company portfolio for Reverend Danger. Scrolling triggers pop-up animations, which are created with CSS3 with jQuery fallback.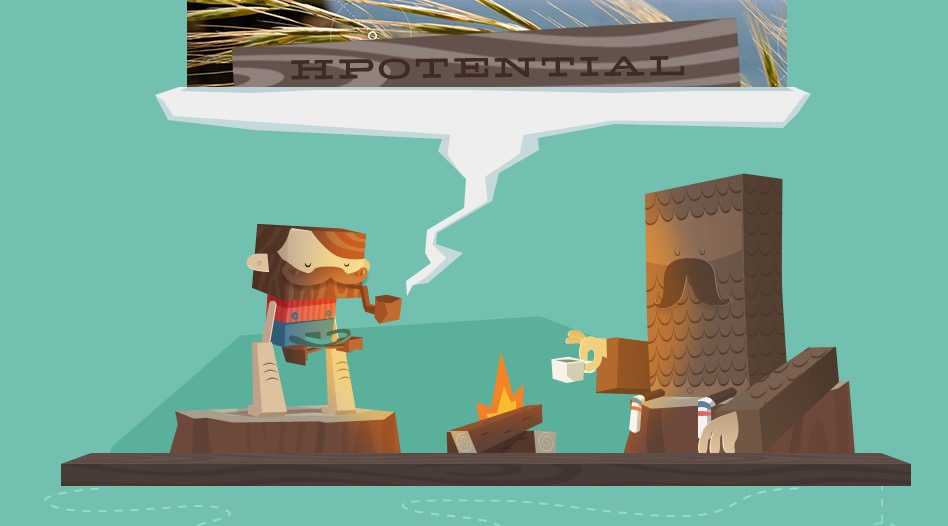 Malika Favre is a French artist based in London. Her bold, minimal style of illustrations is often described as Pop Art meets OpArt.
Daniel James Diggle is a freelance designer, illustrator, and animator currently living and working in London, England. His website reflects his style and creativity.
A great teaching site from Amplifon. The interactive ear shows the journey of sound along with anatomical features of the human ear.
Super Sync Sports
Chrome Super Sync Sport is a Chrome Experiment that allows you to sync your mobile devices to your computer and make a ginger, mustached athlete run, cycle and swim.
Alkopedia
Alkopedia is an interactive tool where teens can learn more about alcohol and its effects. The site offers nine animated questions for reflection and discussion.
This non-profit website is aimed to promote exchanges between artists to break the isolation of artists in the practice of their art. The large musical equipment in the background move as you scroll down the page.
'In Space, We Trust' is made as an art project to teach visitors about space travel. It's made as a timeline with creative illustrations and sounds to set up the explorative mood.
Doudou Blues
Doudou Blues is a musical tale that portrays the adventures of Yuma, the blanket Stella lost. I like the way the illustration changes here as you scroll down. Storytelling gets a UX remake in this example.
Fleximize, the website, is a playful experience based on SVG animation and illustrations. Through three different but interrelated, smoothly animated stories, users can access a smart way to ask for a loan.
Tati Express
This creative illustrated website is dedicated to the movie Tati Express. It shows how modernity impacts human beings and goes through that amazing body of work at 100 mph.
drawabetter2016
Drawabetter2016 is a charitable project designed to motivate and inspire you throughout the year. It shares one motivational quote and an inspirational character each day.
Spare Time
I love this website! It calculates how much your spare time is worth based on how you value time and answer a few questions in a fun visual survey. There is a reason for this which will be revealed in the end.
How Fight
This website is created by a person who has beaten cancer twice. It shows 35,689 ways to fight cancer and it's aimed to help people cheer up. The site is full of watercolor drawings of random items.
Chekhov with Google
This site is an online character quiz (and audition) with 28 custom illustrations of Anton Chekhov's classic character archetypes. All of them are wrapped in a playful material design execution.
New Snoopytizer
In celebration of the March 8 release of The Peanuts Movie on Blu-ray and DVD, you can now give your own furry friend a digital makeover in the style of Charlie Brown's canine companion.
"Keep Portland Weird" is a popular slogan that appears on bumper stickers, signs, and public buildings throughout Portland, Oregon and its surrounding metro area. The strikingly drawn website was created by a team of interns just for fun.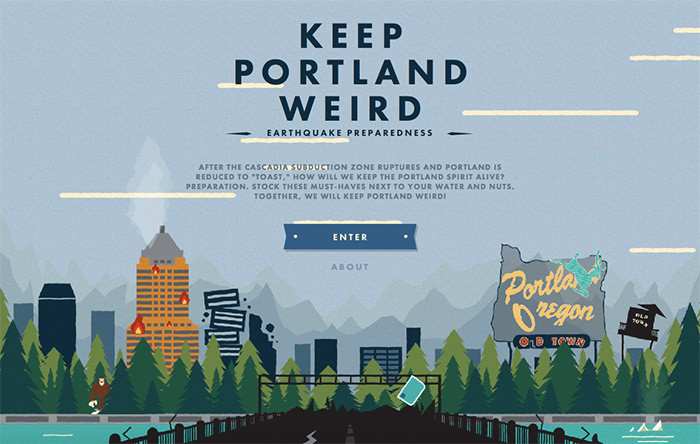 Mcwhopper
This website is dedicated to McWhopper which is a mix of McDonald's Big Mac and Burger King's Whopper. You'll find yourself scrolling down as quickly as possible, just see the action in the background.
Tuck Effect
Want to know the secret to more friends, dates and income? It's called the Tuck Effect – tuck your shirt, change your life. Discover the monumental new study from Fruit of the Loom.
Dreamcar Collection
Dreamcar collection is showcasing dream cars of children from all over the globe. The campaign features 93 unique cars from 81 countries and regions which took part in the contest from Toyota.
It's a non-profit project aimed to promote the love for basketball among kids. You can choose a player and start shooting for the hoop with your mouse.
Spacelamb is a creative online game. You can help Bishop the Lamb get back to Earth safely and unharmed after a long and beautifully drawn trip through the Universe!
You have seen an interactive infographic like this one. Here's a visual brief on icon history through different graphical user interfaces from different operating systems. The color choices fit surprisingly well with the illustrations.
Ice & Sky
Wild-Touch and Luc Jacquet invite you to share this unprecedented epic to better understand the incredible phenomena that affect us all. Through this study of Antarctic ice you'll see the impact of human on nature and why it is important for us to start acting now to prevent further effects.
ALI Kaffe
This website allows you to create the new official Ali Coffee song. Pick from the genre you like and start making your tunes. I love the illustrations and colors used here.
For Better Coffee
Here are 5 essential rules to make better coffee. The scrolling effect here takes you through the "journey" of coffee beans from plant to cup.
Hell'o Baby
This website allows you to create an interactive album for your baby with additional services, such as measurements, stickers, video stories, printed albums, postcards.