20+ Sites to Get All the Free Design Resources You'll Need
Whether you're just a hobbyist or a professional designer, I'm sure we all appreciate free stuff. There are many free design resources today that are easily accessible can help us be more creative, be more productive, or help you out on a tight budget project.
Are free stuff high quality?
Some people might perceive that free stuff or freebies tend to be in low-quality or has little value. Eventhough that might be true to some degree, it's not always the case.
Today, you can find a lot of free resources for graphic assets that are comparable to professional work.
Downloading free? What's the catch?
One of the downsides with free stuff is that because it's free and everyone can get it, there's a chance that your project might look similar or even the same as the others.
Free resources sometimes pose a bit more restrictive license to use. For example, some might require you to add attribution to the original source, while some might not allow use for commercial purposes.
But worry not! to save your time and make your life easier, we've put together many resources along with their license so you can check whether it's suitable for the legal matter on your project.
Even more, you'll find some of these resources also provide the raw file or integrated tool to edit and customize the design asset to make it unique and match the overall theme of your project.
So whether you're looking for images? vector graphics? fonts? some inspirations? or tools to get you to be more productive? you'll find it all in this article.
Let's jump right in to see the full list.
What to expect: Templates for all kinds of design work.
License: Freemium
Canva provides beatiful pre-made templates such as ones to create posters, flyers, infographics, presentations, Instagram stories and feeds, even videos. You can edit these templates right within the editor on the website.
This allows you to come up with a well-designed material quickly for your business whether it's for printing or any type of digital content needs.
What to expect: Free vectors.
License: Freemium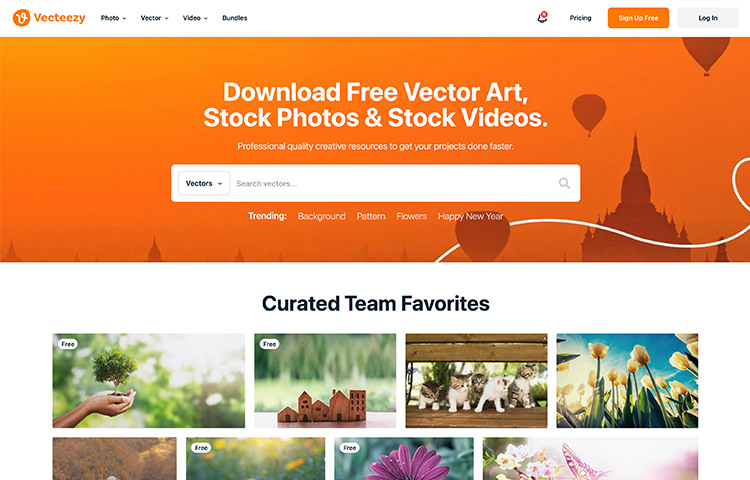 Vecteezy starts as a freebie source for vector graphics, and has now expanded its collection to stock photos and videos.
It's a quite popular source among designers and illustrator and has a solid support from its community that contributes to the collection with high-quality design asset every day.
What to expect: Stock photos and audio.
License: Free (CC0)
Openverse joined initiative with WordPress that allows you to search photo and audio stocks, that can be used free of charge with Creative Common license.
There are more than 600 million photo and audio files and it welcomes for contribution; you can submit your photo to be available on its index for anyone to search and use.
Unsplash is a great source to find high-quality photos. You can find photo of almost any themes and categories; from Nature, Architecture, 3D Renders, Fashion, Film, Interiors and many more.
All photos in Unsplash are distrubuted under the Unsplash license which allow you to use for both commercial and non-commercial without attributing the original source. You can also submit photos to Unsplash, if you have ones to share.
What to expect: Stock photos and videos.
License: Free (Pexels License)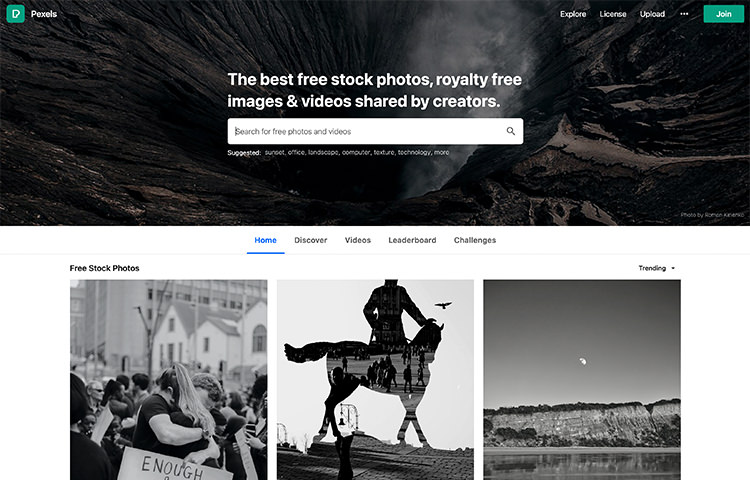 Pexels provides free stock photos and videos. You can use it in non-commercial as well as commercial purpose without requiring attribution.
It also provides API access for developers who would like integrate the library on to their applications. There are a few platforms with built-in Pexels integration such as Canva, Sketch, and some add-ons for Photoshops, WordPress, and MS Office.
What to expect: Illustrations in SVG format.
License: Free (Undraw License)
Undraw provides a collection of handcrafted illustrations that can help to improve your websites, products, and applications design as a whole.
You can browse the collection and select which illustration that fit in the purpose of your website. It also allows you to customise the color theme of these illustrations. Each illustration can be available to download in SVG and PNG format, and free to use or modify.
What to expect: Icons, vectors, stock photos, and more.
License: Freemium
Freepik collection includes product mockups, vector graphics, icons, stock photos, and more. It provides a powerful search with granular filter that allows you to find the design assets you need quickly and easily.
Design asset in Freepik is also continuouly updated by its community with the latest design trend or recent event such as that you can find new designs pop up every year for worldwide events like New Year and Christmas.
What to expect: Stock photos, videos, audio and sound effects.
License: Free
One of the things that make Pixabay special is that besides stock photos, it also includes videos, music, and sound effects. There are more than 2 million in the collection, and they are free to use even for commercial without requiring attribution.
A great resource for creatives from any field; whether you're a designer, photographer, cinematographer, animator or musician.
What to expect: Free icons.
License: Freemium
Flaticon is a great resource to get icons. With more than 7 million in the collection, you can find icons of kind of types and styles for your websites and applications.
Each icon is available in various format including PNG, SVG, EPS, and PSD. For Animated Icons, it also available as GIF, MP4, and JSON.
What to expect: Free fonts, templates, stock photos and more.
License: Free
Pixelify provides fonts, mockups, illustrations, patterns, and stock photos. What more is that is that you can also Photoshop add-ons and presets. It also has themes for WordPress and other platforms.
It is a complete resource for designers to fullfill their creative needs.
What to expect: Free illusrations (.PNG format for free accounts, .AI format for paid accounts)
License: Freemium
GlazeStock is a collection of beautiful illustrations. It's curated by experts that ensure each illustration there is a high-quality and stay current.
Each illustration is provided in as PNG and Adobe Illustration format. There various themes and categories like people, animal, business, and nature, so you can pick one illustration that fit in the message you'd like to express on your website.
License: Freemium
What to expect: Templates, illustrations, templates, icons, UI kits and more.
License: Freemium
Are you a UI designer looking for inspirations? Look no further.
UpLabs is one of the best source for user Interface design inspiration. You can find UI kit for web and mobile device, icons, mockups, and other type of template files which available in various format including in PSD, Sketch, Figma, Figma, Adobe XD, and HTML5.
What to expect: Icons, font, UI kits and more.
License: Free and Paid
UI8 is a curated of a thousand design resources. You can find resources on UI kit applications, wireframes, icon set, fonts, website and email templates, and even 3D assets.
These resources are available in many different file format including Photoshop, Sketch, Figma, Adobe XD and InVision, which allows you and your team more options to work with the software of your choice.
What to expect: Icons, stock photos, illustrations and audios.
License: Freemium
Icons8 provides an ecosystem for designer. Not only that it provides a great collection of icons, but it also provides supporting tools to work with, such as Lunacy (a free design software for macOS, Windows, and Linux), Pichons (a free desktop application for managing icon library), and a plugin that provides direct access to Icons8 library in Figma, Photoshop, Illustrator, and Google Docs.
It also offers some tools powered with AI that allows you to enhance photo resolution, automatically remove background, genarate photo, and face. It's quite fascinating.
What to expect: Templates and mockups of all kinds.
License: Free and Paid
Artboard Studio is a web application to design mockup and templates in collaboration within a team.
You can design it from scratch or start from its template collection. You can find template for various type of product including t-shirt, signboard, ticket, frame, and a lot more.
What to expect: Stock videos, music, sound effects and templates for video editors.
License: Free
Mixkit provides stock videos, music with various genre selections, sounds effect and video templates for Premiere Pro, After Effects, and Final Cut Pro.
New collection is added every week and carefully curated to maintain the quality high. You can download and use the asset for free without attribution.
It is a great place to get free high-quality assets for your video project.
What to expect: Illustrations.
License: Free (CC0)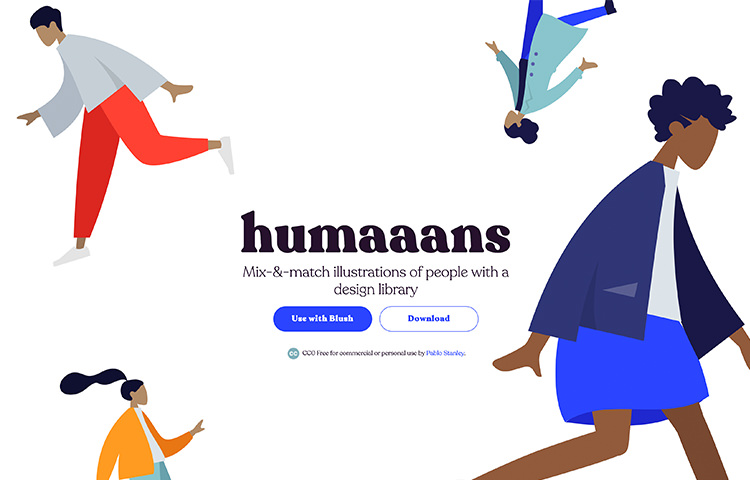 A free illustration library of people created by Pablo Stanley.
You can mix-and-match each part of the illustration to make it unique. For example, you can select the pose whether it's sitting or standing. You can change the hair styles, the colors, the cloth, the skin tone and a lot more.
What to expect: Illustrations and icons.
License: Freemium
DrawKit features illustrations and icons with various selection of themes; from technology, online shop, social work and charity, cooking and food and a lot more. Couldn't find the illustration you're looking for? you can submit your request!
On top of that, DrawKit also provides a plugin for Figma which allows you to get access to all the illustrations from the Figma editor.
Another great source to find beatiful hand-drawn illustrations and icons.
What to expect: Free fonts.
License: Free
FontFabric provides high-quality fonts that guarantees to make a difference in your design projects.
You can find all font type including Serif, Sans-serif, Script, and a couple of custom ones like Rust. If you can't find the font that fit in, you can reach out to request customising existing fonts or create aone.