20+ Useful Sketching and Prototyping Tools for Designers
Most web designers work on their projects using software and digital resources like wireframes, mockups, and prototypes, etc. But if you want to take the old school paper and pencil path, then you'll find many toolkits that can speed up your development and design process.
So here are some interesting and useful paper-based utensils, toolkits, and pre-made guides for designers and developers to plan their projects. You'll find a list of free, downloadable toolkits and templates, as well as a collection of notepads and other products you can purchase for offline planning and design. Let's take a look.
Printable browser templates that allows you to capture your ideas on not just any paper but a canvas designed especially for it. You'll find two types of the paper browser i.e. Quick Sketch – for all the brainstorming and revisions, and a Detailed Sketch – for translating those rough sketches into design-ready format. There are also different sizes to choose from according to your requirements.
Creator: Rain Creative Lab
Format: .PDF
Price: Free
Design your next mobile app project not on a prototyping tool but on this printable wireframe template. You can design different screens for your app and share those with your colleagues for their input.
Creator: Riccardo Mecheri
Format: .AI
Price: Free
Konigi has free, printable graph paper for grid design mockups. Available templates include a wireframe with notes area, landscape- and portrait-oriented wireframes, storyboards (with and without notes), two-by-two graph paper, and basic graph paper.
Creator: konigi.com
Format: .PDF
Price: Free
A set of magnet templates from Konigi. Just print these out onto magnet sheets and you're ready to start wireframing and prototyping on your whiteboard or any other magnetic surface. You can also laminate these to use with dry erase markers.
Creator: konigi.com
Format: .PDF
Price: Free
Instead of printing a template every time, you can get these Sketch Pads to work for your frequent idea management. There's an option to select from Browser Sketch Pad, Mobile Sketch Pad, Responsive Sketch Pad, UX Index Cards, and even a Jumbo Sticky Pad.
Creator: uistencils.com
Format: Paper
Price: $17.00 (Starting price)
Instead of having a dull-looking mousepad, make a double use of it through this 5 days a week table calendar. It'll help you keep track of your productivity and you'll feel more organized in your work life.
Creator: Knock Knock
Price: $17.00
A metal stencil from UI Stencils for designing for the Apple iPad. It has everything you need to mock-up applications for the iPad. The kit also includes a .7mm Zebra Mechanical Pencil and an interaction technique table.
Creator: uistencils.com
Price: $26.00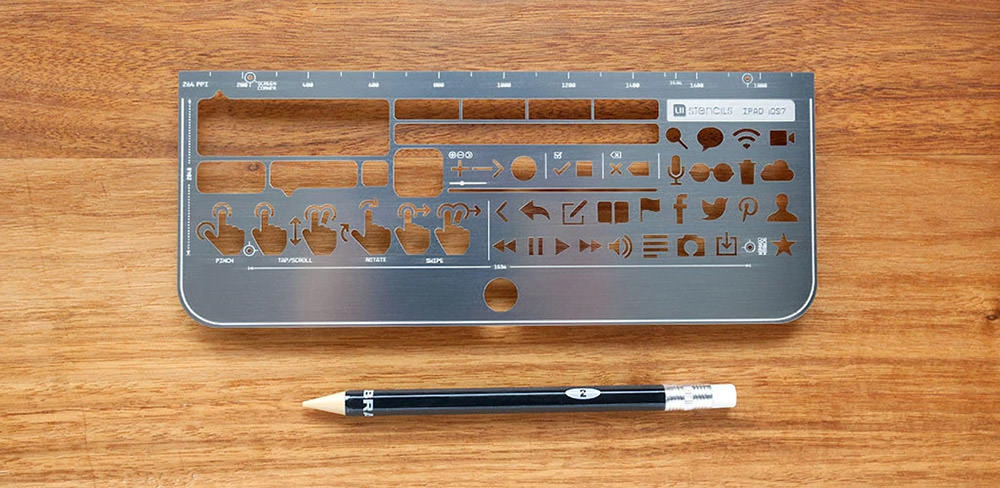 Another metal stencil kit from UI Stencils, this time for the iPhone. It also comes with the Zebra Mechanical Pencil and UI Stencils stickers.
Creator: uistencils.com
Price: $29.00
Epiphany can hit you any time and any place. So it's better to keep a nice notebook handy to document your storyboard ideas. This storyboard notepad comes in a variation of 24 to 32 pages with different features including endpapers, extra text area or large frames.
Creator: storyboardnotebook.com
Format: PDF
Price: Free
An array of well-designed printable wireframe templates. From desktop, and mobile to Table, Watch and even icon size, these templates have been designed for a range of devices to cater to your needs. You'll also be blown away by the impressive grids that add precision to your sketches.
Creator: storyboardnotebook.com
Format: PDF, PNG
Price: $28 (Starts from)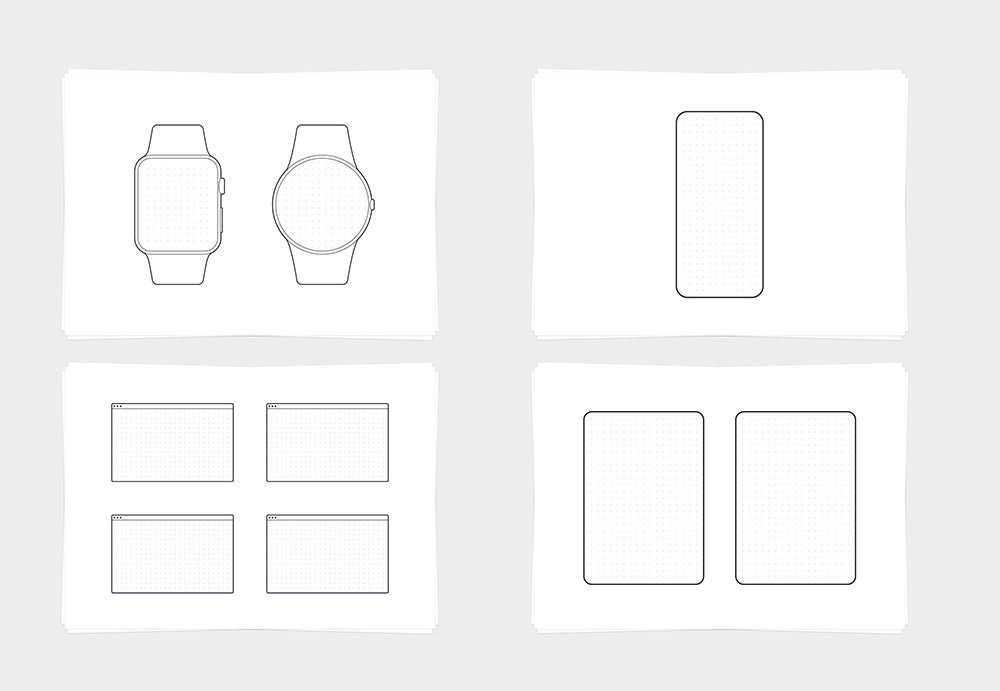 Grids are inevitable for developing sketch ideas for your website or app. Here are some high-quality grids made with precision to the last pixel. They offer grids for browser, mobile, and tablet along with column marks.
Creator: sneakpeekit.com
Format: PDF
Price: Free
A vector pack of Apple watch screen templates that offer you a quick way to mockup your ideas. It includes 20 minimal watch screens, app components, size guidelines, and a watch image.
Creator: Jessie Farris
Format: .AI
Price: Free
Here is a collection of print-ready sketch sheet templates for UX designers and developers. You can find templates for iPhone X, iPhone 8, Galaxy S10, Pixel 2, iPad Pro, Surface Pro, Apple Watch, Desktop, Web and even VR glasses.
Creator: sketchsheets.com
Format: PDF, PNG
Price: Free
Free wireframe templates for Apple Watch that you can print out and sketch over for developing your app's ideas.
Creator: Mathew Stephens
Format: EPS
Price: Free
A collection of printable wireframe templates designed specifically for iPhone X. The template features grid for precision and a small space at the bottom for taking notes.
Creator: Mathew Stephens
Format: PDF
Price: Free
For the UX designer and developers of Google Pixel, here is a kit of printable templates to pour your ideas on. The template is simple and features a grid layout.
Creator: Behnam Sobhkhiz
Format: PSD, PDF
Price: Free
A toolkit with 54 layout options of sketching templates for iPad Air. The template styles include Plain, UI Bars, Dot Grid, and Dot Grid + UI Bars.
Creator: Ben Bloodworth
Format: PDF
Price: Free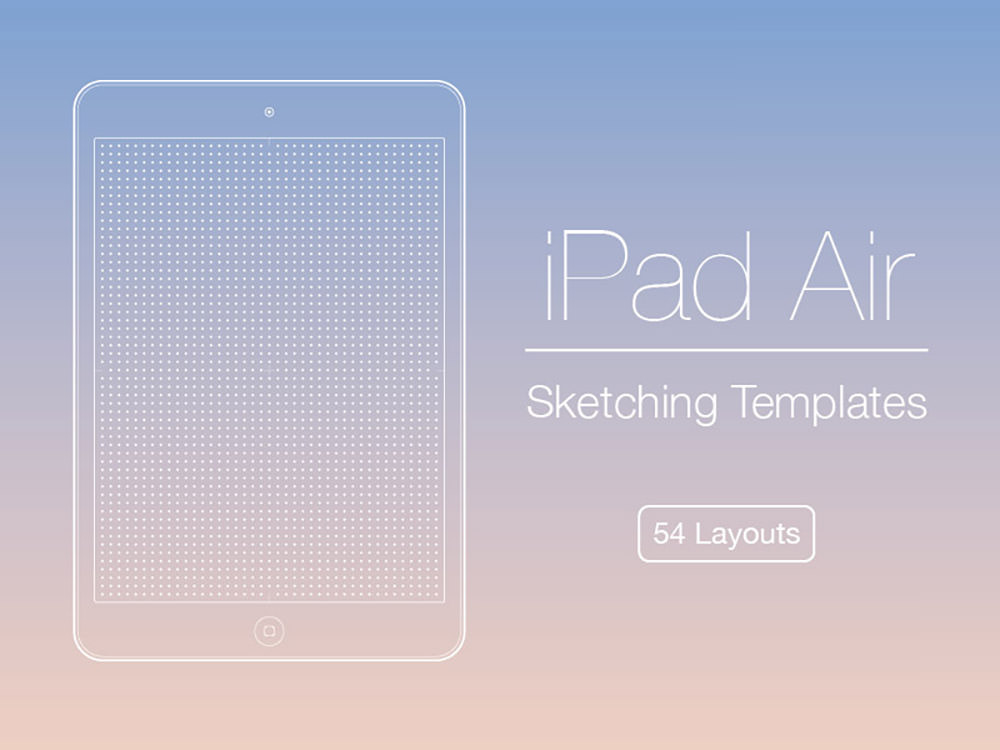 A simple printable paper template with dot grids. You can use it for developing ideas for your website or app as well as for exploring or refining other concepts on paper.
Creator: zurb.com
Format: PDF
Price: Free
A sheet of printable dot paper that has four dots per inch grid and is in letter-sized paper with portrait (vertical) orientation.
Creator: printablepaper.net
Format: PDF
Price: Free
Here are different options for a storyboard template. There are numerous layout options that you can choose on the basis of your requirement.
Creator: printablepaper.net
Format: PDF
Price: Free
An array of well-drafted wireframe templates to sketch your ideas on the paper with precision. You'll find templates for a number of devices and for each device there are plenty of layout options that you can download and print for use.
Creator: sketchize.com
Format: PDF
Price: Free