10 Best Web Highlighters for Desktop
Have you used any web highlighters? It helps us improve our productivity by copying and pasting important texts you've found online automatically, saving good articles in your directory, and highlighting important sentences on articles so that you can remember them when looking back.
In this article, I'll introduce you to 10 useful web highlighters for the desktop. All these tools offer different features, and you can read about each tool in detail in the following.
Glasp is a social web highlighter that allows you to highlight your favorite lines, significant sentences, and other phrases that grasped your interest in any articles you could find online.  So, how can Glasp help you? Whether you are a student, teacher, researcher, or just someone who simply likes to browse online, Glasp is the best for you!
It can help you store articles that you deem important and necessary for your topic, and even add your notes in line with it. The best thing is that your highlights will be jointly saved in each article, which is why it will be convenient and easier for you to track what you've just read. Additionally, you may include your preferred tags to categorize your saved articles.
One of its best features is its social aspect. Glasp allows you to share your saved articles with people whom you have similar interests with. This means that everything you highlight in an article will be public and accessible to anyone.
Hence, it explains this feature better where you can share your ideas with others, discovers similar activities, and explore different and wide-ranged topics. It is with Glasp where you can leave your legacy not only for yourself but for the future generation as well.
A highlighter extension that enables its users to annotate integrate, and engage. You can annotate good reads — for such select specific texts, phrases, words, or sentences then highlight them; you can choose whether you would like to save your annotation privately or publicly – in public annotations, others can see your comments and insights and vice versa.
Through this, you can also engage with other users. This is why, with your annotations, you can share and reply to highlighted works of others, join groups, and share and connect your ideas with like-minded people!
As Hypothesis' mission goes: "To enable a conversation over the world's knowledge." Knowledge is indeed the best thing we can share with others and keep for ourselves.
Certainly that this is an open platform where you can explore new people, discover interesting topics, and store your notes to build a community full of fruitful insights.
Currently working on your research paper? Then Weava will be your best partner. Weava is a Google Chrome extension that allows you to highlight, mainly PDF files.
It is a research and study workspace extension that provides tools to help you highlight, arrange, easily jot down notes, and at the same time will allow you to organize experiments or investigatory studies categorized in folders you will indicate and modify. Whether you may be cramming your thesis paper right now, Weava's features will surely make things easier for you.
Weava can also provide you with different citation styles in line with the files you've compiled — in whatever format you may need, such as Chicago Style, MLA, Harvard Style, or APA, Weava can do these things for you. Stay productive and keep your research files organized with Weava, all in one place.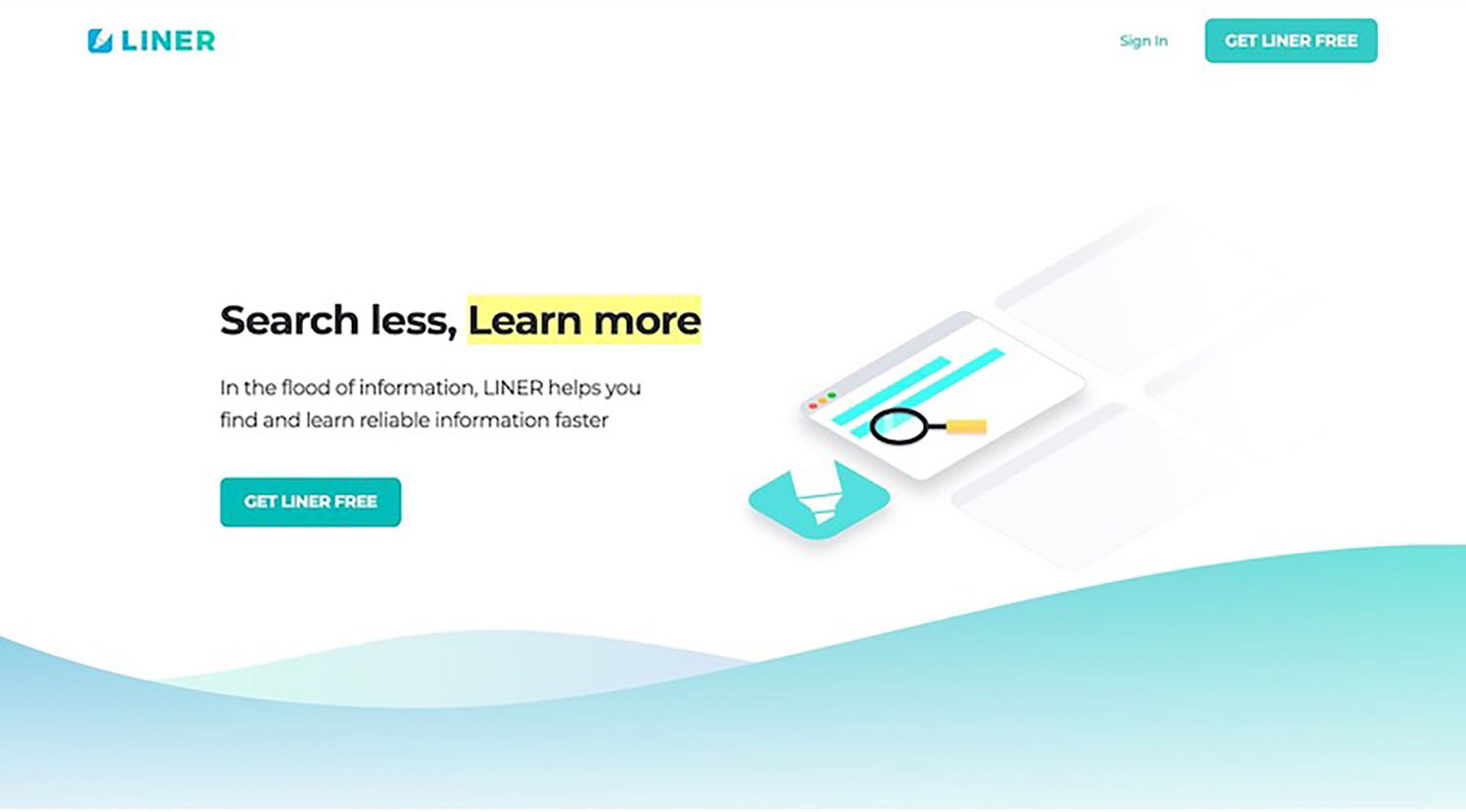 Liner is a highlighter tool that allows you to highlight web pages and parts of YouTube videos. And it's known as a search assistant tool that shows the number of people highlighted next to specific web content on Google's search result page.
When in fact, there may be some instances in Google where you would want to go back on your previous searches and visited websites, but you can't seem to find them; Liner is here to guide you, instead of manually checking your history, just highlight any of the google previews and article extracts you see, afterward you may easily access them using this extension.
Just like how you highlight your physical books and notebooks, Liner provides the same feature, but through the web! Aside from articles online, you can also highlight PDF files, particularly for those constantly conducting numerous research.
With no boundaries, you can curate your ideas all in one, input your comments and leave your insights and notes, then collect and manage your stored highlights up to your liking.
Diigo is a web bookmark manager and a social platform that permits its users to make reading more fun, efficient, and entertaining. This is a tool that has the primary objective of aiding you in establishing your very own personalized catalogs.
Its features as a highlighter and bookmarker are all in one — combined, for it enables you to collect your go-to websites or articles, annotates worthy reads, organizes, and share links that you can easily access anytime and anywhere with your peers, classmates, and family!
Correspondingly, it even allows you to bookmark sites that you may want to obtain in just one click effortlessly. Classify your tags, insert your sticky notes for easy note-taking, and indicate your comments; thus, through outliner, you can also layout your found studies or research online by using Diigo's automated streamlining, or you can customize it on your own.
The best thing with Diigo is that, even if an article, PDF file, or any resources are removed from any of the websites you're using, your bookmarks will last and remain forever in your library — well, at least its contents. Hence, with Diigo, you'll be able to access your favorite collection of write-ups anytime.
Matter started with a newsletter curation mobile app with highlighter, but recently, they launched a Chrome extension for desktop. With it you can read web articles in "Reader View" mode without any ads, and you can highlight sentences. Also, you can add a web article's link to the queue, which is the read-it-later list.
On their mobile app, you can see other readers' highlights, get insights from them, and connect with other readers. And they have the discovery feature that helps you find good content and allows you to save it by simply swiping to the right. In addition to that, you can read content that you saved on the desktop on the mobile app.
Matter is a mobile-first app now, but as they're expanding features for the desktop, we will be able to see more useful features that connect mobile and desktop more seamlessly and that help us find good articles and insights from other people.
Roam Highlighter is a web browser highlighter extension that is meant to help you in highlighting, selecting, and copying texts that you read online. Although your highlighted texts are not automatically inserted into the Roam page, you can paste highlighted sentences on Roam with one click.
Also, it extracts the text, and you can paste it on other note-taking apps such as Obsidian, Logseq, or Notion in the format that best suits your workflow.
This is a Chrome Extension that provides you with lighter and more intuitive note-taking attributes. You can even highlight various paragraphs, sentences, or phrases in multiple sections and combine them all at once.
With a yellow-colored pen on Marker.io, you can easily and prominently highlight sentences in an article to identify and locate them when reading or reviewing. It is a Chrome extension that is useful when reading lengthy files, articles, or sites online.
When highlighting with Marker.io, it generates a link per article and allows you to share it with other people. And they can see the sentences you highlighted. So, if you want to share important parts or what you resonate with within an article, Marker.io is the best fit.
The only downside is that Marker.to doesn't allow you to make some notes when highlighting. But with its simple and clear use case, Marker.io will keep being used.
Pocket is a bookmarking and highlighting tool, formerly known as the "Read It Later". You can save any content you find on the Internet, such as web articles, videos, PDFs, etc. Though it is similar to the browser's default bookmarking, they offer more varied features than the typical bookmarking function.
It also allows you to create a digital library of your own. Where you can collect, highlight, manage, store, and compile all your favorite articles, long web reads, or any other files online that caught your interest.
Although Pocket lets you highlight, it is limited to up to three highlights per content, so if you want unlimited highlights, you must go premium.
In your digital library, you can organize your collections accordingly and customize your design. As such, you may change your reading font into fancy or modern ones, and personalize your text sizes, and style. And you can categorize your content through tags, so it helps you find what you saved easily.
Scrible is your highlighter in action! When you find articles or websites that tweaked your interest, this web highlighter will be your lifesaver. You can store and easily save important words, iconic lines, 'quotable' quotes, and even other sentences at present — you can do these all at once just by simply highlighting with Scrible!
And perfect for both students and educators online, you can save websites for a later read, annotate various studies, organize your contents in one library, input comments, and share them with others.
One big advantage of Scrible is that they have integration with Google. When you edit Google Docs, with the Scrible extension, you can add your highlighted content from Scrible to Google Docs easily. This is a very useful feature for students and educators who use Google products.
So, what are you waiting for? Be productive by adding these highlighter extensions to your browser and continue forward in exploring the world of information with our colorful highlights and precious insights together!
The Web Highlights Chrome Extension helps you to highlight text on the internet and access the highlights from anywhere. Just like you do on books and articles, highlight on any web page or PDF and take notes.
Your highlights are directly synced to the web app, where you can find a nice overview of all your pages with their highlights.
Web Highlights provides an excellent tagging functionality which makes it straightforward to re-find information and research you made in the past. Additionally, you can filter for specific pages or search for specific terms within the search bar.
Another great feature is that you can copy all highlights, tags & notes of pages to markdown so that you can easily copy & paste it to, e.g., Notion or Oblivion.