24 Avengers Artworks That Are Just Marvel-ous
So, are you ready to meet the hottest and mightiest heroes in the epic blockbuster of the year, The Avengers, premiering this week? So far we know that Iron Man, Captain America, Thor, the Incredible Hulk, Hawkeye and Black Widow will be making appearances in the epic superhero movie of the century! Fact is, the movie is so hot that even artists are making artworks for it, and we have assembled them into this post!
Besides the official promo artworks and concept arts, we are also featuring incredible fan art, making this the post that a superhero fan really shouldn't miss. Expect to see 24 Marvel-ous Avengers artworks (spoiler-free, of course!) that feature the heroes in their fighting mode; each in a depiction of an epic battle that deserves nothing less than an ultimate sense of awe! Feel the epicness before seeing them on screen!
The Avengers Promo Art. (Image Source: Marvel Movies Wiki)
The Avengers Promo Art #2. (Image Source: Marvels Movie Wiki)
Avengers Assembled. (Image Source: Internapse)
Avengers Concept Art. (Image Source: Comic Book Movies)
The Avengers Team. (Image Source: Marvel Movies Wiki)
The Avengers Team #2. (Image Source: Marvels Movie Wiki)
The Avengers Team #3. (Image Source: Marvels Movie Wiki)
The Avengers. (Image Source: emmshin)
Avengers Fighting. (Image Source: earache- J)
Fighting Avengers. (Image Source: Grafik)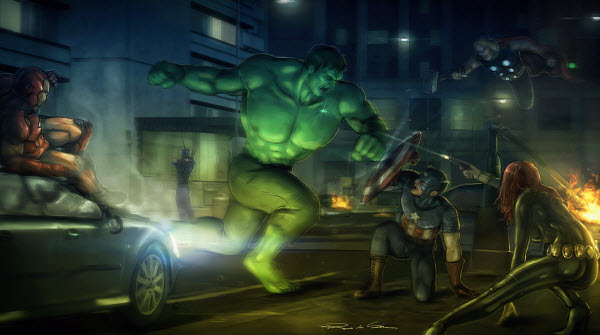 Avengers Attack. (Image Source: zaratus)
The Avengers Assembles. (Image Source: The Art of Oneness)
The Avengers Fanmade Banner. (Image Source: hobo95)
Avengers. (Image Source: Manarama)
The Avengers Unofficial. (Image Source: RedScar07)
Avengers Banner. (Image Source: hobo95)
All Avengers. (Image Source: h3ls1ng)
THE: AVENGERS. (Image Source: earache-J)
Avengers Variant Cover. (Image Source: PaulRenaud)
The Three Avengers. (Image Source: commando-kev)
Avengers Assemble. (Image Source: Wulfsbane)
The Avengers 4. (Image Source: JasonMetcalf)
Torsor Avengers. (Image Source: JPRart)
Avengers Assembling. (Image Source: Comic Book Movies)