40+ Adobe Illustrator Cartoon Tutorials
Cartoon characters are used in animated movies, video games, ads, and promotional material, etc. and Adobe Illustrator is one of the best tools to create them.
If you want to venture into cartoon character development for a project or just for fun, look at this Adobe Illustrator tutorial list. The list has a lot to offer from recreating famous cartoon characters to creating a new one from scratch. So take your pick and start learning!
20 Adobe Illustrator Tutorials For Beginners
20 Adobe Illustrator Tutorials For Beginners
Adobe Illustrator is one of the best tools to create logos, vector graphics, illustrations, print material, and many... Read more
Here are some related posts you might be interested in:
Follow these steps in Adobe Illustrator to create your super cute fuzzy monster character. We'll be working with the basic shapes to start, then use a variety of gradients to add depth. We can then finish it off with some detailed fur effects to really lift the design from the screen.
In this tutorial, you will learn how to create a cartoon zombie in Illustrator. Starting by creating a fresh corpse, we will then 'yuck' it up using several techniques.
In this tutorial, you will learn how to use Adobe Illustrator to create vector cartoons. Learn how to create Lebron James Cartoon Character.
This tutorial covers the necessary steps for creating a colored multicolor cartoon character that includes shadings.
In this tutorial, we will go through the process of drawing cute cartoon characters. The concept is based on the Emo trend; we will go through all the steps from sketch to full-color vector.
Constructing a group of cool vector ninja characters using just the basic shapes and a variety of simple tools, making it a good start for Illustrator beginners.
This tutorial uses simple shapes and gradients that are easy to apply to other character illustrations.
This tutorial shows you how to build a Bucket 'o' Thought character and add a dynamic background effect.
Follow this Adobe Illustrator walkthrough on creating a cute little vector monster character, beginning with a quick pencil sketch on paper.
This tutorial aims to guide you from sketchbook to screen; a "Fat Cat" doodled with biro translated into a neat vector caricature. Intermediate knowledge of Adobe Illustrator is advised.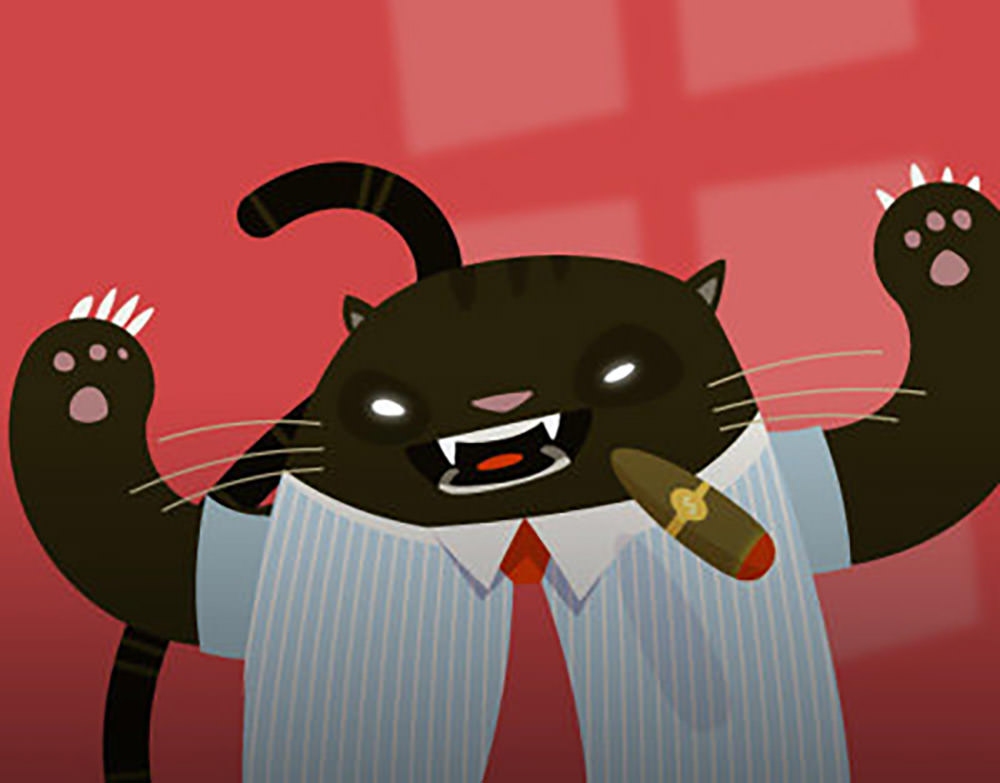 Follow this tutorial to create your own vector character – Freddy the Fish.
By firstly using the power of pen and paper, a character design is created, which is then scanned into the computer to use as a base for tracing with Adobe Illustrator. The outcome is a colorful cartoon character in vector format!
In this tutorial, the author will give an overview of how to develop a character, from the initial brief through to the final site mascot, and then create several poses for different parts of the site.
This is a short beginner tutorial. You will use Layers, utilize the Pen Tool and its sister tools, such as the Convert Anchor Point Tool, Direct Selection Tool, etc., to draw and colorize a vector Bart Simpson in Adobe Illustrator.
This tutorial details a professional workflow for creating vector illustrations and prepping the artwork for Micro-Stock Sales. The author also included a bunch of time-saving tools and tips as well.
In this tutorial, you'll learn some basic skills for converting your character from a pencil doodle to a complete, fully-colored image – learning some crucial Illustrator skills along the way.
In this tutorial will be detailed explain how in Adobe Illustrator coloring sketches, in this tutorial author will use anime sketches.
First of two Spoongraphics mini-series of tutorials on creating a set of simple monster characters. This is a very simple tutorial, so if you are a beginner in Illustrator, you can learn some basic tools.
Here is the second Illustrator tutorial from Spoongraphics mini-series of monsters tutorials where you will take a look at the Dumb Blue Sucker Monster! Again, using mostly the basic tools and shapes, making the tutorial suitable for beginners to Illustrator.
Using some basic shapes, effects, and gradients author will show you how to create a Twitter mascot for your blog or website.
In this tutorial, you will break down the basic process of creating a character from sketching to the final vector file. Whether you're interested in creating vector mascots for branding design or making interesting characters to use in your animations, you'll find these techniques helpful.
Koi Carp have been painted and illustrated by the Japanese for centuries and are familiar to people worldwide. This tutorial will take the intermediate Adobe Illustrator user through the techniques and processes needed to imitate what the Japanese have perfected.
If you want to learn how to create a rounded robot character from sketch to finished vector art, then we have an awesome tutorial for you.
Simple Illustrator tutorial to creating a simple hippo face with Ellipse tools, rectangular tools, and rounded rectangular tools.
The following tutorial teaches you how to create a cute vector soldier character, totally in Adobe Illustrator.
Vectortuts+ brings you a great character design tutorial, in which you will learn how to make a character-driven book cover art using Adobe Illustrator and Adobe Photoshop.
This well-written tutorial will teach you how to design a cheeky koala mascot head in Adobe Illustrator. While this tutorial isn't meant for pros, it's good enough for beginners.
Ever thought about how to create a grumpy troll character? I bet not. However, in this tutorial, Chris Spooner will teach you how to make a nice one.
The following tutorial teaches how to create the face of a goofy bunny.
If you wanted to know how to create a cute vector reindeer character in Adobe Illustrator, which is great to be using in greeting cards, then follow this step-by-step tutorial.
This tutorial shows the creation of a face of a greedy monkey who's looking for bananas. Will you give him one?
If you are a novice in Adobe Illustrator, then you should follow this tutorial which teaches how to make a simple yet attracting mechanic character illustration.
Create a cute little tiger by using only Adobe Illustrator.
If you'd like to create an elegant patterned vector owl in Adobe Illustrator, then take a closer look at this tutorial by Chris Spooner.
Another great tutorial by Chris Spooner in which he shows off the ways to create a cool vector panda character in Adobe Illustrator.
Looking to learn the basics of Adobe Illustrator? In this tutorial, you'll use various tools and techniques to create a simple vector robot character. With this robot being made of many basic shapes, it's a great tutorial for beginners to get to grips with the Illustrator application.
Create a cute creature from the sketch. The tutorial uses custom brushes, the Paintbrush tool, the Pen tool, and the Live Paint Bucket tool. Even if you are not a huge fan of the cuteness, you can use these techniques for other illustrations, logos, and vector elements.
Make a unique design of European Goldfinch with paint splatters and textures. The techniques used will be Live Trace, Pathfinder, Transparency, Distort, Warp, and Clipping Masks. You'll give this character a unique look and fun personality.
How to create an offbeat creature using Illustrator's 3D Revolve effect.
Tutorial for beginners, creating a cute vector penguin with Illustrator.
Learn to create a funny singing pig with musical notes and a bow tie.
How to create a cute pink piggy bank in perspective.
Create Green Slimy Monster in Illustrator.