50 Sites to Download Free 3D Models – Best Of
Adobe Stock offers millions of royalty-free assets including 3.5k+ high-quality 3D models. It also contains numerous free, community-uploaded models.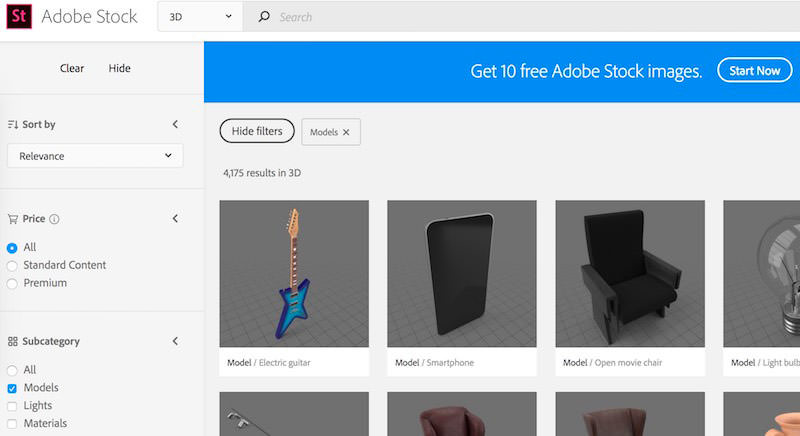 3DExport brings 3k+ 3D models, which are ready for 3D printing. The designs are available in multiple formats – 3DS, C4D, MAX, OBJ, STL, and many more.
3D Warehouse is just another place to download as well as upload models. These models are organized under categories for architecture, and design, etc.
Sweet Home 3D brings more than a thousand 3D models to you. These designs cover all the numerous house things including chairs, desks, sofas, tables, etc.
3D CAD Browser offers hundreds of 3D models for 3DS Max, Blender, Maya, and other modeling software. You can find them under categories or search for them too.
All3dfree.net holds a collection of 3D models in formats like 3DS, C4D, MAX, SKP, and others. It includes CAD blocks, materials, and 2D and 3D textures.
Artist-3D.com is another website with hundreds of models. It holds the models under various categories like architecture, nature, technology, transport, etc.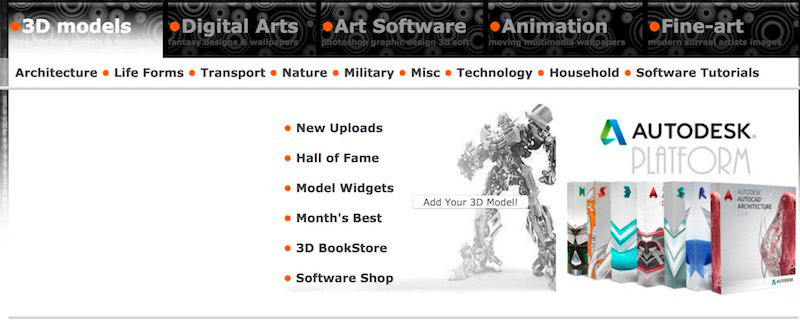 3D Resources, a collection by NASA, hosts more than four hundred models of all kinds of astronomical inventions and other things including rockets, satellites, etc.
CAD Blocks Free hosts a collection of hundreds of free 3D CAD models including AutoCAD 3D blocks, SketchUp components, SolidWorks models, etc.
Design Connected offers hundreds of high-quality 3D models and samples of designer furniture items. For example, it includes candles, lamps, mirrors, etc.
Car Body Design hosts more than three hundred models of luxurious cars from car companies like Audi, BMW, Lamborghini, etc. and many concept cars.
Evernotion hosts various sections of blueprints, models, scripts, and other materials. It reportedly hosts hundreds of models, which are searchable as well.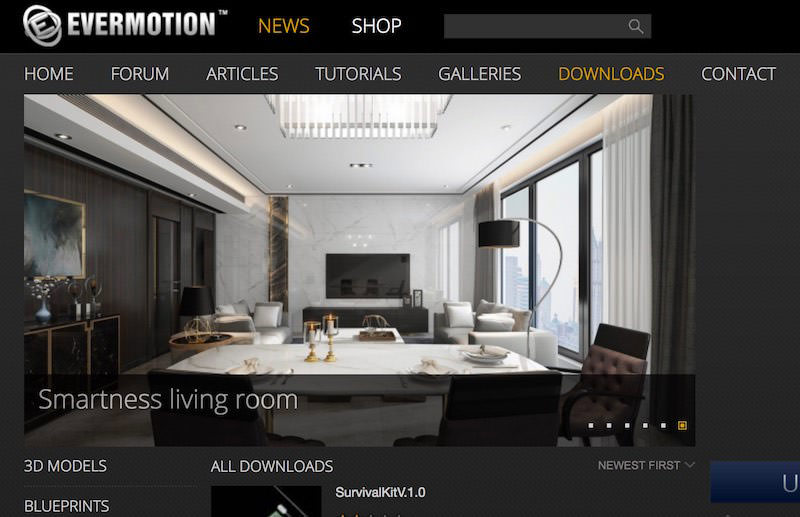 3DXO hosts around two hundred models that are amazing in design. These models include aquariums, house items, office cabinets, plants, and more.
SketchUp TEXTURE holds more than a hundred models categories under headings such as chairs, houses, kitchen, living room, office furniture, tables, etc.
DMI Car 3D Models offers a collection of 3D models for numerous vehicles such as buses, amazing cars including racing cars, tanks, trailers, and trucks, etc.
Free 3D Base holds more than a hundred high-quality 3D models of various items in multiple formats. For example, you can find chairs, sofas, tables, etc.
Craftsmanspace showcases 3D models in multiple formats. Among its 100+ models, you can find models of furniture items, a human body, jewelry, and more.
Blogscopia has a collection of more than a hundred models of different items such as air conditioners, bathroom items, letter boxes, sneakers, trees, etc.
Viz-People holds an assembly of free 3D models. It is a collection of around hundred freebies. The list includes electronics, furniture, kitchen items, etc.