30+ Web Design Conferences to Look Forward To (2019)
Web design and development are the hottest fields of technology and with new tools and products being developed almost every day, one needs to stay updated in every aspect. You need to learn about the new programmes, upcoming developments in the field and stay connected with your fellow designers and developers.
And if there's one place where you can find opportunities for further learning, networking and a glimpse into future research all under one roof, that's a web design conference.
Each year different organizers arrange thousands of such conferences worldwide where you can go and participate for a great learning experience. So in this post, I have compiled some of the best web design conferences happening in different parts of the world. Read out and see if there's one you would look forward to.
In Design, not only can you meet the masters of web design, but also learn about User Research, CX, UX, UI, Product and Interaction.
Venue: Melbourne
Dates: April 11 & 12
Ticket price: $1,195
ConveyUX is an annual user experience conference held in Seattle by Blink UX. It is a great learning and networking opportunity along with workshops and exclusive look into some amazing design projects and the brilliant minds behind them.
Venue: Seattle, WA
Dates: March 11 ‐ 13
Ticket price: $1,195
An Event Apart DC focuses on digital design, UX, content, code, and a lot more. In these 3 days and 17 sessions, you can get a deep insight into the current situation of the design industry and where things are going next.
Venue: Washington DC
Dates: July 29 ‐ 31
Ticket price: $600 – $1500
ConFoo is one of the biggest conferences in the software development field. You can look forward to renown international speakers, innovative and surprising topics as well as great off-conference networking opportunities.
Venue: Montreal
Dates: March 13 ‐ 15
Ticket price: $942.80
SmashingConf is a two-day event to discuss practical design problems like improving accessibility, front-end workflow, CSS Grid techniques, and how to write better JavaScript etc. You can expect a casual and inclusive atmosphere and some real hands-on workshops.
Venue: San Francisco
Dates: April 16 & 17
Ticket price: $599
Well, this one is not a conference but rather a festival. TNW Conference is full of industry-leading speakers, panel discussions, and workshops about everything that comes under the umbrella of technology and innovation.
Venue: Amsterdam
Dates: May 9 & 10
Ticket price: $1,195
ConvergeSE
CovergeSE conference caters to design as well as the development industry. There are discussion sessions on topics from graphic design and front-end development to business and marketing, as well as keynote style talks from an impressive array of speakers.
Venue: Columbia, South Carolina
Dates: n/a
Ticket price: n/a
As a PHP developer, you probably don't want to miss this international conference and workshops that will improve your fundamental understanding on not only PHP development, but also database, methodologies, web API, security, and more.
Venue: Berlin
Dates: April June 3 ‐ 7
Ticket price: n/a
The NAGW National Conference is especially focused on the professional development of government web professionals. From webmasters, programmers, and designers to managers and CIOs, the conference caters to all technical and non-tech audience.
Venue: Salt Lake City, Utah
Dates: Sep 18 ‐ 20
Ticket price: $925
Rightfully called the 'creativity conference', Adobe Max is the place to get inspiration, learn the latest skill in design and development, make some interesting new friends and most of all – have lots of fun. Who knows, you may even meet a famous celebrity.
Venue: Los Angeles
Dates: November 2 ‐ 6
Ticket price: n/a
The HighEdWeb conference is an interesting event offering special presentations, renowned keynotes, and a great opportunity to connect with the top professionals from the Wisconsin's web industry.
Venue: Milwaukee, Wisconsin
Dates: Oct 13 ‐ 16
Ticket price: n/a
If you want to see the founders and CEOs of big tech companies, fast-growing startups, international journalists, and world policymakers all in one place then you must head to the Web Summit. On this mega event all these tech giants sit together to decide the future of technology. Sounds like something not be missed.
Venue: Lisbon
Dates: Nov 4 ‐ 7
Ticket price:
One of Asia's most influential conferences on emerging tech, EMTech Asia is where you'll meet innovators, scientists, investors and tech executives from all over the world. You'll also be able to meet a large number of people who share your passion for tech and innovation.
Venue: Singapore
Dates: Jan 22 ‐ 23
Ticket price: $1,795 ‐ $2,795
The Developer Week brings together developers, engineers, software architects, manager, and dev teams etc. from around the world to discuss the latest developer technologies, languages, platforms, and tools. It's a three-in-one event where you can learn through workshops, join a big hackathon and even get hired.
Venue: San Francisco, Bay Area
Dates: Feb 20 ‐ 24
Ticket price: $50 ‐ $1,495
One of the biggest Java platform conferences for professional developers in the US, DexNexus brings opportunities for learning about the latest tech. It offers hands-on workshop sessions, presentations, and live demonstrations as well as and interactions with industry top professionals.
Venue: Atlanta, GA
Dates: March 6 ‐ 8
Ticket price: $370 ‐ $695
When Google creates an event, there's not much that's left to the imagination. Google Cloud Next is all about three days of networking, learning, problem-solving and meeting some hundreds of Google experts and IT professionals from other companies.
Venue: San Francisco
Dates: April 9 ‐ 11
Ticket price: $999
Some of the most influential tech leaders and brands to Dublin come together at Dublin Tech Summit. You can look forward to learning, knowledge sharing, and fun networking at the event.
Venue: Dublin, Ireland
Dates: April 10 ‐ 11
Ticket price: $259
Bigger than all the biggest tech conferences, Google I/O is a developer festival where attendees get to have the first look at Google's latest developer products. Developers from around the globe come here for talks and hands-on learning with Google experts.
Venue: TBD
Dates: May 2019
Ticket price: TBD
The largest annual gathering of Python users, PyCon offers its attendees tutorials, discussion sessions, developers summit as well as a public job fair. You also get a chance to contribute to Python through development sprints.
Venue: Cleveland, Ohio
Dates: May 1 ‐ 9
Ticket price: $100 ‐ $550
One of Apple's largest events, WWDC is where creativity connects with technology. Thousands of developers from all over the globe gather in for discussion sessions, hands-on labs, consultations, and networking events.
Venue: San Jose, California
Dates: 4 ‐ 8 June
Ticket price: $1,599
Perhaps the only free event in the list FOSDEM is for software developers to meet, share ideas and collaborate. Every year, thousands of developers of free and open source software from all over the world gather at FOSDEM for learning, problem-solving and networking.
Venue: Brussels
Dates: February 2 & 3
Ticket price: free
Here is an event that brings you 10 days of unparalleled discovery, learning, and networking with creatives across interactive, film, and music industries. SXSW offers you inspiration from diverse visionaries, exhibitions, and even festival.
Venue: Austin, TX
Dates: March 8 ‐ 17
Ticket price: TBD
OSCON is at the forefront of software development. For this year the conference focuses on the substantial pillars that are driving the software development industry including Open-Source, Cloud-Native, Data-Driven, AI-Enhanced, and Customer-Centered.
Venue: Portland, Oregon
Dates: July 15 ‐ 18
Ticket price: TBD
JAX DevOps is a conference for software experts offering in-depth knowledge of the latest technologies and methodologies for lean businesses. You get to attend workshops, sessions, and keynotes as well as an expo with top IT companies.
Venue: London
Dates: May 14 ‐ 17
Ticket price: £399 ‐ £1199
Enterprise UX focuses on helping designers and researchers impact enterprises. With keynotes, talks, full-day workshop sessions, and unique Enterprise storytelling sessions the conference gives you plenty of opportunities to learn and have fun.
Venue: San Francisco
Dates: June 3 ‐ 5
Ticket price: TBD
The Velocity conference has been designed to help you keep up and stay ahead of what's coming next in the field of Cloud-Native system and DevOps. With new strategies, tools, architectures, and approaches you'll learn to build and maintain the fast and reliable systems.
Venue: San Jose, CA
Dates: June 10 ‐ 13
Ticket price: TBD
DevOps World conference provides expanded opportunities to learn, explore, network and help shape the future of tech. The conference is specially designed for IT executives, DevOps practitioners, Jenkins users and partners.
Venue: San Francisco
Dates: August 12 ‐ 15
Ticket price: $1,999

If you want to learn what Apache projects are doing, or you're looking for a place where projects come and build stronger project communities, then ApacheCon is the event to go to. The event focuses on cloud, DevOps, IoT, servers, web frameworks, and many other Apache projects.
Venue: Las Vegas
Dates: September 2019
Ticket price: TBD
Digital Summit Conference focuses on a wide range of topic areas including content, data analytics, social media, marketing, UX design and other similar disciplines. You'll also hear from top industry professionals from these fields.
Venue: Phoenix, AZ
Dates: February 11 ‐ 12
Ticket price: $295 ‐ $995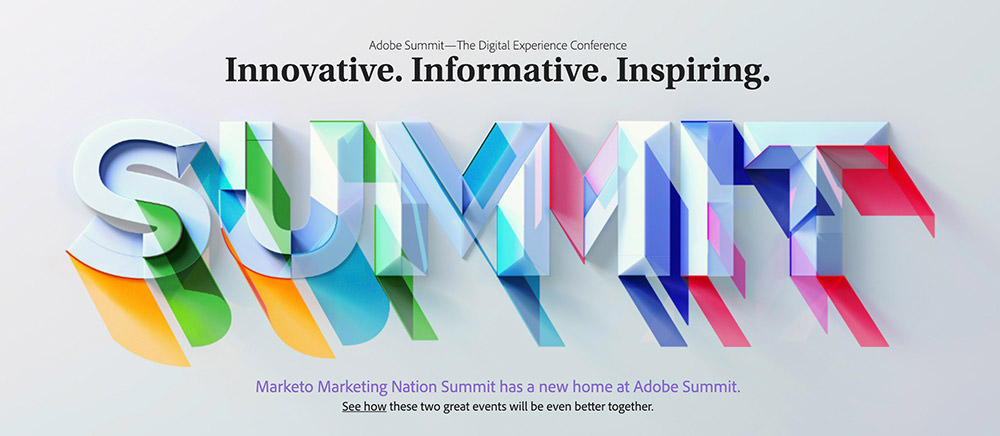 A digital experience conference organized by Adobe, the Adobe Summit will provide you the opportunity to hear from inspiring speakers, learn from 300 sessions and labs in various fields and connects with other brilliant minds in your industry.
Venue: Las Vegas
Dates: March 24 ‐ 28
Ticket price: $1,495
Big Digital Adelaide
One of Australia's biggest digital marketing conference, BigDigital focuses on emerging technologies, data-driven strategy, customer-focused UX and ways to maximize return on investment. The attendees will hear from impressive speakers as well.
Venue: Adelaide, Australia
Dates: April 3 ‐ 5
Ticket price: TBD
In GOTO Chicago conference you'll get to learn from the creators, pioneers and thought leaders helping answer in the tech industry. Through hands-on workshops, discussion sessions, and networking events you'll get to know what will the future of software bring.
Venue: Chicago
Dates: April 28 ‐ May 2
Ticket price: $595