10 Actionable Instagram Tips and Tricks
Instagram is one of the popular social networks for everyone — influencers as well as brands. According to the Pew Research Center, 37% of adults in the US use Instagram with 63% of them using the social network everyday. You may use Instagram, but you may not know all of its secret hacks and tips.
That said, if you've just started using Instagram or if you wish to level up your experience on Instagram, there are some lesser-known hacks, search options, settings, and tips and tricks. I'm compiling the best ten of them in this post with the goal of assisting you on leveling up your branding on Instagram.
But before you dive in this post, make sure you're running the latest version of Instagram on Android or iOS. Just head over to the Play Store or the App Store and check if there's an update for Instagram — install it if it's available.
Customize fonts in your bio
This first trick helps make your profile stand out on Instagram. You can write your profile bio in cool fonts, which are usually impossible on Instagram. The trick is to use a third-party service like IGFonts, Instagram Fonts, or LingoJam to convert your usual text into a cool text written using some special font.
Alright, let's see how you can do it:
Open one of the given services on your mobile.
Type your profile bio inside the text box.
Tap one of the produced texts and select Copy.
Open Instagram, click on the profile icon > click Edit Profile.
For the Bio field, paste the copied content, and finally save it.
Schedule the upcoming posts
Instagram misses an important feature — an option to schedule posts for the future — especially for business users and influencers, who post frequently for driving user engagement. Fortunately, there is a neat trick for just that.
There are scheduling tools, which allow you to set a future date and time to any post for posting it on the future Instagram. I'll later talk about Later since it allows you to schedule 30 free posts per month and offers more features.
Download Later, open it, and set up an account on Later.
On the Media tab, choose a photo, and click Create a post.
Choose a profile, type a caption, then click Next to schedule it.
Click on Pick a Time, choose the date and time for scheduling the post, and hit Save. It will auto-publish your post if you've a business profile on Instagram, or it will send a notification to publish the scheduled post.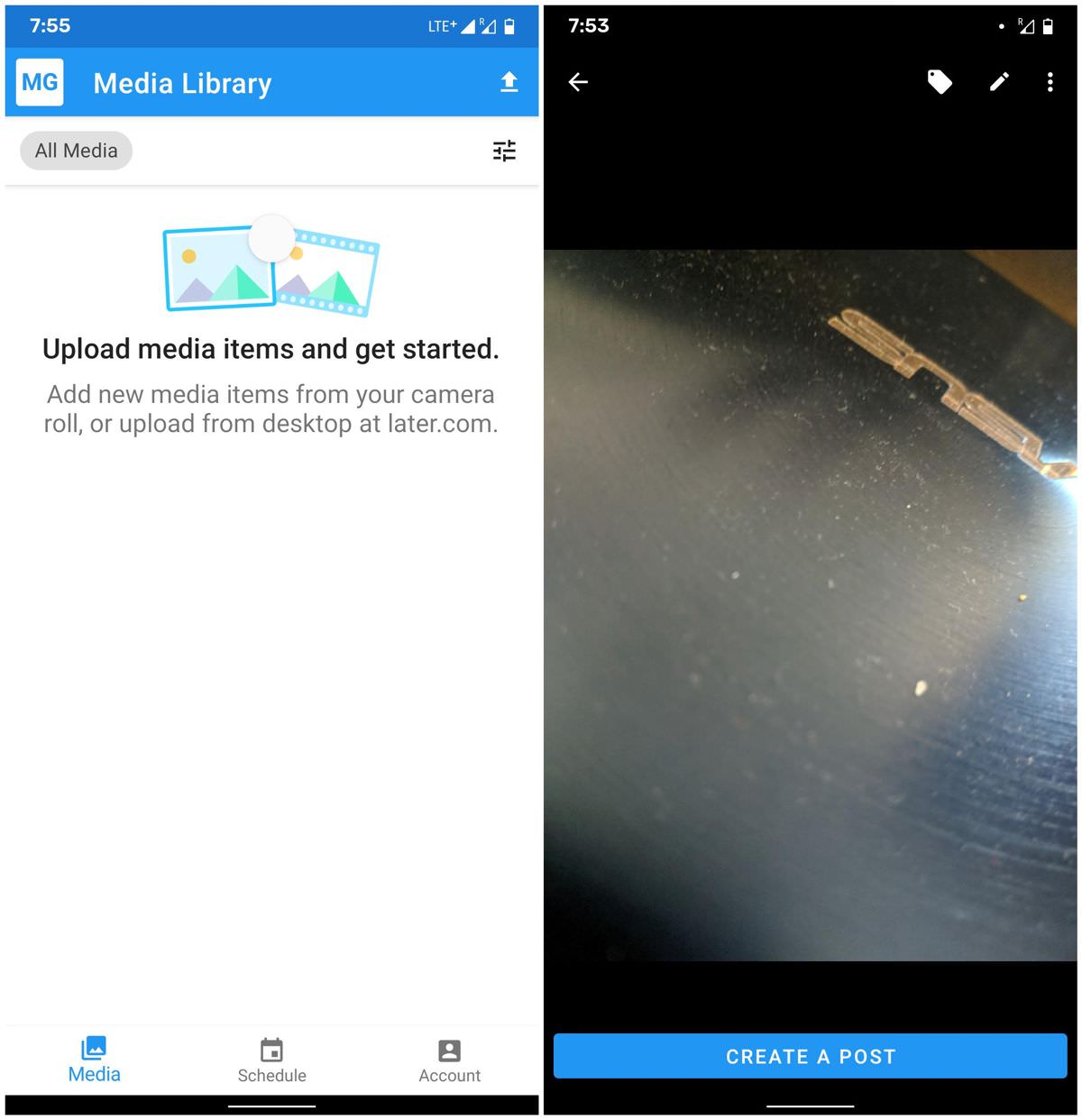 Optimize bio for the Explore page
Instagram's Explore page helps your business or individual profile to gain better engagement and exposure. But how to make the best of it? You must optimize your bio with the necessary keywords and hashtags for the best results. Here are the steps and tips/tricks to optimize your bio for the Explore page:
Select Edit Profile on your Instagram profile, and go to Bio.
Add keywords to describe your brand in the first line of your bio.
In the next line, add hashtags to promote your profile > click Submit.
Create all-text, no-photo stories
If you wish to publish posts without sharing photos and videos, Instagram's Create Mode helps in creating artistic and engaging text posts. You can write text on a colorful background in five different fonts — Classic, Modern, Neon, Strong, and Typewriter. Additionally, you can add GIFs and stickers, change the font size, and/or highlight text. Here's how to enhance your stories:
In Instagram, tap the camera icon in the upper-left corner.
Swipe the text at the bottom of the screen from right to left until you see Create along with Aa — this is the Type Mode in Instagram.
Choose a background color using the button at the bottom-right.
Tap on the screen to type your text. While you're typing, click the font name at the top to change it, move the slider to change font size, and pick a color at the bottom to customize the color and make it perfect.
When you're finished, click Done at the top-right to finish writing.
In the Create Mode, you can swipe Aa to the right to get additional create modes including Shoutouts, GIFs, Templates, Questions, Countdown, and Quiz.
Filter or disable negative comments
You can filter inappropriate and/or offensive comments from your profile posts on Instagram. It offers automatic blocking of offensive comments per general ideas and also provides options to filter custom words per your preference. Here are the steps to disable or filter inappropriate comments in Instagram:
Go to your profile > click Menu, then Settings.
Tap Privacy in the menu, then choose Comments.
Tap the switch named Hide Offensive Comments.
For advanced controls, switch on Manual Filter and then switch on Filter Most Reported Words for optimally blocking the comments. You can also enter comma-separated words or phrases to filter specific content.

Reorder and hide unnecessary filters
Instagram offers many filters to enhance our photos. However, it's annoying to scroll through them to find the best filter while creating your next big story. Fortunately, you can arrange the filters and hide the unnecessary ones. Follow these steps to reorder or hide filters to speed up the process:
Add a new photo and edit it > click Next to go to filters.
Scroll to the last filter in the list, and click Manage.
Drag using the three-bar button on the left to arrange.
Or, uncheck the filters to hide them, and finally click Done.
Show approved tagged posts only
Instagram allows you to tag your friends and vice-versa. It also shows the tagged photos and videos on your profile, which you may find fitting or not for your profile. Fortunately, you can choose to display just the approved ones. Just follow these steps to disable auto-showing every tagged photo and video:
On Instagram, click your profile button at the bottom-right.
Now, click the three-bar button in the upper right of your screen.
Go to Settings > Privacy > Tags and click Manually Approve Tags.
Switch on Manually Approve Tags to disable auto-posting tagged posts.
Also, you can click Edit, select some posts, and click the Hide or Remove button to hide or remove those tagged photos/videos from your profile.
Browse posts of a certain location
Instagram, by default, lets you browse photos and videos near your current location. But what if you want to explore the posts of a specific location? You can follow these steps to search for posts of a specific location:
Tap the search icon at the bottom to visit its search page.
Tap the search bar at the top and switch to the Places tab.
Type the name of the location and choose it in the results.
You'll see the top/recent posts geotagged to that location.
Create stories with animated fonts
Instagram lets you build cool and unique stories using GIFs, stickers, and whatnot. However, it doesn't allow adding animated text to your stories. Thankfully, there are third-party apps that allow you to add animated text to your posts. You can also click a photo or choose one from your album.
If you want your profile to stand out, follow these steps in Hype Text:
Download and open Hype Text, and choose Text Only.
Select the background and double-tap to add some text.
Tap the first icon to change the effects, fonts, and color.
Tap the second icon for style and colors, click the clock icon to control the animation speed, and click the music icon to add some music.
Click the tick in the top-right corner to save and share on Instagram.
Add invisible hashtags to stories
Everyone uses hashtags to make their stories discoverable on Instagram. However, they can ruin the aesthetics of your stories and make them seem spammy when you post too many hashtags on a single story. You can write any number of hashtags and make them invisible by following these steps:
On your new story, type any #hashtag using the text tool.
Tap and drag the pen around hashtag > select a color that blends.
Make the font size smaller if you need to, then click Done to confirm.