10 Cool and Unique Playing Cards for Collectors
According to Wikipedia playing cards gave been around for over 1,100 years now. They have changed considerably since then. Different variations of decks have been created, yet what we recognize as a "regular deck of cards" hasn't changed much for a while.
At least that's what you might think! There are quite a few companies that have created special decks which range from odd to beautiful to useful.
If you collect cards (or want to start) or are just looking for one perfect deck, perhaps you'll find what you need in this list.
30+ Awesome Gifts Ideas for Geeks, Vol. 1
30+ Awesome Gifts Ideas for Geeks, Vol. 1
In one's family or friends circle, there's always someone who's smart and loves everything related to tech, video... Read more
This is an exquisitely designed deck with a distinct personality. It really looks like something you expect to find in a sinking pirate ship – the term booty definitely seems to apply.
The deck costs $7.95, a very modest sum. You can also grab the moody book lamp that goes along with it for $149.95. This seems a bit steep but each book lamp is hand-crafted and contains a secret stash that fits two Contraband decks.
The design of the website is also something to behold, it makes the deck look so much better – seeing it in a fitting environment. Grab Contraband now, it's a work of art, not just a set of cards.
I drink next to no alcohol but I really love how well made and unique the Prohibition set is, which consists of six decks, all a nod to different alcoholic drinks.
Absinthe, Disparos Tequila, Rebellion Rum, Moonshine, White Wolf and 52Proof Whiskey make up the set in a beautiful slim box.
Each deck has a beautiful and unique design. It's hard to decide on a favorite.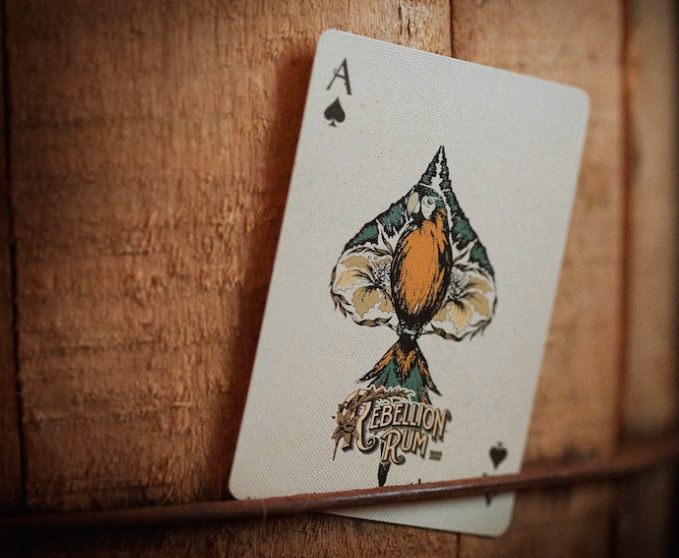 You can grab the lot for $125 at ellusionist.com which isn't a bad deal considering you are getting 6 decks and a beautiful wood box!
If you've seen the Mystery Box Ted Talk from J.J. Abrams you know what this deck is all about. Mr. Abrams loves secrets and his company, Bad Robot, wanted to instill this in a pack of cards. The cards themselves look great and at $9.95 a piece they are a steal.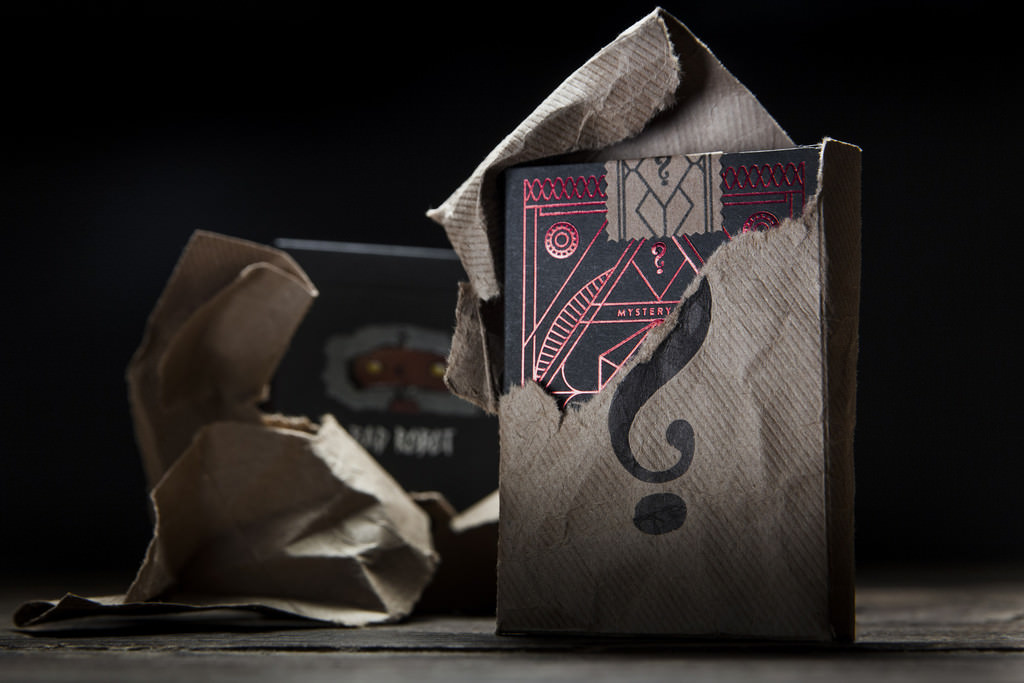 What I really love through is The Lockbox you can grab for $149.95. This is a bit pricey but you've got to love the 100 year old reclaimed wood, iron hardware, letterpress note, wax seal – all the works!
$1 per deck is donated to 826 National, a non-profit dedicated to promoting creative writing in schools and workshops around the USA, giving you another reason to grab this great looking deck.
This deck is less flashy than the ones we've seen so far but 100% of all proceeds from purchases go toward a great cause: bringing clean and safe drinking water to people in developing nations. If you're a collector and you spend hundreds of dollars on cards, why not spend an extra $5 per deck and contribute to this effort?
While not as flashy, I do love the minimalism and the clarity of the water tank logo throughout the design. Buy a deck now and help people to better drinking water!
When I started writing up this article I didn't think Bruce Lee would come up! I had a look at this deck out of pure fascination and it turned out to be pretty good.
The cards come in the same colors as the legend's famous yellow jumpsuit, which can be a little bit off-putting, you know, for card playing. That said, I like the overall design and feel of this deck, especially the way quotes are positioned like a black belt – the perfect homage.
A striking combination a fine art and birds, this is a beautifully designed deck by Russian artist Karina Eibatova. The back looks a bit trippy when fanned out but I love birds and I think the aces are one of the best-designed ones I've seen so far, especially for clubs. You can grab a deck on Lux Playing Cards for $12.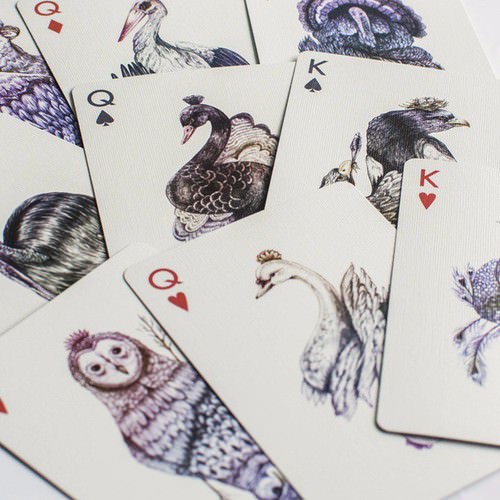 Want to geek out by buying playing cards that are made in collaboration with a web app? If geek is your thing the MailChimp playing cards are a great choice.
I expected them to be a marketing gimmick with MailChimp's logo all over the place but I was pleasantly surprised. The only actual logo I found was on the gold closing tape which looks fantastic by the way.
You can get a black or a red pack for $9.95 each, or you can get a 12-pack brick for $125. I'm not sure I'd want a 12-pack of Mailchimp cards but a black one is welcome in my collection.
Buy them and you'll also be supporting the Fugees Academy which is a member of the Fugees Family – a non-profit dedicated to working with child survivors of war.
I'm a big fan of design (since I can't really do it myself) so this deck strikes a chord with me. You get to play cards and learn about typefaces, fonts, art-deco and other design concepts.
Each of the 52 cards teaches you something great. It's a shame they don't have a second color deck with more. Perhaps this should be the way to teach design! You can buy a deck from Art Of Play for $20.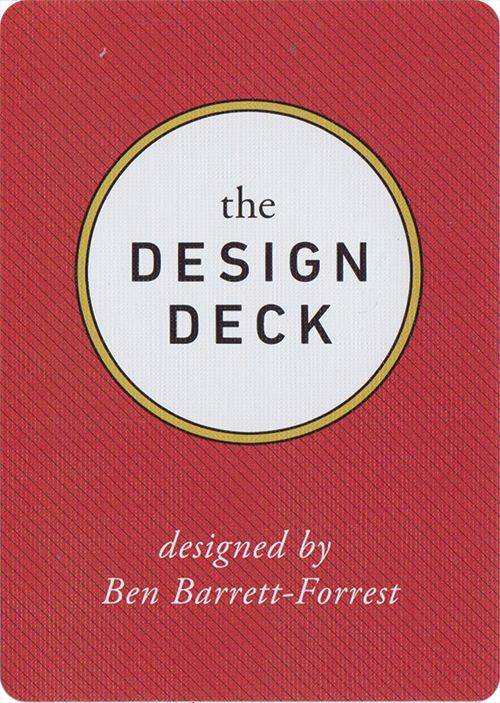 Dan And Dave offer a number of playing cards, one of my favorites is the variety box, specifically the Winter Edition which draws inspiration from the fall/winter colors of Yosemite.
For $149.95 you get 12 decks which means you get them for $12.50 each, plus the awesome looking box of course.
Bonus: A few more
Here are more playing card designs that deserve mention.
You didn't really think there would be any bacon involved right? I don't even want to go into it. Why buy this for $12 from Art Of Play? Because bacon. Convinced?
Do you love the movie The Goonies? This is your lucky day because some smart person on Kickstarter thought this was the World wanted and it seems the World has proved him right.
The deck is available from Albino Dragon for $14.99. I'm not saying I'll go right ahead and buy one but the art is impeccable, well worth the $15 if you're a fan!
Another successful Kickstarter project (funded to 2300%), this deck is for those who like pixel perfect design. They have a couple of decks one black, the other red, on their Misc Goods Co website going for $15 a piece.
Designed by Eric McLuhan, award-winning media and communications expert (and son of media theorist and academic, Marshall McLuhan), the deck is available for CAD65 on Eric McLuhan's products page. You can take a look at the full deck here.
Glitch started its life on Kickstarter and was successfully founded. It's a unique set which basically adds glitches to classically designed cards. The concept is awesome although it may be a bit annoying to play with if you have OCD. Find it on Amazon for around $14.