Top 10 Co-working Spaces in the United States
The style of coworking (not to be confused with co-working) allows small teams and lone freelancers to work together in a single, shared office environment. This concedes the opportunity for collaboration with others in the realm of design, law, business, finance, development, and marketing.
Coworking spaces have been on the rise dramatically over the past few years. And it is a very commonly practiced work routine within the bigger cities of the United States of America.
I want to share 20 diverse and unique coworking spaces you can find all across the country. The benefits are obvious when you are working by yourself, and even small teams can manage a couple of desks in an office as necessary. These are beautiful spaces that offer a myriad of useful resources to startups and individuals.
Check out these fine examples and see if you can locate other coworking spaces in your own area of the world.
Office Nomads, Seattle, Washington
The coworking space Office Nomads found in Seattle, Washington is a great setup for workers who feel like nomads.
The space is roomy enough to call home, but you also shouldn't feel required to be stuck in the office all week. The roomy space is great for freelancers because it is quiet yet open for plenty of free thinking.
The physical layout makes a lot of sense to keep everybody's desks apart yet spacious. The room feels, well, roomy and very sensible for completing long, arduous tasks. The office is friendly to drop-ins which will not even require a full-time membership.
According to their website, the various workers include developers, telecommuters, planners, consultants, publishers, organizers, and even students.
Location is pristine with a downtown building in Capitol Hill, Seattle. The coworking office space website has a lot of great information including a typical FAQ for the most obvious of questions. I would also recommend checking out their blog for updates on the company.
Overview/Summary
Website: https://officenomads.com/
Location: 1617 Boylston Ave, Seattle, Washington
Membership: 1 day/month – $30; 15 days/month – $270; 24/7 access – $495 + deposit
Physical Size: 16,500 sq ft
General Assembly, New York
There are so many fascinating coworking spaces inside New York City that it is difficult picking a single one. My first mention is General Assembly which is right on Broadway in a 4th floor open office area. The whole "campus" the area is 20,000 sq ft and was originally opened in January 2011.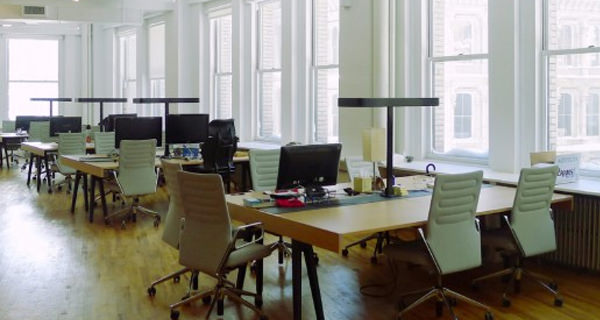 Any startups working within NYC may want to consider General Assembly as a cheaper alternative for an office space.
The site itself is also a host to educational events with a very big library and offset study rooms. It boasts a huge collection of resources which includes classes and teaching seminars on popular topics like digital marketing and web development. This doesn't even include the benefits of working with other intelligent teams and butting heads or asking questions to solve more complicated problems.
It may be a little out of the price range for some freelancers and even smaller businesses that are just getting started. The process of launching your own company is challenging, and the price of a coworking space may not cut into the budget. The campus offers tours every Tuesday and Thursday evening at 5 PM. It may be worth dropping by and catching a glimpse of the office in action.
Overview/Summary
Website: https://generalassemb.ly/
Location: 902 Broadway 4th Floor, New York, New York
Membership: Communal $300/month; Dedicated $500/month
Physical Net Size: 20,000 sq ft
HeraHub, San Diego, California
Within the sunshine state of California you will find HeraHub. It is a coworking space that actually spans a few locations and is dedicated to a female-oriented work environment. The website itself goes into detail about the choice of a women-only work environment and how the HeraHub operates day to day.
Tours are free and worth planning a schedule in advance. Although the place can be crowded at times, there are lots of intelligent freelancers and businesswomen to communicate with. The office space is fairly large to squeeze a good number of teams and freelancers, even up to 150-200 different people all working and sharing the same space.
The HeraHub is also a home to programs & social events for those who are interested. It may be rented out and it offers tickets on sale in advance for working members. If you might be interested in becoming a member check out their pricing guidelines to see if HeraHub is the right choice for you.
Overview/Summary
Website: https://herahub.com/
Location: 9710 Scranton Road Suite #160, San Diego, California
Membership: Based hourly; $3-$8/hr
Physical Net Size: 8,946 Square Feet
New Work City, New York
Another fun name for a coworking space in the big apple is New Work City. The office space is located a bit further up Broadway in NYC on the same street as General Assembly. This project was actually funded through a Kickstarter page which raised an initial $17,000 of seed capital.
The office includes 5 separate private rooms to accommodate teams and meeting spaces. You may reserve a desk space in advance. However, there are no specific seating rules for part-time members. It is a very flexible working environment which may be a bit small, yet quaint and easy for communication among other creatives.
The space itself is open Monday-Friday from 9 AM to 5 PM EST. Newcomers are welcome to stop by and have a quick tour of the site before signing up as a member. You may also get your name into the tour early by signing up on their website. Overall, New York City is a very unique coworking environment for individuals and very small teams looking for a reasonable price tag on membership.
Overview/Summary
Website: https://nwc.co/
Location: 412 Broadway #2 New York, New York
Membership: Communal $30/day $100/month; Dedicated $300/month
Physical Net Size: 1,600 sq ft
Co+Hoots, Phoenix, Arizona
Coworkers living near Phoenix, Arizona may consider dropping by Co+Hoots in the downtown area of the city. The office space features a bright area of natural light engulfed through large window panes. The workspace is a great place to collaborate with writers, designers, lawyers, developers and other types of business & creative people.
Aside from the typical working crowd Co+Hoots will also host some neat social events. These include TEDtalks Tuesdays, Coffee+Code, and Food Truck Fridays, just to name a few. You can see what is planned for the future by checking their events calendar. The office is found in an excellent location of downtown Phoenix with plenty of room for creative thinking.
Co+Hoots is open for working hours Monday – Friday from 10AM – 6PM. The working space and community of workers is prime with creative energy. You can expect all the typical amenities of an office like a printer, scanner, whiteboard, conference rooms and a large-screen projector. If you are in the area take a quick tour of the location and see if this may be worthwhile.
Overview/Summary
Website: https://cohoots.com/events/
Location: 1027 E. Washington St. Suite 107, Phoenix, Arizona
Membership: Basic $15/day; Frequent $50/mo; Full Member $350/mo
Physical Net Size: ~9,000 sq ft
Strongbox West, Atlanta, Georgia
Heading down to Atlanta, Georgia we can find the Strongbox West coworking office. The site is home to a wide array of freelancers, startups, digital agencies, and other professionals within the business. The exterior is a very recognizable building and it may appear small at first, but inside there is a lot more space than you would imagine.
Strongbox does offer the ability to work in your own private office space as needed. Sometimes the noise and discussions are too distracting, and you may want your own secluded space away from others. Check out some of their interior photos to get a glimpse into Strongbox and how the teams can work together.
What's different about their website is some lacking detail in areas where you may be curious. I wasn't able to find much of an FAQ, but there is plenty of information to call up and plan a tour of the site. You will also find a member directory of people who use Strongbox and what they do at the coworking space.
Overview/Summary
Website: https://www.strongboxwest.com/
Location: 1736 Defoor Place, Atlanta, Georgia
Membership: Casual $85/mo; Premier $145/mo; Deluxe $285/mo
Physical Net Size: 2,000 sq ft
Workbar, Boston, Massachusetts
Right within the heart of Boston, Massachusetts you can find Workbar. This is a very convenient space for freelancers, startups, and and telecommuters who are in need of a professional working environment. The office itself is very bright and open in regard to floor space. You will not feel cramped working with others in your coworking atmosphere.
Workbar is a very open atmosphere of startups and individuals located around the Boston area.
It is perfect for those who are not interested in purchasing their own office space yet still want somewhere to work outside of the house. The space itself is home to plenty of social events related to entrepreneurs and creative professionals.
Workbar can be expensive once you get into dedicated membership. The office's pricing page will go into more detail for people thinking about coworking. It is a wonderful idea if you can afford the trial and see that you really like the space. But the upside is that each member will include free drinks/snacks, free office supplies, conference rooms, projector screens, and other helpful office amenities.
Overview/Summary
Website: https://www.workbar.com/
Location: 711 Atlantic Ave. Boston, Massachusetts
Membership: $30/day; Full $300/month; Dedicated $600/month
Physical Net Space: 99,500 sq ft
Indie Ballard, Seattle, Washington
The Indie Ballard coworking space found in Seattle, Washington, is another west coast dream. It provides a wonderfully open-ended working space with plenty of other creative professionals. It is a fantastic solution for those who ride their bicycle, with plenty of storage and alternate parking available. Dedicated workspaces are also available with flat daily payments or monthly rates.
Interestingly the Indie Ballard coworking space received a walkscore of 98-out-of-100. This means you can walk directly from the office to a wide number of services like restaurants, gyms, parks, grocery stores, even arts & crafts stores too. The location itself could not be more perfect for a working environment in downtown Seattle.
Check out the membership and availability page to find out more about joining. The coworking office has plenty of space, but it isn't open-ended for everybody. There is a limit to the number of people who can fit comfortably within the office. As of writing this article the membership catalog is currently full. However, those who are interested may get in touch and sign up for the waitlist.
Overview/Summary
Website: http://www.indieballard.com/
Location: 5228 20th Ave NW, Seattle, Washington
Membership: part-time $225/month; full-time $350/month
Physical Net Space: 4,100 sq ft
Kleverdog, Los Angeles, California
Los Angeles, California, is typically known as the home to Hollywood writers and actors. But there are also many tech startups, media companies, and freelancers who are working out in this area. Introducing Kleverdog which is a rarity among other coworking spaces within LA. The office is equipped with 20 full desks and other typical office supplies like a projector and offsets private conference rooms.
The working hours are Monday-Friday running from 8:30AM to 5:30PM. However full-time members will have 24/7 access when they need it. This is almost too perfect for those who are working freelance jobs and need to get a lot of stuff completed during the nighttime. The Kleverdog pricing starts at only $20/day which can be a good choice if you are trying to see what coworking is all about.
As with many other spaces you can find plenty of events and social programs held from within Kleverdog. These are not as common as people using the working space itself, but check out their events calendar to see if anything interesting may be coming up. Also the coworking space runs an online blog with updates for members and potential signups alike.
Overview/Summary
Location: 418 Bamboo Lane, Los Angeles, CA
Membership: Drop-in $20/day; Flexible $200/mo; Studio Desk $300/mo; Personal Office $800/mo
Physical Net Space: 6,400 sq ft
Paragraph, New York
My last example from New York City is the coworking space Paragraph. The name itself is definitely unique and stands out among many other creatively named spaces. This coworking space is marketed as a quiet place for writers to get some work done. The luxurious interior is coupled with desks and private rooms for dedicated members.
The site itself is located on 14th street in the 4th floor of their office building. The space is quite roomy and does have that author/writer feeling to it. Paragraph is a much better choice for freelancers than creative teams because of the freedom to roam and setup your own working area. It is also open 24/7/365 for any writers who just need to get some work completed.
You can read more about Paragraph from their about page. The site is not your typical coworking space as it does require filling out your application and waiting for a response from the team. Again it is not a huge working space, but the amount of room is perfect for a collection of writers just trying to get stuff done.
Overview/Summary
Website: https://www.paragraphny.com/
Location: 35 West 14th Street Floor #3, New York, NY
Membership: Part-time $133/month; Full-time $178/month
Physical Net Space: 2,500 sq ft
Miami Shared, Miami, Florida
The downtown area of Miami, Florida is home to a beautiful coworking space named Miami Shared. The space is open Monday-Friday from 9AM to 7PM for typical working hours. The offices really look like any typical startup office space, and there is plenty of room for a collection of young teams or individuals.
Their website claims that Miami Shared is more of a home + cafe + office for small businesses and freelancers. It does include all the typical office amenities like a coffee machine, projectors, copier, printer, and even a couple of plasma televisions. This modern office is perfect for busy creatives living near southern Florida who want to jump into coworking head-first.
Everything within Miami Shared is perfect to get your self esteem rising to finish off that final product. Their membership fees can get expensive when you are looking to purchase your own private office. But just for dropping in you can get away with even $35/day to share the coworking space. Take a peek at the site FAQ to answer any other questions you may have.
Overview/Summary
Website: https://miamishared.com/
Location: 990 Biscayne Blvd. Office #503, Miami, Florida
Membership: Shared Space $195/month; Dedicated Desk $295/month; Private Office $695/month
Physical Net Space: 8,000 sq ft
Thinkspace, Redmond, Washington
Redmond, Washington is about 20 minutes inland away from Seattle. This is another big city which is actually home to the Microsoft Headquarters. It also has the brilliant coworking office Thinkspace located in the same downtown area. The direct location near Microsoft's campus is very inspiring for new tech companies and startups.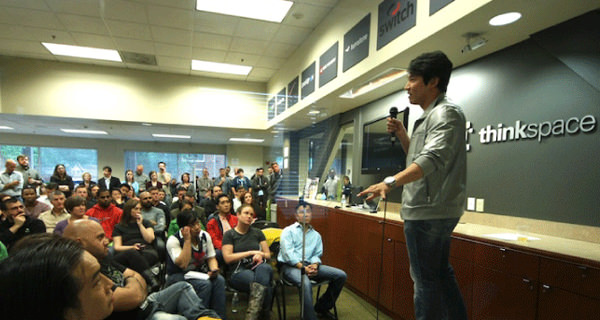 The workspace itself features private offices and conference rooms for teams to gather and share information. It is a wonderful solution for startups which are just not close enough to Seattle, yet still want to consider a solution for coworking.
Individual freelancers and telecommuters may also like this space for its wide open interior design and the location to many other restaurants and shops in the downtown area.
You can read more about the Thinkspace coworking details which discusses the office spaces and the many helpful people within their community. Thinkspace is a very large area which can house plenty of creative professionals and teams within the industry. You will have access to a wide assortment of designers, developers, and business people who would be quite competent to answer questions if you have them.
Overview/Summary
Website: https://thinkspace.com/
Location: 8201 164th Ave NE, Suite 200. Redmond, Washington
Membership: Drop-in $30/day; Full-time $425/month; Full-time + Personal Desk $575/month
Physical Net Space: 33,424 sq ft
Oficio, Boston, Massachusetts
Oficio in downtown Boston is your home office away from home. This coworking space has all the typical office supplies you would need and boasts a large capacity of over 40 different seating arrangements. Oficio is great for individuals and freelancers who need an office space to get started or finish up some of their work.
The coworking space is open Monday-Friday from 8AM to 7PM, which in my opinion are very flexible hours. You can even stop by for a daily work pass which costs only $25/day. The Oficio workspace features very high ceilings with bright lighting, phone booths, private bathrooms, and its own kitchen area with related appliances. You can even find videos of the interior on the Oficio YouTube page.
One of the best reasons to start with Oficio is their flexible pricing rates. You can sign up for a small monthly account of only $99/month and gradually increase from there. The offices include your own personal mailbox and plenty of gourmet coffee. I'd recommend anybody in the Boston area who has an interest in coworking to check out their website and see what you think.
Overview/Summary
Website: https://www.myoficio.com/
Location: 30 Newbury Street 3rd Floor, Boston, Massachusetts
Membership: Day Pass $25/day; Part-Time $199/month; Full-Time $329/month
Physical Net Space: 2,300 sq ft
Independents Hall, Philadelphia, Pennsylvania
For those who are unfamiliar with American history, Independence Hall is the location where both the Declaration of Independence and the US Constitution were discussed, heavily debated, and eventually put together.
Independents Hall is a coworking space in the same city of Philadelphia, Pennsylvania using a cute play-on-words. The community of workers includes designers, writers, web developers, marketers, entrepreneurs, game developers, and so much more.
This diverse culture opens up worlds of opportunity for working with creative individuals in almost any field. Inside the offices you will find 35 desks with a conference room, lounge area, and plenty of free coffee. The typical office hours are Monday-Friday 9AM-6PM with 24/7 access available to full-time members. The coworking office space is very flexible and rates start at only $25/day for newcomers.
There must be a small yet bustling startup scene within Philadelphia but there are certainly a lot of other freelancers, too. The reason Indy Hall can work so flexibly is because of the myriad of different positions and workers willing to come in and fill the gap. Check out their pricing details and see if Indy Hall might be a fruitful coworking experience.
Overview/Summary
Website: https://www.indyhall.org/athome/
Location: 22 N. 3rd St, Philadelphia, Pennsylvania
Membership: Day Pass $25/day; Lite $175/month; Full $275/month
Physical Net Space: 2,100 sq ft ~10,000 sq ft
The Enclave, Colorado Springs, Colorado
Colorado Springs is a city based about an hour away from Denver, but it has its own bustling community of freelancers and young startups on the scene. One inspiring coworking space named The Enclave is located right within the heart of Colorado Springs, Colorado. The office space is open mostly to individuals but it can function as a team environment, too.
Surprisingly there are also a large number of social events hosted within the Enclave offices. The calendar itself is always getting updated so check back when you have the time. You can find both the office e-mail and phone number on their website for getting in touch with the staff. Also the member directory listing may be of interest to see who else has been apart of Enclave.
For people living in or around Denver you might consider Density as alternatives. But Colorado Springs is also home to plenty of creative individuals who might be in need of a nice office outside the home.
Enclave is very affordable starting at just $15/day and moving up towards $200/month as a full-time member. If you might be interested to join The Enclave simply get in touch and let them know your project details. The community is wonderful and you may be surprised at how much you can learn by working around other talented professionals.
Overview/Summary
Website: https://enclavecoop.com/
Location: 2121 Academy Circle, Suite 104 Colorado Springs, Colorado
Membership: Nomad $15/day; Gypsy $50/week; Full-Time $140/month; Permanent Desk $200/month
Physical Net Space: 10,272 sq ft
Closing
Although there are far more coworking spaces to be found inside of America, this is a diverse collection spanning many of the bigger cities. From east coast to west coast you can find new companies and freelancers coordinated together working inside these office spaces.
The price is a lot cheaper than purchasing your own office space, and you'll frequently get to work with some very interesting people. If you have any similar thoughts or ideas on the article feel free to share with us in the discussion area below.