U.S. vs China: Major Tech Companies Showdown
Be it Pinterest, Twitter, Facebook or Google, a lot of the websites that we check and log on to each day are born and bred in the US. Despite their global popularity, though, these massive tech brands are not the be-all-end-all – there's a whole other world of rising websites and tech services on the other side of the world, in China.
One of the world's fastest growing economies, China is home to Baidu and Sina Weibo, the localized brand that do the job Google and Twitter do. In fact, there's probably a Chinese alternative to almost every major US-based social network and tech brand out there. This post will showcase 8 of these brands, compared side-by-side with their American counterparts.
It's easy to dismiss these Made-in-China brands as copycats; however, these sites are often more than just a clone or a localised, Chinese version. Some of these brands can generate more value, and monetize better than the "originals". Let's take a look at the ever-growing world of Chinese Internet.
Recommended Reading: E-Commerce In China – The Game-Changer
1. Google Vs Baidu
Google, founded in 1998, is the go-to search engine for most Internet users, but that's not necessarily the case in China. Baidu, founded two years later in 2000, has its fair share of users too, due to its Chinese language focus and knowledge of the Chinese market.
Modus operand
Google deals in a large number of Internet-related services and products, but one of its main services, and the core of its operations, is its search engine, Google Search. Advertising, particularly Google AdWords, is Google's main source of income.
With AdWords, advertisers submit advertisements to Google along with relevant keywords; every time a user searches for these keywords, Google will display the advertisement alongside search results. Google is paid by the advertiser for every click on the ad. Google also operates AdSense, a service which provides Google-branded ads to websites.
Read Also: The Rise Of Google [Infographic]
Modus operandi
Baidu, much like Google, has a large number of internet services under its belt, with the main core of operations being its search engine. The most obvious difference between the two is, of course, the fact that Baidu is a Chinese-language service, and its searches are optimized for the language.
Baidu's popularity in China may also have to do with the fact that it was the first to offer WAP and PDA-based searching, tapping into the large Chinese mobile phone market. Like Google, Baidu also makes money from advertisers, but its approach differs slightly from that of Google. Baidu mixes paid-for and organic search results, whereas Google separates the two.
2. Facebook Vs Renren
Facebook, founded 2004, is undeniably one of the giants of the social networking world. But, of course, the fact that it's banned in China means that there are a number of Chinese-language equivalents that cater to Chinese Internet users. Renren is one of these, and was founded in 2005, only a year after Facebook.
Modus operandi
Facebook is a social networking website. Facebook profiles feature a timeline, a chronologically-ordered list of items such as photos, status updates and comments, as well as a news feed that appears on each user's home page.
Facebook also allows users to play games. Like many sites, Facebook's main source of revenue is advertising, over 49 percent of which came from mobile users. Facebook also makes money from payments made by users to Zynga, creators of popular Facebook games such as FarmVille and CityVille. Facebook takes a 30% cut of Zynga's revenue.
Modus operandi
Renren is outwardly similar to Facebook, yet has a few features that set it apart. Renren has the ability for users to gain "points" by logging in, posting and interacting with other users. These points increase a user's "level", which gives users privileges such as skins and additional emoticons. These privileges can also be purchased by paying a monthly fee to become a VIP user.
Renren also has a virtual currency, known as Xiaoneidu, which allows users to purchase virtual items. Renren makes most of its money from advertising. While the site itself is similar, Renren is far from "China's Facebook" in terms of valuation and popularity, though; Twitter-likes such as Sina Weibo and messaging-centric services such as Tencent's QQ and WeChat are far more popular in China.
3. Yahoo! Vs Tencent QQ
Yahoo! is an old hand in the web portal and Internet service game, having been founded in 1994. Its closest equivalent in China, Tencent, has been around for a while too; it was founded in 1998. Both provide a similar range of services, but Tencent has its own take on the services that ensures its popularity within its native country.
Modus operandi
Yahoo! operates a number of web services, including the main Yahoo web portal; a search engine, Yahoo Search; an email service, Yahoo Mail; as well as an instant messaging service, Yahoo Messenger. Yahoo! also owns popular blogging platform Tumblr and photo-sharing site Flickr.
40% of Yahoo's revenue comes from advertising, including targeted advertising in its new personalized news stream, and it also makes money from service and product sales through services such as Yahoo! Shopping. Yahoo also profits from being part of the Yahoo Bing Network, which runs a pay per click program similar to Google's AdWords.
Modus operandi
Tencent's QQ service, much like Yahoo!, encompasses many services. The most popular of these is Tencent's QQ instant messaging service. In addition to the instant messaging service, Tencent operates a web news portal, QQ.com, which is one of the largest in China, and QQ Games, a service that offers a number of massively multiplayer online (MMO) games.
Tencent also operates an email service, QQ Mail, and generates revenue through optional VIP subscriptions for services such as QQ Music, Tencent Microblog, and most of QQ Games' MMO games. Most of these subscriptions add special features and, in the case of MMO games, special items.
4. YouTube Vs YouKu
YouTube, founded in 2005 and bought by Google in 2006, was a game-changer; eight years after it launched, it's hard to imagine life without it. The videos on YouTube, though, might not cater to all tastes, and that's where YouKu comes in. YouKu was founded in 2006, and provides content targeted specifically at Chinese users.
Modus operandi
YouTube allows users to upload, view and share videos. Users can also comment on these videos. YouTube's main source of revenue is advertising, both on the site itself and within videos. YouTube also makes money from sponsored partnerships with content providers such as MGM, who upload full-length content such as films or TV series episodes onto the service.
YouTube hosts a wide variety of content, from user-produced content, both amateur and professional, to official video channels that upload movie trailers and clips, music videos, concert footage and so on.
Read Also: 20 YouTube Tech Channels To Subscribe
Modus operandi
YouKu's existence and popularity relies on its US equivalent, namely YouTube, being banned in China. It is quite similar to YouTube in terms of layout and features. It differs in its focus, though, being geared more towards providing licensed content instead of user-produced content.
The recent merger between YouKu and Toudou led to the establishment of a YouKu Premium service that provides content from major Hollywood studios on an ad-free platform. These content providers include Sony Pictures, Warner Brothers and Twentieth Century Fox.
5. EBay Vs Taobao
EBay's online auction service might have proven popular and very profitable across most of the world since its 1995 launch, but that's not the case in China. There, Taobao is the top dog, even though it was founded eight years later in 2003.
Modus operandi
eBay is an online shopping and auction website that caters to both consumer-to-consumer and business-to-consumer sales. eBay's main method of profit is via fees and commisions, mainly insertion and final value fees.
Insertion fees are fees charged to the seller to list an item, while the final value fee is 10% of the final sale value of an item, including shipping. eBay also makes money from advertising, although this is only a small part of their net revenue.
Modus operandi
Taobao's main difference, and what made it so successful in China compared to eBay, is the fact that it allows sellers to list their items for free. This helped the site gain a large userbase, as opposed to eBay, which maintained its fee structure when expanding into the Chinese market.
In addition, Taobao has a chat service called Aliwangwang that allows sellers and buyers to interact and build trust, which is important in Chinese culture. This is bolstered by requiring merchants to register using their identity cards and bank accounts. Taobao's main source of revenue is advertising, mostly purchased by merchants in attempts to make their products more visible.
Read Also: Shopping At Taobao: 8 Things You Need To Know
6. Twitter Vs Sina Weibo
Twitter has proven to be wildly popular since launching in 2006. But, like Facebook, it's banned in China. Sina Weibo, the microblogging service owned by Sina Corporation, was founded in 2009 and quickly rose to become one of the most prominent microblogging services in China.
Modus operandi
Twitter is a popular social network and microblogging website where users can post and read "tweets", messages limited to 140 characters that are akin to status updates on social networks such as Facebook.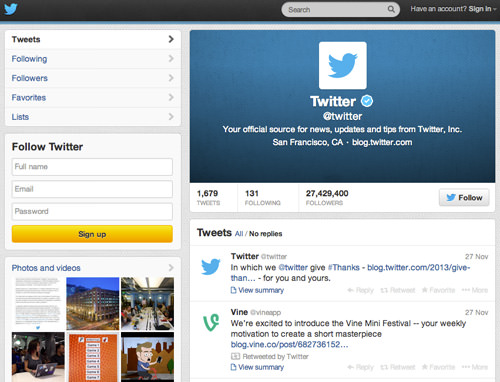 One of Twitter's main sources of revenue have been promoted tweets, trends and profiles. Advertisers generally pay Twitter per click or per retweet. Advertisers can also bid for prime advertising space. This advertising revenue still has not been enough for Twitter to actually post a profit, but the potential is definitely there.
Modus operandi
Sina Weibo has features that make it akin to a hybrid between Twitter and Facebook. It allows users to post images and videos directly, instead of having to link to them, and it features threaded comments which allow support images, videos and links. Sina Weibo also has a chat feature similar to Facebook's.
Sina Weibo's main source of revenue is advertising, driven by Alibaba's recent purchase of a $586 million stake in the microblogging platform. Sina Weibo also allows brands and celebrities to offer subscriptions to followers, which also brings in revenue to the site.
Read Also: Twitter Vs. Weibo – 8 Things Twitter Can Learn From The Latter
7. PayPal Vs Alipay
PayPal was founded in 1998, and was bought by eBay in 2002. Its international popularity is down to its ease-of-use and its links with eBay. However, PayPal isn't the only player in town, especially not when it comes to China. Taobao, China's answer to eBay, has its own online payment service, Alipay, founded in 2004.
Modus operandi
PayPal is a service that allows users to make payments and money transfers online via the Internet. PayPal allows you to do so without sharing financial information with others.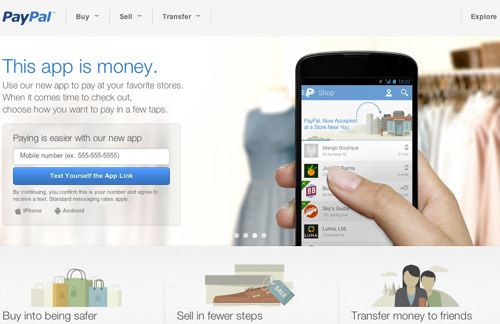 It serves as the main transaction medium for eBay, which owns PayPal. PayPal's main source of revenue is from charging sellers a surcharge based on the size of the transaction.
Modus operandi
Alipay plays a similar role to Taobao as PayPal does to eBay; it is the main method of payment on Taobao. Alipay, however, also provides an escrow service that compensates for China's weak consumer protection laws. It generates revenue by charging merchant fees, similar to PayPal's model.
Alipay has also begun working with international airlines as well as businesses such as banks and telcos, to allow users to pay for these services through Alipay, and get discount vouchers plus other extra features. Also in their plans are significant investments into improving its cash-on-delivery (COD) infrastructure.
8. Pinterest Vs Mogujie
Pinterest's pinboard-style photo sharing was a fresh new concept when it launched in 2010, and it's no surprise that the concept was quickly adopted in China. Mogujie, launched in 2011, took Pinterest's social pinboard concept and added its own twist, ensuring its popularity amongst Chinese users.
Modus operandi
Pinterest is a photo-sharing website, laid out in a pinboard style, where users share images through collections. These collections are created and managed by the users themselves, and are called pinboards.
Users can browse pinboards, "re-pin" images or "like" images. Pinterest does not actually generate any revenue at the moment, but intends to begin monetizing by selling promoted content which will appear in a user's stream.
Read Also: A Brief Guide To Pinterest Marketing
Modus operandi
Mogujie positions itself as a way for fashion-conscious female users to share fashion items that they've recently bought from online retailers. To this end, it adds tight integration with e-commerce to the social pinboard concept. Users can link their shared fashion items to Taobao stores where they can be purchased.
In addition, Mogujie also launched an open platform targeted at e-sellers in September, which encourages sellers to open e-stores on Mogujie itself.
Of the total daily visitors on Mogujie, thousands of users clicked through to Taobao stores and these click-throughs led to purchases. These referral links are Mogujie's main source of revenue.