30 Apple Concept Designs You Should See
A great wave of excitement is sweeping across all Apple fans as they await for the official launch of the latest amazing Apple product by year end. Yes, it is the eagerly anticipated Apple Tablet, which was reported to be commercially available this coming November. Some of us may have seen the prototype online, and few will disagree that it is yet another beautiful creation by Apple.
In terms of the design and the aesthetic value of IT wares, there is little dispute that Apple create some of the finest and most creative design for their products that few or no other competitors can match. Over the years, product concept designs by hardcore Apple fans began to surface as Apple started to stand out among its competitors. Although these designs are not going to be marketed as actual products, it reflects the deepest wishes of die-hard Apple fans.
Here is a fine compilation of some of the best, coolest and most creative Apple concept designs created by fans. Don't you just wish these are available in the market?
Mac Mini (Slim)
Mac Mini is super-slim concept design of the actual Apple Mac Mini. It has all the features of the original machine but is a lot slimmer. Connect the Mac Mini to a Apple LED displays and you will have a powerful Multimedia computer in-front of you.
Source: Isamu Sanada
iView is concept Mac design with curved display that is made for best orientation with the curvature of a human eye. It has a dual-sided display and 2 web-cams on both sides of the display.
Source: Nuno Teixeira
Apple Tribook
The tribook has exactly what the name and the picture suggest, it has three screens. One is the regular laptop-style screen and the other two can be folded to save the space when they are not in use.
It is possible that the fordable screens use the Apple's patented transparent screen technology, that way when they are folded – it can still be used a simple Macbook too.
Source: Adam Benton
Transparent iMac
A truly futuristic iMac concept design with a transparent display. Equipped with a transparent 30-inch display and a wireless keyboard with light-sensitive illuminated keys, this Concept design can also be set to various levels of translucency and can fade during sleep modes.
Source: Adam Benton
MacBook mini is a smart concept design goes one further to make MacBooks smaller. It features a foldable trackpad which saves up the space when you are not using the keyboard.
One other mockup of the MacBook mini by the same designer is a sliding trackpad, which sounds like a better idea than the foldable one
Source: Isamu Sanada
Mac Air
Now this is something purely innovative. An Apple Tablet concept that doubles as a desktop, just awesome. It Sports a 5.2-inch LED-backlit glossy widescreen TFT display and can be hooked to a wireless Keyboard, a mouse, a super drive and a Time Machine to turn it into a fully functional wireless Desktop.
Source: Isamu Sanada
Concept is to discard the drawbacks which a iMac mini user would nark about the owned machine. And the mark about the Mac Mini is the I/O ports.
This concept design makes the ports reachable easily and the V-shape design makes sure that it will remain cool while you are using it. That's because the hot air will pass through the legs instead respiring from back lying on the top.
Souce: Sait Alanyali
Mac Tab
MacTab can be used as a standalone tablet as well as a laptop with a physical keyboard. It boasts a very thin wireless keyboard that can be easily removed from the tablet and put back to cover the screen when transporting it.
The hinges on the back side can be used to support the tablet while in 'standing' position and it can be used for placing the keyboard too.
Source: Yann Le Corroler
Mac Tablet
This Mac Tablet concept has an optical drive and a slider-style Physical keyboard. It comes sports a physical keyboard which can hide inside the device itself.
Source: Isamu Sanada
Macbook Touch
Yet another concept design by Isamu Sanada. The MacBook Touch is actually an iPhone concept design with a bigger screen and I/O ports.
Source: Isamu Sanada
This concept has a foldable design that makes it a Tablet-cum-Macbook. It features Flexible OLED technology which makes the foldable, full-size display possible. When in notebook mode, one half of the screen is converted to a touch screen keyboard and trackpad.
Source: Tommaso Gecchelin
MacBook Mini
This MacBook Mini is a tablet Concept that Apple is always asked to develop into a product that would be a perfect design. This concise tablet can be used to view pictures, listen to music and watch movies in High Resolution. Moreover, surfing the internet will delineate the great fun.
Apple Netbook Concept
This concept is a belief rather than a imaginary concept and the rumours all around gab about this product being the new Apple Tablet.
Source: Adam Benton
MacTab is a concept Apple tablet design that is equipped with a QWERTY physical keyboard. The keyboard can be easily closed, thanks to the slider mechanism.
Source: Maverick18x
This concept may be a reality soon as the rumours are that the two companies, Apple and Verizon, are looking forward to develop a wireless iPhone. The device is expected to be thinner, lighter and much affordable than the iPhone.
The product may be launched by the end of this year and it will be the best to view pictures, listen music and watch HD videos.
When Apple was to launch iPhone, a reporter asked Steve Ballmer what he though about it – He laughed and said, "A Phone without a Keyboard?". If only he could see this concept design of iPhone. iPhone Elite has a dual slider mechanism. It has a bigger camera and a full QWERT physical keyboard too.
Source: Mat Brady
iPhone
Mix iPhone with iPod Touch and through in some Macbook Air too. You get a slim iPhone 4G like this one. It has a front camera for video-conferencing and retains curves of a Macbook Air.
Source: Rodolphe Desmare
This Photoshop creation is a concept about iPhone Video. This one won't be much diverse from the iPhone, but some extra buttons on its left and some additional effects for the sleek screen and home button make this look better than the iPhone.
Soure: Chromatix
iEye
The iEye is a concept mobile phone which boasts a shutter button onto the camera making it over iPhone constraints. The phone curbs a glut of features that take in 720p HD video, 5.1-megapixel stills, 12GB of flash memory, and a large-capacity lithium-ion battery hardwired inside.
Moreover a 30 pin connector boosts its aptitude in connectivity for easy file transfers.
Source: Adam Benton
What can be a copulate when a iPhone and Nano are parents? The iPhone Nano. It's a pretty good concept which can be abstracted from the image below. It's a concept mated from a iPhone 3G and Nano G4.
Source: FreshAndContent
A unibody iPhone with pretty slick looks and flatter body. The iPhone 3.0 or iPhone Pro comes in two versions, aluminium and glass.
This concept is by far one of the best and most sophisticated iPod concept. Apart from the sleek and slim looks, it also has earpieces that are able to play wirelessly. Made up of entirely Titanium, iPod chimera has a scratch/smear resistant display that is able to play 720p HD videos.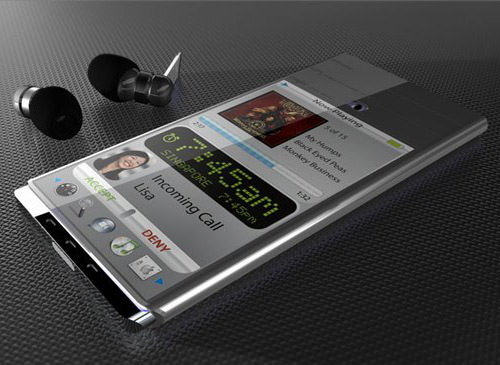 Not much creative but a good idea about a iPod Nano 4G. This concept is splendid with some more sleek curves and great combination of colours. Indubitably, the design will come with many more features and as the image suggests, an accelerometer as well.
Source:Chromatix
This concept is a portrayal of an iPod Shuffle wrist wrap dangling and would be found on all the joggers and runaway models on the roads, strapped on their arms. An iPod shuffle with a Mp3 bracelet and a wireless ear piece that might look prettier on arms of girls.
Source: Isamu Sanada
hiPod Concept
hiPod is a wrist watch style iPod that has a foldable display that becomes a digital watch when closed. It has the regular iPod dial-navigation and comes with a pair of wireless earpieces.
Source: Isamu Sanada
With this concept iRing design, you are able to control your iPod via bluetooth. You can control playback and volume on any of your Apple media devices using the touch-sensitive strip. It sports an OLED status display which can be use to toggle between 'pause' and 'play'.
Source: Victor Soto
iVault
iVault concept entices you to own it in an affordable price of about $499 and will store hundreds of thousands of songs, videos and pictures. You are able to sync it with your Laptop/Desktop wirelessly just like Apple's Time Capsule.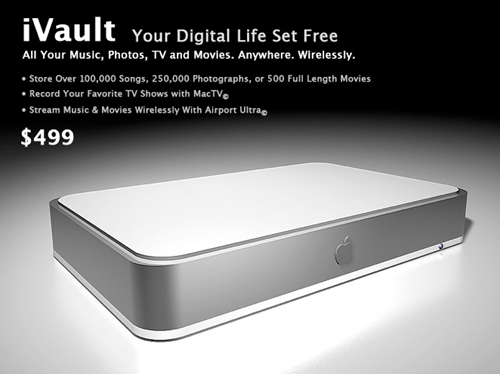 iCal Watch
The concept is a marvel of its own . It syns with iCal via Bluetooth so that you won't miss and appointment or a meeting. Moreover the watch has a touch screen making it a snap to use.
iSticks
The set of iStick speakers are compatible with all Apple products and when compared to Harman Kardon speakers, it seems better to opt for and much reliable with iSub in a combo arrangement.
The iLight concept has a touch-sensitive panel which can be used to control the torch. Single tap to turn on, another to turn off, flick fingers forward and backward to control the luminosity, and double tap to lock the touch-panel.
Source: Miyoshimasato
Contributed by: Uzair Nazeer is a freelance writer who enjoys reading and writing about technology.