40 Creative and Beautiful QR Code Artworks
The Fillmore
Fun, fun, fun, that's what this design is about!
Source: Paperlinks
Qubism
Looks like a labyrinth, but no worries, your QR code reader could decode it.
Source: QR Arts
Chinese Seal
I must say that I love this one, not because it's red, but because it's great.
Source: Ocean Cohen
Hand-drawn
I bet that it would fail, but heck, it works! Man, this is simply unbelievable.
Source: Bnpositive
Floral
Considering the technical difficulty, this could only be done by a professional, and it's artistic to say the least.
Source: Matt McDonnell
Warner Brothers Japan
Warner Brothers in a new art form. Simplicity is everything.
Source: SET
Louis Vuitton
Strategically targeted to female customers. You're smart, SET.
Source: SET
Moet & Chandon
How about the drink splashes on the code? Talk about creativity!
Source: SET
The Curiosity Project
This piece is really interesting. It's actually an ambitious project in which you can scan the code daily to get a dose of inspiration. Like the idea!
Source: Lauren Manning Design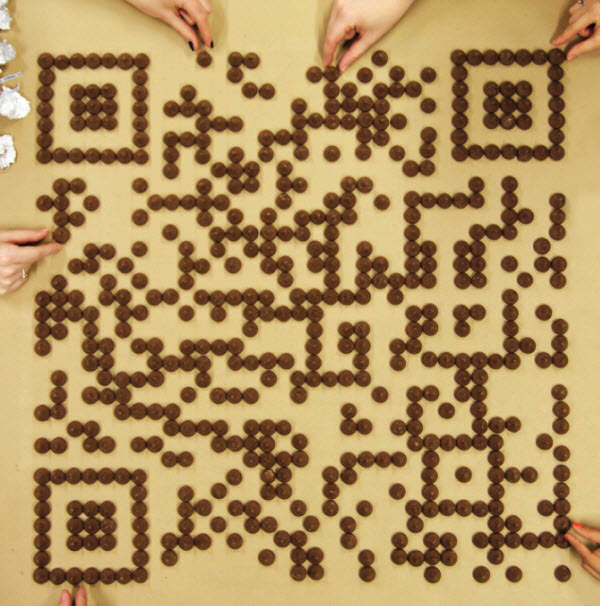 Magic Hat
Never thought that the old school bottle cap could be revived in this way. Sleek.
Source: QR Arts
Treasure Map
Still not sure about the destination? Scan it!
Source: @jreyesgs
Dennis Ritchie
A smart idea that actually helps to introduce a person. RIP Dennis Ritchie, the man who helped greatly to shape the modern digital era.
Source: @jreyesgs
Das Kann Weg
QR code is invading the street art category.
Source: alles banane
Cubismo Iluminado
Undoubtedly the codes carry rich amounts of data.
Source: QR Street Art
Trinity
Truly genius. I strongly suggest that you read the entire post, and all I can say is it's magical.
Source: R-ART
Amy Goodman
For this portrait, a total of 2304 QR codes were used, and they link to 9 years of Democracy Now videos. A Masterpiece indeed.
Source: scott_bl8ke
2.5D
Not only can it serve as a code that stores information, QR codes can also easily become the kind of art that could be showcased in exhibitions.
Source: burtonwood + holmes
Cupcakes
QR code is the new trend for the baking industry! And yeah, the codes work.
Source: caseorganic
GeekUp Cake
A birthday cake made for the GeekUp Leeds' first birthday and yes, it's really geeky.
Source: urbanwide
QR Pumpkin
I think the middle one is used to amuse people instead of scare them.
Source: mattedgar
Reflection
Kudos to all the magical designers that really taught us to think out of the box by making QR codes look creative yet still work! In this era, you could really never guess what could be the next genuine artform, but this showcase probably enlightened us to a fact: anything, physical or virtual, has the potential to become the art!
Spotted a creative QR code designanywhere or have you made one to show off your creativity? Don't be shy to show it to us then, let's have some scan-delicious fun!