20+ Sites to Download Free Photoshop Actions
Discover the top 20 websites to download free Photoshop actions and enhance your photo editing skills. Improve your workflow and save time today!
Photoshop actions are one of the many features that make Adobe Photoshop stand out among other image editing software. With just one click you can achieve your required effects with great efficiency to a large batch of images. Designers all over the world have created thousands of Photoshop actions that you can easily use in your design projects.
However, instead of bothering yourself with Google search, take a look at this post that offers you a list of the best websites that offer great Photoshop actions. I've decided the list into free and premium photoshop actions sites so you can easily choose the one for your requirement.
Free Photoshop Actions
Available Photoshop actions: 400+
I'll start the list with the very name behind Photoshop itself – Adobe. This website offers a whole gamut of Photoshop actions that you can check under Most Popular Tags > Actions. Among all the actions available, 40+ are free.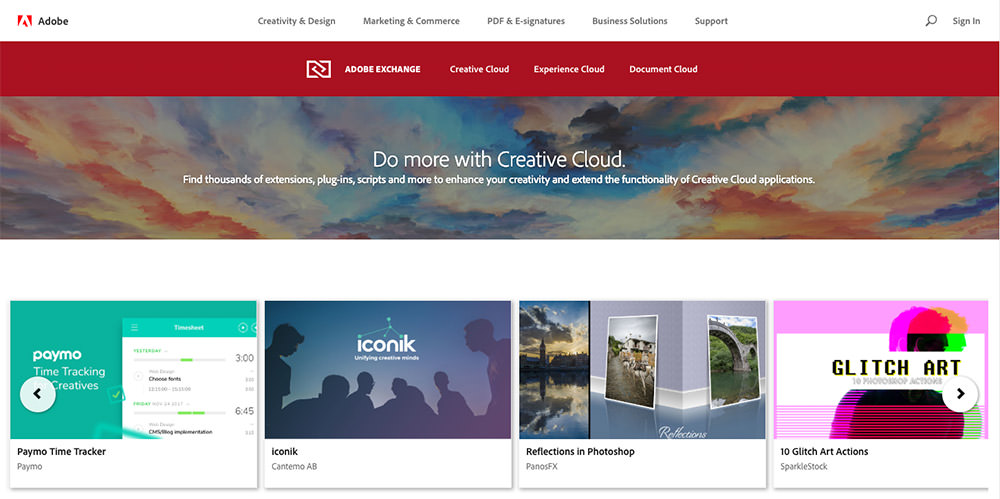 Available Photoshop actions: 50+
Originally a Photoshop tutorial website, Photoshoptutorials offers a variety of actions as well as free photoshop brushes, gradients, textures, and Adobe Lightroom presets etc. The website will send you 57 free photoshop actions if you sign up to their newsletter.
Available Photoshop actions: 100+
Brusheezy has been in the web design scene for quite a while and offers useful Photoshop actions for fellow designers. You can filter actions by different Photoshop versions or on the basis of newest, most popular or highest rated items.
Available Photoshop actions: 60+
Most items on this site are paid, but they also have a fair amount of free photoshop actions and the website is nice enough to provide video tutorials on how to use these actions. If you don't have budget limitations, do check out their collection of paid Photoshop actions too because they are equally good.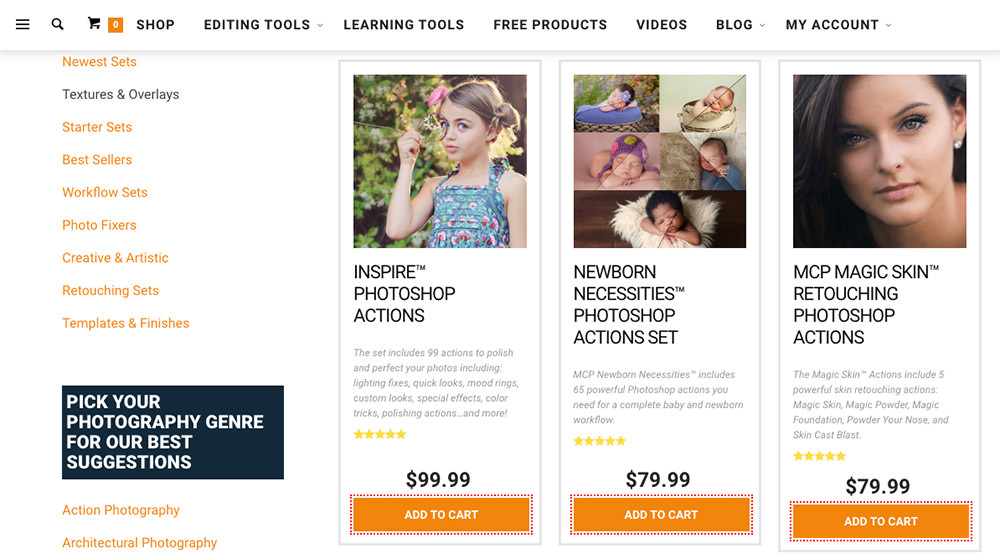 Available Photoshop actions: 20+
PanosFX offers you some really cool free Photoshop actions that you can download and use for any personal or commercial projects. However there are certain advanced actions also available on the site but for that you have to be a registered member.
Available Photoshop actions: 80+
On Finessfx, you can find a fair number of free Photoshop actions that you can use to produce different effects in your projects. Apart from that, there are many of text effect Photoshop actions to produce amazing typography.
Available Photoshop actions: 70+
From split tone and vintage effects to stitched denim and paper folding photo effects, PSD Dude provides a variety of handy Photoshop actions to use in your designs.
Available Photoshop actions: 29
Turning Turnip offers some fantastic Photoshop actions to enhance your photos, or work on your scenery images and portrait photography in particular. On top of that, all these actions are all free!
Available Photoshop actions:10+
Though Exposureempire basically focuses on offering Adobe Lightroom presets, however, there are some really handy Photoshop actions on the site as well that too, absolutely free to use.
Available Photoshop actions:20+
As its name suggests, Fix The Photo features Photoshop actions that helps you fix and enhance your photos or put some nice effects on them. You do have to register though in order to download these actions.
Available Photoshop actions:37
Some and easy access to a reasonable resource of Photoshop actions, Preset Galore offers different actions to improve and enhance your photos. You can get all of them within one download link without any registration required.
Available Photoshop actions:30+
Photoshop Desire mainly focuses on providing Photoshop tutorials, but they also throw in some cool and free the Photoshop actions. The website does, however, require you to subscribe to their YouTube channel, or follow them on Facebook in order to unlock the free items.
Websites for Premium Photoshop Actions
Available Photoshop actions:800+
With a huge variety of different styles of Photoshop actions, you can surely find a lot of useful stuff here. The prices for these Photoshop actions in creative market ranges from $5 – $20.
Available Photoshop actions:600+
A Goliath among design resources, Envato offers a humongous variety of Photoshop actions. All you need to do is to subscribe by paying $16.50/month to get access to all these amazing items. This subscription also offers you to download 900,000+ of digital assets including stock videos, video templates, WordPress and web templates, fonts, and much more.
Available Photoshop actions:8
At The Luxe Lens, you can either get their quality Photoshop actions for $17-$19 each, or you can get all of them for $79. The actions provided here also work for Photoshop Elements.
Available Photoshop actions: 40+
On this resource you will find really cool Photoshop actions that mostly focus on photo enhancement. The cost of these actions rage from $10 – $20 along with an offer to get these actions in bundles.
Available Photoshop actions: 21
Sleeklens offers high quality and absolutely creative photoshop actions that also makes their prices go to the higher side. But the good news is that they also have a bundle of Photoshop actions that you can download for free.
Available Photoshop actions: 11
Similar to Sleeklense, these guys also offer excellent quality Photoshop actions that can alter your photos into really beautiful images but then they also come with a heavy price tag. Don't worry though, as they also offer some free Photoshop actions for users.
Available Photoshop actions: 13
Are is are some quality Photoshop actions offered in packages and bundled with themes. For example, for $39, you get a pack of 71 Photoshop actions for turning your photos vintage. These are especially good for the people who want theme-related Photoshop actions.
Available Photoshop actions: 6
Some really handy Photoshop actions by Flora Bella Collection for photo enhancement that can make your portraits look stunning. You can also opt for their discounted bundles that can save you some money.
Available Photoshop actions: 300+
Shutter Pulse offers Photoshop actions based on different effects you would want to achieve. For instance, for $30 you can get 30 actions to give your photo a HDR effect, or 25 actions to give your photos a matte feel. There is also an offer to get all their Photoshop actions for $39.


Bonus: More sites with Photoshop Actions
Still can't find the photoshop action you are looking for? Try searching for them via these following sites.
The famous design resources website Behance offers a whole bunch of amazing Photoshop actions most of which are totally free to use in any project. From photo effects to photo retouching and Lightroom presets, you can anything here.
A gateway to coolest design freebies, Dribble offers some stunning Photoshop actions you have ever seen. Here you can also find presets, photo effects, masks, textures and so much more to experiment with.
A popular community of designers and a vast source of design resources, Deviant Art has a huge collection of free and useful Photoshop actions. You can find different sets of actions and most of them focus on giving your photos amazing effects and creative touches.