10 Free Mobile Apps to Convert PDF Documents
Everyone knows that handling PDF is really annoying. It's difficult to edit them, and when you are finally able to, you don't have the right font. And can you even save files as PDF on your phone? I don't think so. Often you'll need a laptop or desktop just to convert documents or images into PDF. That is if you don't have these apps.
Here's a list of updated iOS and Android apps that can help you convert any files into PDF. From Word, Excel, Powerpoint, JPEG, and the whole lot into a sparkling new PDF…all at the touch of your smartphone. So, no need to rush to your laptop if you need to immediately edit or convert a PDF from work!
I hope you find this list useful!
1. PDFelement Lite
PDFelement Lite is an all-in-one PDF editor and converter that can be used to read, edit, annotate, and convert PDF files whenever and wherever. You can also use this app to sign PDFs in case you need it for work.
Using this app, you can export PDF into different formats like Word, Excel, PPT, EPUB, HTML, and other formats. You can also combine PDFs into one.
Perhaps the best thing about PDFelement is its font recognition feature – you no longer need to spend hours just to find what font to use to match the PDF you are editing.
You can also take a snap of documents and instantly convert them into a PDF!
2. PDF Converter Ultimate
PDF Converter Ultimate is another all in one converter of files to and from PDF. You can convert any PDF to Excel, JPG, PowerPoint, CAD, Word, and text files — or vice versa.
It also features OCR – stands for Optical Character Recognition – meaning, if you take a photo or scan a document, it will be able to distinguish individual letters and words, not just recognize it as a photo. This enables users to edit the document directly on the app.
Unlike other PDF converter apps, PDF Converter Ultimate does not natively process the files, but sends it to their servers first, making it work well for phones on the lower end since it does not consume processing power and RAM – it also saves battery life. The only problem with this is you have to be online, of course.
3. PDF Photos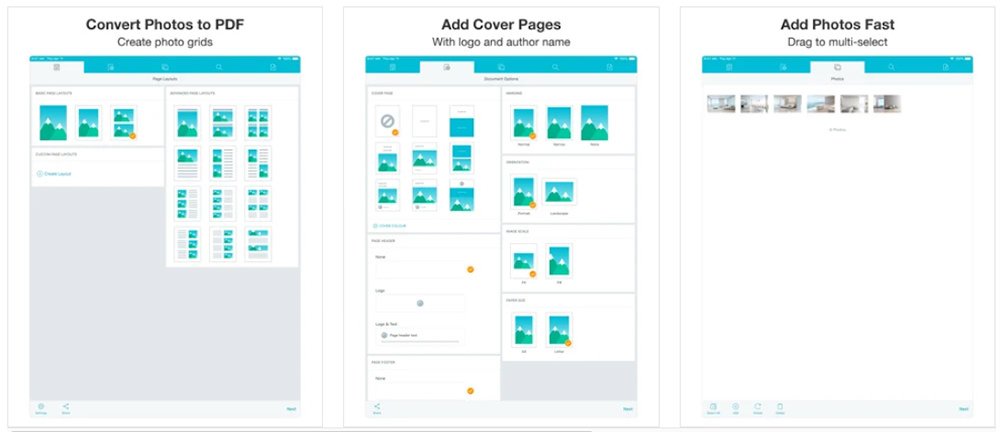 PDF Photos is an iOS photo and PDF converter application that has built-in templates to choose from, templates that you can use to create layouts of the photos you want to turn into a PDF. This works well for people who wish to send photos and not just documents, or build a simple PDF presentation.
In a sense, it's like using a Photo Grid application where you can place 2-4 images in one square.
You can also use this application to change the orientation of your PDF, adjust the margin and paper size, scale the image or fill the entire grid, etc.
4. pdfFiller
pdfFiller is more of a PDF creator rather than converter, but you can do both with it of course. With its built-in editor, you can create documents and then convert them into PDF. It works for both iOS and Android, and has over 10 million usable templates that can be used to make documents faster, especially if you are in need of some business templates like contracts, agreements, etc..
One great point for pdfFiller is you can create interactive PDFs with it. So you can build PDF forms and have the receiver edit it directly with or without the application. If you've seen one before, some business forms in PDF can be edited directly where you can add your name, address, phone number, and other details. This is something that many PDF editors don't have.
5. iLovePDF
iLovePDF is a PDF editor and reader that is 100% free to use that works on both iOS and Android. All of the tools you'll need to work with PDFs are included, like merging PDFs, splitting, compressing, annotating, extracting images from PDFs, locking and unlocking, adding pages and watermark, and of course it also works as a lightweight PDF reader.
It supports 25 languages and is still in active development, so support is really amazing. It does have a premium account, but the free version will work without a hitch for casual users. If you're only converting 1-3 files to PDF, then it will work just fine. But if you're a heavy user, you might want to consider checking out their premium version, which is packed with more smooth and productive features.
6. Genius Scan
Genius Scan is a top-rated application in both iOS and Android, with over 20 million users and is used by thousands of businesses in their daily activities. It looks simple at first, but if you are in the business of keeping your expenses recorded, you can use its smart scanning feature to scan receipts or documents, automatically correct the lighting, distortion, shadows, etc., then convert everything into a PDF, and export it to your email, DropBox, Evernote, Google Drive, OneDrive, or even FTP.
It's a very powerful application that utilizes OCR technology so you can search PDF documents, extract texts, and the like. You can also do batch scanning in just a matter of seconds!
One of my favorite features for Genius Scan is it's security – you can encrypt any PDF as well as lock the app itself with biometrics.
7. Office to PDF
Office to PDF is yet another PDF converter but this time it is geared towards Microsoft Office users. If you use this, you can securely convert Word, Excel, and Powerpoint files into PDF.
Once done with your conversion, you can store your files directly to iCloud Drive or DropBox.
While this is a secure and trusted application, it lags behind when it comes to its free plan which only includes 3 conversion of documents. Additional conversions can be purchased through the app. But hey, if it works, it works!
8. ClaroPDF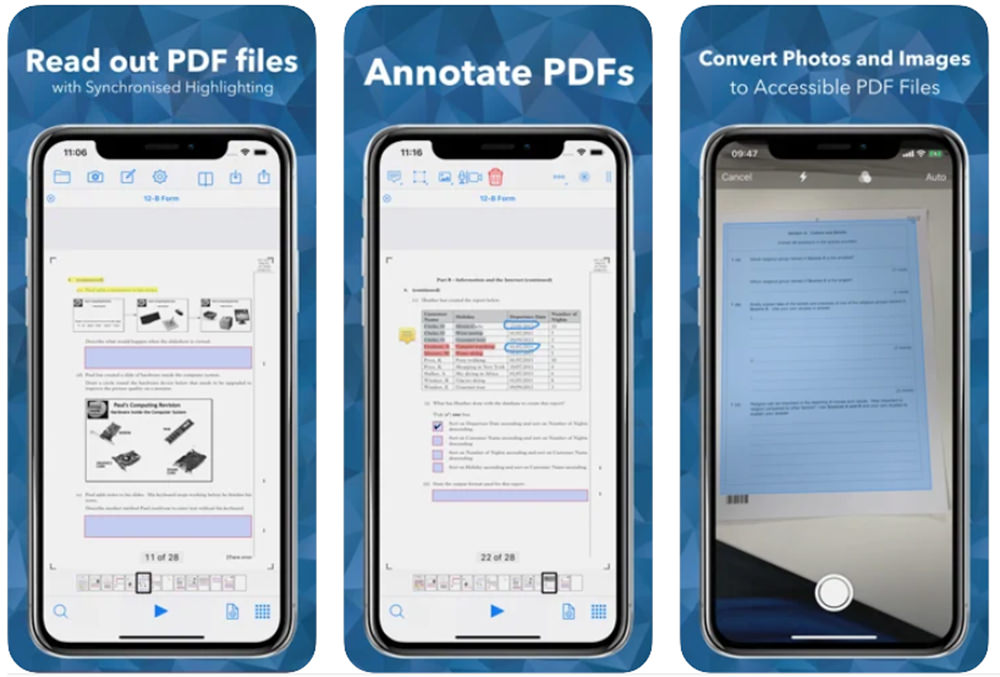 ClaroPDF is one of the few PDF viewer and converter apps in iOS that fully utilizes iOS's accessibility features. You can enable "Speak in Background" so that your phone can read to you while your eyes are elsewhere, or while you are using a different application.
That said, it has a wide range of features that you will find useful. Annotating PDFs, adding notes, comments, smart zooming, adding of shapes, inserting images, etc.
The Pro version includes more features, like different voices for text-to-speech, adding of audio and video on your PDF file, customization of folders, sync with iCloud, extension to enable Safari to save web pages as PDF, and many more.
9. iAnnotate 4
iAnnotate 4 is a paid PDF editor, viewer, and converter but this shouldn't dissuade you from trying it. It works on both iPhone and iPad Pro, and is one of the best apps to use if you are always on the go and in need of something where you can jot down your thoughts.
Annotate, comment, edit, and then use the search function to search through everything – the text on the photo you scanned, the notes you wrote; something really powerful that only a few other apps offer.
One best thing about this is, you can summarize all of the annotations you've made in your documents and forward them as an email – or as a new PDF. Neat, huh?
10. PDF Creator & Editor
PDF Creator & Editor is a straightforward PDF application for Android. It can convert text files into PDFs, split them into separate pages and files, or merge multiple files into one PDF. You can also annotate, add images, rearrange pages, export images from the PDF, and the like.
As I mentioned, it's straightforward. While it doesn't have fancy features that paid apps offer, it's a lightweight app that just does the job and does it well. If you need something quick to use to edit and convert files into PDF, this one will probably work for you well.
Conclusion
So, have you found the perfect PDF converter for your iPhone or Android device? Don't forget to share in the comments below! A little warning before we end this article: there are online PDF converters out there but these are, for the most part, not secure. If you are looking to convert a Word file into PDF and it contains sensitive information, you'd probably be better off with vetted applications on Google Playstore or the App Store. ;)