5 Online Marketing Tips for Conversion Rate Optimization
The ultimate goal of website design is conversion. Conversion Rate Optimization or CRO is a common practice followed by successful marketers aiming to convert visitors into paying customers.
Contrary to the common misconception that online marketing is costly and only high-profile entrepreneurs can afford it, CRO boosts conversion rates without implying unreasonable expenses.
In this post, I'll show you five well-researched online marketing tips that will help you increase your conversion rates, and boost your business.
Read Also:  How to Increase Newsletter Engagement Rate
1. Reduce Page Load Times
Back in 2009, Google conducted a research in which they analyzed users' reaction to slower search result pages. They found that when Google's search pages were slowed down by 100-400 milliseconds (less than half a second), the searches reduced by 0.2%-0.6%.
This might sound like a small number, but it amounts to a loss of 14,400 searches per minute.
Google assumed that other sites dealt with similar rates – and they warned website owners against ignoring low speed for a considerable time so as to not further detach users.
By 2016, the general intolerance towards slow websites has become even worse. With a plethora of options available to users, page loading time has turned into the most important KPI to measure conversion rates.
If your website fails to load within 3 seconds, 40% of your users abandon it.
Many other data sources prove the same. Amazon found that for every one second delay, conversions dropped by 7%, which amounts to a loss of $1.6 billion.
Walmart came to a similar conclusion – they measured 1% revenue increase for every 100ms of site speed improvement.
Apart from the poor UX, low page load time also limits the crawling ability of Google bots.
Google's John Mueller pointed out in his reply to a user question at Webmaster Central Help Forum, that a delay of over 2 seconds in fetching a single URL limited the ability of spiders to display the page in Google search results.
How to Make Your Pages Load Faster
Compress and optimize images especially on the home page, in slideshows and hero sections. Above-the-fold information must load as quickly as possible, but you can use lazy-load effects for other less important features such as carousel images.
Read Also:  12 Plugins to Speed Up Your WordPress Website
Find the right place for your tracking script according to the needs and the type of the script. Use a single tracking script, as multiple scripts for different analytics tools can considerably slow down your loading time. Also don't forget to optimize dependencies.
Use Gzip encoding for data compression, as it considerably compresses the size of webpage and its elements.
Consider loading background images using unconventional CSS methods. If you can avoid don't use inline CSS and JavaScript. It can also significantly improve performance if you use CDNs, specialized fast network servers for static components such as Javascripts, CSS, forms and images.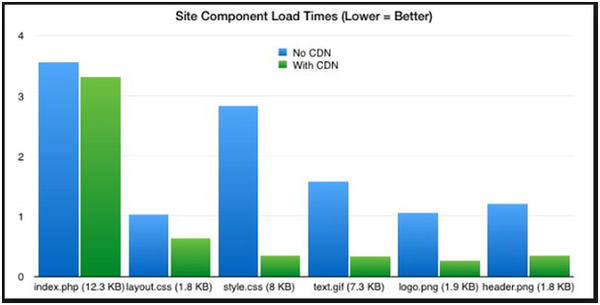 Optimize caching and minimize cookie size for better loading speed on subsequent visits. You can use Google PageSpeed Insights to analyze the content of your website and generate suggestions.
The Site Speed feature of Google Analytics (Google Analytics > Behaviour > Site Speed) allows you to measure real-world load times instead of the lab results.
2. Reduce Complexity of Your Design
Your website needs to be as simple as possible. When you try to stuff all the services of your trade onto a single page, it disastrously affects conversion rates – the most important KPI of your business.
GravityDept's case study quantitatively explains the impact of a website redesign from a more complex to a simpler interface.
Before:
After:
The changes were subtle but profound. Besides improvements on the backend, the new site got a responsive design, a multifaceted navigation with structured attributes such as color, fabric, and pattern, and high-quality images that helped achieve a cleaner look.
The performance also improved, the uncached initial page load time became 63% smaller. As a result, the conversion rate significantly increased, and the revenue sharply grew.
How to Simplify Your Site Design
Your home page should only contain the most important things such as the logo, the headlines, and CTAs. Make your services easily available with intuitive navigation using dropdown menus if necessary.
According to the Baymard Institute's statistics 68.63% of online customers abandon their cart due to various complications, so if you have an online store make checkout as simple as possible to reduce the drop off, and also use the guest checkout option.
Recommended Reading: How to Reduce Cart Abandonment Rates on your e-Commerce Site
Don't place ads on your home page. Websites embedded with ads look very unprofessional, and generate high bounce rates. Consider simplifying the registration and login processes by using social logins.
Make user feel better by making your forms smaller and simpler. Autofill forms based on past purchases and user history. Also ensure that error messages do not contain technical jargon as it deters many users.
3. Have a Single Focus
What is the use of being jack of all trades but master of none? The goal of your website must be clear and exclusive. It must serve a unique and single purpose in the user's life.
Unrelated information on a single website makes it hard to trigger the interest of visitors. They get distracted from the original goal, hence your conversion rate suffers.
How to Keep Your Site Focused
You need to clearly establish the goal of your website. Don't give users other actionable options apart from the single goal. It creates confusion and hesitation, and negatively affects your conversion rates.
Use social media buttons carefully. Sometimes they are distracting. Perform A/B testing to see if they increase CTR, or the other way around.
In case you have an e-Commerce store, display the availability of products with the help of SKUs in order to take leverage of the urgency factor.
Multiple CTAs can create confusion such as in the image below. The ensuing hesitation can result in lower conversions, so it's better to use only a single CTA.
4. Get Rid of Dullness and Redundancy
The first impression is commonly also the last impression. The competition is fierce, as interesting information keeps flowing from all over the web. A study has proven that due to the wide usage of the internet, humans now have an attention span of 8 seconds.
Hence you need to grab users' attention in a very short period of time. If you fail to make an impact within the given time period, they will simply walk away from your product without a second thought.
These days, a quirky headline is much more important than the content itself. To make a headline more appealing you can infuse it with the following features:
Surprise – The word BEWARE! does the trick effectively.
Question – Why Does My Website Suck – because you don't have this title!
Numbers – Organize your content into lists, and use a number in the title just like I did in this post.
Curiosity – Leave your readers hanging in midst of a statement, such as I Used to be Afraid of Programming but Then I Started….
Negatives – Understand How Electronic Waste is Destroying the Planet.
Direct references – HEY YOU! Have You Already Designed the Perfect Website?
After an interesting title, give relevant and interesting subheadings like below:
How to Make Users Interested in Your Content
Use keywords in your titles, headings and subheadings. Keep keywords limited, simple and precise.
Make sure your CTA copy is strong with interesting text and visual appeal. Your content must sound and look friendly, not pushy. Write directly to your audience by using the word "you".
Consider adding videos, audios, and other media to your page to explain your product and service. They tend to have higher engagement rates than other content forms.
If you collect payment on your site, include the latest payment options, such as PayPal, AndroidPay, ApplePay. Ensure users can easily toggle among them.
You lose a customer if their preferred payment option is not listed. On the diagram below, you can see the payment options companies already use and plan to introduce.
5. Gain Trust
Great design makes people trust you, while poor design creates mistrust and makes users bounce off. Trust is a big deal, whether we deal with offline or online customers. It extends way beyond the field of conversion rate optimization.
Users form opinions about your website in less than a second (50 ms). When you are dealing with an audience you haven't even interacted with, it will be your website that will drive the trust of your customers into your business.
How to Build Trust Online
As shallow as it sounds, people will trust you if you look good, so don't hesitate to show off. People do judge the book by their cover, and your business by your website design.
It's also crucial to assure your users you're easily available. It doesn't mean to stay online 24×7 or replying to every email. It's enough to make your address and phone number visible, and specify the time when your customers can call you.
It's also a good idea to save the preferred settings of your customers, and make it default for them when they return to your site.
Testimonials using visuals, such as the logos of prestigious clients, also help build trust and credibility online. One of the best ways to build trust is to get help from the people who already trust you.
A very simple way to put this principle in use is to ask for authentic user reviews that will hopefully boost your ratings.
On the following infographic you can see the impact of reviews and testimonials on conversion rates.
Final Words
Conversion rate optimization is a complex field. You need to work hard to get the results you want. The online community constantly pursues exciting innovation you need to follow.
Apart from using the above CRO tips, you also need to constantly innovate and come up with unique ideas in order to secure your online success on the long run.