10 Best Tools to Create Online Quizzes and Polls
Online quizzes and polls serve a variety of purposes. They can engage your audience, gather opinions, and collect valuable data to enhance your business operations. A plethora of free tools exists online to help you design these interactive elements effortlessly. These tools offer a wide range of features, from basic to advanced.
In this article, we'll explore ten excellent tools for creating online quizzes and polls. These tools can be integrated into your website or used in your content marketing strategies.
Overview:
|   | Free? | Price of Paid Plan |
| --- | --- | --- |
| Typeform: User-friendly platform with responsive templates and unique URL sharing. | No | $25/month |
| PollEverywhere: Robust tool with real-time polling and social media sharing. | Freemium | $120/year |
| Google Forms + Flubaroo: No-cost solution with automated grading via Flubaroo. | Yes | Free |
| Interact: Specialized for lead generation with over 800 templates. | Freemium | $17/month (billed annually) |
| SurveyMonkey: Fine-grained control for business surveys with team-wide access. | No | $25/user/month |
| ThatQuiz: Versatile and free platform with drag-and-drop interface. | Yes | Free |
| SoGoSurvey: Comprehensive tool with advanced data segmentation and visualization. | Freemium | $25/month |
| Outgrow: High customizability and social media sharing directly from the platform. | No | $22/month |
| FlexiQuiz: Cost-effective with a wide range of question types and customizable features. | No | $20/month |
| LeadQuizzes: Easy-to-use interface with logic branching and analytics. | No | $49/month |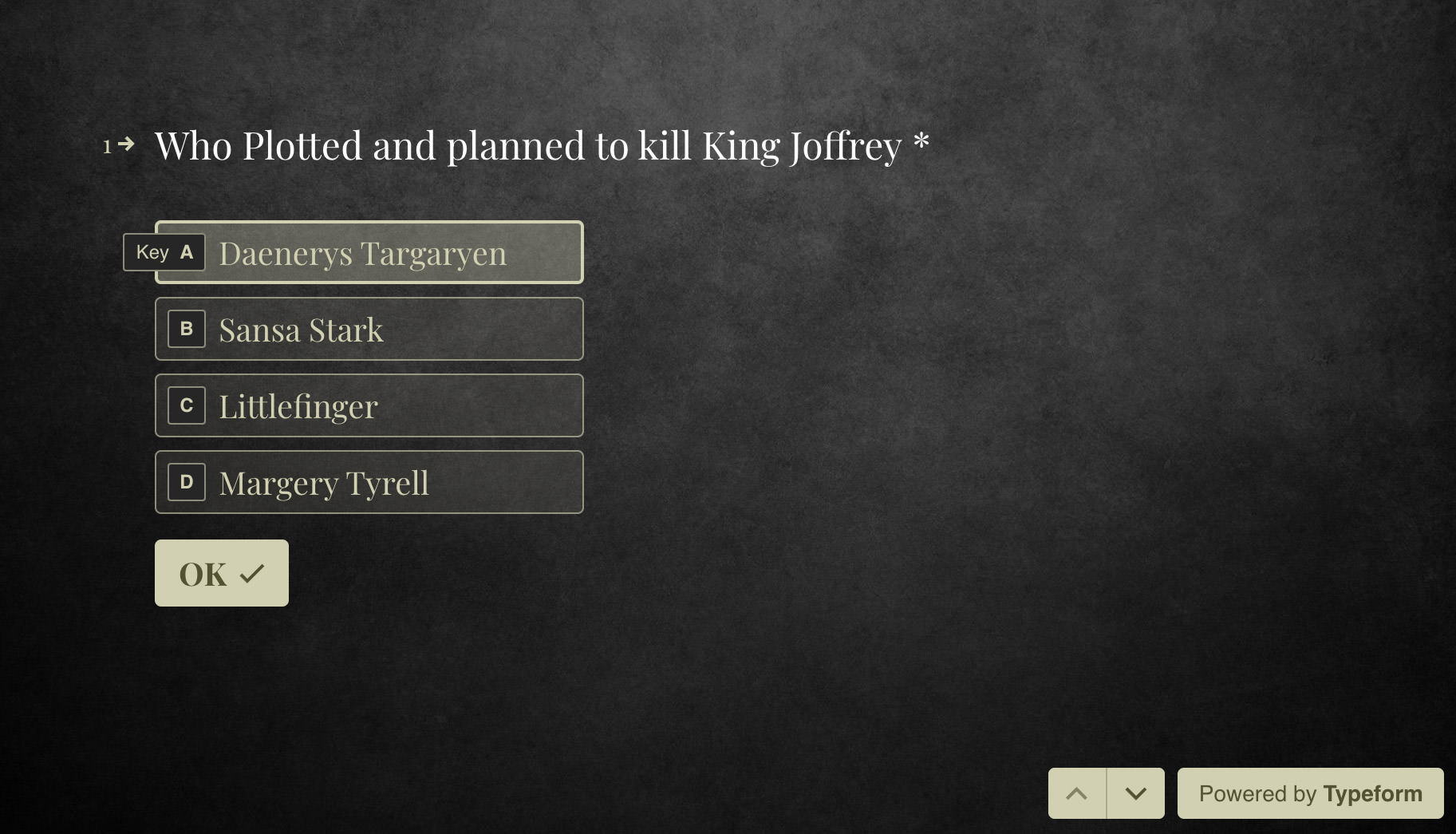 Typeform offers a user-friendly platform for creating aesthetically pleasing quizzes and polls. It allows you to share a unique URL with participants, enabling them to take part via a computer or mobile device. Typeform's templates are responsive, ensuring a seamless user experience regardless of the device used. You can also easily download the collected responses in CSV format.
Cost Details:
Typeform provides multiple pricing options. The Basic plan is available at $25 per month, while the Business plan costs $83 per month.
Notable Features:
Choose from a diverse selection of pre-made templates.
Add visual elements like images or GIFs to make your quizzes more engaging.
Implement logic branching to create a personalized quiz experience.
Utilize smart logic to customize end-of-quiz 'Thank You' screens.
Monitor user behavior and performance through analytics.
PollEverywhere is a robust tool designed for websites that wish to offer interactive polling capabilities to their visitors. The platform features a straightforward user interface, enabling visitors to design their own surveys. Moreover, you can showcase popular polls or share your own via social media platforms like Facebook and Twitter.
You can also easily embed PollEverywhere polls into your own website, either as standalone elements or integrated into your posts and pages. If you're in search of an uncomplicated way to add dynamic quizzes and polls to your website, PollEverywhere is worth a look.
The tool offers a freemium model, with added premium features available for a reasonable monthly fee – especially if you opt for an annual plan.
Cost Details:
Starting out with PollEverywhere is free. Premium plans kick off at $120 per year.
Notable Features:
Conduct real-time polls, Q&As, surveys, and more to engage audiences in hybrid work environments.
Add live polls to your PowerPoint, Keynote, or Google Slides presentations with the Poll Everywhere app.
Visualize live employee feedback through various activity types.
Organize your interactive content effortlessly with a customizable content organizer.
Google Forms offers a no-cost solution for creating surveys. Although it provides basic features like multiple-choice questions and text boxes, it also includes advanced options like data validation. This allows you to set specific criteria for what counts as a correct answer.
Flubaroo complements Google Forms by simplifying the collection and automated grading of student responses. Created by an MIT student who found existing options lacking, Flubaroo employs machine learning techniques to assess student performance.
Cost Details:
Both Google Forms and Flubaroo are available for free.
Notable Features:
Instantly grade student responses and identify those in need of extra help.
Quickly spot questions that tripped up the majority of the students.
Include stickers and badges when sharing grades.
View score summaries, including average scores and score distribution histograms.
Manually grade open-ended questions as needed.
Interact is a specialized quiz maker designed to boost lead generation, segregate your audience, and channel more traffic to your website. It provides a comprehensive selection of over 800 templates across 40+ categories, allowing you to create a variety of quizzes like personality quizzes, score-based quizzes, and assessments.
Unlike traditional downloadable content like eBooks or PDFs – which often go unused – Interact helps you create interactive quizzes that engage your audience and convert them into loyal customers.
Cost Details:
Interact offers a free tier to start. Its paid plans commence at $17 per month when billed annually.
Notable Features:
Compatible with most major email marketing and automation platforms.
Create quizzes that align with your brand's image.
Capture leads and segment your audience effectively.
Add branching logic to quizzes for enhanced engagement.
Gain insights into your audience through quiz analytics.
SurveyMonkey offers an excellent platform for engaging your audience through online polls. You can either use its service to create standalone polls or embed them directly into your website. Although many B2B marketers are using quizzes and polls, a significant number are yet to leverage them effectively, as noted by an eMarketer study.
If you aim to build a deeper connection with your audience, consider integrating questions related to demographics, educational level, or any other user-specific information. This approach will enable you to tailor a more meaningful experience for your users.
Cost Details:
SurveyMonkey offers a variety of business plans, each catering to different needs:
Team Advantage: $25 per user per month.
Team Premier: $75 per user per month.
Enterprise: Comes with robust admin tools, integrations, and collaboration features. Contact SurveyMonkey's team for details.
Notable Features:
Provides fine-grained control over survey sharing and editing permissions.
Team-wide access to shared resources like images, documents, themes, and templates.
Efficient survey result exporting and sharing for the entire team.
Integrates with commonly-used tools such as Office 365, Google Drive, and Slack.
Allows team members to collaboratively access, update, and comment on surveys.
ThatQuiz is a versatile platform for creating quizzes, polls, forms, and surveys. Its intuitive drag-and-drop interface enables users to effortlessly create interactive online quizzes, without requiring any coding skills. The platform also allows users to easily embed the created surveys on webpages or share them via a link.
Cost Details:
ThatQuiz is completely free to use.
Notable Features:
Unlimited questions can be added to your quiz or poll.
Available as an app for both iOS and Android, providing offline access to your quizzes.
Allows users to share quiz results on social media platforms like Twitter and Facebook.
SoGoSurvey is a comprehensive survey tool offering a wide range of question types for various use-cases. Whether you're creating a survey for personal reasons, educational purposes, or work, it's designed to suit your needs. The tool allows global access, enabling respondents to answer your questions from anywhere at any time.
Cost Details:
SoGoSurvey offers a free plan for basic needs, and its paid plans start at $25 per month.
Notable Features:
Complete customization control over themes, fonts, and colors.
Ability to show personalized messages based on quiz results.
Advanced data segmentation and visualization options.
Data can be exported in various formats including CSV, Word, PPT, and XLS.
High-level security management.
Data comparison and trend analysis capabilities.
Ability to schedule the delivery of saved reports.
Outgrow allows you to create an array of interactive content types such as quizzes, polls, and surveys. It supports a variety of input methods, including content imported from PowerPoint or Google Slides. It offers high customizability, allowing you to tailor the look and feel to fit your brand perfectly. The platform also makes it simple to share quiz results on social media, directly from the platform.
Cost Details:
The Freelancer plan starts at $22 per month, while the Business plan is priced at $72 per month.
Notable Features:
Feature-rich drag-and-drop quiz creator for interactive online quizzes.
A wide range of optimized design templates and layouts.
Capability to add conditional messaging and branching logic.
Quizzes can be easily embedded on any website.
Built-in analytics to monitor quiz performance.
Compatibility with email marketing software.
FlexiQuiz provides a robust platform for crafting interactive quizzes with various question formats like multiple-choice, true/false, show/hide answers, and fill-in-the-blank. It stands out as one of the most cost-effective tools on the market. Users can create an unlimited number of multiple-choice questions, host polls on their domain, and even capture leads directly through the quizzes using a custom link.
Cost Details:
The basic plan, known as Essentials, is priced at USD $20 per month.
Notable Features:
Customizable features suitable for educational institutions and businesses of all sizes.
Supports both synchronous and asynchronous learning.
Offers a wide range of question types, including essay, picture choice, short answer, matching, file upload, and fill-in-the-blanks.
Allows users to upload supporting documents like PDFs, Excel sheets, and Word documents.
Enhance quizzes with multimedia elements such as videos, GIFs, images, and audio.
Options to customize all quiz taker instructions, including navigation buttons and hold messages.
LeadQuizzes provides an easy-to-use interface to create quizzes using either pre-built templates or by starting from scratch. It supports various question types, including yes/no, multiple-choice, and true/false questions. You can easily share the quiz URL with anyone, and they can complete the quiz without needing a LeadQuizzes account. The platform also supports the inclusion of images and audio files to enhance user engagement.
Cost Details:
The Lite plan is available for USD $49 per month, while the Advanced plan comes at USD $249 per month.
Notable Features:
Offers over 75 templates for quiz creation.
Simple quiz builder that supports a variety of styles.
Highly customizable in terms of visual design and user experience.
Features logic branching to personalize questions based on previous answers.
Analytics feature to analyze quiz results and understand your target audience.
Integration with popular marketing tools for seamless data management.
Conclusion
These quiz and survey creation tools offer user-friendly interfaces and a plethora of features to suit various needs. Whether you're an individual, educator, or business, these platforms provide you with the flexibility and customization options you need to create engaging and informative quizzes and polls. Each platform has a dedicated support team to assist you in your quiz-making journey. Try one or all of these tools; you won't be disappointed!