10 Best Tools to Create Online Quizzes and Polls
Online quizzes and polls have numerous purposes, whether it's to make your audience think, share their opinions, or gain access to data to help improve your business operations. There are many free tools available online that you can use to create these interactive elements quickly and easily, with functionality ranging from the most basic to advanced features.
Here are ten useful tools to create online quizzes and polls that you can try out on your own website or in your content marketing campaigns.
This is a top skill and knowledge assessment platform used by business professionals from hiring departments, training teams, and teachers.
It features cost-effective proctoring solutions and an intuitive question editor, but its most important asset is the insight engine offering detailed test statistics and analytics, allowing quick access to the most detailed information.
Testportal allows users to embed any quiz into their websites. Quizzes are fully customizable, with branding and white-label options.
The platform allows users to customize quiz settings and play with time limits, question categories, randomization, scoring, and much more.
Pricing:
Free 14-day trial is available.
Standard Plan costs $29/month/user, Pro Plan costs $59/month/user, and Max Plan costs $99/month/user
Additional custom enterprise plan with a collaboration feature available.
Key Features:
Auto-generated charts and graphs for your in-depth insights analysis.
Cheating prevention and detection with smart proctoring features.
6 question types enriched with images, videos, and audio files.
API integration and easy quiz embedding into your website.
Dedicated app for Microsoft Teams.
This is a powerful tool that is really ideal for websites looking to offer their visitors the ability to create polls. Visitors are able to create their own surveys using a simple user interface. You can also view popular polls or share your poll with friends on Facebook or Twitter.
This tool also allows you to publish polls on your own website, including embedding them in posts and pages. If you're looking for an easy way to add polls and quizzes onto your site then you should definitely check out PollEverywhere.
PollEverywhere is free but offers some premium features for a small monthly fee (cheaper if you buy annually). It's well worth checking out because of how easy it is to use.
Pricing:
PollEverywhere is free to start. Paid plans start at USD $120/year.
Key Features:
Engage audiences across hybrid workspaces seamlessly with live online polling, Q&As, surveys, word clouds, quizzes, and more.
Install the Poll Everywhere app for PowerPoint, Keynote, or Google Slides to quickly add polls to your existing presentation decks.
With a variety of activities, visualize employee feedback in real-time.
Use a fully customizable content organizer to organize engaging content.
Google Forms is a free survey creation tool from Google. It's simple but gets the job done well. On top of basic tools like multiple choice and text boxes, it has some handy extras like data validation, allowing you to set rules for what constitutes a correct answer.
Flubaroo makes it easy to collect student answers in Google Forms, automatically grading them with machine learning. The solution was made by an MIT student and developer who couldn't find any existing solutions that met their needs, so they built their own!
Pricing:
Both Google Forms and Flubaroo are free to use.
Key Features:
Obtain scores for each student and identify students who require additional assistance.
Identify questions that the majority of students missed quickly.
When you share grades, send stickers and badges.
View the average score as well as a histogram of scores.
Give yourself a score for open-ended questions.
Interact is a quiz maker that allows you to create quizzes that generate leads, segment your audience, and drive traffic to your website. By selecting from over 800 templates in 40+ categories, you can create personality, score, and assessment quizzes similar to those seen on Facebook or Buzzfeed.
Even if consumers choose to download your freebie, the majority of ebooks and PDFs end up collecting virtual dust on your subscribers' hard drives, rather than converting them into screaming fans eager for more of your magic.
Pricing:
You can start using Interact for free. Paid plans begin at USD $17/month (paid annually).
Key Features:
Every major email marketing and automation solution is compatible.
Create a quiz that reflects your company's identity.
Capture leads and divides your audience into segments.
Adding branching logic to your quiz is a great way to make it more interesting.
Quiz analytics can help you learn more about your target audience.
Interacting with users is a powerful way to engage your audience. One of the best ways to do that is through online polls, which can be created in minutes using services like SurveyMonkey or by embedding poll widgets into your website.
According to one eMarketer study, 61% of B2B marketers are using quizzes and polls on their sites, but only 37% are doing it effectively.
If you're looking for ways to connect with your audience via polling, consider including questions about demographics (age, gender), an education level (specifically, what you're discussing in your content), or other user-defined information. This will help you create a more relevant experience for everyone.
Pricing:
You can select a Surveymonkey business plan that best suits your needs:
Team Advantage: USD $25 / user / month.
Team Premier: USD $75 / user / month.
Enterprise: Powerful admin tools, integrations, and collaboration features for your organization. (Needs to contact Surveymonkey's team).
Key Features:
With granular control over who can read and amend your survey, you can share it with others.
Everyone in your team will have access to shared pictures, documents, themes, and templates.
Make survey results and export tools available to your entire team.
SurveyMonkey is easy to use with your existing workflows since it interacts with popular tools like Office 365, Google Drive, and Slack.
llow members of your team to access, update, and comment on your surveys.
This simple website helps you create quizzes, polls, forms, surveys, or questionnaires. It has a simple drag-and-drop editor that will help you build interactive online quizzes without any technical skills required. You can easily embed your survey in an existing webpage or share it as a link for your viewers.
Pricing:
ThatQuiz is free.
Key Features:
The best part about ThatQuiz is that there is no limit on how many questions you can have on your quiz/poll.
This can also be downloaded as an app available for both iOS and Android devices with complete offline access to your quizzes.
Furthermore, they also allow users to connect their accounts with Twitter and Facebook so they can share their results with friends & followers!.
It's an online survey tool that provides you with a wide range of questions for different purposes. It helps you create surveys for whatever purpose you want, i.e., personal, school, or work-related, etc. Moreover, it allows users from all around the world to answer your questions from anywhere at any time using their phone or laptop/PC. You can manage responses easily.
Pricing:
If you just need the basics, use SoGoSurvey's free plan. And its paid plan starts with USD $25 / month.
Key Features:
You have complete control over the survey's themes, colors, fonts, and more.
Show personalized messages depending on quiz results.
Data segmentation and visualization that is both powerful and easy to understand.
Exports of data (CSV, Word, PPT, XLS).
Security management at the highest level.
Data comparison and trend analysis.
Schedule the delivery of reports that have been saved.
Outgrow lets you create beautiful quizzes, polls, surveys, and more—including mobile-friendly options. Simply upload your question content from PowerPoint or Google Slides (or just write it in), then customize it with images and colors that are a perfect fit for your brand.
Choose from thousands of questions created by other members or use add-ons like a color wheel selector (great for colorblind folks) or an avatar quiz feature. And if you're not satisfied with what's offered, there are lots of customization options so you can create exactly what you need.
With integrations to social media platforms like Facebook and Twitter, it's easy to share results right after participants complete your poll or quiz—no HTML needed!
Pricing:
Outgrow's most popular plan Freelancer starts at USD $22 / month and the Business plan can cost you USD $72 / month.
Key Features:
With the powerful drag-and-drop quiz creator, you can create interactive online quizzes.
Choose from a variety of design templates and layouts that have been optimized.
Add conditional messaging and branching logic.
Your quizzes can be embedded on any website.
With built-in analytics, you can keep track of your performance.
It's compatible with email marketing software.
FlexiQuiz enables users to create interactive quizzes for multiple-choice questions, true/false questions, show/hide answer questions, fill in the blank responses, numeric input answers. FlexiQuiz is one of the most affordable tools available. It offers some great features like creating unlimited multiple choice questions, free poll hosting on your domain name, and integration so that you can capture leads directly from your quiz by using a custom link.
Pricing:
Flexiquiz's basic plan called Essentials will cost you USD $20 / month.
Key Features:
Features that are adaptable to the needs of schools, universities, and small and large companies.
Synced and asynchronous learning is supported.
Multiple-choice, essay, picture choice, short answer, matching, file upload, and fill-in-the-blanks are just a few of the question types available.
Upload supporting documents like PDFs, Excel spreadsheets, and Word documents.
Bring your content to life by including videos, GIFs, images, and audio.
All quiz taker instructions, including navigation buttons and holding messages, should be updated with the new text.
This is a tool that allows you to create quizzes using pre-built templates or by starting from scratch. The available templates include yes/no questions, multiple-choice, true/false, etc. The tool also allows you to share your quiz as a URL with any member of your audience who can then answer it without even having a LeadQuizzes account. You can even add images and audio files for your users' convenience.
Pricing:
LeadQuizzes's Lite plan costs USD $49 / month, while the Advanced plan costs USD $249 / month.
Key Features:
There are more than 75 templates to choose from.
With the simple builder, you may create quizzes in a variety of styles.
Every quiz can be customized in terms of appearance and feel.
Logic branching allows you to personalize queries depending on past responses.
Examine the results of your quiz to discover more about your target audience.
Integrates with the most popular marketing tools.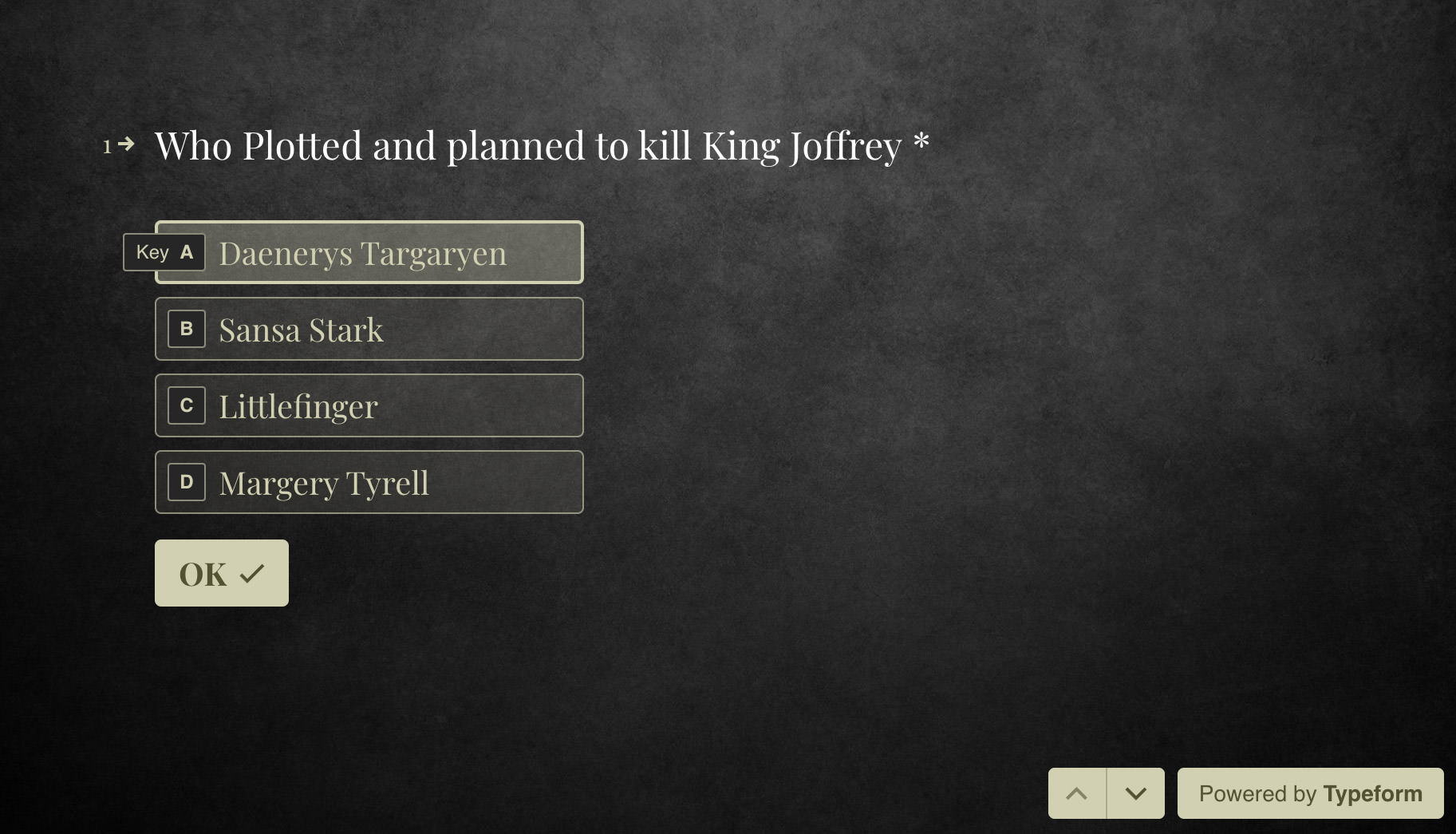 Typeform is an online tool for creating professional-looking quizzes and polls. The tool makes it easy to share a URL with respondents, making it possible for them to respond via computer or mobile device. What's more, Typeform templates are responsive, so they'll adjust themselves depending on whether you're using a computer or phone. Responses are also easily downloadable into CSV format.
Pricing:
Typeform's Basic plan cost USD $25 / month, while the Business plan cost USD $83 / month.
Key Features:
Select from a variety of ready-to-use templates.
Make your quizzes more interactive by including photos or GIFs.
Use logic branching to personalize queries.
Smart logic can be used to customize thank you screens.
Keep track of how visitors behave and how well they perform.
Conclusion
With these tools, you can make great-looking quizzes and polls in minutes. All of them are user-friendly, with excellent support teams behind them. Try one or all of them out; we're sure you'll love using them as much as we do!