7 Ways to Get More Free Space on Dropbox
Dropbox is one of the most popular cloud storage providers in the market. It is great for storing photos and videos, hosting static websites, and safekeeping and sharing various other stuffs with friends and co-workers. Its wonderful features ease or solve many of our real-life problems, and it works so well that ironically it is the main cause we regularly run out of Dropbox storage space.
In short, Dropbox's problem is "the more you do, the less you have." Dropbox comes with only 2 GB of initial free storage. For most of us who work and play online, that's far from enough. In this post we take a look at some of the ways we can get more Dropbox storage, for free. The catch is, it isn't a one-time thing, you will need to help the Dropbox team grow to get chunk of the free space they offer, by doing things like:
15 Dropbox Tips and Tricks
15 Dropbox Tips and Tricks
I often thought Dropbox as a simple cloud storage service that you can use to save and share... Read more
1. Completing the "Get Started" tour
You will get: 250 MB
Most of you who have been on Dropbox for a while will probaby have gone through the "Get Started" tour, which is basically Dropbox Basics 101. Just complete any five of the seven quests, which teaches you how to setup Dropbox on your computer or mobile device anyways, and you get a 250 MB as a reward from Dropbox.
2. Connecting your Social Media Accounts
Get social with Dropbox by
Connecting to Facebook: 125 MB
Connect your Twitter account: 125 MB
Following Dropbox on Twitter: 125 MB
3. Giving Feedback On Why You Love Dropbox
You will get: 125 MB
Tell Dropbox team why you love their popular cloud storage service, and they'll be happy to offer you a bonus storage space of 125 MB in your Dropbox account.
4. Refer Friends to Dropbox
You will get: 0.5 GB per friend [Capped at 16 GB]
This might be handy if you don't have many friends who are already on Dropbox yet. Getting them to join via your referral link gives you half a GB for every successful invite to join. With a cap at 16GB, it's a maximum of 32 friends who can join via invite, doesn't matter how many you invite (since not all of them will sign up for it, right?).
5. Use Carousel
You will get: 3 GB
If you use cloud storage to store your photos, then you should get Carousel. Carousel is the new media gallery from Dropbox for storing your photos and videos. It's easier, prettier, faster and an all-around better way to view your Dropbox photos and videos. Start using Carousel and get 3 GB of bonus storage space in your Dropbox account.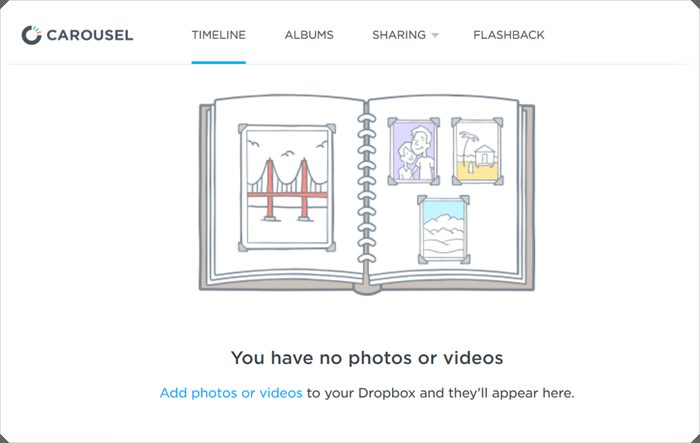 6. Use Dropbox on Samsung Devices
You will get: A maximum of 48 GB (for 2 years only)
A select number of Samsung devices launched between 2012 and 2014 are eligible for free 48 GB free Dropbox space. Some will get it for 1 year, others for 2 years. You can look into the specifics here, but remember that once the promotion expires, you are back to your original storage capacity before you claim this promo.
7. Use Dropbox on HTC devices
You will get: A maximum of 23 GB
If you own or want to own an HTC device, there is also free Dropbox storage you can claim. If you have an HTC Sense 4.0, 4+ or 5.0 devices, you can get 23 GB for two years. It will depend on whether your carrier is in on the promotion and if the Dropbox app is pre-loaded on your devices. Find out more about it here.
Wrap Up
And that's it, 8 ways you can get more storage on your Dropbox account, without paying a cent. If however all of this is not enough for you, there are three more methods you can use, but they are going to cost you, namely:
1. Clean Up Your Storage
Okay, this one is still free, but you will need to take some time off your busy schedule and perhaps throw away things you are reluctant to chuck out. Get rid of all the space-clogging files that you probably won't need anymore. Backups can be stowed away in external hard disks or just deleted. Live in the here and now.
2. Subscribe to Dropbox Pro
There is 1 TB of cloud storage waiting for you in Dropbox Pro. Just upgrade your account to get that although you might want to make sure that you need that much space first. This is going to set you back $9.99 per month.
3. Get Dropbox for Business
If your company has the budget for it, you can always opt for Dropbox for business, it's $15 per user per month, and there is unlimited storage for you to use. There is a free trial for 14 days.