How to Manage Team Communication and Sync Project Files with Fleep
Email is far from being the best way to communicate, especially in a far-from-traditional working environment. If you work with team members remotely, chat and instant messaging services provide a more immediate, real-time communication platform – but they are terrible for sending files back and forth.
Here is how Fleep comes in to help you get the best of both worlds.
Fleep is an application that combines the best parts about email and instant messaging, offering a chat system with a file uploading system, message pinning and cloud-stored chat history. Let's check it out and see if this can be the new way you communicate and work in your online office.
Fleep is available on a few different platforms. It's available as a web app, on iOS, Android, Windows and Mac. This wide platform support means that you really shouldn't have any trouble getting Fleep to run on your (and your team's) devices.
Getting Started With Fleep
We'll be taking a look at the web app version in this review. To get started using Fleep, you need an account. You can create a new account for Fleep with your email, name and a password, or sign in with your Google account.
Once you've logged in, you'll be taken to a getting started screen, which points out some of Fleep's interface elements and lets you import contacts from Google+.
To start a conversation, just click on New Conversation.
To add friends or team members to the conversation, just type in either their name (if they're registered with Fleep) or email (if they're not) into the provided text box. If they're not registered yet, not to worry, they will receive the chat messages via email. Their replies can also be done via email but you will receive them on Fleep as chat messages.
Fleep Features
Fleep has three features that combine to make it a useful communication app for teams that work remotely: chat, a pinboard and a file drawer. Take into account that these chats, pinned messages and files are synced across all registered devices, and you have quite a potent combination.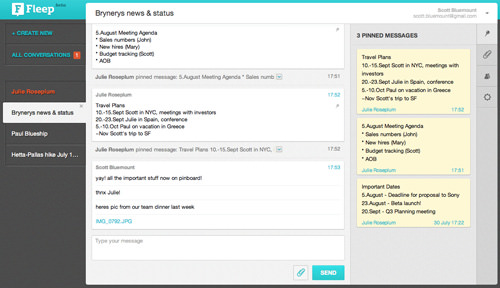 Fleep's chat function isn't particularly complex, but it does the job just fine. Each chat message has a "Message actions" menu, accessible from the upper right side of the message, that lets you Pin, Quote and Mark unread. If it's a recently sent message, you can also Edit and Delete the message.
There are four navigation buttons to the right side of the conversation window: in descending order, these buttons open the pinboard, file drawer, members list and conversation settings.
Pinboard
The Pinboard is where all the pinned messages will be shown. This helps you and your team keep track of important messages (like memos, details on urgent meetings, looming deadlines etc) that would otherwise be lost in a flood of messages in a conventional messaging app.
File Drawer
The File Drawer is basically a list of all the files that have been attached to messages in the conversation. Clicking on the filename will open the file; you can't delete files here; instead attachments have to be deleted from the "Message actions" drop-down window under the Chat function.
Members List
Keep track of which members to add to which conversation here in the Members List. Add a member by name, or by their email in the search box at the top. This area also lists the current participants who are in conversation with you.
Conversation Settings
Here, you can change the topic of the conversation, enable or disable Conversation notifications or choose to leave a particular conversation.
Conclusion
All in all, Fleep is a useful, productivity-centric chat application. While Fleep isn't feature-packed, it's off to a good start in terms of managing group conversations, files, pinned messages and members. So far, it is still in beta, and free. The team intends to introduce premium paid plans upon leaving beta but pricing and features have yet to be disclosed.