10+ Free Logo Makers and Logo Generators (Best of)
Your brand deserves a great logo; learn how to make one online, for free!
The significance of a logo in business is vital. It serves as the face of your business to both existing and potential customers, setting you apart from competitors.
While initiating a business, most people consider hiring an expert graphic designer to craft a logo. Although this is a good approach, it can be quite expensive.
If you're running a small to medium-sized business or a startup, you might want to consider using an online logo-making tool. These tools can help you develop a simple, yet effective, logo without burning a hole in your pocket.
Logo Design Tips for Beginners
Logo Design Tips for Beginners
Every company, freelancer, or independent professional needs a logo. Once you decide that it is time to start... Read more
What Do Logo-Making Tools Offer?
Logo-making tools generally offer a variety of design elements, such as shapes, symbols, and typefaces, which you can blend to make a unique logo. These platforms also enable customization in terms of color, size, and orientation, to better align with your brand's needs. Furthermore, many of these tools provide pre-designed templates and suggestions to kick-start your logo design journey.
Overall, using a logo-making tool can simplify the design process, allowing you to produce a professional-looking logo without the need for specialized design skills.
Choosing the Right Logo-Making Tool
To select the most suitable logo-making tool, consider the following key factors:
Ease of Use: Opt for a tool with an intuitive interface to ensure a smooth design process.
Design Choices: Look for a variety of fonts, icons, and shapes to help you craft a distinctive logo that embodies your brand.
Customization Options: A good tool should allow for easy adjustments in size, color, and orientation so the logo aligns with your brand's visual identity.
Cost: Make sure the pricing is within your budget. Some tools offer free basic services, while others may require a subscription or one-time fee.
Compatibility: Verify that the tool is compatible with your operating system or device to avoid any inconveniences later.
By taking these factors into account, you can select a logo-making tool that best serves your needs and enables you to create a visually appealing logo for your brand.
Turbologo is a well-known logo design platform offering instant logo generation. It features a variety of fonts and icons and offers responsive customer support. Once you purchase a logo, you can freely edit and download its updated versions at no additional cost. The platform allows you to download your logo in either vector or raster format.
Cost for Turbologo
The logo designs are free to view, but you'll need to pay to download them. Turbologo offers three different pricing tiers: Light, Standard, and Business.
For the Light package, a three-month subscription costs 790 rubles; Standard costs 1190 rubles; and Business is priced at 2390 rubles. Annual subscriptions offer more value, priced at 984, 1500, and 2988 rubles, respectively.
LogoMakr is an easy-to-use software that provides a drag-and-drop interface for logo creation. Start by searching for shapes and icons, and then adjust their colors, sizes, and other settings. The tool also allows you to add and customize text in various fonts, sizes, and colors.
Once you're satisfied with your design, you can download it to your computer. Although a free download option is available, it comes with restrictions like low-resolution files and a requirement to credit the platform. For a high-quality, credit-free logo, the cost starts at $19.
Cost for LogoMakr
Free for a low-resolution file.
$19 for access to a full suite of file types, including

.pdf

and

.svg

vector files, along with a full license.
Zyro is a logo creation tool with a focus on minimalistic design. It's easy to get started—just enter your company name and explore thousands of templates. You can freely customize your selected logo's fonts, sizes, and colors. Zyro employs cutting-edge technology to make each logo unique.
Cost for Zyro
$10.00 for full commercial use rights and high-resolution files with transparent backgrounds.
Free low-resolution

.png

images.
Tailor Brands offers a premium experience in logo design, helping you choose the most fitting visual style for your company. You can choose from icon-based, name-based, or initial-based logos and see how they'll look across various platforms.
Cost for Tailor Brands
$3.99/month for

.jpg

and

.png

files.
$9.99/month for

.eps

vector files.
Create Logo with Tailor Brands
Wix Logo Maker is particularly user-friendly, designed for those without much design experience. The platform generates logo templates based on your answers to a few simple questions, and allows extensive customization, including text, size, colors, and fonts.
Cost for Wix Logo Maker
Free for non-commercial use.
$12.99 for high-resolution files and full commercial use.
$49.99 for vector files, social media kit, brand guide, and print-ready files.
Create Logo with Wix Logo Maker
Shopify's Hatchful is a mobile-friendly logo generator that works well on desktops too. It focuses more on your brand's identity than just the company name. It asks questions related to your industry, values, and desired visual style.
This user-friendly tool allows you to create modern, minimalist logos. Simply enter your name, pick an icon, and customize its color and size. You also have the option to change fonts and colors to suit your brand's needs. Once you're satisfied, you can download the logo for free.
Cost of Using Hatchful: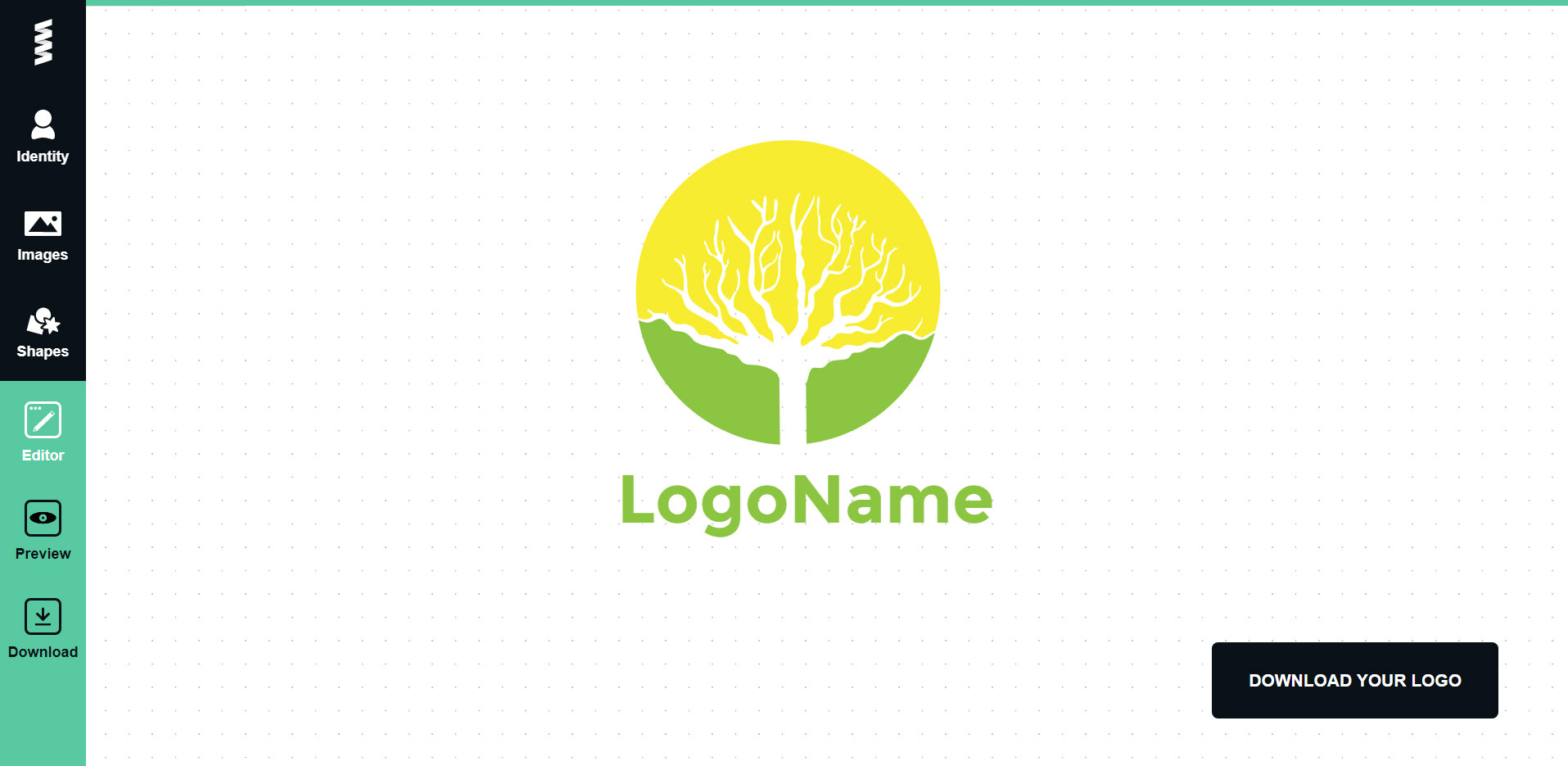 Graphic Springs provides a broad range of templates suitable for various niches. To start designing your logo, enter your company name and tagline. Then, choose an image category, pick your desired logo, and start customizing.
You can filter options based on new or popular logos. For more creative freedom, you can start with basic forms and symbols to add a unique flair to your design.
Cost for Graphic Springs:
$19.99 for a .jpg file.
$39.99 for .png and .pdf files.
$99.99 for an .svg file.
$199.99 for all file formats, suitable for printing.
Create Logo with Graphic Springs
Ucraft is a robust online logo maker that's free to use. It features more than 2 million royalty-free icons, allowing you to craft a unique logo in just a few minutes.
Ucraft offers a blank canvas to kickstart your creative process. The builder comes with a basic graphical editor for adding various icons and geometric shapes. Rather than opting for pre-made designs, you can mix and match icons, text, and shapes.
Once completed, you can preview how your logo will appear on various platforms, such as business cards and websites. To download, you'll need to sign in first.
Cost for Ucraft:
Free for low-resolution .png files.
$7 for a high-resolution .svg file.
Designhill is perfect for those who lack design skills but need a personalized logo. The tool automatically suggests logos based on your preferences for style, color, and icons. It offers limited customization but is quick and straightforward to use.
First, choose up to five design styles that you like. The system then generates various tailored templates, allowing you to pick and further customize the one that suits your business.
Cost for Designhill:
$20 for a low-resolution

.png

file.
$65 for a professional logo file package, including

.eps

and

.svg

formats.
$150 for advanced customization with a professional designer.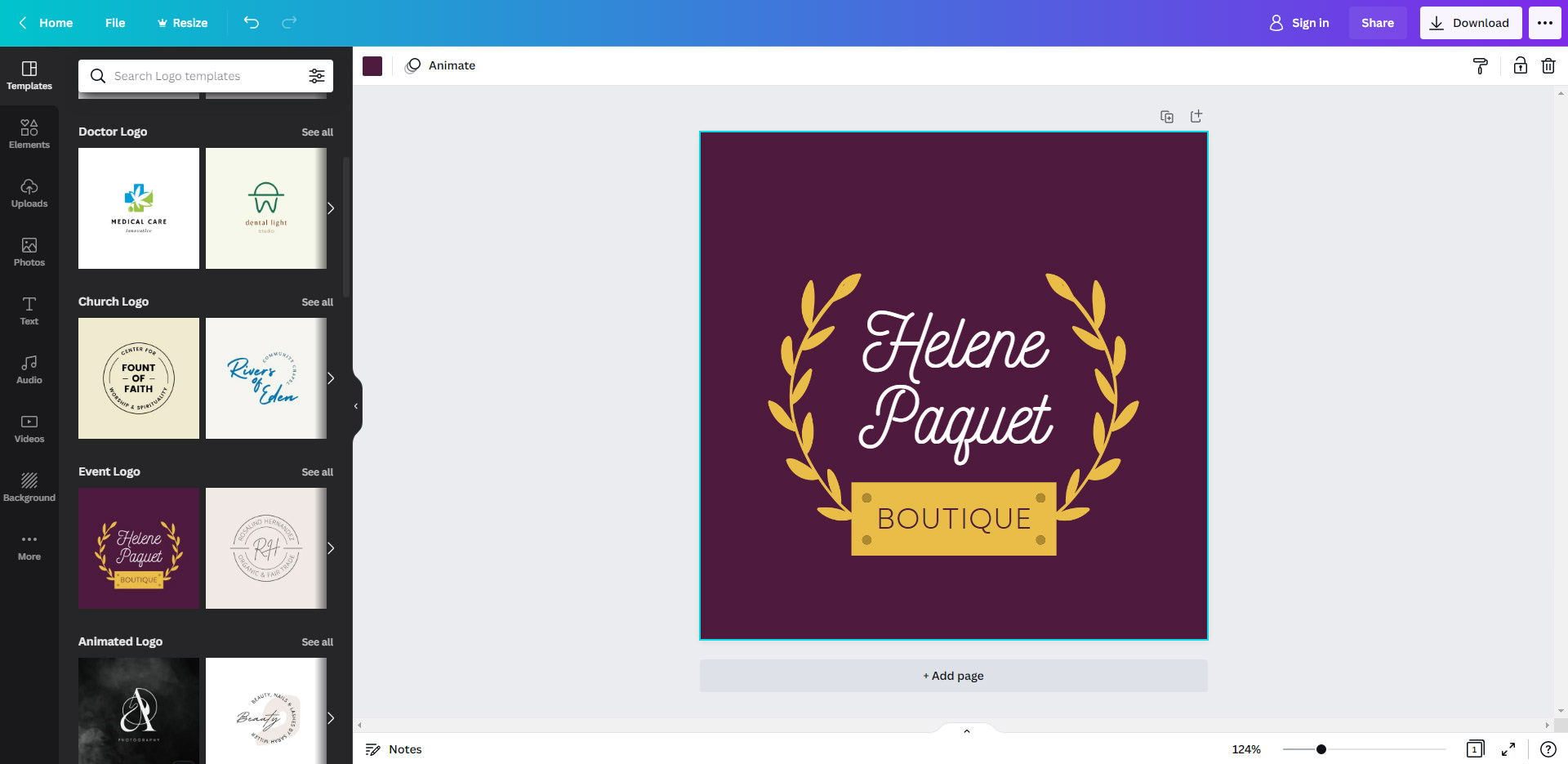 Canva is a versatile design tool that offers both free and premium logo templates. The platform lets you personalize text, colors, and fonts to fit your brand.
You can upload your graphics or choose from Canva's extensive library using the drag-and-drop feature. After you've created your logo, download it in formats like .png, .jpg, or .pdf.
Cost for Canva:
Free downloads for

.png

files.
Some features require a subscription.
Free Logo Design offers a range of features for logo creation. After registering with an email address, the system generates logo templates based on your company name and industry.
If you're looking for a more customized design, you can work with experienced designers through the platform. Just scroll down to find the "Custom logo design" option.
Cost for FreeLogoDesign.org:
Free for a low-resolution

.png

file.
$59 for high-resolution files in multiple formats like

.png

,

.pdf

,

.jpg

, and

.svg

.