10 Free Logo Makers and Logo Generators (Best of)
The importance of a logo to a business cannot be overestimated. A logo defines your business for your existing and potential customers and makes you stand out from the competitors.
When starting a business, people usually hire a professional graphic designer to design a logo for their company. This may be a good practice. However, you do need some really deep pockets for that, as a professional graphic designer costs a lot.
I would recommend trying out a logo-making tool for small-medium businesses and startups. Many great tools are available online to help you quickly and effectively create simple yet quality logos.
Logo Design Tips for Beginners
Logo Design Tips for Beginners
Every company, freelancer, or independent professional needs a logo. Once you decide that it is time to start... Read more
How to Choose a Logo Maker?
Regarding logo design, each business has its own preferences. Official corporations pay more attention to professional appearance, while a fashion brand will emphasize its distinctive features. Depending on your design requirements, you can use different kinds of logo makers.
The most critical factor to consider when selecting a logo creator is the ease of use. Consider your design skills and choose a logo generator that is simple to use by anyone.
The second factor to consider is the level of customization provided by the tool. With generic templates, you won't be able to develop a creative and with-remembering logo. That's why the logo maker tool you choose must offer a range of customization options.
Finally, the most significant factor is the cost. While it's still cheaper than hiring a professional designer, it should fit within your budget and, at the same time, must provide a quality product.
Considering all the aforementioned factors, let's look at the best logo makers you'll find on the internet.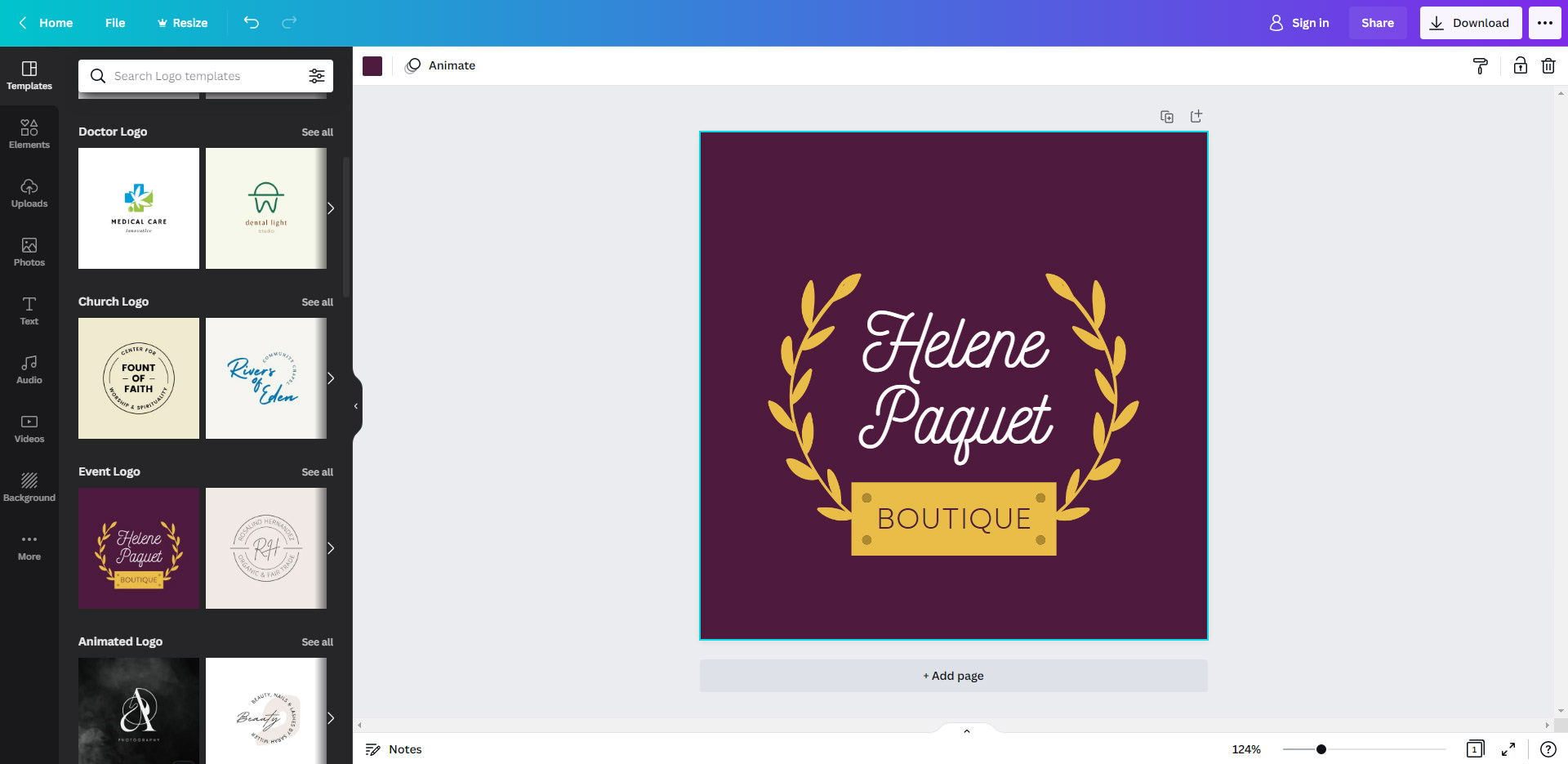 Canva has been around for a while, offering an impressive lineup of templates, including a wide range of free and premium logo options. For creating a logo, you can use one of their free templates and customize the text, colors, fonts, and other elements to match your brand.
You can also upload your own graphics or use the drag-and-drop feature to add free elements from Canva's extensive library to your logo template. Once done, you can download your design in .png, .jpg, or .pdf format. Additionally, you can use the logo you made to create letterheads and business cards, etc.
How much does Canva cost:
Downloading a

.png

file is absolutely free.
Depending on your subscription level, some icons and layouts come with a price.
Zyro is a logo maker that emphasizes minimalism. To start using this logo maker, you don't need to sign up for an account; enter your company's name, and you can create a logo that combines it with a graphic image. Plus, you can create your own logo for free!
There are thousands of templates to pick from, and whichever logo you choose, you can customize its font, size, and color to reflect your company's vision. Zyro uses cutting-edge technology to create each logo unique.
And when you're satisfied with your logo, just download it and use it anywhere you want.
How much does Zyro cost:
$10.00 for full commercial use rights and high-resolution logo files with transparent backgrounds.
You can get low-resolution images in

.png

format for free.
Tailor Brands is a high-end tool for designing beautiful logos. It assists you in determining the most appropriate visual style for your company.
Simply input your company name and a brief description to generate a logo. This logo maker provides you with different types of logos (icon-based, name-based, or initial-based) to make your creation process easier.
Plus, after you're done, the logo generator will display how your logo will look on a website, business card, social media, and other media.
How much does Tailor Brands cost:
$3.99/month for

.jpg

and

.png

files.
$9.99/month for

.eps

vector files.
Create Logo with Tailor Brands
Wix's logo maker is one of the most suitable for people who lack design skills. One of the most attractive features is simplicity. To create a logo, you should simply answer a few basic questions and it will quickly generate a logo template for you. Then you have the option to customize almost every element to suit your tastes. You can change text, size, colors, fonts, etc.
How much does Wix Logo Maker cost:
Download a free logo, but for non-commercial use only.
$12.99 for hi-res logo and full commercial use.
$49.99 for vector files, a social media kit, a brand guide, and print-ready files.
Create Logo with Wix Logo Maker
Shopify's Hatchful is a logo generator designed specifically for mobile use. Although it still works perfectly on a desktop. Unlike other logo designers, Hatchful is more concerned with your brand than your company name (with questions about your industry space, values, and visual style).
This tool is easy to use and lets you create modern-looking logos with a minimalist feel. To create a logo, enter your name, select an icon, and change the color and size. After you're done, you can download and use the logo for free. Also, you can change the fonts and colors to make the logo better fit your needs.
How much does Hatchful cost: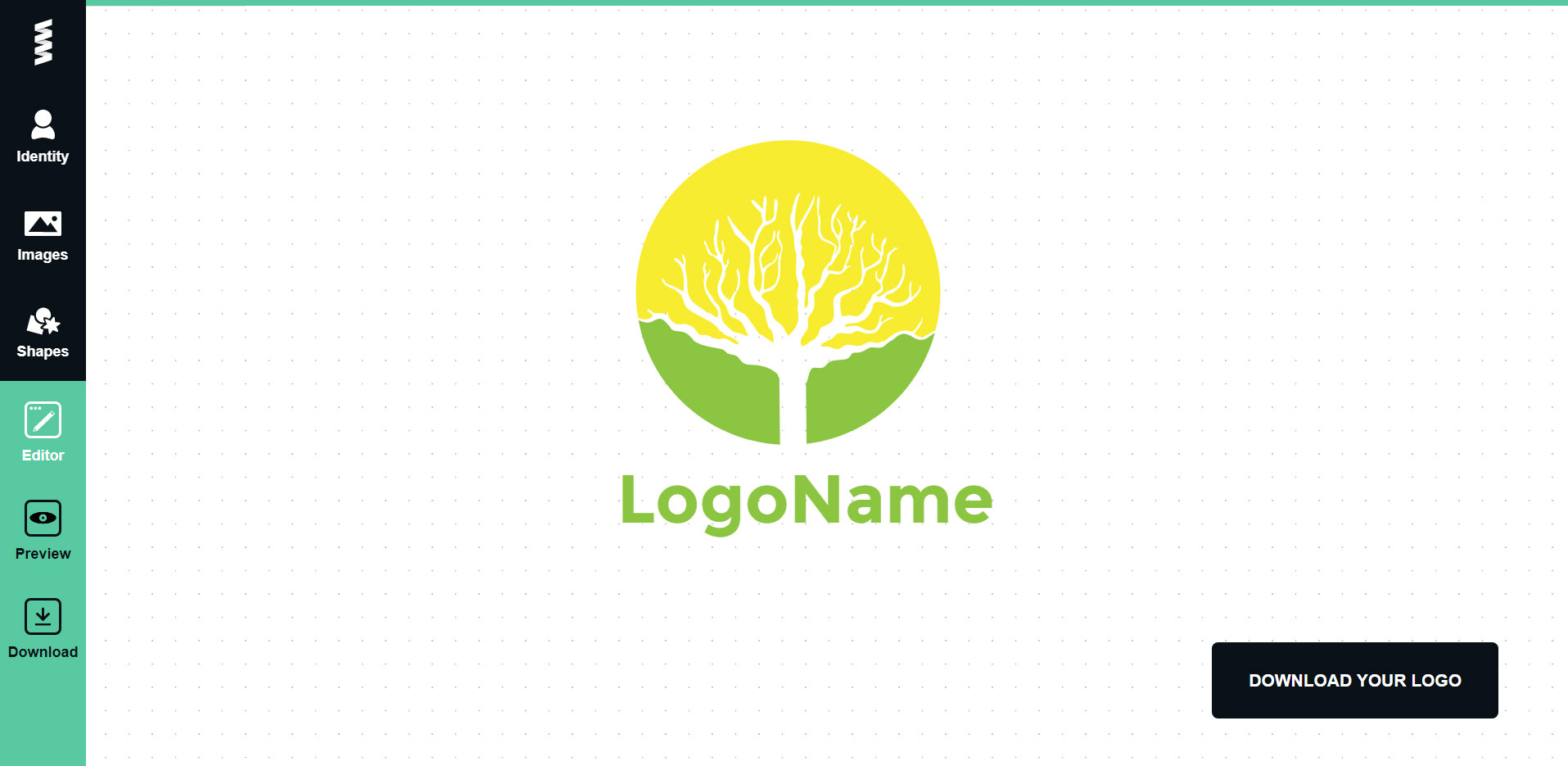 Graphic Springs offers a wide selection of templates for many areas. To design a logo, just type in your company's name and tagline, select an image category, select your logo, and modify it with ease. You can also filter your choices by looking for new or popular logos. Start with the forms and symbols if you want a little more creative freedom with your logo design, or use them to add a stylish look.
How much does Graphic Springs cost:
$19.99 for a

.jpg

file.
$39.99 for

.png

and

.pdf

.
$99.99 for

.svg

.
$199.99 to create any file format, perfect for printing.
Create Logo with Graphic Springs
Ucraft is a powerful online logo maker that is completely free to use and includes over 2 million royalty-free icons to help you create a distinctive logo in just a few minutes.
It presents you with a blank canvas from where you can start creating a logo. The builder includes a basic graphical editor that allows you to add a variety of icons and geometric shapes. So, instead of using a pre-made design, you may use icons, text, and geometric forms.
When you're done, you'll be able to see how your logo will look on business cards, websites, and as a printed picture on a T-shirt. But, to download the logo, you must first sign in.
How much does Ucraft cost:
Free for low-resolution

.png

.
$7 for an

.svg

vector file.
This logo generator is perfect if you don't have much design expertise. It generates a set of personalized logos depending on your preferred style, color, and icon. Except for colors and sizes, there aren't many customizing options. This logo maker is fast and easy to use and is the best choice if you don't want to struggle with individual design choices.
Pick your top five design styles first. The system will then produce several specialized templates based on your choices. You can select and edit the one you like the most to create a logo for your company, adjusting everything from the layout to the symbols.
How much does Designhill cost:
$20 for a low-res

.png

file.
$65 for a complete set of professional logo files, including vector

.eps

and

.svg

, b/w versions, and color and font information.
$150 buys you a designer for further customizability.
LogoMakr is a simple-to-use software that allows you to drag and drop shapes and text exactly where you want them. First, search for shapes and icons, then modify your colors, size, and other settings. You can add text and arrange it any way you like while changing the font type, size, and color.
When you're finished, download the logo design to your computer. There is a free download option, but it has limitations, such as low-quality files and an agreement to give the site credit for your logo. But, if you want to get a credit-free, high-quality logo, you need to pay at least $19.
How much does LogoMakr cost:
Free for a low-resolution file.
$19 for a full range of files (including

.pdf

and

.svg

vector) and a full license.
Free Logo Design is another logo design software that includes many features. When you register on the website, you're required to provide an email address to which a completed logo will be sent.
To make a logo, simply enter your company's name and industry, and it will generate several different logo templates.
The other alternative for designing a logo is to work with experienced designers to create your custom design from scratch. To do so, scroll to the bottom of the website and click on "Custom logo design." But keep in mind that custom logo creation is not a free service and that will cost you $199. The only free option is to save a .png file with a low-resolution logo picture.
How much does Free Logo Design cost:
Free for a low res

.png

file.
$59 for high-res

.png

,

.pdf

,

.jpg

, and

.svg

.