10 Interesting Facts to Know about Any Website
As Internet surfers, we – bloggers, designers, developers, or curious individuals – visit numerous blogs and websites every day. Interestingly, I averagely surf 100+ pages every day with a few days topping the charts with 250+ pages (do you want to get similar statistics for your browsing history? Get Vivaldi Browser).
Along with reading the content on the web, we also ponder interesting questions like who created this website, what is its ranking, what is the origin country, how much money does a blog or website make, and more. Apart from fueling your curiosity, these questions also help you to trust or disregard a given data.
For example, if you question facts on a page, you can check about the website's details like domain owner and others to confirm its authenticity. Maybe you like to question things and know more about everything. In either case, you will find this post useful; I will discuss tools to research things about any website.
Note: Since the products on this list provide multiple tools for doing market and web research to find out interesting facts about any online property, I am going to list each product along with its set of tools instead of the opposite way.
Disclaimer: I cannot confirm the authenticity of data on all of these websites. Though many of these websites are popular and trustworthy among the web communities, they may not provide correct information for every website.
Alexa
Alexa – now acquired by the e-commerce giant Amazon – provides a host of tools to perform competitive analysis, keyword research, and website traffic and revenue analysis. It helps bloggers, entrepreneurs, and website owners to do market research before starting and/or while running an online business.
More:
Internet Archive
Internet Archive is a not-for-profit organization with the goal of archiving our digital history for present and future generations. With its numerous projects, it archives books, photos, videos, web pages, and more for you for free.
More:
Save Page Now: If you are a website owner or a reader wishing to archive a web page (say, you found some controversial content), you can use this tool to save any random web page available on the Internet. And later, you can browse the same page (for any reason) using Wayback Machine.
Wayback Machine: Wayback Machine lets you go back in time in the digital world, allowing you to browse a website in the past. For example, you can type in "google.com" and check how Google used to look back in 2015, 2010, 2005, or even earlier. It covers all the popular websites.
Pingdom Tools
Pingdom – now acquired by SolarWinds – offers a range of free as well as premium tools. I first came to know Pingdom almost a decade ago when I wanted to perform a speed test of my first blog – back in the early 2010s.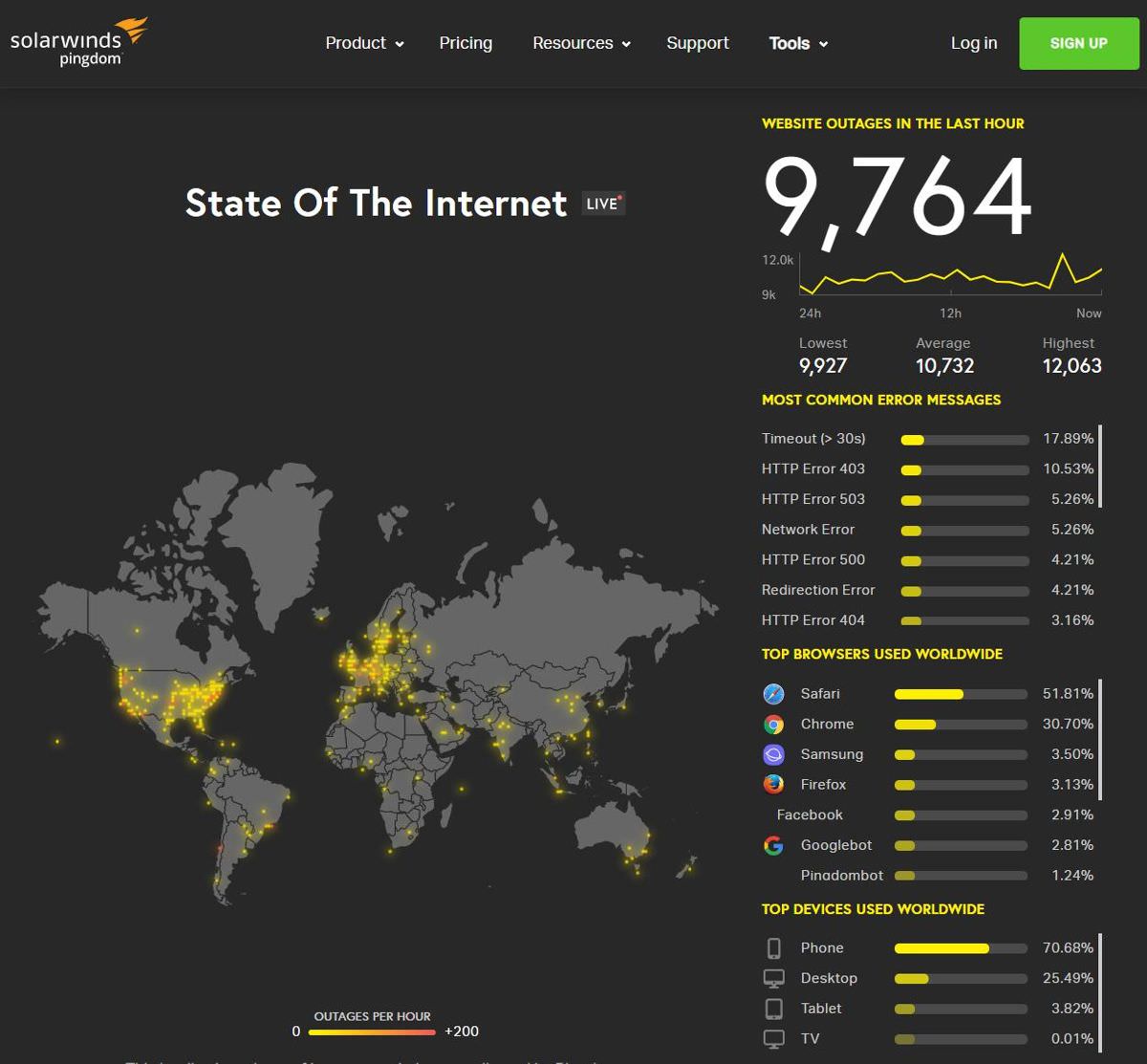 More:
State of the Internet: An interesting tool that does as its name suggests. It tells you the state of the Internet including downtimes and worldwide browser and device usage statistics as collected by users of Pingdom.
Website Speed Test: If you find a website is loading slowly on your system and wish to explore the reason, it is the perfect tool. It helps you to test the page loading speed of any website, which lets you ensure if the issue is related to the website or your system and/or the internet connection.
Free Domain Analysis by Moz is one of the respected tools for doing a free SEO analysis of a website. It tells you various fascinating metrics about a website's SEO like top pages of a website, top domains linked on a website, top ranking keywords, top featured snippets, top search competitors, and a lot more.
Moreover, Moz is one of the most popular platforms for checking a website's domain authority. That is, it helps you research about a website to understand its popularity – better known as domain authority or website authority.
sitelike.org is one of the best free tools to find alternative or similar websites on the Internet. It is most helpful in cases wherein you find a tool or website and you want to look for similar websites if you did not find complete information on one tool or website. Sometimes, it may amaze you with a superb tool.
Website Outlook shows website stats and valuation. It shows you a host of metrics about a website including its potential worth and various rankings. For example, it shows Alexa Rank, Domain Authority, Moz Rank, and more.
What I liked the most is, it shows a lot of information about a website, which you would have to manually search otherwise. It also displays SEO-related data, Semrush metrics, DNS report, IP address information, and a lot more.
Free Valuator is a domain name price valuator, allowing you to check the potential price of any domain. Let's say your favorite social network is Facebook or you are browsing any random website, and you wish to check its worth. Then, this tool will help you to find the potential price or worth of the website.
Website Grader is an awesome testing ground for any website. You can check how a website performs in terms of many metrics. These metrics are organized under categories like performance, SEO, mobile, and security. It also helps you analyze a competitor's website to find how they compare with yours.
Website Grader is part of HubSpot Tools – a collection of free and handy tools by the popular CRM. Under the hood, it utilizes Google Lighthouse to perform these tests, so you can rely on its results – they are coming from Google.
Website Authority Checker by Ahrefs is one of the premium tools for checking the authority of a website. Website authority or domain rating is the SEO rating of any website, i.e., how good the SEO of a website is configured. In general, a higher authority website is more respected and trusted on the Internet.
As explained by Ahrefs, "Website authority" is an SEO concept that refers to the "strength" of a given domain. Here at Ahrefs, we have a website authority metric of our own called Domain Rating. It runs on a scale from zero to a hundred. The higher a website's Domain Rating (DR), the stronger and more authoritative it is."
WhoIsHostingThis? is one of the simple tools to find the hosting provider of any website. It shows you its IP address, hosting provider, nameservers, and some other interesting information about any domain or website on the Internet.