How to Use iCloud Keychain in Google Chrome
iCloud Keychain, previously exclusive to Mac and iOS, is now available for Google Chrome users. Here's a guide on using it.
You read that right. For those who prefer using Chrome over Safari for web browsing, you can now access credentials from your iCloud Keychain directly in your Chrome browser.
Previously, iCloud Keychain was exclusive to Safari users. If you logged into an account in Safari, you could auto-fill passwords and 2FA codes using Touch ID. Chrome users had to rely on Chrome's built-in password manager or third-party apps like 1Password.
However, those days are behind us, thanks to the iCloud Keychain Chrome extension aptly named "iCloud Password." With this extension, you can not only retrieve your iCloud passwords in Chrome but also access passkeys and even create new ones to save to iCloud Keychain.
With the release of macOS Sonoma, Apple updated its Chrome extension to include support for Mac users. Unfortunately, those using macOS Ventura or older versions are left out. But if you're on the latest macOS, this extension is available to you.
Now, let's check out how to use this Chrome extension to access credentials from your iCloud Keychain and auto-fill login forms.
Step 1.
Firstly, you need to download and install the iCloud Passwords Chrome extension.
Step 2.
Next, in Chrome, click on the extension icon in the top bar and pin it, ensuring it remains visible in your browser's toolbar.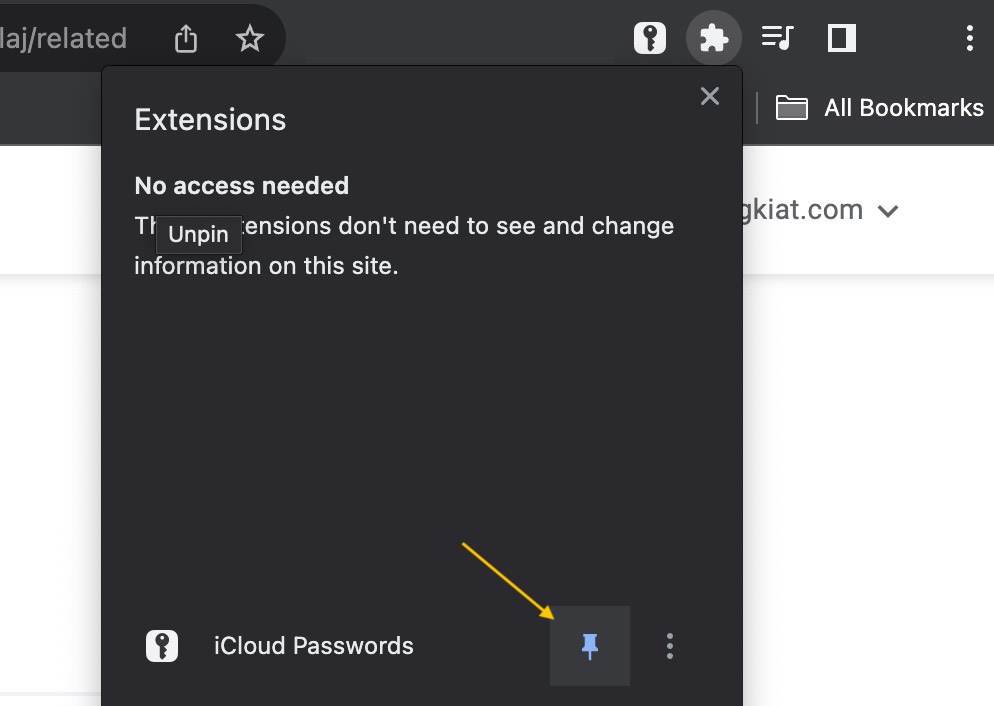 Step 3.
Here's a step you'll only need to complete once: Click on the extension icon. It will prompt you to enter a verification code. This code will be automatically generated by your Mac and displayed for you. Enter the code, and you're set.
Step 4.
Navigate to a website where you wish to log in, for instance, PayPal. When you click on the first login field, in this case, the email field, the extension will search for your PayPal credentials. Simply select them, and both the email and password fields will be automatically filled.
And that's all there is to it!
On a related note:
Google is in the process of adding support for third-party passkeys, including those from Apple, to Chrome. This feature is set to debut in Chrome 118. This enhancement will simplify the login process on websites using passkeys, eliminating the need for an additional device. While this Chrome version hasn't been officially released, you can get a sneak peek by using Chrome Beta.