10 Best Webinar Tools to Host Online Meetings
Web-based seminar aka webinar is one of the most popular online marketing techniques these days. However, it requires a lot of planning to host a successful webinar, including efficient web conferencing tools at your disposal.
When it comes to arranging a webinar, every business has different requisites. And this is what I've kept in mind while preparing this comprehensive list of best webinar tools for my readers. I have discussed each tool with its particular features so you can easily choose the one that suits you the most. Let's take a look.
Join.me is one of the simplest tools that help anyone to make engaging conversations with its live video bubbles. Another amazing feature is audio conferencing, which supports local numbers from the US and offers full audio control. In terms of branding, it allows setting up a custom link for meeting with a personalized background.
Another captivating feature is the Presenter Swap that lets you swap the presenter's role with any participant. This feature also allows sharing the screen of any participant, and thus proves helpful for conducting large meetings. And its Mobile Whiteboard helps everyone to get on the same page and allows them to check your activities or participate in the discussion.
The tool also supports one-click scheduling with its Scheduler feature that helps you organize webinars easily. Last but the not least, it also provides apps for Android and iOS devices so that users can attend a webinar on the go along with utilizing other features.
Price: Free for 10 attendees else $20 – $30 per month | More info
Mikogo is another cross-platform tool that supports up to 25 attendees in real-time. Its amazing Switch Presenter feature allows any participant to become the presenter and share his screen (like Join.me).
And with its high-quality audio and video conferencing, you can organize and host extraordinary webinars and boost your work productivity.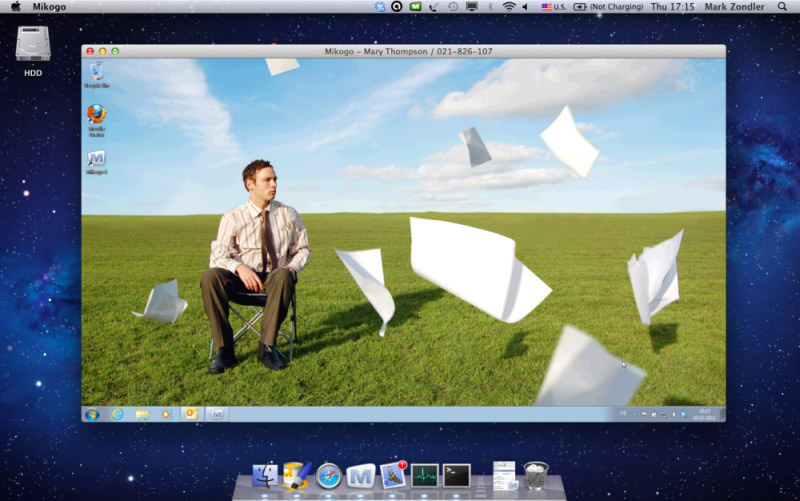 Interestingly, Mikogo supports recording the entire webinar along with the VoIP calls. And you can replay the meeting with its Session Player or download and share it with others. I'm specially fond of its Application Selection feature, that can display just a single app and hide others including the desktop.
The tool supports file transfer during a live webinar, allowing participants to share files directly with you (say for giving feedback reports). I also use its Annotation Tool to highlight the content in real-time and help people not to lose focus. Lastly, it also allows chatting individually with participants or in groups (unlike many), and supports Android and iOS platforms.
Price: Free for 1 attendee and $16 per month for pro plan | More info
ClickMeeting offers simple registration and customized invitations to ease the process of inviting attendees. What interests me is its Facebook-like Webinar timeline that allows viewing your upcoming webinars on a single screen.
Once you're in its webinar tool, you can assemble participants and host live webinars with audio and video conferencing.
Another important feature is its presentation tool that helps engaging audience. Your participants can even share their screens (like above tools). And much to my surprise, it can also translate chats (unlike above tools). Moreover, you can also check webinar statistics, record a webinar, and even download and share it with others.
Just like Mikogo, attendees can share files, and these along with recordings and chat logs are stored for easy access. If I talk about getting response on your sessions, it allows participants to give feedback and help you improve your webinars.
Last but not the least, the tool provides mobile and web apps so that people can join your webinars anytime.
Price: $25 – $165 per month | More info
GatherPlace comes with an intuitive interface that supports sharing full screen or just some region of your desktop. This incredible tool lets participants connect from a browser-based interface and like other tools, you can use it for sales and training purposes. And with support for up to 2000 attendees, it's a good tool to organize large meetings and webinars.
The tool eases organizing webinars by helping you to schedule meetings and also supports voice teleconferencing. Another amazing feature is that your participants can connect directly through a joining form that you can place on your website. And during a live webinar, you can see the active participants and interact with them using chat messages.
One of its exciting features allows you to lock your conference and avoid interruptions from anyone. And after a webinar is over, it provides a statistics report to help you check the metrics. It's a cross platform desktop tool and supports people joining from Windows, macOS, and Linux.
Price: $29 – $404 per month | More info
GoToWebinar is an interactive tool that allows creating polls and surveys during a live webinar for having better engagement with attendees. Before any webinar, you can rehearse your presentation, and during a live session, you can record it for offline viewing. And to ease inviting people, it allows sending emails using automated email templates.
You can brand every webinar with your custom name and logo for a better presentation. Another of its engagement features allows the support of multiple presenters, who share their live webcams in a video conferencing-like interface. And talking about security, it secures your data with SSL-like encryption for strict security.
Unlike others, you can share content (like reading materials) with attendees after your webinar concludes. That's not all, you can also view the metrics and performance data of your webinar after it's over, and even integrate a CRM for lead management.
Lastly, like others, this tool offers iOS and Android apps so that your attendees can join even if they're on the go.
Price: $89 – $429 per month | More info
AnyMeeting can help you host amazing webinars with custom registration forms to ease your marketing and engagement efforts.
This tool, unlike others, can connect to the leading email marketing, automation, and CRM platforms. And surprisingly, it also integrates with Zapier (the popular automation service) and helps you automate various tasks.
What is fascinating about AnyMeeting is that it supports up to 6 live presenters for more engagement with participants. You can also ask questions to your audience (like a seminar) with its built-in Q&A tool. The audience can even share their feedback with emojis, and its real-time polls again help boost the overall productivity of your live webinar.
It has an interesting live chat for attendees, and they can also share their screens (like other tools). You can share any content directly with the people and even record the live webinar.
The tool supports up to 1000 attendees, and provide statistical reports after a webinar. Lastly, as expected, it does offer iOS and Android apps for easy joining on the go.
Price: $78 – $298 per month | More info
Cisco WebEx delivers a polished interface with interactive presentation tools for video conferencing and hosting webinars. It lets you customize and brand your invitations as well as the registration page.
With its one-click recording feature, you can easily record the webinar for later use and even share the recording with others on WebEx Channels.
The tool supports 8 to 200 attendees and allows multiple presenters to broadcast a session. It also offers amazing audio controls and engagement boosting tools. Your participants can join the webinars from any platform and can even share their screens. Interestingly, the tool also supports whiteboard, markup tools, and in-meeting chat for better productivity.
Not only that, Cisco WebEx provides end-to-end encryption, enabling you to lock meeting spaces to protect them. And with only its administrative access, you can view event statistics and even integrate it with Office products including Outlook and more tools.
Price: $19 – $49 per month | More info
Adobe Connect is an innovative tool that supports dynamic multimedia and video conferences. This tool offers a custom registration form with numerous templates and custom webinar links for creating branded events.
The tool provides you various built-in analytics and statistics tools to monitor webinars and improve productivity.
The tool supports up to 1000 attendees and allows them joining live as well as on-demand recorded webinars. With its engagement management tools, you can deliver webinars that focus primarily on its attendees. Adobe Connect offers great capacity with its shared webinar rooms and allows 4+ presenters to handle the session.
That's not all, you can also send reminder, confirmation and other ad-hoc emails to the participants. For branding the webinars, the landing page as well as the emails can be customized by the admin.
Finally, this tool offers rich visual interpretations of statistical data in its reports and works for the mobile audience as good as for the desktop audience.
Price: $130 – $580 per month | More info
On24 is another amazing tool that offers customized consoles with your logo and imagery. With its 30+ features and tools like slides, Q&A, transcript, etc., you can convert the presentations into interactive conversational sessions and engage directly with the audience. Moreover, it helps you reach a bigger audience from just your mobile.
It makes broadcasting easier with its media player and transcript widget that displays scrolling text. Moreover, the content widget allows you to add detailed information to help your audience engage better. During a webinar, you can record and archive the session, and later you can promote it to generate more leads.
Interestingly, you can also add a speaker bio, table of contents, and a resource list of documents, presentations, etc. to the archived webinars. On24's powerful analytics delivers a detailed data about the leads and lets you integrate with marketing and CRM systems.
Price: Free trial for 30 days | More info
MeetingBurner
MeetingBurner is the best free tool for hosting webinars. Apart from its useful features, it comes with a customizable registration page to brand your conferences and events with your image, logo, and slogan. To help you get attendees, it offers a registration widget to place on your website that allows attendees to register directly without an invite.
Moreover, you can also send automated email reminders. What really fascinated me is its AutoPilot feature that lets you record and replay webinars as if it's going on live.
The tool lets you launch or schedule an online seminar, and offers a number of features like in-meeting chat, screen sharing, audio conferencing, webcam streaming and more. Surprisingly, you can also record and share the webinar on YouTube and Facebook, or embed it on your blog or website.
That's not all, MeetingBurner also helps you with the after-webinar process. Using its MeetingTemperature tool, you can get feedback on your webinars and identify and reach to interested attendees — that means better conversions.
Lastly, the webinar tool also supports integration for hosting email campaigns, asking a registration fee and to do more.
Price: Free for 10 attendees else $39.95 – $99.95 per month
Conclusion
If you're thinking to host a webinar, it's better to plan proactively. And to ease your work, you must pick a amazing webinar tool based on its features and cost.
If you ask me, I use Join.me for small webinars but I've joined various webinars on Adobe Connect and Cisco WebEx, especially with my previous employers who used to have 300+ attendees.
Do note that webinar tools' costs depend on the number of attendees, so do pick the appropriate tool per your attendee requirements and your budget, of course. And also, share your experience with the webinar tool of your choice via comments below.