5 Best Home Theatre and Media Center Software [Review]
If you're looking forward to turning your big-screen PC or TV into a low-cost home theater system or movie server, then I've got the best, free media center apps for your pet project. Home theater & media center software allow people to store, stream, manage and enjoy photos, music and videos with friends and family on the big screen.
A few of these media center tools also have mobile apps for Android and iOS devices, allowing people to live-stream the music and videos on their mobiles or tablets on the home theater system directly; this second feature, however, may not come for free.
Read Also:  9 Interactive Social Networks for Your Entertainment Needs
Kodi is an award-winning cross-platform media center app that supports playing music and videos, games and much more. Its interface works with all TV, and users can play digital media files from local storage or online storage solutions.
Kodi plays all major music & movies formats like MP3, AAC, WAV, etc. and lets you take total control over your media collection. You can also view pictures and live television, and do many more things using its community-created add-ons.
After its initial setup, you can sit back and enjoy your favorite videos or shows, and it can also play CDs/DVDs. The software also consists of extras and add-ons like skins, games, screensavers, web interface, etc. which can help enhance your overall experience.
Pro(s):
Supports 20+ popular music and movie formats including AAC, MP3, FLAC, OGG and WAV
Streams content from most popular online audio/video streaming services like Spotify, Pandora, YouTube, etc.
Allows access to library of thousands of TV shows along with episode and season views with posters and banners
Provides a number of extra media or features like Movie Quiz Program (asks questions about a particular movie), Last Episode (displays a list of last episodes along with their numbers and names), etc.
Offers a collection of add-ons to customize per requirements, for example, Navi-X makes all content accessible from live TV, Project Free TV provides sections like calendar and search to navigate easily within collections, etc.
Con(s):
Initial setup takes lot of time due to the addition of add-ons and other options
Its features and options are a little complex as compared to few of its competitors
It works fullscreen only, making other applications inaccessible at the same time
Read Also:  How to Stream Your Android Screen to Apple TV Using the Mirror App
MediaPortal is an all-in-one media solution for your PC that connects directly to your TV and showcases your favorite TV soaps, music, videos and movies, etc. The app also lets you record and schedule live TV and even supports playing Blu-ray discs to watch movies.
You can enhance its look & feel using thousands of skins and plugins to monitor your HTPC (Home Theatre PC), display sports scores, local movie times, etc. You can stream media and radio to any network that supports HTPC and use a remote to control the same.
Compared to Kodi, MediaPortal carries the advancement in media control and lets you access your favorite movies and watch them in a customized manner. Its plugins can be easily configured within the app and you can enable/disable them anytime you want.
Pro(s):
Allows accessing media from Android and iOS devices remotely
Offers a large selection of channels (and their shows list) from the portals such as, Sky Cinema HD, Sky Sport HD, Kultur HD, etc.
Provides a wide range of skin collections, such as Titan, aMPed, Avalon HD, Black Glass, etc. to enhance the MediaPortal's UI and UX
Offers numerous plugins like News and Information (displays news media from the web), Games (offers games which can be played from the couch), etc.
Con(s):
Its interface is very sluggish compared to other home theatre players
It's hard to open custom media (browsing and playing a video file manully)
Plex is a media playing app that can play your favorite music and videos from anywhere, on (almost) any device and gives complete control over the media. Supported devices include TV, computer, mobile or tablet and allows enjoying HD-quality videos seamlessly.
The app consists of a simple interface that enhances your media organization by adding descriptions, plot summaries, etc. and even offers recommendations for new content. It lets you create customized playlists and share your media with others easily.
Plex supports automatic image uploads which can be wirelessly synced and can also optimize your media for different devices and screens. Plex ensures encryption of your media content and supports SSL encryption to provide end-to-end data protection.
Pro(s):
Supports nearly all music and video formats
Saves any online media in 'watch later' list for offline viewing
Compiles third-party online or streaming channels to provide extra content, for example, TED Talks, Vimeo, Soundcloud, etc.
Lets you enjoy the media content on mobile using its Mobile Sync feature while you're travelling to an unreachable or remote location (premium)
Con(s):
Doesn't work with Apple TV, unfortunately
Few of its features come as premium, like trailers, mobile sync, cloud sync, etc.
Emby Server automatically converts and plays your favorite videos and media files on most of the devices. It offers an easy-to-use interface and allows you to stream live TV and organize your media by editing metadata and images, find subtitles and lots more.
Emby presents your media beautifully that makes your videos look exceptionally good. You can send media content and Live TV to Chromecast, easy way. Emby also offers parental controls (for free unlike Plex) that helps you limit media access to your children.
It automatically tracks DLNA services on your network to make content and remote control easier to access. Emby supports cloud sync for easy backup (premium) and also converts and optimizes your content for streaming them on any device (but that's premium, unlike Plex).
Pro(s):
Allows recording online videos and Live TV shows for offline viewing or watching later with management support of library of recordings (same as Plex)
Offers a wide range of plugins like one for Google Drive (sync content to the cloud), Game Browser (allows playing variety of online games), etc.
Offers mobile apps to carry your content anywhere as well as offline with Emby Mobile Sync (it's a premium feature)
Con(s):
Known to be less user-friendly than Kodi and Plex
Its old versions lack the Fast Forward and Rewind buttons
Reported to be unable to detect Chromecast in some cases
MythTV is an open-source digital video recorder and media player that lets you watch and record digital media supporting HDTV. The player allows easy rewind, pause and skip options that allows seamless playing of any media content.
It supports automatic commercial detection and allows skipping all those advertisements (magically) and even manually using its advanced cutlist editor. With MythTV, you can schedule recording and even set parental controls to allow limited access to your kids.
MythTV can help you administer its functionalities from a browser itself. Its interface comes with a number of official as well as third-party theme packages to help you customize the program's UI per your mood and requirements.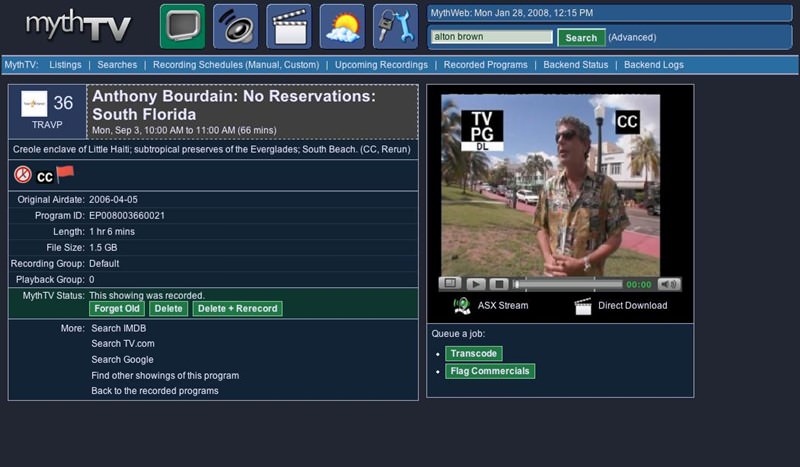 Pro(s):
Supports most of audio/video formats (like others above)
Integrates with NES, MAME and other emulators using its MythGame plugin, allowing you to play your favorite classic games directly
Offers a number of plugins like MythWeather (displays the weather information in your locality), MythFlix (helps you manage your NetFlix queue from MythTV), MythMovies (presents local movie showtimes), etc.
Avails MythExtras that contains a number of development tools like Perl Bindings (write Perl scripts that interact with MythTV) and Python Bindings (write Python scripts) but it's strictly for developers
Con(s):
Not as good a UI as its competitors above
Its commercial detection may not always work for all types of ads
Doesn't offer support for mobile devices and online sync, unlike others
If you ask me, I love Kodi and Plex because of their awesome set of user interfaces and powerful features to suit needs everyone from basic, average to advanced users. It doesn't mean, however, that you couldn't choose the rest.
I suggest you compare the features of these offerings with your set of requirements and choose the one that matches your requirements best. Happy watching.