50 Hand Picked Beautiful Drupal 6 Themes
(Edifor's note: This article is outdated. We will be re-writing this very soon.)
Drupal is a free and open source content management system (CMS). You can build a whole website using Drupal. You can create your own design (theme) for your website or you can download templates which are made for Drupal from the internet.
There are hundreds of Drupal themes which you can find on the internet but not all of them are good looking. So, this time I have collected the 50 best looking Drupal 6 themes I have found. The newest version of Drupal is 7 but at the moment the most popular version of Drupal is still is 6 and that's why in this article I have collected only themes for Drupal 6. All of my collected themes are free to use, so feel free to download any of themes you like the most. Enjoy!
Beach
Good looking Drupal theme. It has a nice underwater feeling. [Demo] [Download]
Interesting piece of art. Background has a big role in this theme. [Demo] [Download]
This is very cool and great looking theme for Drupal's administration section. Everything looks clean and shiny and those icons look awesome. [Demo] [Download]
Monochrome
Very stylish theme for a blog. It has a cool looking left sidebar for entry dates and also very good looking navigation menu. Love the rounded corners.
Magwood
Simple but beautiful Drupal theme with a nice header for your blog or portfolio.
Emporium
Love the style of this theme. This theme is not complicated but it has a great, simple design.
Frankincense
Great Drupal template for your blog. It's not complicated and also isn't very simple.
Chasmogamous
Very friendly website design. Good looking sky for the header and grass for the content.
Blogsmith
Another great template for a blog. Bright green color in the background looks awesome.
Scruffy
Great Drupal theme for a blog. This header looks brilliant. [Demo] [Download]
Grassland
This theme looks nice. There's a positive atmosphere inside this theme. [Demo] [Download]
Coolweb
Great theme for a corporate website! [Demo] [Download]
Cleanfolio
Beautiful theme for a small and simple website. [Demo] [Download]
Abstract
Beautiful theme for a blog or portfolio website! [Demo] [Download]
A3 Atlantis
Very interesting theme. Could be good for a corporate website. [Demo] [Download]
Orange
Very well made and great looking theme for a social networking site! [Demo] [Download]
Arclite Theme
Clean and simple theme which could be great for a blog.
Fields 2009 template
Good looking theme for a corporate website. [Demo] [Download]
NonZeroRed DTB
Just a simple and good looking theme. Could be implemented for many types of websites. [Demo] [Download]
Elements Theme
Interesting Drupal theme. Could look good for a portfolio website. [Demo] [Download]
A Cold Day
Nice looking theme which has three color versions available. [Demo] [Download]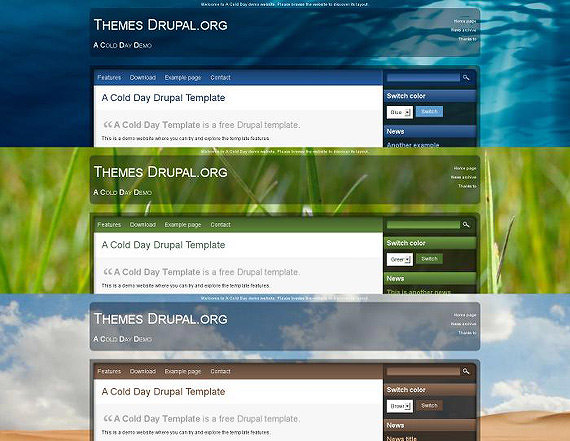 Ebizon RedFire
If you want just a clean and simple website then this is a theme you are looking for. [Demo] [Download]
24. Alek 2.0
Simple Drupal theme for a simple website. [Demo] [Download]
Twittish
If you would like that your website would look like Twitter then you have found the best solution for you! [Demo] [Download]
AD Redoable
Simple theme which would look great for a portfolio website. [Demo] [Download]
Austin Zen Sub Theme
If you want just a simple website without any flashy, shiny elements then this simple theme is for you. Zen theme is one of the best themes to use for a basis making your own theme. [Demo] [Download]
Retromania
Retro style theme for your classy website.
Absynthe
Very cozy theme which uses mostly warm colors.
Deco
Elegant theme for your blog.
Zbench
Simple theme which looks very elegant.
Motion
Not very complicated theme with a beautiful background.
Mystique
Drupal theme with a great navigation menu. It also has nice bright green speech bubbles for headings on the right sidebar.
Pixel
Great theme if you like dark colors. This theme has an abstract background.
Wilderness
Cool theme for those who love nature. Simple but beautiful design.
Pinkflower
Very stylish theme which uses pink and bright blue color mostly. Flower on the right side also looks great.
Naturescharm
This template looks great because of its cool looking header and bright yellow color.
BlogBuzz
Stunning Drupal theme! Everything is so clean, very well made. Could be a great theme for your portfolio web site or a blog. [Demo] [Download]
Gardening
Beautiful cartoon-style Drupal theme. Great piece of art! [Demo] [Download]
Mosaic
Drupal 6 theme with brilliant style. Check out the search box – nice!
Numerology
Very elegant design. Header image looks brilliant! Background for navigation menu is in bright green color which looks good.
Abrasive
This is very interesting design. If you want a design for your blog which looks different to others then this could be your choice.
BrewedCoffee
If you are a coffee lover then this theme would be suitable for you.
Oxidation
Like the style of this design. It's very simple but the header with its yellow color and shiny elements looks great.
Interlude
Very simple and beautiful design which doesn't need anything else to be added.
Excess
Brilliant design! Love the stripes for the header and also the green speech bubbles for the logo and headings are a very cool design element.
Greeny Grass
Great theme with beautiful style. Grass which divides header and content looks good.