10 Alternatives to Google Analytics to Consider
Google Analytics is undoubtedly the most renowned web analytics tool in the market. It's ideal for monitoring website visitors, evaluating traffic sources, and gauging sales and conversions. However, depending on your business's nature and specific requirements, Google Analytics might not always be the best fit.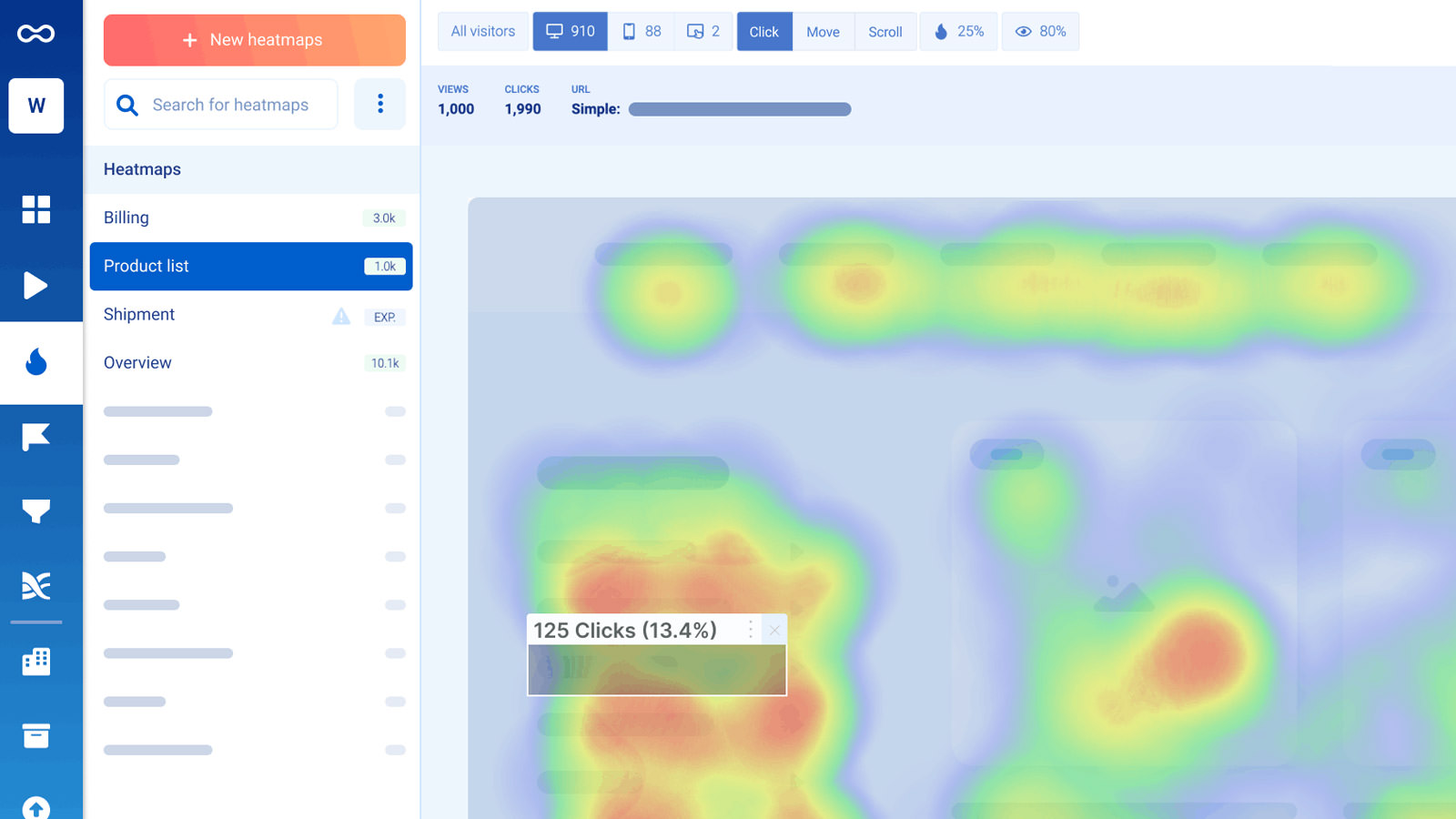 There are other tools available that might offer a more tailored approach to understanding your site's visitor data. These alternatives can provide insights that allow you to optimize your website based on user preferences.
If you're exploring other possibilities, here are 10 tools you might consider as alternatives to Google Analytics.
Clicky provides a user-friendly analytics platform, granting users immediate access to essential data for informed marketing decisions. It boasts a plethora of features, enabling you to monitor, comprehend, and respond to your site's visitors in real-time.
One of Clicky's standout features is its sophisticated bot detection and blocking system, ensuring the data you view is authentic and free from irrelevant traffic. Moreover, Clicky prioritizes user privacy, adhering to GDPR standards. It presents in-depth visitor activities, ensuring the data remains anonymous and in compliance with privacy norms.
For those concerned about ad-blocker usage among visitors, Clicky offers a solution. Despite approximately 15% of users employing ad-blockers, potentially blocking trackers, Clicky employs a unique technique to circumvent these blockers and track these users.
Clicky also provides visual heatmaps, illustrating user interactions on your site. If data security is paramount, Clicky can capture detailed data, such as full IP addresses, while remaining GDPR-compliant. And, should your website experience downtime, Clicky's global uptime monitoring will alert you promptly.
Pricing:
Clicky presents both free and premium analytics plans. Every new account benefits from a 21-day free trial of the premium service, granting access to all features and allowing tracking for up to 3 websites with a cumulative 1,000,000 daily page views. Post-trial, upgrades are available at the user's discretion.
The complimentary package permits tracking of a single website with a limit of 3,000 daily page views. Premium packages, namely Pro, Pro Plus, and Pro Platinum, extend tracking capabilities and daily page view limits, with monthly rates between $9.99 and $19.99. Premium offerings includes real-time data, heatmaps, uptime monitoring, and more, with select features reserved for advanced plans.
Kissmetrics emphasizes three core areas: deciphering user behavior, enhancing engagement, and amplifying revenue. By delving into user behavior, businesses can identify challenges, retain more customers, and boost their earnings. Kissmetrics stands out with its strategy of associating every action to a specific individual.
This approach allows companies to assess the effectiveness of their marketing campaigns across various platforms. It aids in mapping out a customer's journey, from the initial touchpoint to the final purchase, whether via social media, search engines, or other platforms.
Kissmetrics provides an array of tools aimed at ensuring business success. These tools encompass multi-channel tracking, experimentation with different strategies, customer retention tools, visualization of the customer journey, and stringent data protection. They prioritize the security and privacy of user data.
Furthermore, Kissmetrics enhances the user experience by seamlessly integrating with other platforms, enabling businesses to consolidate their data in one central location, eliminating the need to merge data from multiple sources.
Pricing:
Kissmetrics presents a diverse pricing structure suitable for teams of all sizes.
The "10K EVENTS" plan is priced at $25.99 monthly. For those hesitant about long-term commitments, a "Pay As You Go" alternative is available, where charges are set at $0.0025 per event.
Woopra stands as a robust analytics tool designed to assist businesses in attracting and retaining more customers. It delivers comprehensive insights into the entire customer experience. A distinguishing feature of Woopra is its capability to provide a holistic history of data, positioning it as a reliable source, particularly when other trackers might be inadequate.
Woopra is equipped with functionalities such as mapping the entire customer journey, enhancing the onboarding process, monitoring feature utilization, overseeing subscription growth, and scrutinizing specific user segments. These tools grant businesses a lucid understanding of user behaviors across varied touchpoints, facilitating effective customer attraction, engagement, and retention.
The "People Profiles" functionality in Woopra enables businesses to delve into individual user activities in real-time. Whether it's processing payments, navigating the website, accessing emails, or utilizing specific product attributes, businesses can consolidate these insights in a singular dashboard. Its user-friendly interface ensures that Woopra is accessible to all, empowering teams to make swift, informed decisions.
Woopra's "Triggers" feature automates specific actions based on user behaviors. For example, it can dispatch emails, post Slack messages, or modify Salesforce records, ensuring customers consistently receive pertinent and timely engagements.
Pricing:
Woopra presents a spectrum of pricing tiers suited to diverse requirements. Upon registration, your project will default to their Free plan, encompassing all Core features and permitting up to 500,000 actions monthly.
Should you exceed this monthly quota, an upgrade prompt will appear. They also proffer a Premium plan accommodating up to 5 million actions monthly and an Enterprise plan for even greater volumes. The Core package retains data for a span of 90 days, whereas the Premium and Enterprise packages offer a 24-month data retention period, with an extended retention option available for Enterprise clientele.
Mixpanel stands out for its comprehensive view of the customer journey, allowing teams to make meaningful changes using real-time insights. For example, by analyzing patterns like travel behavior, companies can pinpoint features that might appeal to their audience. They can then validate these findings with data and implement changes for better results.
Using Mixpanel is straightforward, with no need for complex queries like SQL. It provides tools to track growth and user retention, making it easy to spot trends and get real-time feedback on how products are used. Mixpanel also prioritizes reliable data by integrating with trusted sources.
This includes pulling data directly from digital tools using its SDK, connecting with data storage solutions, or collaborating with Customer Data Platforms, such as Segment. This ensures a smooth flow of analytics data from different sources.
One of Mixpanel's strengths is its adaptability. It's built to support businesses of all sizes, ensuring they can handle any amount of data.
Pricing:
Mixpanel offer a Free Plan for basic usage. For growing businesses, the Starter Plan is available at $20+ per month. As needs evolve, the Growth Plan, starting at $20+ per month, provides more advanced tools with customization options.
For large-scale operations, the Enterprise Plan is priced from $833+ per month, delivering a comprehensive feature set. It's important to note that costs might adjust based on event tracking.
FoxMetrics positions itself as a reliable ally for restaurant data analysis, offering valuable insights that help restaurants make well-informed choices. The platform stresses the need to grasp online user behaviors, underlining the importance of monitoring customer interactions on websites and mobile apps to boost sales conversions. It also values data from offline sources, combining this with online data to give a complete picture of the customer's journey.
The platform works seamlessly with different vendors, ensuring detailed reporting and consistent performance checks. FoxMetrics delves deep into web and mobile order analytics, highlighting the need to keep up with changing customer preferences for successful online sales.
It also sheds light on the importance of customer loyalty programs and their impact on sustained business growth. With FoxMetrics, restaurants can gauge the effectiveness of these programs, find ways to boost sales, and enhance customer loyalty. Additionally, the platform evaluates data from gift card services, underscoring their role in building customer loyalty and engagement.
Pricing:
FoxMetrics's $399 "Core Plan" supports 1M events monthly, providing a single application, limited data volume, and 13 months of data retention. The $599 "Growth Plan" caters to 10M events per month, offering a single application, 13 months of data history, and professional support. For larger enterprises, FoxMetrics has a customizable "Enterprise Plan," which invites businesses to discuss their specific needs.
ChartBeat is dedicated to helping businesses expand their audiences with its smart and powerful software that delivers actionable insights. By using ChartBeat, companies can boost audience interaction, make well-informed content decisions, and build stronger loyalty. It's a trusted platform worldwide, serving a multitude of content teams from different regions.
ChartBeat primarily offers two tools: "Chartbeat for Publishing" and "Datastream." The first tool focuses on monitoring, fine-tuning, and measuring content, allowing teams to see and improve how their content performs as it happens. Meanwhile, Datastream offers real-time content data straight to a business's system, keeping them constantly updated on their content's performance.
In short, ChartBeat isn't just another analytics platform; it's a collaborator in shaping and refining content strategies. From understanding which content clicks with readers to making on-the-spot editorial choices and laying out long-term content plans, ChartBeat equips businesses with the necessary insights and tools to thrive.
Pricing:
Chartbeat caters to mid-sized to large companies receiving over 5 million monthly page views. Annual packages commence at $7,000, with the cost fluctuating based on site traffic. They provide both core and premium packages; their pricing isn't openly displayed on their website for those without an account. For detailed pricing information, it's recommended to reach out to Chartbeat directly.
W3Counter provides complimentary web statistics and tools tailored for websites and blogs. Its main aim is to give insights into visitor behaviors, assisting website owners in growing their audience, boosting sales, and monitoring their progress. With W3Counter, adding a detailed analytics system to a website is a breeze, allowing owners to stay updated on how their audience interacts with their content.
The platform offers various features, including visually appealing and easy-to-understand web stats reports. Users don't need in-depth training to interpret the data, making it accessible to all. W3Counter gives a virtual introduction to visitors, sharing details like where they're from, the languages they speak, and the devices they use.
It also maps out the exact route visitors take on the site, a crucial tool for understanding their behavior and making site improvements. Moreover, W3Counter highlights the main sources of traffic, helping owners pinpoint where their audience is coming from and the content they prefer.
Pricing:
W3Counter offers three plans: Free, Pro, and Business. The Free plan, at $0/month, provides 30 days of data, 3 widgets, and basic web stats. However, it lacks premium features and has W3Counter branding. The Pro plan, at $5/month, offers 6 months of data, 10 widgets, a real-time dashboard, and more, with the option to remove branding. The Business plan, priced at $10/month, extends to 12 months of data, unlimited widgets, and includes all Pro features plus additional marketing tools.
GoSquared positions itself as a simpler and more private alternative to Google Analytics. It aims to provide easy-to-use web analytics, doing away with the usual complications found in many traditional analytics platforms.
One standout aspect of GoSquared is its lightweight JavaScript Snippet. This feature ensures websites run smoothly and quickly, unlike some of the more resource-intensive trackers, such as Google Analytics.
Additionally, GoSquared is versatile in its compatibility. It works effortlessly with various tools, from well-known website builders like WordPress, Webflow, and Squarespace to team chat apps like Slack.
Pricing:
GoSquared offers a range of website analytics plans, all of which come with a 7-day free trial. The "Starter" plan is priced at $9 per month, providing 100,000 pageviews and support for 3 projects. The "Standard" plan, their most popular, costs $24 monthly, offering 500,000 pageviews and 5 projects. For more extensive needs, the "Pro" plan at $49 per month gives 1 million pageviews and 10 projects, while the "Scale" plan offers 2.5 million pageviews and 20 projects for $99 monthly.
Smartlook offers businesses a clear view of how users interact with their website or mobile app. It combines video recordings of user sessions with detailed analytics to give a full picture of user behavior.
A key feature of Smartlook is its session recordings. If a business is unsure about a problem on their site or app, they can simply watch these recordings to identify the issue. The platform also has advanced filters, letting users quickly find specific moments in a session. Additionally, Smartlook tracks what actions users take and visually shows their path, helping businesses see if the user experience matches what they intended.
Smartlook also helps businesses understand why users might leave their site or app. With just one click, they can view recordings of these drop-offs to find and fix any problems. The platform gives insights into which parts of a page users interact with the most, like where they click or how far they scroll. If an app crashes, Smartlook's recordings can show what happened, eliminating the need to recreate the problem.
Pricing:
Smartlook offers three distinct plans, each with a 30-day trial supporting both web and mobile platforms. The Free Plan is ideal for start-ups, providing 3,000 monthly sessions, basic analytics, heatmaps, and Slack integration. For businesses seeking more, the Pro Plan at $55/month offers enhanced analytics, daily reports, and premium integrations, starting from 5,000 monthly sessions. Lastly, the Enterprise Plan is a customizable solution, including unlimited users, Single Sign-On, and dedicated resources.
Statcounter provides a free and powerful web tracking tool, a customizable hit counter, and real-time website statistics. This makes it a handy tool for those managing websites.
Instead of the usual complicated features found in many analytics tools, Statcounter offers a simple way for users to grasp their website's performance and make improvements. This user-friendly approach is great for businesses looking to boost their online presence without the hassle of navigating complex analytics.
Pricing:
Statcounter provides a range of pricing options. The Basic plan is free, offering features like Traffic Trend Charts and Real Time Visitor Feeds. They also have a Session Replay feature, with prices based on monthly recordings, starting at $0 for no recordings and going up to $29 for 50,000 recordings. The Premium plan is priced based on page views, ranging from $9/mo for 100,000 views to $249/mo for 50,000,000 views. The Premium Plus plan starts at $19/mo for 100,000 views, adding features like Google Ads Integration, and extends up to $299/mo for 50,000,000 views.