Best Freebies for Designers in 2020 (Updated: 400+ items)
Tauri – A subtle sans serif font, ideal for medium and small sizes given its high clarity. Tauri is meant to be enjoyed slowly, showing its qualities little by little as it is used.
Barque – Barque is a font most suited for big sizes, titles and posters. You're free to use it in both personal and commercial projects.
Sweet Pineapple – Handwritten fonts give a much friendlier appeal to your projects. Sweet Pineapple aims to achieve just that.
Sunday – Sunday captures the feeling of a relaxed day under perfect weather. Calm and easy going, use this all-caps font for your most laid-back designs.
Bakersfield – Bakersfield is an entire geometric font family with superb legibility in both printed and web formats. There's two weights available for free.
Gilded Hand – A beautiful font that puts elegance and a sweet handwritten feel to your designs. Use it in commercial and personal projects, for free.
Fairview – A consensed, industrial sans-serif typeface including two different variations. You can get a personal license for free.
Lovelo – A cool font with playful shapes and a lovely double line construction when written in all caps. Three weights are available for nothing.
De La Fuente – Alex De La Fuente has created this typeface carrying his name. It's meant for text under 24 pt, so keep that in mind when applying it.
Nero – A super edgy free font designed for big sizes. It gathers attention quite a bit, featuring violent shapes and curves.
Luthier – An adaptable serif typeface that works well with body texts, but holds enough personality to be interesting in headlines.
Smidswater – A fancy and very legible font family comprising of a light weight to bold font as well as condensed, italics and various combinations.
Cassiopeia – A quirky and somewhat esoteric typeface inspired by geometric forms, constellations and Pokémons.
ARCA MAJORA – A complete, all caps font featuring a good amount of accents for languages other than English.
Docker – A very interesting font for headlines and big sizes in general. Great for an easy 3D effect.
Nexa Rust – A versatile font system featuring various sub-families: Slab, sans, handmade, script and more!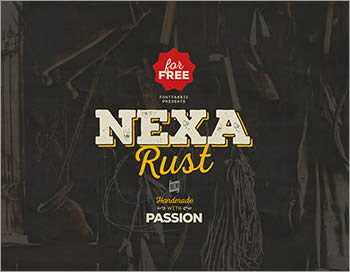 Fold – A beautiful font that sacrifices readability for a sleek appearance. Its pixel-like look is definitely the major feature.
Maddac – An attractive bold font from Isaac Taracks' Behance account. Great for titles and headers on big sizes.