Best Freebies for Designers in 2020 (Updated: 400+ items)
Medieval – Medieval is a text style that gives you that engraved metallic texture suitable for medieval themes. This gives your logo or text the effect in just a minute.
Visual Welding – Fancy your text looking like they are being welded onto a still hot, metallic surface? Comes with glowing ember effect akin to melting iron.
Rissa – Rissa is a stylish, heavyset, thick-brushed handwritten typeface that features super thin gaps.
Sensei Handwritten – Sensei is a font that gives off that marker effect. It features both Latin and Russian alphabets in uppercase, as well as numeric and special characters.
Measure – Measure is quite a diverse typeface designed with a very professional look, narrowed style and squared ends. It comes with more than 500 glyphs supporting 40 languages.
Jaden – Jaden is a modern typeface that was crafted with regular-width and straight trimmed corner lines. This typeface comes with both numeral and uppercase characters.
BONN – BONN is a 3 weighted typeface – light, medium, bold – with a very geometrical design. It comes in uppercase and numeral characters.
Work-Sans – A sans serif typeface which features uppercase, lowercase, numerals, special characters and several accents. Licensed under SIL Open Font.
Bernier – A vintage font family available in 3 types; regular distressed and shade. It features uppercase, numerals, at sign and exclamation mark. Crafted by Ryan Pyae under an attribution, non-commercial license.
Variane Script – A cursive highly-detailed handwritten-like typeface which features uppercase, lowercase, numerals and special characters. Crafted free for personal use by Work Ins Studio.
ETNA – A bold and edge-defined 415-character typeface which features uppercase, lowercase, numerals, special characters, several accents, and Cyrillic and latin extended glyphs.
Yarin – A handwritten-like typeface which features narrow and squared-style uppercase, numerals, special characters and Bulgarian alphabet with both normal and bold types.
Aquatico – A font inspired in sea creatures and elements featuring four different styles, all of them with rounded edges. Perfect for logo designing and branding projects.
Majesti Banner – An elemental yet highly professional typeface with nice swashes, including text and display versions. It is available in 5 weights and 2 variations, regular and italic.
Firefly – Firefly is a free hand-drawn font, including a full set of glyphs as well as a few alternatives,great for quotes, logos, posters, and headlines.
Nickainley – Nickainley is a monoline script typeface, with classic and vintage styles.
Rodina – This font is an elegant sans serif, readable in multiple devices, web and printed design. The font comes as OTF, and includes nice ligatures for some characters.
Phage – This dystopic grunge-style font, perfect for those posters and advertising banners with an ominous feel.
Ikaros – Free for personal and commercial projects, Ikaros is a sharp and elegant sans serif typeface. Symbols, numerals, accents and regular uppercase characters are included.
Badhead – Badhead is a classy font that suits logos, T-shirts, greeting cards and other big designs with style and elegance.
Circo – A beautiful font made to catch attention with lots of color and quirky details.
Velodroma – This font features wide and super wide styles that you can combine at will to produce odd, eye-catching pieces of text.
Moderne Sans – A classy typeface inspired by vintage lettering from the 1920. It features good readability and simple twists to make it comfortable and predictable.
Diskopia – A stylish stencil font inspired by psychedelic times. Due to its somewhat limited legibility, only use it in big sizes.
Maxwell – A very versatile font for edgy design work, coming in three different weights to match your needs as much as possible. It's mostly suitable for titles and headlines given its rounded edges and friendly appeal.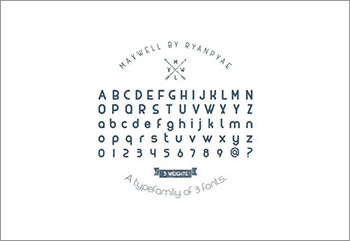 Erster Caps – An uppercase-only font with a very industrial-like font, as if it was forged in metal. It comes in two different styles: regular and bold.
Nordic – Inspired by ancient Norwegian runes, this font provides a mystical look to your titles and headlines.
Simply Rounded – A cute rounded font designed to be as readable as possible, making use of simple shapes that will be understood by any user.
Nickainley – A beautiful handwriting font with a somewhat old school feel to it. It can be of great use for more elegant designs such as wedding cards, labels, badges, etc.
Fabiolo – Fabiolo is a beautiful sans serif font that aims to provide a subtle and elegant appearance, suitable for many types of design.