Best Freebies for Designers (Updated: 400+ items)
Designing in today's world has become a very demanding profession. It requires creative thinking, time management, skill enhancement, and, not to forget, the ever-so-changing demands of the clients. To keep up with all this, a designer needs to keep a whole arsenal of design resources at his disposal.
So, before you think of going from website to website in search of design resources, take a look at this ultimate roundup that has everything from fonts, UI Kits, themes, templates, and icons.
Also, this list is not final as we will keep updating this post and if anyone among the readers have anything to share, they can send in your recommendations via contact form.
Free Fonts
Gist Rough Light – A beautiful typeface featuring a striking texture effect, making it perfect for special titles or header. The font is available for free at MyFonts.
Hans Kendrick – Hans Kendrick is a grotesque typeface with elegant and geometric design, compressed in one weight. This font is very legible in all sizes but is best suited for large displays. There is support for special characters and numbers.
Idealist Sans – Idealist is an extremely readable, rounded typeface that provides a pleasant view when reading body text. Its main feature is its versatility since it manages Cyrillic, Western and Central European (and their respective special characters) with ease.
Archivo Narrow Performance – Sometimes you want a font that can just do the job: Be read. Archivo Narrow specializes in this task by providing a compact, highly readable typeface that works perfectly for both digital and printed environments.
Arkhip – Arkhip is a sans font with sharp edges inspired by the Russian soul. It features both Latin and Cyrillic alphabet characters in uppercase as well as numerics and a few special characters. (fontfabric.com)
BlowBrush – BlowBrush is a typeface crafted with a very stylish bold brush trace featuring uppercase and numeral characters as well as 23 ligatures and a selection of special characters. (graphicburger.com)
Duwhoers – Duwhoers is a typeface that features a nice thick brush trace style perfect for logos, titles, or phrases over inspirational photos. (behance.net)
Ginebra – Ginebra is a serif font that features nice and fancy rounded ends for its uppercase, lowercase, numeral, and extra glyphs including accents and extra characters. (behance.net)
Audrey – Audrey is an elegant Sans Serif typeface that features straight and curved width variable lines as 4 different weights, numeral, glyphs, and accented characters. (behance.net)
Peace – Peace is a beautiful bold sans font that features curves carefully crafted, supporting several languages like Baltic, Cyrillic, and Romanian, and providing full glyphs support.
Pixe Lute – Pixe Lute is a cool display font that features a urban-like style by counting on a handmade look for its uppercase and numeral characters.
Halogen – Halogen is a cool futuristic and industrial looking typeface that features squared edges in two versions; fine and rough-edged ones. It includes uppercase, small caps, numerals, and glyph characters.
Break: Thin Line Stencil – Break is a typeface that features a stencil style composed of ultra-thin lines in 5 different weights. The typeface includes: uppercase, lowercase, numerals, and glyph characters.
Little Cutie: Brush-Lettered – An artistic and elegant font, featuring beautiful brush-lettered typeface and providing an authentic feel to your projects.
September – September is a display font akin to "old school knuckle tattoos" that feature in 3 different styles: regular, bold, and shadow.
Butler – Butler is a typeface that features both serif regular and stencil styles available in 7 different weights each, and comes with a total of 334 characters.
Numb3rs – Numb3rs is a numeric-only typeface that features numbers crafted in a circle-based grid featuring very wide and regular curves as well as sharp edges.
Argon – Argon is a typeface that comes with uppercase and numeral characters designed with a composition of regular gap and width lines.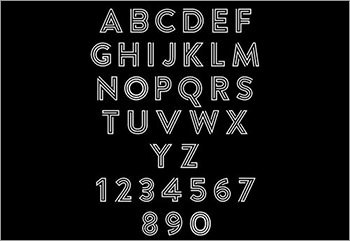 Gagalin – Gagalin is a font that features a nice comic-like style available in uppercase Latin, Cyrillic, and Greek alphabets, as well as numeral and glyph characters.
Ikra Slab – Ikra Slab is a typeface that, besides Latin, supports Cyrillic and Bashkir alphabets in uppercase and lowercase characters, as well as numeral and common glyphs.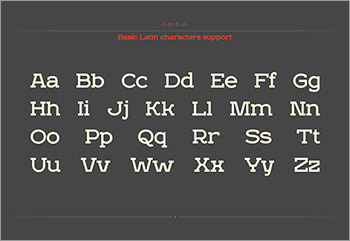 Glacial – Glacial is a narrow font that features a regular width line and two different weights. This font is perfectly suitable for newspaper or professional purposes.
Morracle – Morracle is a typeface that features a cool hand brushed-like style and even has the particular noisy look that worn out bristles would give.
Liquide – A very smooth and round-edged typeface that comes available in uppercase and numeral characters.
Relancer – Relancer is a typeface that was designed following a single grid made out of regular circles and squares. The typeface is in uppercase, and contains a few special characters.
Novu-M – Novu-M is a rather futuristic looking typeface that comes in uppercase characters featuring a narrow and regular width style.
Stilu – Stilu is a sans serif typeface family that comes in four different weights for both regular and oblique styles. It features ligatures, lining, old style figures and more.
Anson – Anson is a sans serif font that features straight ends and edges, inspired by a British twin-engine, multi-role aircraft from the World War II.
Amsdam – Amsdam is a round typeface that includes a tail in most of its diverse characters in order to give a drop-like look.
Colorful Shatter – A small set of 10 colorful "shattered text" effect for Photoshop.