20 Beautiful Free WordPress eCommerce Themes
Starting an online store can be a daunting task especially when it's your first time. Aside from the technical side of things like web hosting, product descriptions, photos, pricing, shipping fee, taxes, you still have to think about the best way to present your products to the world.
And since your online storefront is literally your brand's face, choosing a design can easily get expensive, anywhere from $1000 to the upper $10,000 if you hire a WordPress theme designer and developer.
But many budding entrepreneurs just take shortcuts by using pre-made eCommerce WordPress themes, and then just set off to customize them themselves in order to save costs. And that's totally fine. What's important is that you take the first step of launching your online store!
So, to help you narrow down your choices, I compiled some of the best eCommerce themes for WordPress that you can download for free.
1. Ecommerce Solution
Ecommerce Solution is an incredible and free WordPress eCommerce theme that allows you to design and customize your online store with ease. The theme works with WooCommerce, is easy to customize, so you can modify your new online store with minimal coding knowledge.
With this awesome ecommerce solution, not only can your store look good but it will have high ranking in search engines as well thanks to its excellent SEO structure.
2. Shophistic Lifestyle
Shophistic Lite is the perfect theme for your online shop — you are guaranteed a beautiful and sleek design for your fashion-related store. It is fully compatible with WooCommerce, so making an online store is as easy as 1-2-3.
Sophistic Lite has a laid-back vibe to it that will appeal to many audiences. The refreshing monochrome look is made to make your store comfortable to the eyes, thus welcoming to the visitors.
3. Hypermarket
Hypermarket is a unique product-driven WordPress theme for online shops. The focus is all about showcasing the products with large previews, which makes it easy for visual shoppers to instantly make a decision.
It is responsive and Retina ready, so Hypermarket works beautifully across devices and screen sizes.
4. StoreCommerce
Do you need a website that's built for an awesome store? Look no further than StoreCommerce, a free multipurpose WordPress theme. This WooCommerce-powered theme is perfect for stores of any type — from fashion and clothing to gadgets and home appliances shops.
Choose from the many features this theme offers, ranging from unlimited colors to easy customization of content on blog posts and product descriptions as well as featured section headings — StoreCommerce can help you create an awesome store in no time!
5. Zakra
Zakra is a modern multipurpose WordPress theme that can be used for any site you have in mind. Be it a personal blog, online shop, or a simple landing page for your service or app — Zakra has everything typography and layout wise to make your listings stand out.
6. Trusted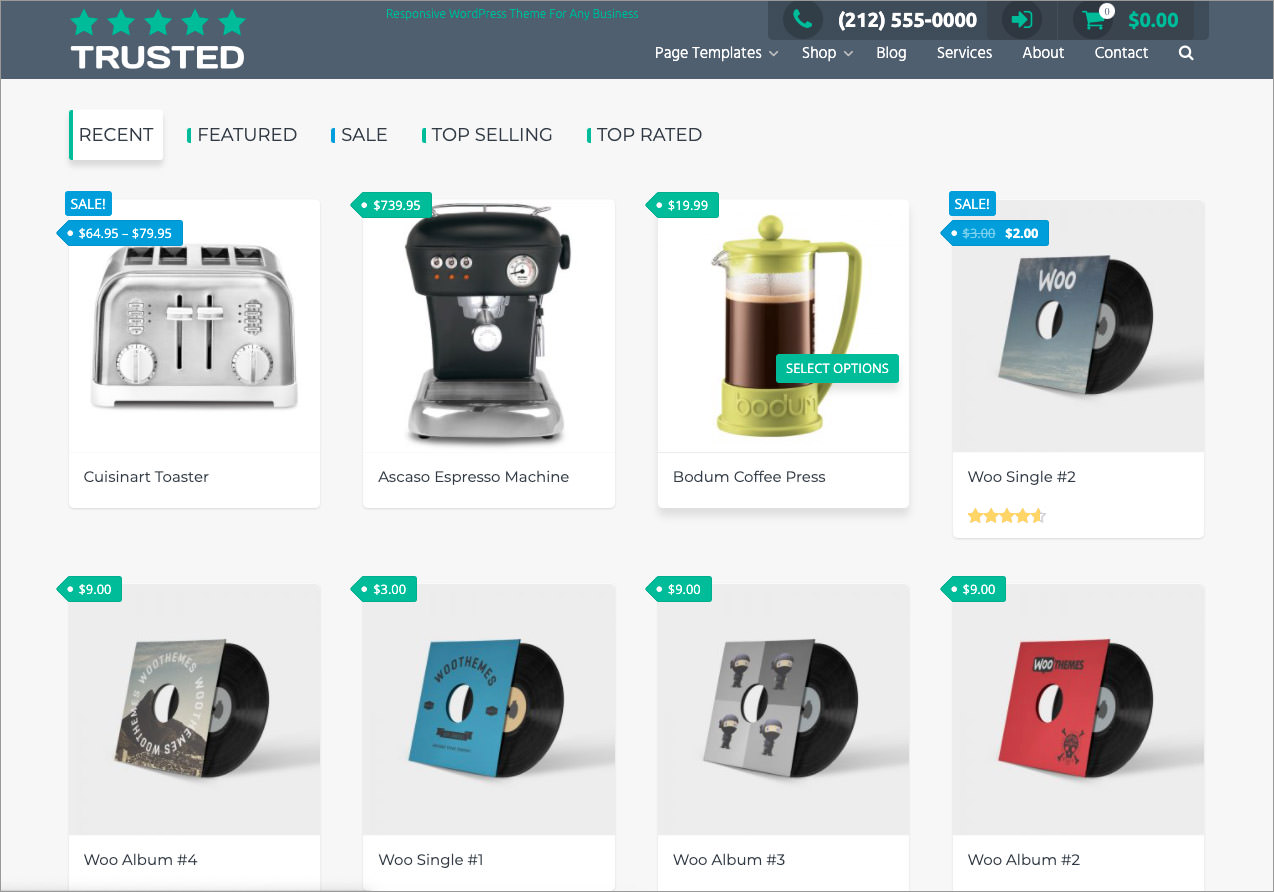 Get your business off the ground with Trusted, a free WordPress theme that is simple yet elegant, guaranteeing that you will have a site that sparkles with modernity. For the price of zero, customizing all the different aspects or colors is really easy through the Customizer.
You can preview it in real-time to see if it's what you had dreamed about — and it also comes with several pre-loaded templates as well as built-in sections that you can turn on and off anytime.
7. Estore
eStore is a proven eCommerce WordPress theme loaded with all the features needed to take your online store. It offers an intuitive customization for site and content management which ensures that you can always bring something new to your storefront every time customers visit.
The theme is WooCommerce-ready, ensuring your site will always be up-to-date with the latest industry trends in digital shopping.
8. Envo Marketplace
Envo Marketplace is the ultimate free WordPress theme that runs on WooCommerce. Featuring a modern, clean design with an intuitive interface and sleek features for your online store. It is compatible with popular plugins like Elementor, KingComposer, Thrive Architect and more!
9. Zigcy Lite
Let your shop be its own creative space, rather than a one-hit wonder. Zigcy Lite directly integrates with WooCommerce to bring you an easy and seamless setup process that will give your visitors so many ways to win them over.
It is an easy to use, customizable theme that comes with 3 starter sites, allowing you to quickly set up your online store and get it going.
Whether you want a basic online store or something more complex, this simple yet powerful theme can handle anything.
10. Modern Store
Modern Store is the perfect clean and minimalist eCommerce theme for WooCommerce stores like clothing boutiques, sports shops, and other fashionable products.
With Modern Store, you can embrace the trend today – it works on all screen sizes, devices, and has a built-in shopping cart button, has a header section of its own so you won't have to install other plugins, and many more.
11. Storefront
Storefront was coded by WooCommerce Core Developers for developers' ease of use with a lean and extensible codebase that's easy to customize and extend. There are several layout and color options to personalise your store, multiple widget regions, a responsive design, and more.
12. Flower Shop Lite
The Flower Shop Lite is a minimalist website template for florists. The easy to use design features allow you to build professional websites with ease, from adding a blog and contact details, to showcasing your products.
13. Bard
Bard is a clean, elegant and professionally coded template with WooCommerce compatibility that provides long-term value to shop owners. It offers unending possibilities while being highly customizable and responsive in any browser or device.
The minimalist design will help showcase your content beautifully without distracting from the true contents of your site.
14. Orchid Store
As flexible as they are stylish, Orchid Store lets you design your website from the ground up. This eCommerce WordPress theme is built on top of WooCommerce and includes all the features of an effective online store, such as a full product catalog with each item's customizable options for variations like size, color and price.
With Orchid Store, creating a shopping experience that suits modern customers has never been easier.
15. TheShop
TheShop is a minimalist eCommerce theme that is compatible with WooCommerce. It is an easy solution for shops that don't require much colors or fluff to stand out.
16. Botiga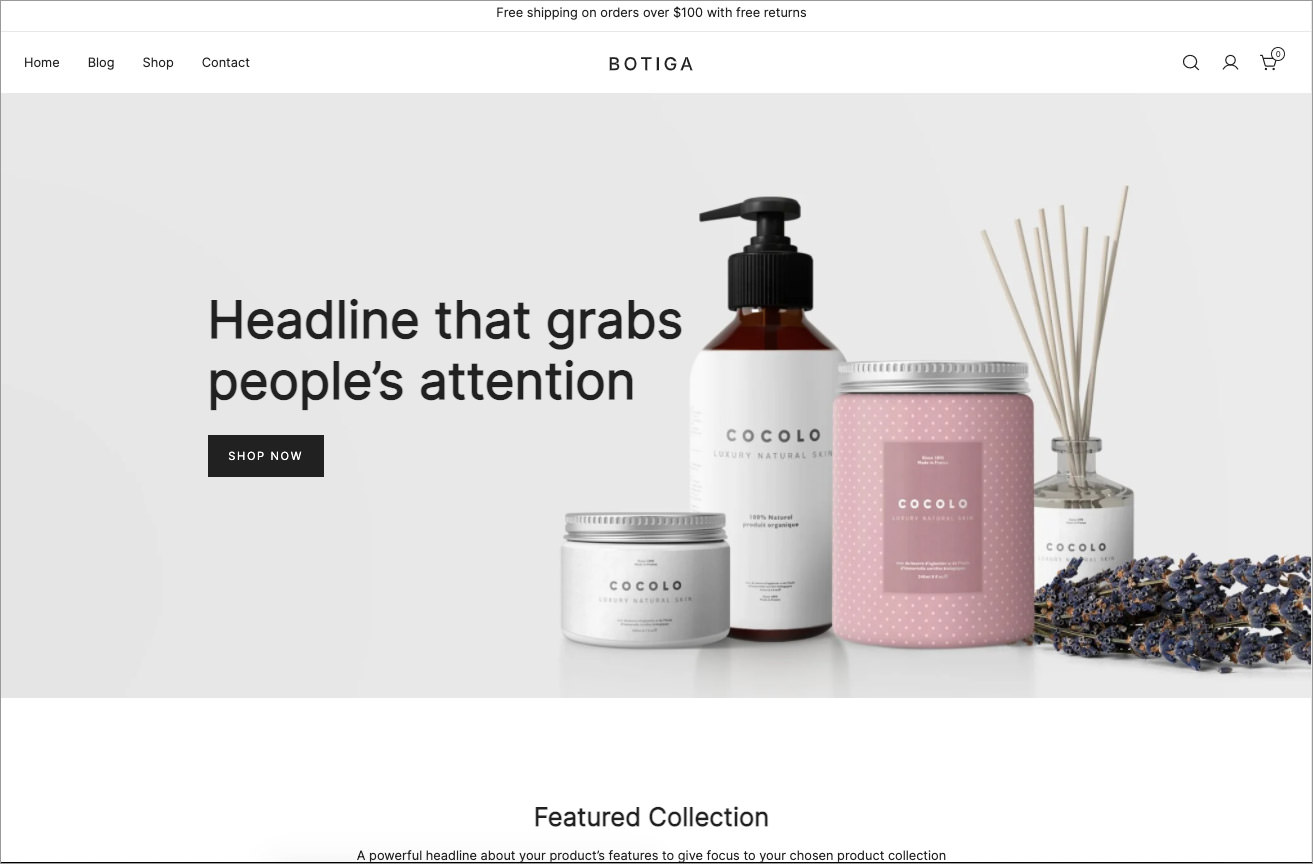 Make your store look beautiful with Botiga, a clean and minimal theme designed for fast set up. Find styles of product cards to best suit your taste: card, list-style, or gallery.
Customize the checkout page by displaying the total amount on either the right side or at the bottom. It makes any online shop stand out with its attention to detail and professional design.
17. Ecommerce Hub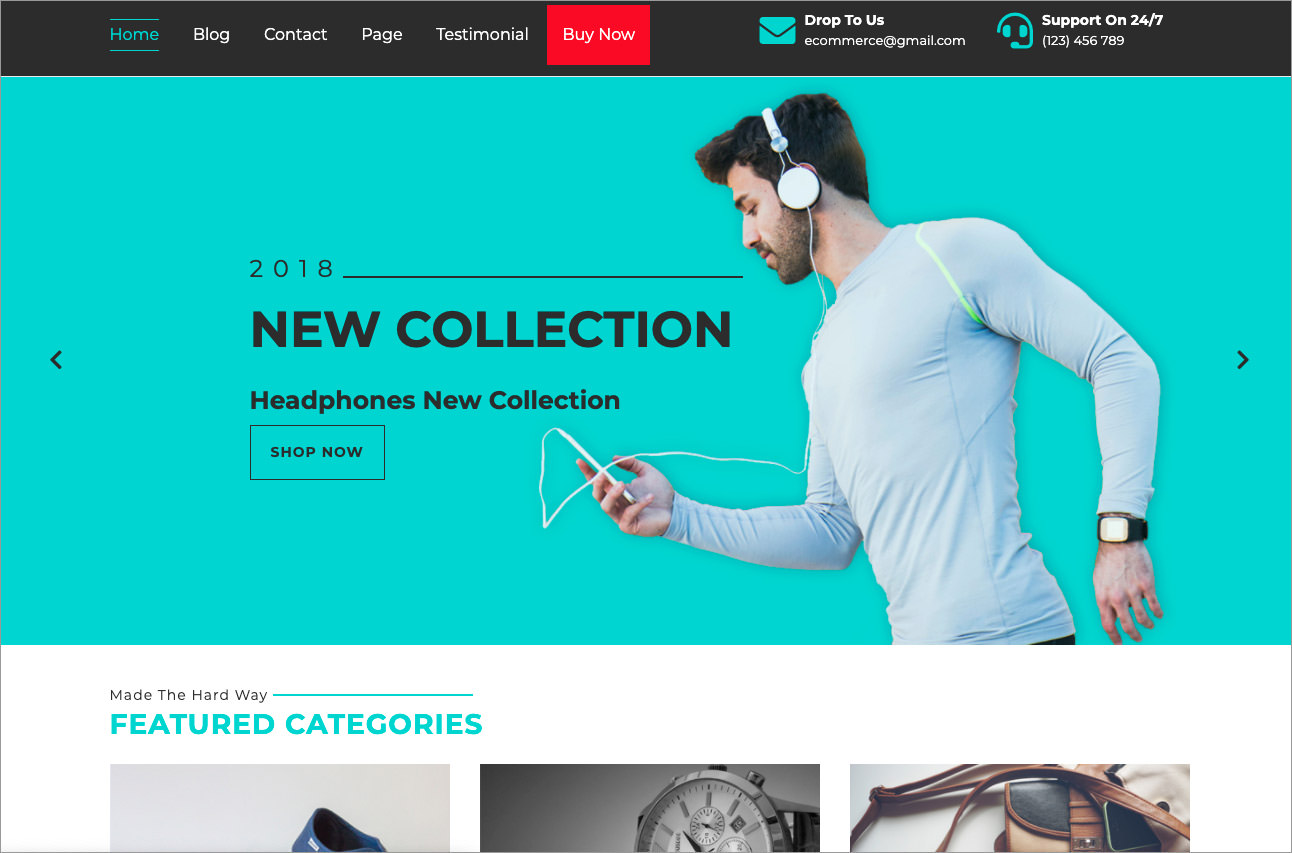 The Ecommerce Hub is a very versatile and eCommerce WordPress theme that can serve a variety of purposes like building online stores for different types of businesses, creating portfolios, or even galleries. It has all the necessary features to set up an attractive website without paying a premium fee.
The design is responsive and fluid and you can choose between clean typography or Google Fonts for beautifully-looking text on your store's pages.
18. WS Jewelry
WS Jewelry is a specialized eCommerce store WordPress theme that can help put the spotlight on your products, be it bracelets, earrings, rings, necklaces, and the like.
It is integrated with WooCommerce so everything can be set up in just a few minutes, and it also makes use Page Builder so you can easily customize every page to your heart's content.
19. EightStore Lite
EightStore Lite is a lightweight and free Ecommerce theme that will give you the perfect canvas to create whatever online store for your business. This includes an easy-to-navigate dashboard and customization tools so you can put together the ecommerce site of your dreams with just a few clicks.
You can choose the layout between boxed or full width and decide how many columns of categories are better for your shop's presentation. It also offers various marketing tools such as product slider, advanced wishlist, featured product show list, youtube video integration on popup banners and much more!
20. VW Ecommerce Store
VW Ecommerce Store is a free WordPress theme for online shops for displaying a wide array of products in one go. With its rich features like threaded comments, click to action buttons, custom menu, multiple widget regions, and SEO-friendly structure, you can set up an online storefront in just a few clicks.
Bonus:
21. Hestia
Hestia is an elegant and modern theme that is built with user-experience and performance in mind. It is perhaps one of the best-looking freemium multi-purpose themes available right now that can be used along with Page Builder, WooCommerce, Elementor, and other top plugins for an online store.
22. Woostify
Woostify is a lightweight, SEO-focused, ecommerce theme that runs on WooCommerce. It is highly focused on boosting sales, and the design itself is structured in a way that will drive a better conversion rate.
At its default state, it has a page speed score of 94 from GTMetrix and 84 from Page Speed, and page load time of 808ms, which is an extreme example of a well-made theme.
23. Viral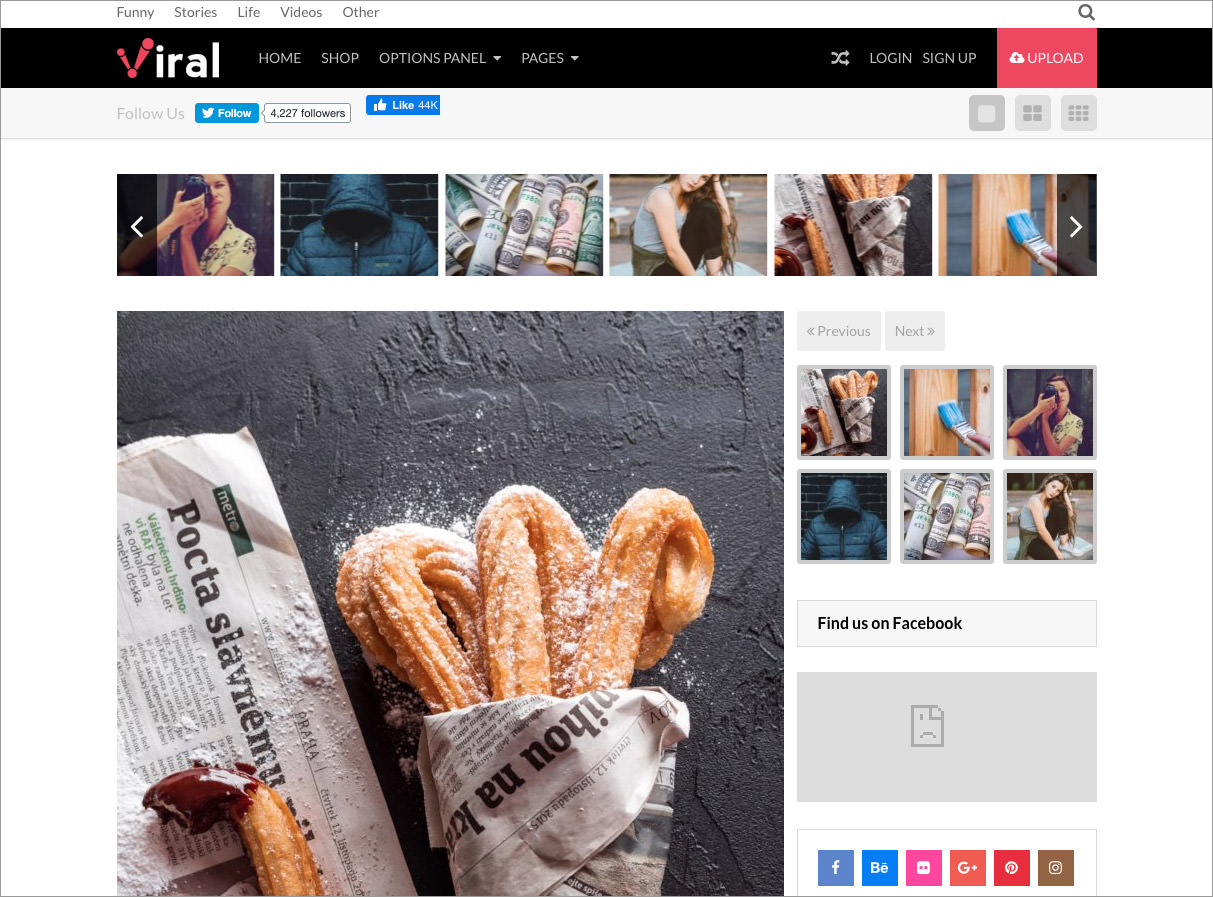 Viral is an SEO-ready WordPress theme for online stores who are also heavily into producing content, be it blog posts or instagram posts. It is fast, has three layouts, content voting (upvote, downvote), supports video content natively, and a bunch of other marketing-related features that any online store can utilize for more conversion.
24. Neve
Neve is carefully designed and created in order to provide the best experience on all devices. Being light-weight, easy-to-use, mobile friendly, compatible with drag-and-drop page builders as well as being SEO friendly are just some of the attractive features that make up this theme.
With Neve it's easy to create a fully custom header and footer for your online store using its simple yet powerful builder tool. It is also AMP-ready.
25. Phlox
Phlox is perhaps one of the most beautifully designed multi-purpose themes out there that you can use not only to build a WooCommerce shop, but also to create a blog, agency site, and landing page for your services.
It is a truly versatile theme that has 30 widgets, portfolio features, and many more. In fact, it was nominated as the best WordPress theme of the year by many websites and organizations.
To end
I know that choosing the perfect theme for your online store is difficult. I've been there and it took me literally days just to settle on one. I probably downloaded 15 different themes and installed all of them, and eventually I was able to settle on one.
Your experience might be the same, or it could be totally different, but in any case, do not be dissuaded! Analysis paralysis is real. Just do it!