10 Websites to Edit Music and Audio Files Online
If you have infrequent audio editing needs and you're looking for a quick audio editing tool that works on the fly, then your best choice would be to go for free online audio editors.
Here is a collection of the best free online audio editors that allow you to do basic as well as advanced audio editing and recording right in the browser.
Each tool has its own unique attributes and features and you can read all about it and much more in the following.
20+ Free Desktop Audio Editors
20+ Free Desktop Audio Editors
If you have infrequent audio editing needs and you're looking for a quick audio editing tool that works on the fly, then your best choice would be to go Read more
Soundation Studio is a tool for creating music online with powerful features. It comes with complete features to mix your sound, alongside a bunch of sound effects, loops, and virtual instruments. Just mix your song up and publish them.
Notable features:
Easy to navigate the interface.
Music can be shared as links.
Extensive library with ready to use sounds.
Audio Tool lets you produce your music right from your browser. This app includes virtual instruments, mixing and routing panels, and an effects panel. It also comes with more than 250,000 free samples, and you can access your track/sample everywhere.
Notable features:
Create your own music right from your browser.
Publish the created audit to different social media sites directly from the app
Many tutorials available on the site to get you going as a first-timer.
Includes virtual instruments, mixing, routing, and an effects panel.
Twisted Wafe is a browser-based audio editor which is great for recording, mastering and converting sound. The features include recording sound, looping, adding VST effect, amplify, normalize, fade in/out sound, and more.
Notable features:
Simplest interface with easy drag-and-drop functionality.
Edit mono files up to 5 minutes in length.
Audio is stored and processed on the server so you can start off where you left without saving.
Record audio right through the browser tool.
Beautiful Audio Editor is a tool to enhance your music. You can apply effects to tracks, ranging from gain, pan, dynamic compression to various of frequency filters. The app also lets you set up audio speed and flexibly fade the volume on your track.
Audio Joiner is a simple tool to merge two or more songs or music files (mp3, m4a, wav, and others) into a single track. You can use Crossfade to make smooth transitions between two music tracks and use Fadeout on the last track. Want to join them at specific intervals? Just adjust the slider on each song to take just the parts you love.
Notable features:
Singles-process app that offers quick audio joining.
More than 300 audio file formats supported.
Edit and join unlimited number of tracks.
Bear Audio is a free online audio editing tool. You can upload any type of audio file (multiple formats supported) and edit them right through your browser and download the results in an array of export formats in a few steps.
With the tool you can cut and delete audio, combine different audio files, songs and ringtones, mute or adjust volume, and apply different transition effects like fade in/ out etc.
The best thing about Bear Audio is that it is based on HTML5 which means that you do not have to upload your files to the online server, just upload, process, and save your audio files. It also ensures a faster speed and user-friendliness.
Notable features:
All the basic audio editing features for quick audio editing.
HTML5 audio technology offering faster processing speed.
Upload audio files from computer or read directly from a URL.
Efficient audio converter supporting a numeber of formats.
A pretty straightforward browser-based audio editor, Sodaphonic helps you in editing your voice recordings or any other audio file. Just drag and drop any audio file in MP3, OGG, or WAV format and you can cut, delete, or merge audio clips through an easy-to-use editor.
One interesting feature of this audio editor is that you can use it to make voice recordings as well. It has all the basic features of an audio recorder with Pause/Play so you can quickly make voice recordings right in your browser.
Notable features:
Straightforward interface with easy navigation.
Record your own audio direclty through the tool.
Audio Trimmer is basically an online MP3 editor with all the basic features for audio editing on the fly. Either you want to cut, crop, or merge any part of your audio file (like songs or voice recording etc.) you can easily do it in just a few steps.
You can use Audio Trimmer for creating interesting ringtones. Just upload the song or music to the editor, cut out the part that you want to use as a ringtone, apply fade in/out if required and choose the download format that works with your particular phone.
The tool features a simple and basic editor that anyone can use with a variety of file formats supported. Additionally, it can easily work on smart phones or tablets so you can use it anywhere.
Notable features:
Edit or trim your audio files on the fly.
Create ringtones in a few simple steps.
Works on most devices including tablets and mobile phones.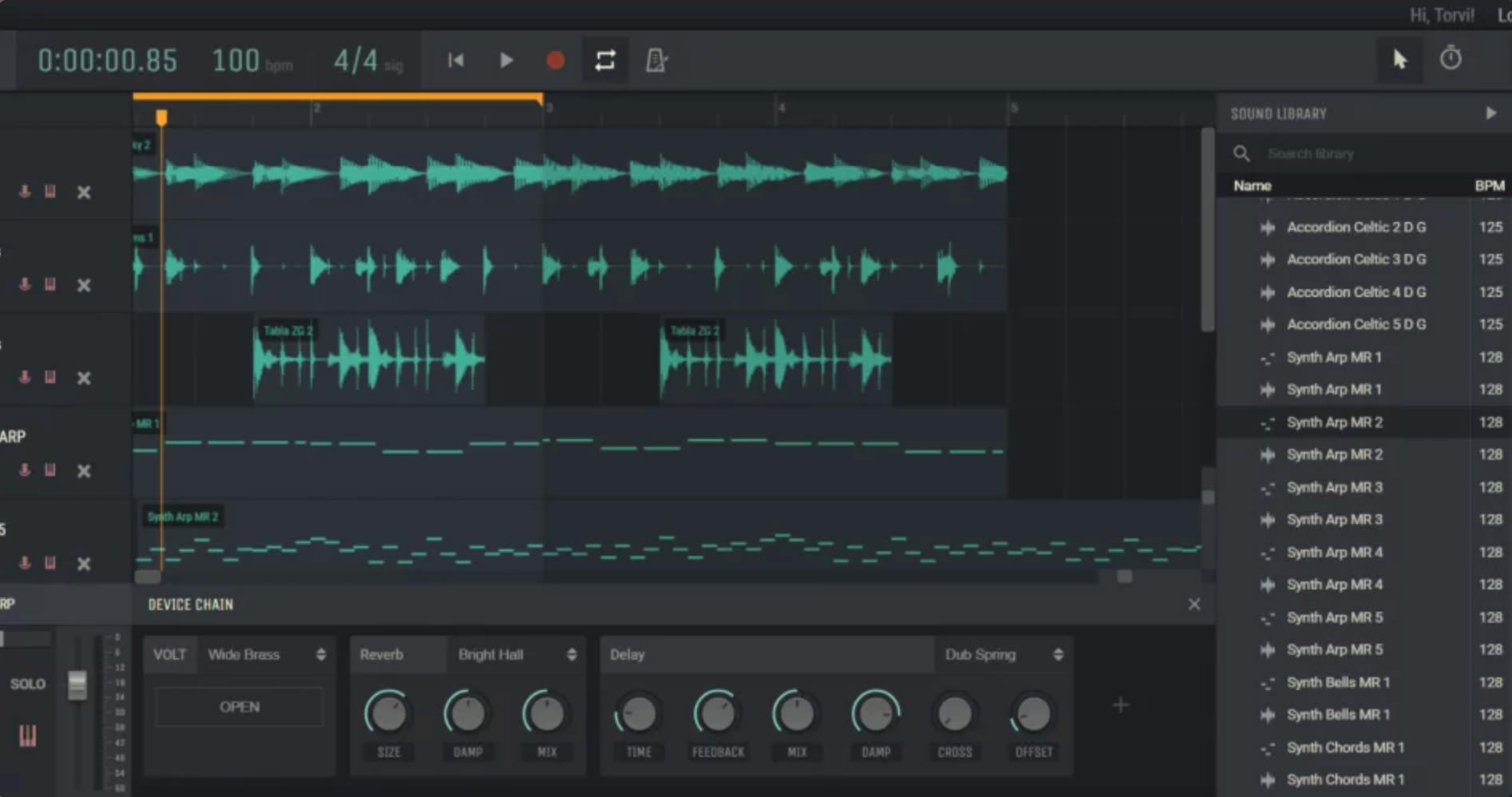 A browser-based music studio, AmpedStudio comes with some really interesting features that amateur as well as professional musicians would appreciate. It is a progressive web app that works with all Chromium-based browsers like Google Chrome and MS Edge.
It features rich library of pre-made music samples, audio loops, and construction kits. There are also many professional sound effects and transitions that you can apply to your audio. Plus, you can collaborate with your team on your project right through the app.
One of the best features of the AmpedStudio app is that it lets you connect third-party instruments like microphone, guitar, and keyboard using the VST technology. This makes it an ideal app for beat makers, vocalists, and all kinds of instrumentalists.
Notable features:
A complete online music studio.
Record and edit music by connecting microphone, midi keyboard, guitar and other instruments.
Extensive library of ready-made samples and loops.
Collaborate on projects with friends and create music together.
Record your own voice or songs right through the tool.
If you just want to take a piece of your sound or music, then here is the right tool to use. CutMP3 lets you cut your MP3 music files to keep just the track you love. It doesn't require you to upload your music, because it works locally, just open your file with this app and it's ready to start cutting.