15 User-Friendly Free Animation Apps (Better Than Paid Ones)
(Contributed by: Hetvin Vasoya)
There's no shortage of free animation software out there. But the quality varies, and it can be hard to find a balance between ease of use and professional-level results. These free animation software will allow you to make great videos without breaking the bank.
Whether you're a seasoned video producer, entertainer, investor, entrepreneur, or beginner looking to get started, these animation tools will help take your videos to the next level.
Animation has been around for ages and has only recently become easily accessible to everyone with the advent of digital technology which is free animation. Telling a story with images is an age-old practice.
As time progressed, so did the development of animation to tell stories in a more entertaining way and software came into play.
"Explainer videos are 64% more likely to convert a visitor than text alone. And in some instances, explainer videos have improved lead generation by 403%." Source: breadnbeyond
The best way to use animation in your content strategy is to make it an extension of your brand's voice and tone. In fact, if you're using animation as part of your marketing strategy, it's probably because your audience thinks you're fun and creative.
7 key points to consider when selecting 2D/3D animation software
The competition among the software providers is very high and they are constantly releasing new versions of their software that offer better and better features. Earlier people used to spend lots of money on buying software but nowadays, it's quite easy to find good and free animation software.
A range of 2D/3D animation software packages are available in the market, but it is key to select the right package that meets your business requirements.
Software Features: To choose the best animation software for your business, you must have a clear idea about its features and functionalities.
Support System: Choose software that offers technical support in the form of tutorials and other resources, as well as live chat support. The more and quick informative articles the company provides in their knowledge base, the more likely it is that they are transparent about their product's capabilities and limitations.
Advanced and User-Friendly Qualities: One of the key things to consider when choosing an animation software program is how easy it is to use, remember its features, hotkeys, etc. Advanced software programs have built-in tools that help the user create an animation quickly and easily.
Inbuilt Tools: A perfect animation software has many in-built features and tools to automate the process like modifiers, add-ons, etc.
Program Interface: You might prefer to use a tablet or laptop instead of a desktop computer, but if that's the case, make sure the program you choose can be used with those devices.
Software Compatibility: Some programs work only on a particular operating system, so make sure any new software you buy is compatible with your existing systems.
2D/3D Animation: Each animation has its own uses. A 2D software is best for designing elements that will appear flat, whereas a 3D software enables you to create digital objects with depth and to use them in virtual reality (VR) environments.
15 top-quality free animation software
Even if you have experience with animation or video production, creating something compelling can be difficult. That's why many companies are turning toward the best animation software as a way to automate how their art comes to life.
Free animation software helps users create moving graphics, integrate 2D and 3D capabilities, and spice up corporate content and promotional materials.
Animaker is a cloud-based SaaS that lets you create animated videos and presentations. It's incredibly easy to use — even if you don't have any prior experience with animation software.
You can create a video in minutes with the help of pre-made templates and graphics. Use these as starting points and then customize your designs to match your brand.
The intuitive user interface includes all the tools you'll need for your project, including templates and audio files.
Choose from a wide range of animations to add to your scenes and characters, including motions such as auto lip-sync, extensive facial expressions, character builder, and smart move and more.
Features of Animaker:
Price: free and paid.
Handcraft, Infographic, 2D Animation, Whiteboard Animation and Live Action Video.
Web browser-based system.
Six categories of visuals to choose from: character, props, charts, map, effects and scenes.
It includes 100 million+ Stock Assets, voice recording, and multi-user collaboration.
Rive's intuitive interface is designed for artists who want to get up and running as quickly as possible, with no programming required. The current version includes the best tools for creating character animations, UI, and lip syncing.
Rive provides artists with a number of tools, including a timeline and keyframe editor, particle effects, mesh manipulation, and all sorts of other controls. It also features a large user base with an active community of artists, so you can get help if you run into any questions or problems with your projects.
The software itself is written in Rust and the final animations are rendered with graphics API Vulkan, which allows for fast generation of high-quality animations.
Features of Rive:
Price: Free and paid.
Freeform rigging system, UI and build interactive motion graphics for designing websites, apps, and games.
Works on all systems.
Artists can also use Rive's custom programming language to create even more complex animations.
Cloud rendering, real time collaboration, animation mixing, smooth playback, trim paths, inverse kinematics, transfer constraints and tiny file size are Rive's key features.
An impressive library of over 50,000 templates and animations allows you to build your own video project in minutes. Add your own photos or choose from Vista Create's collection of over 60 million stock images.
Also, there are more than 1 million various items, photos, shapes, icons, illustrations, and stock photos.
Vista Create also supports social media formats like Instagram Stories, Facebook, YouTube thumbnails, Pinterest graphics, email headers, or blog featured images.
One can animate different objects in various ways by changing their position on the timeline, size or rotation angle. You can also improve your visuals by adding music to it.
Features of Vista Create:
Price: free and paid.
With a drag and drop feature that makes it easy to use.
Supports all systems.
Remove backgrounds, color styles, brand kits, photo filters, Transparency and layers.
Video Tutorials for learning.
2D animation software, Motion graphics, Typography, Whiteboard, Presentation and Dynamic infographic templates.
Krita is a free and open-source raster graphics editor designed primarily for digital painting and animation purposes.
It features an interface with multiple workspaces, much like Adobe Photoshop, along with several filters with which you can apply different effects to your drawings, such as blur, sharpen, distort or emboss.
Krita's tool set includes onion skinning, tweening, motion paths and keyframes, while the user interface is customizable through the use of dockers and panels.
It has a highly customizable brush system that allows you to create your brushes based on pre-made templates or from scratch.
Features of Krita:
Price: free.
Krita is featured in vector art, storyboarding, animation, digital painting, matte painting and concept art.
Supports Windows, macOS and Linux operating systems.
Supports frame-by-frame raster animation and animation via onion-skinning.
It is packed with a huge number of drawing tools and brushes, along with a vast array of color management options, various brush styles, Wrap-around mode, etc
KeyShot is trusted by brands around the world for its speed, ease of use, scientifically accurate material and environment presets to advanced material editing, creating interactive product visuals or sales or marketing imagery has never been easier.
This allows users to see what their images will look like before they are rendered, saving time and money in the long run.
KeyShot, being one of the best 3D rendering software that offers multiple solutions for creating graphics, animations, and visualization for product design, engineering, design and marketing. You can also make a full 360 degree turn in just seconds.
Features of Keyshot:
Price: free and paid.
Patent-pending technology produces real-time interactive visuals.
Works on all operating systems.
Support for multi-layer textures with procedural textures (wood grain, marble), multi-materials with unlimited variations.
Adjustment of light source position and brightness in real time and ability to add labels and dimensions directly on the model.
Terragen is a powerful tool that lets you render entire planets and scenes as well as for creating 3D animations and environments. It can be used to create all kinds of scenes, from the far reaches of outer space to lush forests and mountains.
It has been used in many films and commercials, as well as in countless personal projects by artists around the world.
You have the ability to create realistic looking terrain, spline-based modeling tools as well as clouds and atmosphere simulation. If you want to make sure your visual effects are as realistic as possible, this is the software for you!
Terragen is appropriate for users of all skill levels, as the intuitive interface makes it easy to add terrain, objects, and shaders to your final product.
Features of Terragen:
Price: free and paid.
Complete control over the look of your scene, including the terrain, atmosphere, clouds, water, shaders and lighting.
Best for Windows and Mac OS.
Create photo-realistic CG environments and 3D animations that adhere to the laws of nature with ease.
Add special effects such as fire and smoke, or even fireflies or butterflies!
MakeHuman is a 3D computer graphics software middleware designed for the prototyping of photo realistic humanoids.
It provides users with an interface to manipulate their virtual humans in real time. These can be exported to several formats, including STL, PLY, 3DS, OBJ, Collada DAE , Blender and many more.
With the rise of increased diversity in media, representation is an increasing focus. Users are free to create any character they want using the base models, body types, ethnicities and characters offered with makehuman.
This program can be used to create highly customizable models of any gender or age group that looks like a believable person who could step right out of the computer screen.
It also allows you to add clothing and accessories like shoes, shirts and pants.
Features of Makehuman:
Price: free.
The main objective is to integrate the character creation process with other game engines or 3D or 2D or applications.
It's available for Windows, Mac, and Linux.
The application is best for 3D artists ,animators ,illustrators, game developers, web designers and others.
Makehuman includes a library of morph targets to create expressions and poses, set of skin shaders, Standard rigging and set of constraints to speed up the posing/animation workflow.
Synfig Studio is one of the most powerful open source 2D animation software that offers a reliable alternative to Adobe Flash and other paid tools.
This free 2D animation software is designed as a powerful industrial-strength solution for creating film-quality animation using a vector and bitmap artwork.
Synfig Studio comes with more than 50 layers to create artwork and animation of any complexity. It also offers a fair number of tutorials and guides to get you started.
Along with this it has many interesting features such as gradient shading, vector manipulation, onion-skinning , or layers, vectors, and many advanced features.
Features of Synfig Studio:
Price: free.
Available for Linux, macOS, and Microsoft Windows.
Used for creating vector graphics, but it can also be used for frame-by-frame editing.
Also offers some raster-based features like gradient routes and blurs.
With easy to use tools and an intuitive user interface, Animation Paper makes it easy to bring your drawings to life. We'll admit it takes some time to get used to – but if you are looking for a tool that bridges the gap between traditional and digital drawing, then this is one of your best bets.
It's possible to add layers on top of the character and control those layers or blend them with the main animation by assigning different functions to parts of that layer.
Animation paper also includes features like onion skinning, onion peeling and onion stacking that help you preview previous frames of your work as you're drawing them.
Features of Animation Paper:
Price: free and paid.
The software also supports vector graphics in addition to raster images.
Runs on Windows, macOS, and Linux.
Supports effective painting, pressure-sensitive Wacom pen, rotating and toggling between the draw and erase modes, has touch-screen support and has intuitive shortcuts built in for zooming, importing video files, speed dialing for reaching favorite functions and high quality lines.
Daz studio has a huge community of creators and 3D artists, which means there's a huge selection of free models, props and poses to pick from. One of the most important aspects of DAZ Studio is its ever-growing collection of free 3D models.
Artists can make money off of sales by publishing at Daz3D and enjoy the exclusive content of other users too.
However, most of the content that you need to get started is available for free, so you won't have to pay until you want to expand your library and create more complex animations.
DAZ studio's advanced features for creating realistic scenes and making animations with any level of complexity. In addition, Daz Studio offers a full set of tools for both static and dynamic objects.
Features of DAZ Studio:
Price: free and paid
Daz3D is known for producing animations for games, movies, or even web graphics.
Compatible with both Mac and Windows operating systems
Helps in creating quick and astonishing Images, unique character and Realistic Environments
Custom hair, clothing, make-up, expressions, skin texture to and other accessories for their character models.
Free for personal and commercial use.
Blender is a free, open source 3D and 2D animation program. It is the most focused and powerful animation software available free of charge.
A variety of add-ons are available to customize Blender for specific needs. With a multitude of features such as dynamic topology sculpting, advanced simulation tools and an extensive node editor, Blender has something to offer everyone.
Blender's animation library is vast and includes customizable characters. It offers a wide selection of preset animations for crowd simulation. Plus, it's easy to import 3D objects created in other programs directly into Blender.
Blender has a powerful node-based compositing toolset that enables you to create stunning animations and visual effects.
The blender comes with a powerful unbiased rendering engine (eevee and cycles) that offers stunning ultra-realistic rendering.
Cycles is a path-tracing engine, which allows for high quality simulations including light reflections and other interactions.
Blender's Eevee is for quickly rendering scenes. It comes with a lot of features that make this possible, such as real-time rasterization and the use of tiles to manage pixel buffers.
Features of Blender:
Price: free.
Used for modeling, UV unwrapping, rigging, animation,cloth simulation, water simulations, animating, rendering, particle and other simulations, skinning, compositing and motion tracking, video editing, and 2D animation pipeline.
Supports Mac, Linux as well as Windows.
Suitable for all levels of users as it comes with a simple user interface.
Blender is best for 3D modeling and rendering, game creation and production, interactive 3D technology simulation, non-linear editing, compositing, creating interactive 3D applications and more.
Renderforest puts the power of animation in the hands of creative people like you and me. It's packed with features and has an intuitive interface. Plus, it's cloud based so you can use it from anywhere on any device!
Renderforest software isn't just for professionals! It can also be used by amateurs who are looking for some new ideas on the go.
Users can also upload audio files or use one of the many free sounds available on the site. You can upload videos from YouTube or upload your own images or illustrations.
Features of Renderforest:
Price: free and paid.
Website building features: 100+ premium components, fully responsive website, free subdomain and preview before publishing.
Web browser-based system.
Free learning with blogs for Animation tips, Branding, Design, Holidays, Marketing, Our culture, Product updates, Social media marketing, Video editing, Website tips and YouTube.
Renderforest features include Video production, graphic designs, mockups, website builder, logos, pixel-perfect layouts, access to hundreds of thousands of stock clips, a library of music tracks, and more.
OpenToonz is a free open-source 2D animation software and is one of the most famous Japanese animation studios. It is designed to produce traditional hand-drawn animation (cartoon) using both bitmap and vector graphics.
Other features include support for animation levels and sound layers for editing audio files. It also has a built-in file format to guarantee compatibility with other toonz applications.
This 2D animation software is known for features a professional color model, unlimited layers and frames, and an animation tools library.
Features of Opentoonz:
Price: free and paid.
More than 100 features include painting, warps, color-changing, blurs, scripting, lighting setup, keys automations, masks, etc.
Supports all operating systems.
Create frame-by-frame animations, draw with vector tools or sketch with pencils — it has the tools you need to bring your ideas to life.
Opentoonz also supports various animations like particle system, bones character animation, etc.
It supports several file formats like PSD, TIFF, OpenEXR, BMP etc.
Speaking of newbies, Pencil 2D with perfect UI is the free animation software for those just starting out in the world of 2D animation, but it isn't just for personal projects – companies like Disney have used Pencil 2D to create animated cartoons.
Pencil 2D is a free and open-source animation software, enabling you to create traditional hand-drawn animation that comes with all the essential tools for creating frame-by-frame 2D animation. You can also do lip syncing, skeleton rigging, tweening, and much more.
The gradient and brush tools are great for creating exciting effects without having to struggle with complicated settings and being able to Customizable canvas size up to 4K resolution are Pencil 2D's unique features.
Features of Pencil 2D:
Price: free.
It lets you create both bitmap and vector graphics, giving you an incredible amount of control over your animations.
It's available for macOS, Windows, Linux, FreeBSD an2d OpenBSD.
Pencil2D has some powerful drawing tools including brush, eraser, pencil, lasso, rectangle/ellipse select and move.
You can easily create your own custom brushes with the editor, and tweak your timing and spacing with the onion skinning tools.
It also includes advanced drawing tools including Bezier curves, Onion skinning, bucket fill, eyedropper.
SketchBook has numerous advanced tools that help you improve the quality of your artwork.
Starting with pencils, pens, markers, airbrushes to draw the sketches on the animation, sketching crop tools, color pickers to edit your animation and providing more than 150 brush types.
With the help of Sketchbook, you can create illustrations, cartoons, concept art and various other exciting visuals with ease.
It has an intuitive user interface with drag and drop support for adding new elements in your video. Plus, it also lets you import custom brushes from other third party applications.
Features of Sketchbook:
Price: free.
You can also add sound effects and music to your animation projects.
It's compatible with Windows, Mac, iOS and Android operating systems.
Use the line, radial symmetry, and shape tools to create dynamic effects in your animation.
Sketchbook also comes with selection tools like magic wand, lasso and also unlimited layers for blending.
Make money effectively by creating animations
Animation is a big deal. It's no longer something that just runs before movies — it's an art form, and one that's used in advertising, computer games, and even to produce full-length feature films.
Creating amazing and eye-catching animated content is a great way to earn money online, but sometimes it can be hard to find work that pays well and is long term. Animation is not a cheap investment, but it's probably the best way to explain complex ideas quickly.
So what do you think most entrepreneurs and business mens use to maximize their sales or stand out of the competition? One of the best answers is to utilize the power of video animation.
9 ways to make money by designing amazing animation
Designing and selling your own licensed contents like videos, including whiteboard animations, motion graphics, 3D models, textures, explainer animations, and more.
Freelancing and selling your services on websites like Upwork, Wallingstack, Fiverr, 99designs etc.
Creating animated explainer videos for clients, businesses, or marketers for increasing conversions.
Make your cool looking website or books and sell your creations or monetize it with ads.
Creating and selling short animated/films videos on platforms like Storyblocks Video, Pond5, Adobe Stock, etc.
Creating courses about animation on platforms like Udemy, Skillshare, etc.
Teaching animation tips/strategies by making videos or youtube videos or making a blog website.
You can also sell to social media influencers as animation works pretty well they are funny, educational, and have an emotional impact on people
Contacting local companies (Schools, businesses, events) to create an imitation design advertising for the said business affiliate.
Moreover, being able to freelance in animation opens up a wide range of possibilities and empowers you to choose where you want to go next with your career.
How to successfully maximize animation profits?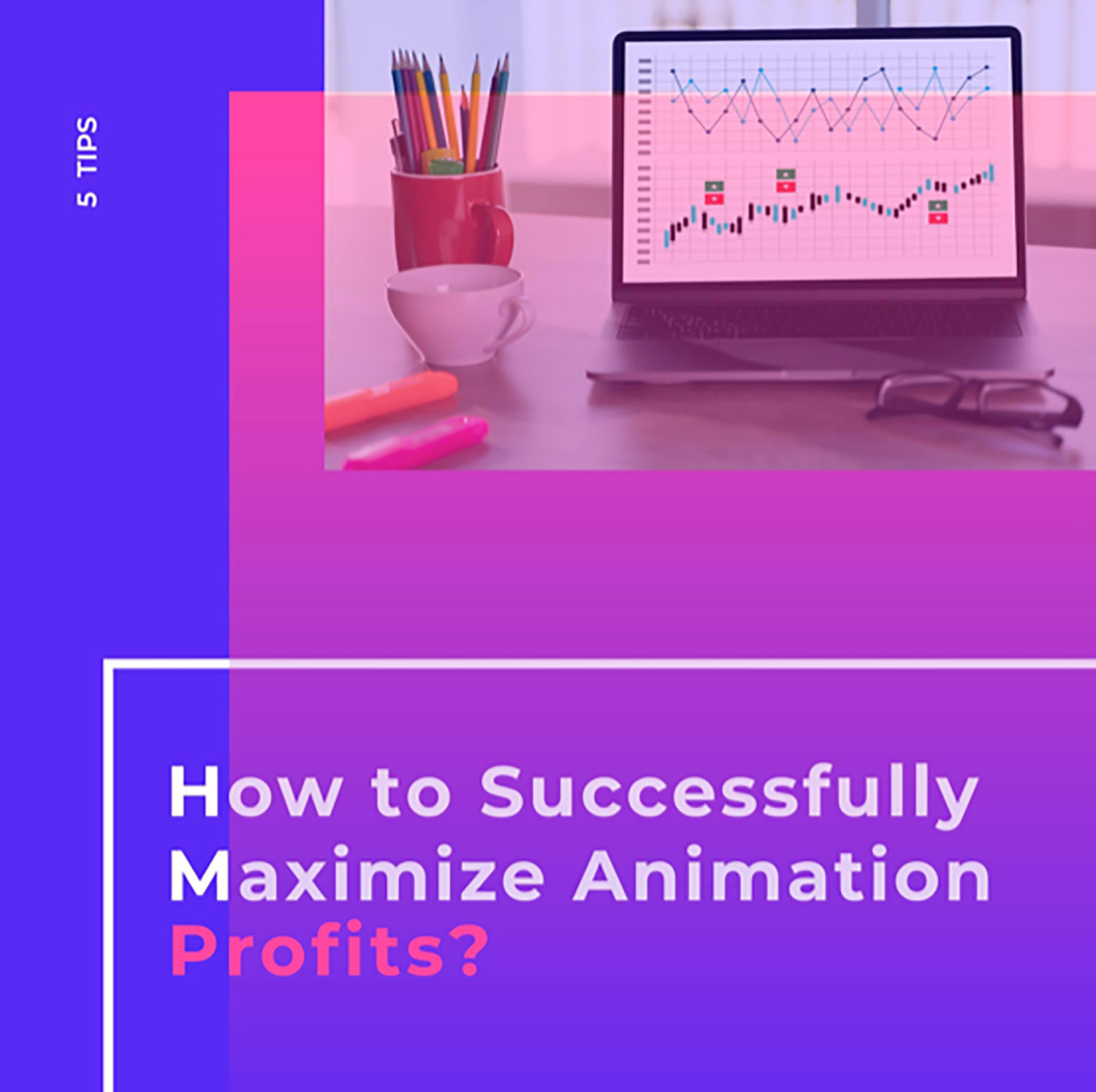 Animation is a very competitive field and there are thousands of talented artists out there looking for jobs. If you want to be successful, you need to find ways to set yourself apart from the crowd.
Therefore, we've created this guide to show you how you can successfully maximize your profits from your animation.
5 tips to upgrade your animation earnings
1. Making a demo reel
A demo reel is a great way for clients to get a feel for what you can do and how good you are. When you are serious about what you do, it gives them an idea of how much time and effort has gone into the animations and shows you and your products in a positive light.
"A marketing video can attract up to 300% more traffic and possible leads." Source: MarketingSherpa
2. Creating a professional-looking animation portfolio website
You should also have an animation portfolio website of your best work. This can include the animations that you have created as well as any sketchbooks or drawings that highlight your skills.
Making a 2D/3D portfolio website is also helpful to get potential clients. Don't forget to include customer testimonials, CTA, blog section, about us page, case studies on your homepage, and landing pages.
3. Building and beautifying your animation website
If you choose to create your website, then you need to make sure that it is professional-looking, easy for customers to use, SEO friendly, Improves page loading speed and also makes a contact and about page.
The more information and creativity that you can provide on your site, the better off you are going to be in the long run. Adding a good animated video will definitely increase your engagement.
"75% of consumers admit to making judgements on a company's credibility based on the company's website design." Source: kinesisinc
4. Impression your clients
When it comes to impressing your clients, you should not leave any steps behind. Remember "First impression is the last impression".
Freelancing websites are most of the time where you will find your client to work with, so optimizing your profile, high-quality images, and getting good reviews is a good sign to maximize your profits. Also, try to work with more than one freelance client.
5. Social proofs
If you're not using social proof as a part of your business, you're missing out on a major opportunity to boost your earnings. You can use multiple social media platforms to get more views i.e. more clients and sales.
By providing social proof and offering them a sneak peek of your new video, you have an opportunity to increase their likelihood to hire you or make a sale.
"Social media videos are responsible for generating 1200% more shares as compared to text-based and image-based social media posts." Source: SmallBizTrends
Conclusions
Animation allows you to take your audience on an imaginative journey, where they can suspend disbelief and interact with your content in a more meaningful way.
The best way to use animation in your content strategy is to make it an extension of your brand's voice and tone. In fact, if you're using animation as part of your marketing strategy, it's probably because your audience thinks you're fun and creative.
2D and 3D Animation software is also a great tool for students and educators to visualize concepts in motion.